* Please note that while this speaker's specific speaking fee falls within the range posted above (for Continental U.S. based events), fees are subject to change. For current fee information or international event fees (which are generally 50-75% more than U.S based event fees), please contact us.
Top25 Speaker Voting

Julianne Malveaux needs 6 vote(s) to make it into the Top 25 speakers on Speaking.com!
Speaker Booking Tip
"Tip: speakers bureaus provide added value that you cannot get by booking speakers directly. "
For Event Planners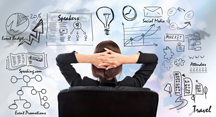 • Keynote Speaker Booking Toolkit.
• Booking a Celebrity Speaker.
• How to Find and Book the Right Speaker.
• Google+ Event Planning Forum.
• Tips for International Clients Booking U.S. Based Speakers.
Similar Speakers
Dan Lothian

Dan Lothian is a veteran national TV news correspondent and is a co-founder of Heart Beings, a gathering point for positive news, insightful perspectives and…

Lawrence Otis Graham

Lawrence Otis Graham is an authority on diversity in the workplace and the continuing need to rethink the way we view racism and class in…

Samuel Betances

A passionate believer in equality, as befits a biracial, bicultural and bilingual citizen of the world, Dr. Samuel Betances challenges his audiences to embrace diversity…

SPEAKING.com / Core Agency were very helpful in every way possible. I would recommend them to others and we will most definitely secure all our future conference speakers through them again.
Babcock & Wilcox
About SPEAKING.com
Established in 1994, we are exclusive agents for some of the world's leading experts, celebrities and professional speakers.
We offer event planners a fully staffed speaker logistics planning team, plus a personal SPEAKING.com Account Executive – a knowledgeable and trustworthy partner. We guarantee your satisfaction with your speaker and a smooth booking process.
Contact us today to book your favorite speaker.

Dr. Malveaux's presentation sparked a lively discussion on women, race, and economics in our following class session. The students commented on how engaging and informative she was and what an honor it was to have her visit our class. Indeed it was an honor, and I thank her for her time. I also very much enjoyed her presentation at the Dayton Urban League dinner that evening. I wasn't surprised that she received a standing ovation from the over 1,200 member audience!
Director, Wright State University
Dr. Malveaux keynote address received rave reviews. She was highly rated on our evaluations by the conference attendees. Her comments were timely, insightful and completely aligned with the ongoing urban education issues CUBE addresses, as well as with key national issues such as the economy and federal politics.
I was quite pleased with Ms. Malveaux's keynote address, but more importantly our meeting attendees were absolutely captured by her intelligent and informed commentary.
If the opportunity arises CUBE would enthusiastically invite Dr. Malveaux to again present to our audience of urban school board members and superintendents from across the nation.
Thanks for all of your assistance in our selection of Dr. Malveaux.
National School Boards Association
Julianne Malveaux did a marvelous job in her presentation on "Women and Children of the Earth." Her articulate passion shone through and moved our students in a significant fashion. She was also great with the students and other faculty members at the dinner.
Thiel College
We had such a wonderful turn out for this event. Thank you for all of your help in making this happen for us and we look forward to working with you in the future.
Stephen M. Ross School of Business, University of Michigan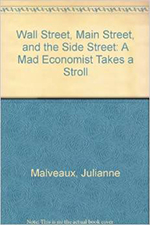 Wall Street, Main Street, and the Side Street: A Mad Economist Takes a Stroll
Here is a collection of 100 thought-provoking, hard-hitting essays that excite, inspire, and invigorate. With sly wit and profound irony, the essays explore the contradictions of African Americans, feminists, nationalists, conservatives, and others while diminishing cherished assumptions about American culture, gender, politics, and economics.
Though many may not agree with the thesis of the bookeverything is economicthe book will demand an audience as long as the gender gap exists, as long as people of color are perched at the periphery of our societys economic life, and as long as there is political disenfranchisement.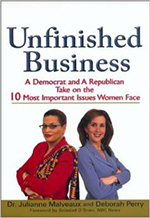 Unfinished Business: A Democrat and a Republican Take on the 10 Most Important Issues Women Face
In this stimulating and provocative exchange of opinions, Democrat Dr. Julianne Malveaux and Republican Deborah Perry debate everything from reproductive rights, childcare, taxes, and the economy to crime and violence, education, and equal pay and benefits. Unfinished Business critically examines the ten issues women care about most, offering a spirited debate from two perspectives. As divisive and polarizing as these issues may become, Malveaux and Perry find common ground in 'action'—guiding readers to the many ways that they can take to really make a difference.
For every woman—whether she is on the left or on the right or somewhere in between-this revolutionary book will pique interest and incite lively discussion. But more importantly, it will inspire women to take an active role in changing policy and in changing the world—one step at a time.
Topics Include:
Rhetoric or Reality? Civil Rights Under Siege
Celebrating Black History Month: The African American Legacy
Economics, Race and Justice in the 21st Century: Perspective on Our Nation's Future
Determined Diversity: Creating a Cohesive and Effective Workplace
Taking the Lead: How Women Shape Our Political Future
Surviving and Thriving: Celebrating the Economic Successes of Blacks in America
The Life and Legacy of Dr. Martin Luther King Jr.
Julianne Malveaux on radicalism and protest movements
"Systems and laws emerged to reinforce inequality," Dr. Julianne Malraux explains as she looks into the roots of historical systemic prejudice in the USA and the efforts of those who fought against it. "What was radical about the civil rights movement was that it was entirely unexpected that oppressed people would stand up for themselves and offer resistance to the status quo."
Dr. Julianne Malveaux: ICAN Presents - Speech
Dr. Julianne Malveaux: Rock Newman - Interview