* Please note that while this speaker's specific speaking fee falls within the range posted above (for Continental U.S. based events), fees are subject to change. For current fee information or international event fees (which are generally 50-75% more than U.S based event fees), please contact us.
Top25 Speaker Voting

Josh Luke needs 6 vote(s) to make it into the Top 25 speakers on Speaking.com!
Speaker Booking Tip
"Tip: some speakers might provide one of their popular book titles as a free gift to your audience. "
For Event Planners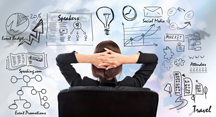 • Keynote Speaker Booking Toolkit.
• Booking a Celebrity Speaker.
• How to Find and Book the Right Speaker.
• Google+ Event Planning Forum.
• Tips for International Clients Booking U.S. Based Speakers.
Similar Speakers
Zonya Foco

As an author, TV host, and national speaker, Zonya Foco is leading America in the fight against obesity, diabetes, cancer, and heart disease through smart…

Stan Hupfeld

Author of the book Political Malpractice: How the Politicians Made a Mess of Healthcare, Stan Hupfeld served 15 years as the President and CEO of…

Stan Hupfeld

Author of the book Political Malpractice: How the Politicians Made a Mess of Healthcare, Stan Hupfeld served 15 years as the President and CEO of…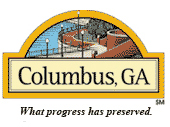 I so appreciated my representative for his responsiveness and for the ease with which I could communicate with him. This was my first time having to secure the talent for our program myself, and I could not have asked for a better experience with your speakers agency.
Mayor's Commission on Unity, Diversity and Prosperity for Columbus, GA
About SPEAKING.com
Established in 1994, we are exclusive agents for some of the world's leading experts, celebrities and professional speakers.
We offer event planners a fully staffed speaker logistics planning team, plus a personal SPEAKING.com Account Executive – a knowledgeable and trustworthy partner. We guarantee your satisfaction with your speaker and a smooth booking process.
Contact us today to book your favorite speaker.

"Wow! Dr. Luke's presentation was not only one of the most informative presentations I have ever seen on the health system of the future, but entertaining as well. He utilizes stories to illustrate and help visualize the real-life experiences that foreshadow what to expect in the future."
– Jerry Driscoll, MSN, CRNP, GNP-BC, Primary HomeCare, Nurse Practioner House Calls since 2000
"Josh Luke is the Tony Robbins of health care! His presentation was equally inspiring, educational and informative. If you want a peak into what the health system of the future looks like and how to position your organization, his presentation is a must see!"
– Sadaf Salout, Healthcare Executive
"When I was in search of an outstanding speaker on Population Management for our Healthcare Round Table, I asked the Regional Administrator for the Center for Medicare and Medicaid Services for his recommendation. And he said, 'Call Josh Luke. He's the best speaker out there teaching people how to prepare for the changes ahead.'"
– Mimi Grant, Adaptive Business Leaders, President
"Josh's presentation gives every hospital CEO reason to pause and consider if there are opportunities to generate revenue in the post acute space in their own market. I am intrigued with Josh's presentation related to revenue stream generation."
– S. Sean Fowler, Marina Del Rey Hospital, President & Chief Executive Officer
"There is a hunger for proven strategies that generate new revenue streams for hospitals and Dr. Luke filled that void as he was the most well-received speaker we have ever had on that topic. While many hospitals and health systems are being pressured to launch expensive post acute and transitional care services, Dr. Luke appears to be the one person out there sharing proven Best Practices in creating new programs that generate revenue for the hospital in this non-traditional post acute and transitional care space."
– Jessica Holder, Marcus Evans Ltd., Senior Summit Producer and Healthcare Sector Manager
"Dear Josh, thanks for what you presented at the NTOCC summit yesterday. You were clearly the star of the summit. I share that not because it's nice for you to hear, but because I think it really impacted and energized people to continue to fight-the-fight. I tried to introduce myself a couple of times during the day but you were too popular. Thanks again! Best!"
– Ken Accardi, Ankota LLC, Founder
"Thank you Josh, it was a pleasure to meet you and your team. The National Readmission Summit in Las Vegas was outstanding, probably the best one I have been to in Las Vegas."
– Ellen Aliberti, HealthCare Partners Nevada
"Dr. Luke, is a crusader nationally to solve the monumental task of coordinating care that lies ahead of us. Dr. Luke has an engaging presentation style; he is not afraid to call out the elephant in the room, pushing people to face that which is less than comfortable. His presentation was informational, inspiring, challenging and empowering to those present who wish to make a difference."
– Susan L Cordts, Catalytic Health Partners, President/CEO
"Dr. Josh Luke articulates a clear plan with specific goals and objectives that deals with how acute care hospitals can now create new and profitable post-acute service lines that will significantly increase revenue for their facilities. Dr. Luke supports his candid discussion with a presentation of major case studies and evidence-backed data that justifies each of his major points. All healthcare executives must see Dr. Luke's presentation to fully understand where the future of health care is moving."
– R. Michael Hartman, College Hospital Long Beach. Chief Operating Officer
"Thanks Josh. You did a great job pulling this together. All the presentations that I was able to see were great. Your presentation was especially right on and very dynamic. Thanks for having me on the panel."
– Eileen M. Haley, MSN, RN, CNS, Manager, Transitions of Care Program Development, UC San Diego Health System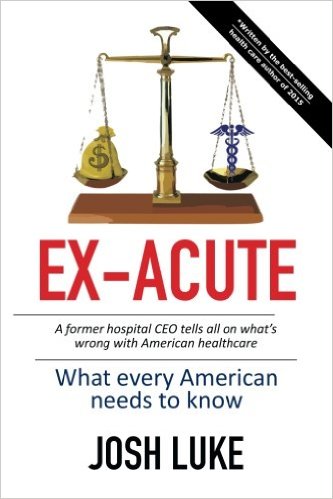 Ex-Acute: A former hospital CEO tells all on what's wrong with American healthcare
A Former Hospital CEO tells all on What's Wrong with American Healthcare What every American needs to know is a tell-all book revealing health-care industry secrets to explain concepts and advise how to survive in America's ever-changing health-care delivery system. Dr. Luke, a husband and father of three, became a hospital CEO at age thirty-two and spent more than fifteen years in health-care management, questioning misguided incentives along the way. This book is a must read for professionals, adult children caring for seniors, and parents wanting to ensure the best access to health-care services for their children.
Sample Speaking Topics:
The Hospital of the Future: MSPB & Readmissions
Using Quality & Innovation to Become Your Referral Partners' Top Choice
Readmissions and the ACA
The Health System of the Future
A Systematic Approach to Patient Flow
Emerging Partnerships Between Hospitals and Post Acute Providers
Starting a Post Acute Network in Your Community
Are You In? Becoming the SNF Provider of Choice for your Hospital Partner
The Impact of Palliative Care on Readmissions
Innovate and Integrate: The Hospital Delivery System of the Future
The Fee-for-Service Model Is Dead. Is Your Organization Prepared?
Best Practice Readmission Prevention Programs
Population Health: Award Winning Integration Strategies
Developing a Population Management Strategy for Your Health System
Becoming the Preferred Post-Acute Provider
Readmission Prevention Strategies That Work
The Future of Skilled Nursing
ACOs and Their Impact on Seniors
Learning from Experience

If you have a topic idea or question you'd like to propose, please send a request.

Dr. Josh Luke, Healthcare Futurist: Keynote, CMSA
Dr. Josh Luke breaks down the biggest changes affecting healthcare organizations today, bringing the perspective of a professional who has worked at multiple levels in both care and operations and a concerned family member who witnessed his grandmother get "juggled through the system" from nursing home to long-term acute hospital to home health care several times. The experience made him realize he had the heart to enter the healthcare field and he enrolled in a skilled nursing and administrative training program that obligated him to spend a few weeks working in every department of a skilled care facility.
The most memorable rotation turned out to be the three weeks he spent washing dishes in the kitchen with an immigrant worker who earned minimum wage, had a non-working wife and three children at home, and loved every resident in the building. "More of the 300 employees in that facility could relate to him than could ever relate to the executive in the corner suite," Dr. Luke states. "And that is probably the most important lesson I could ever learn."
Dr. Josh Luke, Healthcare Futurist: Introduction