The single biggest blocker of creativity isn't natural talent, it's fear.
* Please note that while this speaker's specific speaking fee falls within the range posted above (for Continental U.S. based events), fees are subject to change. For current fee information or international event fees (which are generally 50-75% more than U.S based event fees), please contact us.
Top25 Speaker Voting

Josh Linkner needs 5 vote(s) to make it into the Top 25 speakers on Speaking.com!
Speaker Booking Tip
"Tip: ask your speaker to do a book signing or attend a VIP meal with your guests. "
For Event Planners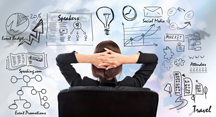 • Keynote Speaker Booking Toolkit.
• Booking a Celebrity Speaker.
• How to Find and Book the Right Speaker.
• Google+ Event Planning Forum.
• Tips for International Clients Booking U.S. Based Speakers.
Similar Speakers
Stephen M.R. Covey

Co-founder and CEO of CoveyLink Worldwide, Stephen M.R. Covey speaks and advises on trust, leadership, ethics and high performance to companies and audiences across the…

Jeffrey A. Sonnenfeld

Jeffrey Sonnenfeld is the Senior Associate Dean for Executive Programs at Yale University's School of Management and The Lester Crown Professor of Management Practice as…

Robin Chase

"Everyday, create the world you want to live in." That has been visionary Robin Chase's approach to addressing the greatest dilemmas of the 21st century.…

Our speakers were absolutely outstanding and top class. Once again, thank you for making this happen for us. You have been outstanding and the best speakers bureau we have ever worked with!
Volkswagen
About SPEAKING.com
Established in 1994, we are exclusive agents for some of the world's leading experts, celebrities and professional speakers.
We offer event planners a fully staffed speaker logistics planning team, plus a personal SPEAKING.com Account Executive – a knowledgeable and trustworthy partner. We guarantee your satisfaction with your speaker and a smooth booking process.
Contact us today to book your favorite speaker.

"Josh Linkner, CEO of ePrize, is a tremendous business leader who has established a successful and sustainable company, as well as a culture that nurtures employees to help them maximize their potential."
-Hon. Jennifer M. Granholm Governor, State of Michigan
"Thank you for today. It was inspirational, unrestricting, and energetic. It was one of the best days I've had out of the office. Your energy is contagious and my creative thinking was uninhibited."
-David Riemer, Sr. Marketing Manager, Kmart
"Josh Linkner's keynote presentation was truly inspiring and one of the main highlights of our conference."
-Tel K. Ganesan, President, TiE Con
"Josh's energy, enthusiasm and love for what he does really shines through. He also puts the right balance of simple, concise messages with humor. Yet at the same time you know he is serious by the examples of what he does with his own business. The presentation and content were both a '10'."
-Lisa K Miller, VP Events, MEDC
"Josh's presentation, was defiantly a 10: interesting, informative and deeply inspirational. The feedback was overwhelmingly positive. Many participants said that they left energized and motivated to make fun changes to improve creativity in their own lives and in their work place"
-Rob Pasick, Ph.D, Founder & CEO, LeadersConnect
"Josh's presentation provided inspiration and a powerful reminder to our team that problems can be solved and good ideas made great through the use of creative thinking. We are incorporating his ideas into our daily activities and thoroughly enjoyed his use of humor to engage our team. Josh is an excellent presenter."
-Karen Davis, Executive Director, Make-A-Wish Foundation
"Josh Linkner's message – that creativity is the most important organizational competency in the 21st century – compels and informs at the same time. With an engaging mix of data, anecdotes, and field-tested techniques, Josh outlines the innovation landscape and then reveals proven techniques for building and sustaining a creative culture."
-Samuel Gerace, Chief Executive Officer, Veritix
"I've attended so many speeches throughout the years, and found Josh's presentation to be one of the best – if not the best – I've ever seen! Josh conveyed a serious message in a lighthearted and entertaining manner, with plenty of practical, useful information. His polished delivery and use of visuals, including laugh-out-loud video clips, gave the audience so much more than just "a talking head." Great stuff!"
-Jonathan Liebman, Chairman/CEO, Specs Howard School of Media Arts, Inc.
"Josh's presentation was one that made you watch, listen and learn and is a clear example of when you connect with people – they can gain insight and knowledge that will help open doors to new opportunities."
-Nathan Forbes, Managing Partner, The Forbes Company
"When Josh Linkner was presenting to our group you can just feel his talent and passion. The energy of the diverse audience was completely engaged as Josh clearly and thoughtfully delivered his message about creativity and innovation. Josh's presentation was easily one of the best I have ever heard."
-Danny Ferry, General Manager, Cleveland Cavaliers
"The message about creativity and innovation was excellent. It was clear, well researched, engaging and kept the attention of the audience. Your use of stories, facts and humor made the time fly by. I had several people come up to me afterword and thank me for having you come in and speak to the group. They were energized and excited to put the principles in play."
-Bill Emerson, CEO, Quicken Loans
Josh is a dynamic and energizing speaker who uses insight, humor, stories, and a lot of caffeine to inspire audiences. He focuses on creative strategies to take your business (and your life) to the next level. On a limited basis, Josh is available for keynote speeches, consulting, workshops, and coaching. He helps businesses and leaders ignite their creativity while directing that energy toward tangible results. Specific business applications include:
New Product Innovation
Building and Leading Creative Cultures
Creative Approaches to Sales and Marketing
Crafting Differentiated Competitive Strategy
Expanding Into New Markets
Unorthodox Problem Solving
Applying Creativity to Startups and High-Growth Companies

Disciplined Dreaming: A Five Step System for Business Creativity
Competitive advantage in the marketplace used to be defended with complex supply chains, high cost of entry, and technological advances. Now, your business can be supplanted overnight by someone with a broadband connection and an idea. How are you re-tooling your organization for creativity? In this interactive talk, Josh shows participants how to jump-start their creativity for business advantage. Attendees will learn specific techniques to protect themselves from the competition, create new products, and expand marketshare.

Building a Creative Culture
Building a culture that fosters creativity and innovation is mission critical in today's ultra-competitive environment. In this high-energy and interactive keynote, you will learn how to tap your people's hidden brainpower. Help your team get unstuck by breaking free from myths and barriers to unleash their true creative potential. Learn to establish an ongoing system to nurture and harvest your team's best ideas.

Is Innovation the Cure for the Economic Downturn?
Most innovations fail because they are not truly innovative – they make an existing product slightly smaller, faster, or less expensive. Real innovations turn industries and marketplaces upside down – like the cell phone or the iPod. Can your company innovate it's way to success even during difficult economic times? In this talk, Josh offers a road map for organizations to get to successful, game-changing innovations. Takeaways include how to trap the competition, how to increase your rate of innovation, and how to invent new products that cannot easily be copied in the marketplace.

Leadership in the Age of Creativity
Leaders today need to be able to understand the needs and dreams of a wildly diverse employee population, each with its own particular ways of working, deriving motivation from very different parts of the work experience. On top of that, the marketplace can shift at bewildering speed as a college kid in a dorm room can invent a new business that renders yours irrelevant in a matter of a few months. How do you guide an organization into such an uncertain future with such a varied crew? Josh's talk explores the new rules of the road and shows leaders how to build a culture that enables maximum creative potential.

The Music of Business
Jazz musicians and business leaders are increasingly sharing more common ground. Both require spontaneous creativity and improvisation. Both require careful synchronization in group dynamics, while responding on the fly to changing market conditions. Both are real-time art forms that require high-quality performances under the bright lights of an audience. Adapted from the principles of jazz legends to the business world, you'll learn how to use a specific framework and set of rules to maximize create output. Using the metaphor of a jazz combo, Josh helps audiences improve their creativity, risk tolerance, and adaptability in this highly engaging and unique presentation.

Josh Linkner Keynote Speech
"We're told at elementary school to follow the rules, there's only one right answer, and whatever you do, don't make any mistakes," Josh Linkner tells us as he explores the role of creativity within business, "But if you run that game plan in the real world, it's a surefire path to mediocrity."
Josh Linkner: Creativity Speech
Josh Linkner: Speech Excerpts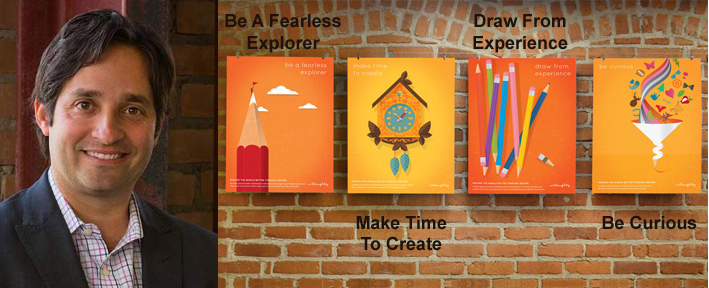 To Josh Linkner, creativity and innovation are the lifeblood of all human progress. As such, he's spent his career harnessing the power of creative disruption. In addition to his own startups, Josh has been involved with the launch, growth, or financing of over 100 other companies. He's helped raise over $150 million of venture capital, ... more