Top25 Speaker Voting

Josh Klein needs 7 vote(s) to make it into the Top 25 speakers on Speaking.com!
Speaker Booking Tip
"Tip: speakers bureaus provide added value that you cannot get by booking speakers directly. "
For Event Planners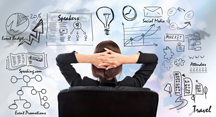 • Keynote Speaker Booking Toolkit.
• Booking a Celebrity Speaker.
• How to Find and Book the Right Speaker.
• Google+ Event Planning Forum.
• Tips for International Clients Booking U.S. Based Speakers.
Similar Speakers
Jack Uldrich

Jack Uldrich is a renowned global futurist, independent scholar, sought-after business speaker and best-selling author. He leading expert in helping business adapt who has served…

Scott Parazynski

With over eight weeks in space, forty-seven hours on spacewalks and 23,000,000 miles in orbit, astronaut Dr. Scott Parazynski brings an inspirational story and the…

Anders Sorman-Nilsson

Futurist and trend spotter Anders Sorman-Nilsson changes the way companies do business, helping them "win the digital minds and analogue hearts of tomorrow's customers." He…

It was an extreme pleasure to work with our account rep. She was friendly, flexible, and knowledgeable about all their speakers. She made the process simple. I cannot begin to put into words the impact that our speaker had on our audience. People are still taking about his presentation and his program set a standard on all diversity programs.
FDIC: Federal Deposit Insurance Corporation
About SPEAKING.com
Established in 1994, we are exclusive agents for some of the world's leading experts, celebrities and professional speakers.
We offer event planners a fully staffed speaker logistics planning team, plus a personal SPEAKING.com Account Executive – a knowledgeable and trustworthy partner. We guarantee your satisfaction with your speaker and a smooth booking process.
Contact us today to book your favorite speaker.

"Josh is a smart, captivating speaker who offers more than his thoughts on technology - he offers real accounts of his lived ′experiences hacking computers, cellphones, and even crows.′"
- Douglas Rushkoff, Media Theorist
"My brain is still splattered against the wall from our meeting this morning."
−Nikole Yinger, Producer, Bloomberg TV
"Josh Klein will be one of the most exciting cultural players to watch in the coming decade; his personal fluidity between disciplines and movement of ideas across worlds both real and virtual, technological and creative, allows him to be a guide for those of us who are interested in being the architects of our own identity."
- Aimee Mullins, Speaker, Athlete, Actress
"I hack everything now. When I have an assignment, I think to myself 'how can I hack this?'... It [the concept of hacking] has changed my life. Now when I do anything I ask myself - how can I hack this?"
- Manleen Kaur , Student at Baruch College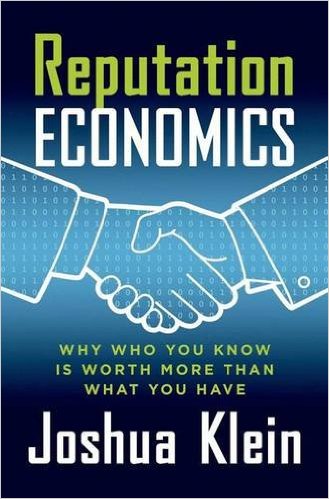 Reputation Economics: Why Who You Know Is Worth More Than What You Have
As the internet has increasingly become more social, the value of individual reputations has risen, and a new currency based on reputation has been created. This means that not only are companies tracking what an individual is tweeting and what sites they spend the most time on, but they're using this knowledge to predict the consumer's future behavior. And a world in which Target knows that a woman is pregnant before she does, or where a person gets a job (or loses one) based on his high school hijinx is a scary one indeed.
Joshua Klein's Reputation Economics asks these crucial questions: But what if there were a way to harness the power of these new technologies to empower the individual and entrepreneur? What if it turned out that David was actually better suited to navigate this new realm of reputation than Goliath? And what if he ushered in a new age of business in which reputation, rather than money, was the strongest currency of all? This is all currently happening online already.
Welcome to the age of Reputation Economics:
Where Avis is currently discounting car rentals based on Twitter followers
Where Carnival Cruise Lines are offering free upgrades based on a Klout score
Where Amazon and Microsoft are a short way away from dynamically pricing their goods based on a consumer's reach and reputation online
Where Klout scores are being used to vet job applications

The value of individual reputation is already radically changing the way business is done.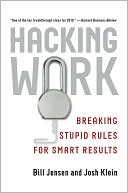 Hacking Work: Breaking Stupid Rules for Smart Results
Why work harder than you have to? One manager kept his senior execs happy by secretly hacking into the company′s database to give them the reports they needed in one third of the time. Hacking is a powerful solution to every stupid procedure, tool, rule, and process we are forced to endure at the office. Benevolent hackers are saving business from itself.
It would be so much easier to do great work if not for lingering bureaucracies, outdated technologies, and deeply irrational rules and procedures. These things are killing us.
Frustrating? Hell, yes. But take heart-there′s an army of heroes coming to the rescue.
Today′s top performers are taking matters into their own hands: bypassing sacred structures, using forbidden tools, and ignoring silly corporate edicts. In other words, they are hacking work to increase their efficiency and job satisfaction. Consultant Bill Jensen teamed up with hacker Josh Klein to expose the cheat codes that enable people to work smarter instead of harder. Once employees learn how to hack their work, they accomplish more in less time. They cut through red tape and circumvent stupid rules.
For instance, Elizabeth′s bosses wouldn′t sign off on her plan to improve customer service. So she made videotapes of customers complaining about what needed fixing and posted them on YouTube. Within days, public outcry forced senior management to reverse its decision.
Hacking Work reveals powerful technological and social hacks and shows readers how to apply them to sidestep bureaucratic boundaries and busywork. It′s about making the system work for you, not the other way around, so you can take control of your workload, increase your productivity, and help your company succeed-in spite of itself.
Order Here
Hacking Work:
How Work is Broken and How We Can Fix It – From the Bottom Up
We all know that big bureaucracies are struggling to keep up with the pace of change. Turn one of your biggest costs – frustrated employees – into one of your biggest assets. (Based on my recent book.)
Reputational Economics:
Why Who Cares is More Important than What You Have
Everyone relies on their relationships to get what they need. The internet has changed that, now (with new social software platforms) more than ever. Hear how to make the most of who you know!
Meritocratic Marketplaces:
The Secret Side to the Megatrends You Thought You Understood
"Transparency," "Online Services," "the cloud": we've all heard the buzzwords, but what do they *mean*? The answer turns out to be both more and less than you'd think. Come discover how common opinion has shortsighted the impact and opportunity of the biggest trends we've all misunderstood.
Synanthropy:
How Parasitic Species can be Coopted to Beneficial Systems
Rats, cockroaches, deer, crows – all of these species are hyperadapted to living with humanity (synanthropes), and yet we persist in trying to eradicate them. It turns out that with a little ingenuity we can make them productive elements of human society, instead. Find out how as we explore synanthropy.
Additional Recommended Topics:
Scope, Scale, and Size: Keys to Massive Innovation in the 21st Century
Google Talk
Josh Klein talks at Google about "Reputation Economics: Why Who You Know is Worth More Than What You Have." He starts off by asking, "What is your mother worth? The reason I want you to ask yourself what it means to you is that I think it is going to determine your wealth for the next five to twenty years."
He answers this odd opening question by saying that:
"The first way that most people answer that question is to say 'whatever people will pay for her.' Now that sounds a little bit naughty, but if you think about it from a capitalist perspective, it's pretty typical. If you are Hallmark, you'd say your mom is worth $1.50 because that's what it costs for them to acquire her as a customer. If you run a retirement home, you might decide she's worth quite a bit more because of the amount of money she'll spend over her staying with you. So, breaking things down into cost is actually a pretty intuitive, normal way of valuing goods, services and people today."
TED Talk
Josh's TED Talk about the intelligence of crows is fascinating. He brings ten years worth of research together with examples of new, intelligent behavior from the crows in an educational, entertaining talk.
Josh began his research over ten years ago because, "I started noticing that we are very aware of all the species that are going extinct on the planet as a result of human habitation expansion. No one seems to be paying attention to all the species that are actually living- that are surviving. I'm talking specifically about synanthropic species, which are species that have adapted specifically for human ecologies, species like rats, cockroaches, and crows."
"They're learning from each other. And research bears this out. [Crow parents] seem to be teaching their young. They've learned from their peers, they've learned from their enemies. The point is that they've developed cultural adaptation, and that's the Pandora's Box that's getting human beings in trouble."
TEDx Talk
Keynote Speech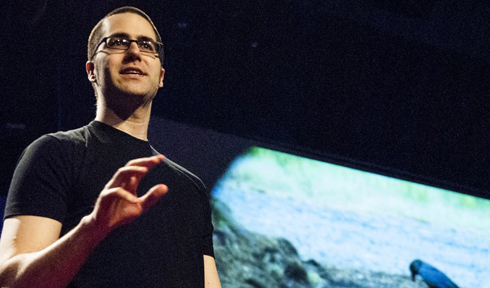 Life-long expert on the use of hacking and innovation to create and solve social systems and industries, Josh Klein has served as a consultant on innovation and cyber security to the CIA, FBI, NSA, and the State Department, as well as Microsoft, Oracle, AT&T, and many others. He is also the celebrated author of Roo'd, ... more