* Please note that while this speaker's specific speaking fee falls within the range posted above (for Continental U.S. based events), fees are subject to change. For current fee information or international event fees (which are generally 50-75% more than U.S based event fees), please contact us.
Top25 Speaker Voting

Joseph DiVanna needs 6 vote(s) to make it into the Top 25 speakers on Speaking.com!
Speaker Booking Tip
"Tip: speakers bureaus can provide: speaker fee negotiation, insurance, smooth logistics and value add-ons such as extra sessions. "
For Event Planners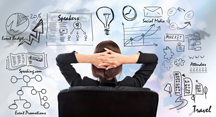 • Keynote Speaker Booking Toolkit.
• Booking a Celebrity Speaker.
• How to Find and Book the Right Speaker.
• Google+ Event Planning Forum.
• Tips for International Clients Booking U.S. Based Speakers.
Similar Speakers
Christine Romans

Veteran reporter and CNN's chief business correspondent, Christine Romans delivers the day's top business news every morning nationwide. An award-winning reporter known for her decades…

Mark Mobius

Executive chairman of Templeton Emerging Markets Group and director of its research team, Dr. Mark Mobius is a globalization expert with particular expertise in investing…

Chris Skinner

Chris Skinner specializes in the future of financial services and shares his findings on his popular blog, The Finanser. He chairs the European networking group…

Our agent was great to work with. Very easy to reach when needed and promptly returned messages. Thank you for making our event such a big success, we are looking forward to working with you again soon!
American Lung Association
About SPEAKING.com
Established in 1994, we are exclusive agents for some of the world's leading experts, celebrities and professional speakers.
We offer event planners a fully staffed speaker logistics planning team, plus a personal SPEAKING.com Account Executive – a knowledgeable and trustworthy partner. We guarantee your satisfaction with your speaker and a smooth booking process.
Contact us today to book your favorite speaker.

"Joe made a perfect chairman for the conference, managing the timing without it showing – linking our speakers and providing professional advice and guidance. Could not be faulted."
John Twedell, PR and Corp Comms Manager, Lexmark Europe.
"The Visa Business School team are all extremely happy with this year′s event, … and we would like to thank Joe DiVanna for his personal contribution to our shared success."
Lisa Morford, Head of the Visa Business School team, Visa International.
"Joe DiVanna′s thoughts on both the continuity and the discontinuity of leadership challenges in the distance based environment were, as always, brilliant and insightful."
David Thomas, CEO, CRAC (Careers Research and Advisory centre, Cambridge, UK).
"DiVanna′s knowledge of the history of Cambridge and in particular King′s College made it a most informative and interesting evening."
Alan Blake, Conference Organizer, Institute of Directors, Eastern Branch.
"Joe′s session was excellent! Several delegates commented that his session was very inspiring and thought-provoking, which was exactly what we were trying to achieve".
Wendy Martin, Visa International.
"Joe DiVanna′s lecture was most interesting. It was refreshing to hear a business presentation that brought the theories to life, I felt talked to, rather than lectured at, and I think that this went down really well with the participants."
Katie Latimer, Programme Manager, Careers Research and Advisory Centre
"DiVanna highlights the need for companies to constantly question whether their organizations are optimally organised to provide value to customers in an increasingly global competitive marketplace."
Daragh O′Byrne Solutions Manager, Misys Retail Banking Systems.
"Joe DiVanna illuminates the fundamental opportunities for the Financial Services Industry to reinvent itself."
David Sutherland, Managing Director, The Business Innovation Consortium.
"Joe DiVanna′s sweeping review of technology and business contributes both historical perspective and strategic context. In particular, he is absolutely on message when he talks of the growing importance of relationships in business processes, an omission that is too often made."
Arif Zaman, Global Market and Industry analyst, British Airways
An advisor to a long list of world class companies including Visa, MasterCard, and HSBC, Joe DiVanna provides cutting edge seminars and workshops on banking, financial services, Islamic finance, emerging markets, economics, innovation, human capital management and leadership.
Noted for his unusual approach to problem solving and strategy development, Joe's workshops engage participants by immersing them into a rapid strategy think-tank environment.
As a speaker he quickly connects with any audience through his energy and stories, guaranteeing that his message will be effective, memorable, and of value to your organization or event.
Suggested Programs...
When Customers design banks: Cashless, No Fees, High Touch, Multi-channel and Multi-national
Technology is redefining how financial service providers interact with customers. To date the provider has been in control; however, the relationship with customers is about to take a drastic chance, as customers will soon be able to design their own banking relationships. However, on the horizon are new opportunities for fee income, cross selling, cost savings and revenue enhancement from understanding the fundamentals of customer expectation management, transaction data, segmentation and relationship building. This lecture examines how banks can capitalize on the new wave of banking products as customers become the drivers of delivery technologies, channels, products, fees and services. This look at the trends that are reshaping the industry spans 12 countries and 3 decades to give us a glimpse of what is to come during the next 5 years as banking reinvents its relationship with customers.
Money Makes the World go Round, but who is minding the Digital Mint?
The intrinsic significance of money is relative to society's perception of what is valuable. This lecture takes an informative but light hearted look at the nature of money, how society values money and how with today's technology anyone can mint their own currency. Money systems like M-Pesa in Kenya, airline miles and various other value-based schemes are redefining money in today's society. Joe DiVanna discusses the iconographic and social significance of currencies, little known historical facts, and how technology is changing the world's perception of money. This discussion examines how currency technologies spawn a revolutionary change in "how we value things" and an evolutionary process of "why we value things."
Developing a can do culture: embracing global innovation leadership
Why are some organizations exciting places to work? Why are some employees empowered to make decisions, why is innovative thinking part of a group culture, resulting in quantum leaps in productivity? This lecture uses examples from various industries to examine the nature, behaviour, attributes and culture of organizations and banks that excel at achieving a culture that is focused on doing. This presentation puts forth a roadmap of things banks should avoid along their journey over the next decade.
Banking Marketing, Cross-Selling and Customer Relationship Management
Traditionally, banks have been in control of what they offer to customers. Now, customers are redefining the relationship as they are able to design their own banking relationships. Attracting and retaining customers has been transformed into a process of understanding how customers use products with multiple distribution channels. Never before have banks had to know more about their customers to deliver value-added services and facilitate their lifestyles. With this challenge, however, new opportunities emerged for fee income, cross-selling, cost savings and revenue enhancement. To capitalize on these opportunities, banks must understand the fundamentals of customer expectation management, transaction trend analysis, segmentation and relationship building.
Master class on Islamic Finance: Competitive Strategies for Shariah-Compliant Banks
During the past five years, Islamic banking has enjoyed a renaissance, hailed as the biggest phenomenon in banking in the last century. Now, the party is over. Rising competition, social unrest coupled with the effects of global financial crisis is being felt in domestic markets resulting in a slow down in the growth rate of Islamic banking industry. Shariah-compliant banks face a new challenge: customers who demand more products, better service quality at competitive rates. As Muslims across the world gain greater access to Islamic financial services, the nature of competition in domestic markets is being redefined. Changes in market dynamics present an opportunity for Islamic banks to rethink how they approach the market, apply technology, brand products, package services and connect with their customers. Joseph DiVanna, banking industry strategist and author of numerous books on banking and Islamic finance, presents a workshop to address key issues that banks must master to compete in their local markets.
The Socio-Economic Implications of Consumer Credit
The nature of how consumers are using credit is changing at such fast a rate; that bankers cannot always invent new products fast enough to match it. Innovations such as "interest only mortgages", "intelligent financing", and "low-interest for the life of a balance credit cards", are the results of banks reactively responding to customer demand, playing an endless game of follow the leader. Consumers now have new options for borrowing from companies that are providing access to lending in which consumer borrowing is negotiated directly between consumers without any bank intermediation. This half-day workshop examines the implications and applicability of these Euro-American concepts on other regions and on non-interest based financial systems.
Of Partners, Payments and Thieves: A Multifaceted View of Fraud and Risk Management
Today's financial services institutions face the ongoing challenges of risk management and payment fraud in a rapidly changing global-technological environment. Are these merely symptoms of a looming future problem? Joe DiVanna discusses the future of payment systems and the birth of 3-dimensional operational risk. This lecture examines fraud and risks from several perspectives: how do we mitigate risks in current state of operations, what are the new opportunities for fraudsters in an uncertain future, and how institutions must manage a portfolio of ever-changing risk scenarios? This half-day workshop puts forth a view that risk and fraud must be assessed, managed, and mitigated at each intersection point of an institution's internal-external transaction process, while simultaneously assessing the organizations, customers, and partners that interact or generate transactions.
Bank Strategy Implementation and Performance Evaluation
All banks have some form of strategy; what separates great performing banks from their less successful counterparts is how they execute the implementation of their strategic efforts and how they measure their performance. This 1 or 2-day programme will examine the fundamentals of developing a banking strategy, how different approaches to implementation deliver vastly dissimilar results and how to establish meaningful performance criteria.

The Value Proposition of Islamic Finance | Joseph DiVanna, Managing Director, Maris Strategies
Joseph DiVanna examines how religious principles set Islamic Banks apart from their secular competition and how pressures from modern society are influencing those principles. One of those values is not charging interest; while most Banks view this as a just trade for providing the convenience of a loan, Islam views interest as a form of exploiting a situation.
"There is a fundamental difference between the time value of money, which is profit and the monetary value of time, which is interest," Joe points out. Regarding the course of action Islamic Banks should take when it comes to competing in a globalized world, he explains that value proposition is relative to the community being served.
"For a 25-year-old banker in New York, $3 for a cup of coffee is fine. It's normal. But for a banker in Kenya, $3 for a cup of coffee is inconceivable. It should be about 20 cents," he illustrates. "The power of Islamic finance is the fact that it's interpretative and its value proposition can span a multitude of moral compass."