* Please note that while this speaker's specific speaking fee falls within the range posted above (for Continental U.S. based events), fees are subject to change. For current fee information or international event fees (which are generally 50-75% more than U.S based event fees), please contact us.
Top25 Speaker Voting

Jordan Goodman needs 7 vote(s) to make it into the Top 25 speakers on Speaking.com!
Speaker Booking Tip
"Tip: speakers bureaus provide added value that you cannot get by booking speakers directly. "
For Event Planners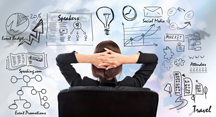 • Keynote Speaker Booking Toolkit.
• Booking a Celebrity Speaker.
• How to Find and Book the Right Speaker.
• Google+ Event Planning Forum.
• Tips for International Clients Booking U.S. Based Speakers.
Similar Speakers
Kare Anderson

It doesn't get much higher-level than a presidential campaign, and Kare Anderson created over 208 issues-formation teams for President Obama's first run for office. She…

C.J. Huff

After a late spring tornado flattened a third of Joplin, Missouri, killing 161 people, and damaging or destroying 12 out of its 16 schools, Superintendent…

Bowen White

Dr. Bowen F. White has the distinction of being one of only two medical students who were founding members of the American Holistic Medical Association.…

Once again our agent did an outstanding job. Not only did he provide me with a number of options for potential speakers but he helped with seeing who was available, when they could speak, and getting everything done in a timely fashion. I look forward to working with him again.
Auburn University
About SPEAKING.com
Established in 1994, we are exclusive agents for some of the world's leading experts, celebrities and professional speakers.
We offer event planners a fully staffed speaker logistics planning team, plus a personal SPEAKING.com Account Executive – a knowledgeable and trustworthy partner. We guarantee your satisfaction with your speaker and a smooth booking process.
Contact us today to book your favorite speaker.

"Jordan completely surpassed our expectations. We had record numbers of attendees this year and his content was current to the times and relevant to our audience. He was very flexible to work with during our planning sessions and provided contributions that made the session both dynamic and interactive. He was also very patient when answering all the questions that came in from around the country and stayed for quite a while afterwards with members from our in-person audience. Every single feedback survey gave Jordan the highest marks."
E*TRADE
(Event booked by Speaking.com)

"Thank you for making this year's program one the best yet!"
Angela Flanigan, Million Dollar Round Table

"Your presentation provided a wonderful balance between the scientific sessions and recreational activities during our meetings for the doctors."
Michelle Morgan, Accel Healthcare Communications

"Your three financial seminars were extremely well-received by overflow audiences on our cruise ships."
Helen Kelly, Holland America Cruises

"You have the rare ability to keep your audience entertained while delivering useful financial information."
Jim Sweetnam, American Association of Individual Investors

"We had nothing but fantastic, rave reviews from each of our attendees, with several of them commenting that you were their favorite speakers that they had ever seen at any of our events!"
Corey Ludens, the Mattress Firm

Partial Client List

AARP
Accel Healthcare Communications
Applebee's Restaurants
Ariel Capital Management
Arizona State University
JP MorganChase Bank
Coldwell Banker
Federal Deposit Insurance Corporation
FIRMA
Financial Women International
Freedom Investment Club
Holland American Cruise Lines
McCann-Erickson Advertising
McKendree College
National Council on Economic Education
National Education Association
National Grocers Association
South Carolina Board of Realtors
Sperry Van Ness Commercial Real Estate Brokerage
The Alternative Board (TAB)
The Mattress Firm
Master Your Debt: Slash Your Monthly Payments and Become Debt Free
Strategies and tools to live debt free

The world of borrowing and debt management has changed dramatically, leaving people confused about how best to secure their financial future. This book is the only guide with detailed advice to help you become debt free or master the debt you have, based on the latest laws and new government programs and policies implemented under the Obama administration.

Is the information and advice on debt management different than in years past? Definitely. In this savvy, engaging guide, bestselling financial expert Jordan Goodman will tell you how to:

Win the mortgage game: avoid foreclosure, obtain the best refi, and modify your mortgage even if it is "under water"
Clean up your credit report and dramatically boost your credit score
Negotiate new terms and payments for burdensome medical bills, student loans, and credit cards
Protect yourself from the devastation of identity theft
Master the new credit card rules, and avoid the rate and fee traps
Learn a revolutionary strategy that will help you become mortgage free in 5 to 7 years, change the way you pay all your bills, and save hundreds of thousands of dollars

Master Your Debt recommends many pioneering strategies as it lays out an innovative plan for achieving the elusive goal of financial success. The book is filled with helpful web sites, toll free numbers, associations and government agencies, and vetted companies and services to help you implement this advice. In today′s volatile economy, getting out of debt is the key to surviving and thriving, and author Jordan Goodman provides you with the strategies and tools to live debt free.
Order Here





Why is Jordan Goodman in demand across the country?

Americans in all walks of life, at every socioeconomic level, are clamoring to get more information about how to improve their personal finances in these challenging times:

Where are the best investment opportunities now?
How can employees get the most from their benefit plans?
How can people finance a comfortable retirement?

What makes Jordan Goodman an expert?

Eighteen years at MONEY Magazine, the foremost publication on personal finance
Reporter and writer on virtually every aspect of personal finance since 1979
Author of three best-selling books in the field of personal finance
Daily guest on radio call-in and television shows across the country, including eight years on Mutual Broadcasting System's America in the Morning
Weekly commentator on NBC TV Network's News at Sunrise
Creator of the Money Answers Program

Who are Jordan Goodman's audiences?

Senior executives, housewives, employees, sophisticated investors, professionals, beginning investors, retirees, mutual fund shareholders, college students, bank depositors, business people, trade associations … or any combination thereof!

What are Jordan Goodman's topics?

Whether it's a keynote address or an intimate seminar, an overview or an in-depth look, Jordan Goodman can speak on any aspect of personal finance, including:

insurance
the economy
stocks, bonds & mutual funds
certificates of deposit
gold
401 (k) plans
credit cards
real estate
college financing
retirement planning
taxes
financial industry trends

Specially Tailored Campus Programs

#1: What every college student needs to know
Even though you are not yet 21, it′s possible that some of the money choices you are making during college can hurt your future. What money traps should you avoid during college? What can you do to get out of traps you may already have fallen into, especially in regard to credit cards and student loans? What is your credit score and what can you do to improve it? Where can you start investing with as little as $25 per month? Do you know what compounding is and why you should make it your new best friend?

In Version #1, Goodman lays out the steps to fix current money problems, avoid future ones, and start investing!

#2: What every college grad-to-be needs to know
Serious new money matters will confront you when you graduate. Is there anything you can do to lighten the burden of your student loans? What do you need to know about your prospective employer′s benefit plan before you accept a job? What sorts of insurance do you need and how can you get the best prices on your policies? What are the financial implications of getting married? How much does it cost to have and raise a child? What should you be doing long before you apply for your first mortgage?

In Version #2 , Goodman covers the financial basics that grads-to-be need to know!
Jordan Goodman Extended Speech Excerpt
From cutting costs in health care and mortgages to doubling investments in the stock market, Jordan unpacks 800 resources for making household income go farther and grow faster. Warning the audience to grab a pen and paper, he dives into his 20 simple secrets for improving personal finances, examining every aspect of daily life.
Unraveling property laws, he discusses tax liens and deeds, procedures that give people the opportunity to purchase homes from municipalities when the owner of a home has not paid their property taxes. The price you pay for the home may be as low as the sum of the owed property taxes. "So you have a house that's worth $200,000, $300,000, $500,000…whatever it might be," Jordan summarizes, "that you just bought for $3,000 or $6,000, whatever the property taxes might be."
Jordan Goodman, Financial Speaker: Interview
Jordan Goodman reveals how to manage your money so that you can pay off a 30-year mortgage in only 5 to 7 years. "I'm not changing your income," he comments on his plan. "I'm not changing your expenses. I'm changing where your money flows."
He advises that owners replace their traditional mortgage with a HELOC – a Home Equity Line of Credit - which allows you to pay off the principle from Day 1 rather than getting bogged down with interest payments for the first 10 to 15 years like in a traditional mortgage. "Banks don't want people to know about this," Jordan admits when asked why more people don't take advantage of this opportunity.