* Please note that while this speaker's specific speaking fee falls within the range posted above (for Continental U.S. based events), fees are subject to change. For current fee information or international event fees (which are generally 50-75% more than U.S based event fees), please contact us.
Top25 Speaker Voting

Jonathan Vehar needs 5 vote(s) to make it into the Top 25 speakers on Speaking.com!
Speaker Booking Tip
"Tip: find a speaker in your local area to save on travel costs. Most speakers will also reduce their keynote fee for local events. "
For Event Planners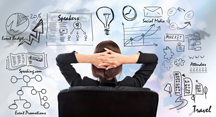 • Keynote Speaker Booking Toolkit.
• Booking a Celebrity Speaker.
• How to Find and Book the Right Speaker.
• Google+ Event Planning Forum.
• Tips for International Clients Booking U.S. Based Speakers.
Similar Speakers
Marilyn King

Former Olympian Marilyn King is an extraordinary speaker, providing business leaders and educators with the tools and skills they need to dig deep–and reach for…

Craig Karges

The "Extraordinist" Craig Karges is an award-winning entertainer, author, and speaker, who has made over four thousand appearances across four continents, seventeen countries and all…

Greg Bennick

Having recently returned from a humanitarian aid trip to Haiti, Greg Bennick practices what he preaches about teamwork, leadership and creative solutions. On that trip,…

Working with your speakers agency on our training projects during the year proved to be a great business choice. I felt that my account reps were always around when I needed them, willing to help and listen. They showed flexibility when it was required and were reliable and dependable.
KPMG, Europe
About SPEAKING.com
Established in 1994, we are exclusive agents for some of the world's leading experts, celebrities and professional speakers.
We offer event planners a fully staffed speaker logistics planning team, plus a personal SPEAKING.com Account Executive – a knowledgeable and trustworthy partner. We guarantee your satisfaction with your speaker and a smooth booking process.
Contact us today to book your favorite speaker.

"We′re very happy with the results -- you definitely dazzled them! You received the highest ratings any speaker has ever gotten at our [annual] conference!"
--Director, Kaset International (a Times Mirror Company)

"I want to express my gratitude for everything you did to make our conference such a tremendous success. We have received a considerable amoung of feedback indicating that the conference objectives were met or exceeded...I was very impressed by how well you related to the people and in turn how they responded to your sincere efforts to help them...I am confident that your positive impact will drive benefits for years to come."
--Sr. Vice President, Kraft Foods

"You received the highest ratings of any of the presenters at the orientation session. We look forward to working with you again next year."
--Coordinators, MBA School Orientation, Simon School of Business, University of Rochester

Clients Include:
American Heart Association
Andersen Consulting
Bath & Body Works
Child and Family Services
Deloitte & Touche
Environmental Protection Agency
General Motors
HBO/Cinemax
Monsanto
Nestle
Scientific Games
State University of New York
The US Navy
Times Mirror
Xerox
The Innovation Leader is in the Mirror: How to Live Up to the Responsibility for Your Organization's Success
Purpose:
Delivers the message that growing the organization is everyone's job. Provides tools and attitudes for people to begin to make innovation happen at any level — from new hire to CEO — immediately.
Description:
Successful organizations demand effective leadership and a focus on innovation to achieve their growth goals. Especially when working in a fast–paced global marketplace, a matrixed organization, an autonomous workgroup, an innovation team or, basically, when the numbers represent a critical challenge. This high–energy, activity–punctuated program provides leaders of all levels, types and functions with the skills and tools to work together more effectively to create new solutions. The participants work on interactive innovation challenges designed to provide insights about the strengths and weaknesses they bring to the organization and to help them define their leadership role within the company. Participants in this program return to work energized to lead and able to develop creative and innovative solutions with their teams.
Key Benefits:

Productive approaches to help grow value for the organization
Sharpened leadership, speaking and listening skills
Improved communication among group members
More effective leadership and "followership" for more effective collaboration in a hierarchy
Increased trust among group members
A new attitude toward accountability and responsibility
A common language and tools for attacking problems and creating opportunities
Breakthrough Thinking: Creativity and Innovation Tools for Your Brain
Purpose:
Teaches the tools and techniques needed to spark imagination, generate new ideas and break through the blocks to creativity and innovation. Results are immediate.
Description:
A motivational and interactive program designed to create an attitude shift in participants that promotes free–flowing creative idea generation and new ways of treating the innovative ideas of others. Audiences learn tools that will quickly cause creativity breakthroughs in individuals and organizations. Packed with useful information and inspiring stories of successful applications of innovation, the program is also considered "a lot of fun." Groups are inspired to work together with a new focus on creative thinking, innovation and productivity.
Key Benefits:

Improved creative thinking and innovative results
Groups generate more innovative options and a wider range of alternatives
Enables participants to better evaluate and strengthen new ideas
Inspires a productive new attitude toward innovation leadership
Teaches tools and techniques for identifying the opportunities that problems often conceal
Enhances idea generation and evaluation by the group
Strenthens creative problem solving in all areas of work and life
Strengthens emotional intelligence
Is motivational and energizes more effective teambuilding
Provides creativity tools and techniques to generate breakthrough solutions on–demand
Is a great innovation initiative kick–off
Energizing Innovation Teams: How to Spark a Culture of Innovation
Purpose:
This keynote teaches innovation tools that can be used immediately for working together more creatively, productively and effectively. Also sends a message that the corporation is taking action to help groups work together to create more innovative results.
Description:
Everyone is creative. It's part of the human condition. But harnessing the creativity in everyone and putting it to work productively in a group setting can require new ways of working together more effectively. This high–energy, activity–punctuated program provides team members with the skills and tools they need to work with others to improve their potential for innovation. Participants work on interactive challenges designed to help them see beyond barriers to innovation and the obstructions that can be caused by anyone. Team members leave this program energized, more creative, and more productive when working with others.
Key Benefits:

Knowledge of the personal blocks and barriers to innovation, and how to get past them
Improved communication among group members
More effective leadership and followership for better collaboration
More effective and productive meetings
Better working relationships
New attitudes about being able to innovate
Common tools and language with which teams can attack problems and create opportunities
Make Creativity & Innovation Happen
In this speech, Jonathan discusses ways to "make creativity and innovation happen" within any organization. "You must open your mind to new ideas," he says. He explains that this concept is like a Rubik's Cube, saying "It may sound simple, but it's not easy."
He goes on to explain ways to generate new, creative ideas. He tells the audience that they must "defer judgement, strive for quantity, seek wild and unusual ideas and combine and build on ideas." He says that it's OK to "make 30 mistakes, and when you make those 30 mistakes, you can make 30 more mistakes." He continues by describing his steps to generating new ideas, beginning with identifying the problem.