* Please note that while this speaker's specific speaking fee falls within the range posted above (for Continental U.S. based events), fees are subject to change. For current fee information or international event fees (which are generally 50-75% more than U.S based event fees), please contact us.
Top25 Speaker Voting

Jonathan Salem Baskin needs 5 vote(s) to make it into the Top 25 speakers on Speaking.com!
Speaker Booking Tip
"Tip: some speakers might provide one of their popular book titles as a free gift to your audience. "
For Event Planners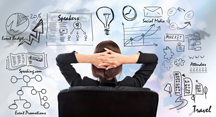 • Keynote Speaker Booking Toolkit.
• Booking a Celebrity Speaker.
• How to Find and Book the Right Speaker.
• Google+ Event Planning Forum.
• Tips for International Clients Booking U.S. Based Speakers.
Similar Speakers
Bruce Himelstein

One of the smartest and most sophisticated minds of the marketing world, Bruce Himelstein is the innovative CMO behind some of the hospitality industry's top…

Deanie Elsner

With more than 25 years of experience in marketing, Deanie Elsner is an industry leader in business transformation and strategic brand innovation. Named one of…

Robin Koval

For over 25 years, Robin Koval has specialized in getting brands out of the shadows and turning them into household names. The marketing strategist was…

SPEAKING.com does a wonderful job! Our AE always responds promptly and is very professional, thank you!
AlphaNet
About SPEAKING.com
Established in 1994, we are exclusive agents for some of the world's leading experts, celebrities and professional speakers.
We offer event planners a fully staffed speaker logistics planning team, plus a personal SPEAKING.com Account Executive – a knowledgeable and trustworthy partner. We guarantee your satisfaction with your speaker and a smooth booking process.
Contact us today to book your favorite speaker.

"Baskin was insightful about the major issues and trends related to corporate reputation and communications management. His session rated very highly with the attendees, and I look forward to working with him again."
Lee Hornick, Worldwide Program Director, The Conference Board

"In addition to being an author and a speaker, I've observed over thirty marketing authors speaking in the speaker series I run in New York City. Jonathan is an engaging, effective speaker who is one of the most intelligent marketers on the speaking circuit today."
David Vinjamuri, ThirdWay Brand Trainers, Author, Accidential Branding

"Baskin has something important to say, and he says it well. He provocatively probes and pokes conventional marketing maxims. He urges marketers to eschew image making and to instead facilitate a clear, reality-based engagement with prospective buyers in ways that are important and relevant to them, integrating messaging over time with different prompts to encourage buyer action."
Tom Waller, Commonwealth Club of California



A Thousand Words: Why We Must Fight the Tyranny of Brief, Vague & Incomplete
This quick read draws on the science of the mind, ancient civilizations, mobile tech, Shakespeare, funny TV commercials, and a host of other diverse topics to explain why we prefer pictures over words, brevity over length and depth, and are thereby willingly giving up our ability to reach consensus and collaboration on any constructive action.
Ultimately, this is a book for marketers and business leaders, for whom Baskin makes a novel, contrarian conclusion come to life with illustrative examples, intriguing facts, and not a little bit of wit: it's not that a picture tells a thousand words, but rather we need a thousand words to understand most pictures. His insights have implications for how brands communicate with their markets, and how consumers interpret those communications. Read this book and you'll never Tweet the same again.
Tell The Truth: Honesty Is Your Most Powerful Marketing Tool
Truth is a powerful marketing tool—and really the only way to promote a message and brand effectively.
Truth in advertising has long been something to ignore, or at least downplay. The role of advertising has been to position and manipulate brands to convince consumers that they're imbued with qualities they don't necessarily possess, or presume to tell them which ones matter. It worked when the brand's voice was the only voice, but with the rise of social media that era is over.
Marketers have focused their messages on entertainment, creating funny or engaging campaigns that win awards but don't always sell products. Consumers determine what's true, and smart companies have realized that every communications medium can and will be used to contribute to those conclusions.
In Tell the Truth, Jonathan Salem Baskin and Sue Unerman look at the content and context of marketing communications. They provide the research of hundreds of companies and in-depth case studies on more than 50 global brands to show us that truthful brands deliver sales, profits, and sustainable relationships. Truth yields true competitive advantage.
Histories of Social Media, Second Edition: 2,000 Years of Do's and Don'ts
Are Facebook, Twitter, or YouTube really new? The technologies certainly are, but history provides antecedents for every behavioral, cultural, and commercial quality of new media experience.
Crowdsourcing? Medieval villagers used it to learn about treatments for the Black Death long before consumers submitted ideas for new flavors of soda pop.
Engagement? 19th Century industrial unions were planning activism in ways that make "friending" a product or service little more than a joke.
Conversation? The Romans ran their government with it, while the French Terror used it to murder thousands.
Debate? People have jousted and dueled for centuries. If you strip away the technology, you open up a rich resource of case histories that better explain the dynamics, shortcomings, and immense opportunities for social media.
Histories of Social Media explores two thousand years of communications do's and don'ts to deliver an insightful, entertaining, and useful read.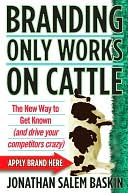 Branding Only Works on Cattle: The New Way to Get Known (and drive your competitors crazy)
Most people don't know it yet, but branding is dead.
Sure, we need to know about the stuff we want to buy, but the billions of dollars spent on logos, sponsorships, and jingles have little, if anything, to do with actual consumer behavior. For example:
Dinosaur-headed execs in Microsoft ads didn't help sell software.
Citibank's artsy "live richly" billboards didn't prompt a single new account.
United Airlines' animated TV commercials didn't fill more seats on airplanes.
As branding guru Jonathan Baskin reveals, modern consumers are harder to find, more difficult to convince, and near-impossible to retain. They make decisions based on experience—so what matters isn't how creative, cool, or memorable the advertising is, but how companies can directly target consumer behavior.
Pretty pictures and funny taglines should be an after-thought: brands must targetwhat consumers actually do. How companies affect behavior—whether via marketing communications, distribution strategies, or customer service—is how branding is being reborn. This book will be the essential guide to understanding and thriving on this new branding dynamic.
TOPICS
Trends
Innovation
Privacy
Corporate Reputation
Jonathan combines technology, history, 30 years of successfully bringing brands to market, and the latest research to deliver provocative insights into the ways people interact with businesses, governments and one another.
Baskin is regularly quoted by the news media because he speaks honestly and passionately about today's latest trends, "providing thinking that goes way beyond what could be found with a Google search," according to one client. He has three decades of experience marketing some of the world's biggest brands, having run communications for Limited, Blockbuster and Nissan, while later advising such iconic brands as Apple.
He's a regular contributor to Forbes, a columnist for Advertising Age, marketing category expert at Answers.com, and has written extensively on technology and brands for InformationWeek. Baskin has written seven books: his first book Branding Only Works on Cattle, earned praise from Publisher's Weekly and The Economist; his third book, Histories of Social Media, looks at the underlying dynamics of today's social media technologies, and his fourth book, coauthored with Sue Unerman and entitled Tell The Truth: Honesty Is Your Most Powerful Marketing Tool, charts a new path for brands to build credibility and trust. He's currently at work on his eighth book, The End of Anonymity, which will explore the challenges and opportunities for online relationships, whether between people, or with businesses and government.
SPEECHES
The Coming Privacy Crisis
Consumers are mostly unaware of the breadth and depth to which their once private data are being used by companies to not only serve them, but predict and then direct their online behaviors. Businesses have done little to bridge this gap in understanding, and consumers' reaction once they find out could dwarf the uproar over the Snowden/NSA revelations. Baskin uses the latest research and evolving content for his next book to recommend ways businesses can help preclude this crisis, and how doing so can strengthen customer relationships on a highly topical issue.
The Innovation Trap
After years of being scolded for not innovating enough—and watching startups celebrated as the engines of disruption—established companies are beginning to realize that innovation was a trap from which they had little chance to successfully escape. Baskin spends his days as a managing director of Chicago's oldest and most successful tech entrepreneur venture collaborative, and can show how big companies are learning to innovate on their own terms... and take tech startups with them.
Social Media, the Next Story
Now that the social revolution is over, the challenge for brands is to find new and compelling ways to engage with consumers who are busier, more critical, and less interested than ever before in what brands have to say. Baskin, a regular columnist for America's Forbes and Advertising Age magazines, has studied brand engagement for years, and can specify what works, what doesn't, and where brands should invest their money going forward. This insightful presentation playfully challenges the conventional wisdom, and yields actionable conclusions for better social engagement.
How to Create Sustainable Corporate Reputations
It's common belief that a negative event can damage corporate reputation, and that the only way to prepare for such surprises is to have a PR plan at the ready. Baskin has studied data on 7000+ public companies over 10 years, and developed statistically reliable models that reveal most negative events aren't really surprises, and that PR responses have little (if any) impact on them. The good news is that the likelihood of a crisis can be controlled by internal transparency and good governance. He shares specific case histories of what works, why, and how those insights can be applied to any company's operations.
Jonathan Salem Baskin: Interview - Illinois Business this Week
In this interview with Illinois Business This Week, Jonathan discusses the current age of social media technologies and how it compares historically to traditional communications.
Jonathan Salem Baskin: Branding Speech
Using his 30 years of experience in creating brand images for some of the world's largest corporations, Jonathan Salem-Baskin explains to his audience just what it is that consumers are looking for and how they can provide it: "Communities are not just where brands live, communities are where people live, and where they make decisions. Context matters...reality matters, real community matters, and context matters, not to brands, but to consumers."
He examines exactly what it is that makes a consumer connected to a brand: "Is it what we say, is it our context, is it a story… I'm convinced it's behavior, the common tool is behavior…we can talk about the perception, and the brand awareness, and all the other intangibles, but I would argue that we as marketers shouldn't necessarily care, what we should care about instead is the behaviors that led to that [consumer] decision."
Jonathan explains exactly what he means by looking at behaviors: "I'm not talking about digital behaviors, I'm not talking about clicking on a website or playing with the phone app necessarily, I'm talking about the behaviors that constitute how people live, where they live, what they think about, what they care about and more importantly how they decide things. People don't decide things based on what they're told, they decide things based on what they know and then what they do."
Jonathan Salem Baskin: What's Wrong With Super Bowl Ads? - CNN Interview
Jonathan Salem Baskin: Demo Video