* Please note that while this speaker's specific speaking fee falls within the range posted above (for Continental U.S. based events), fees are subject to change. For current fee information or international event fees (which are generally 50-75% more than U.S based event fees), please contact us.
Top25 Speaker Voting

Jonathan Harris needs 9 vote(s) to make it into the Top 25 speakers on Speaking.com!
Speaker Booking Tip
"Tip: some speakers might provide one of their popular book titles as a free gift to your audience. "
For Event Planners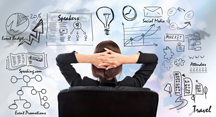 • Keynote Speaker Booking Toolkit.
• Booking a Celebrity Speaker.
• How to Find and Book the Right Speaker.
• Google+ Event Planning Forum.
• Tips for International Clients Booking U.S. Based Speakers.
Similar Speakers
Thornton May

An empirical futurist and corporate forecaster for 35-plus years, Thornton May has helped various organizations outperform their competition by designing for what comes next. He…

David Weinberger

American technologist and early social network entrepreneur David Weinberger is a pioneer in studying how the Internet affects our lives, our businesses and our ideas.…

Ann Handley

Ann Handley is a Wall Street Journal best-selling author, keynote speaker, and the world's first Chief Content Officer. A veteran of creating and managing digital…

Everyone at your speakers agency were professional and helpful throughout the process, making it easy to book, communicate, and prepare for our event.
Hewlett Packard
About SPEAKING.com
Established in 1994, we are exclusive agents for some of the world's leading experts, celebrities and professional speakers.
We offer event planners a fully staffed speaker logistics planning team, plus a personal SPEAKING.com Account Executive – a knowledgeable and trustworthy partner. We guarantee your satisfaction with your speaker and a smooth booking process.
Contact us today to book your favorite speaker.

"Astonishing and brilliant."
New York Magazine

"A mesmerizing visual experiment."
Reuters

"Stunningly gorgeous."
The Washington Post

"Renaissance man for the information age."
New York Arts Magazine

"So incredible... it almost brings me to tears."
Eye Magazine

"A fascinating combination of art, science, culture, and current affairs."
USA Today

"Sweetly sad-yet-hopeful... touching, and tragic, and a lot about design, and art, and how those two mitigate loneliness, create connection, and influence our lives."
Wallpaper

"If you believe that the Internet is a cultural revolution on the level of modern capitalism, the nuclear age, or even the age of reason, then think of Harris as struggling to create its Impressionism, its Abstract Expressionism, or its neoclassicism—struggling, in other words, to develop a new artistic language for a new human condition. And undoubtedly for a new generation. We Feel Fine—together with a handful of Harris's other works—defines a profound new kind of information design: whittling down the world's 70 million Web sites and blogs into a framed image of humanity. And it does it live, continuously, and autonomously... constantly changing artistic responses to a constantly changing world."
Metropolis

"The result is a new way to engage with images and information. But for all of Harris's high design and technological guile, the real achievement may be much simpler... he has reinvigorated interest in one of our basic cultural building blocks: a good story, well told."
Good Magazine

"What won't change in the future is the search for love, though how we search will evolve... Present or future, may all our digital soul exchanges occur in such an uplifting medium."
The New York Times

"Compelling, engrossing, informative, entertaining, beautiful... an unqualified success."
Buzzmachine
We Feel Fine: An Almanac of Human Emotion
In this dazzling exploration of contemporary human feelings, digital whiz kids Sep Kamvar and Jonathan Harris use their computer programs to peer into the inner lives of millions, constructing a vast and deep portrait of our collective emotional landscape.

Armed with custom software that scours the English-speaking world′s new Internet blog posts every minute, hunting down the phrases "I feel" and "I am feeling," the authors have collected over 12 million feelings since 2005, amassing an ever-growing database of human emotion that adds more than 10,000 new feelings a day.

Drawing from this massive real-world stockpile of found sentiment, We Feel Fine: An Almanac of Human Emotion presents the best of the best — the euphoria, the despair, the passion, the dreams, and the desires that make us human. At turns touching and thought-provoking, humorous and heartbreaking, We Feel Fine combines the words and pictures of total strangers to explore every corner of the human experience.

Packed with personal photos, scientific observations, statistical infographics, and countless candid vignettes from ordinary people, We Feel Fine is a visual, fiercely intelligent, endlessly engrossing crash course in the secrets of human emotion. Are men or women happier? Does rainy weather affect how we feel? Is beauty the bridge between happiness and negativity? How do our emotions change as we age? What causes depression? What′s sexy? What′s normal? What′s human?

We Feel Fine finally provides a way to answer these questions that is both quantitative and anecdotal, putting individual stories into a larger context and showing the stories behind the statistics — or asthe authors like to say, "bringing life to statistics and statistics to life."

With lush, colorful spreads devoted to 50 feelings, 13 cities, 10 topics, 6 holidays, 5 age groups, 4 weather conditions, and 2 genders, We Feel Fine explores our emotions from every angle, providing insights into and examples of each. Equal parts pop culture and psychology, computer science and conceptual art, sociology and storytelling, We Feel Fine is no ordinary book — with thousands of authors from all over the world sharing their uncensored emotions, it is a radical experiment in mass authorship, merging the online and offline worlds to create an indispensable handbook for anyone interested in what it′s like to be human.
Order Here





Examples of Past Speaking Topics:
Creating New Media Technology in the Service of Storytelling
Virtually You
The Web′s Secret Stories
What It Means to Be Human
Jonathan Harris: TED Talk
Jonathan Harris explores the ancient act of self-expression and how its modern-day manifestation on the Internet in the form of blogs and social media is an opportunity to showcase that people have more in common than they realize. He describes how his computer programs surf the web passively observing how people document their lives and emotions online.
Harris displays the interactive visual maps of this data on a giant screen swarming with multi-colored dots. With a few movements of the cursor, he shares a few of his favorite montages of thoughts that his program has captured from writers around the world: "I feel so much of my dad alive in me that there isn't even room for me." "I feel very lonely." "I need to be in some backwoods redneck town so that I can feel beautiful." "I feel invisible to you." "I wouldn't hide it if society didn't make me feel like I needed to."
Jonathan Harris: Different Ways of Looking
Jonathan Harris: Rethinking Social Networking