* Please note that while this speaker's specific speaking fee falls within the range posted above (for Continental U.S. based events), fees are subject to change. For current fee information or international event fees (which are generally 50-75% more than U.S based event fees), please contact us.
Top25 Speaker Voting

Jonathan Edison needs 1 vote(s) to make it into the Top 25 speakers on Speaking.com!
Speaker Booking Tip
"Tip: ask your speaker to do a book signing or attend a VIP meal with your guests. "
For Event Planners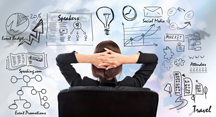 • Keynote Speaker Booking Toolkit.
• Booking a Celebrity Speaker.
• How to Find and Book the Right Speaker.
• Google+ Event Planning Forum.
• Tips for International Clients Booking U.S. Based Speakers.
Similar Speakers
C.J. Huff

After a late spring tornado flattened a third of Joplin, Missouri, killing 161 people, and damaging or destroying 12 out of its 16 schools, Superintendent…

Bowen White

Dr. Bowen F. White has the distinction of being one of only two medical students who were founding members of the American Holistic Medical Association.…

Jeff Tobe

Jeff Tobe is a Certified Speaking Professional with a background as an award-winning sales and marketing entrepreneur. He is the author of the popular book,…

Our event was what I would call 'over the top'... The survey results were at 92% very favorable. The speakers formed such a good relationship with myself and others at the conference. I am confident we will bring them back to do more. I will definitely contact you when we are in need of additional services. You have been the best!
American Express
About SPEAKING.com
Established in 1994, we are exclusive agents for some of the world's leading experts, celebrities and professional speakers.
We offer event planners a fully staffed speaker logistics planning team, plus a personal SPEAKING.com Account Executive – a knowledgeable and trustworthy partner. We guarantee your satisfaction with your speaker and a smooth booking process.
Contact us today to book your favorite speaker.

"Jonathan, you are one of the most electrifying speakers that I've seen in over 25 years. We are so looking forward to launching a National Public Broadcasting Special with you in 2007 that will be viewed by over 10 Million people".
Diane Bliss Vice President of Fundraising, PBS

"Jonathan, you we're absolutely amazing!! Not only were we motivated, but your message on Diversity was intense and passionate. We are definitely going to have you speak to all of our resource groups across the country".
Tom Hempfield, VP, Federal Sales, Hewlett Packard

"Jonathan, the one word that continues to show up on your review is WOW!!. Our group is always so motivated and charged up after you leave we find it hard to let you go. Were looking forward to having you back again and again…..because we are as you say "UNSTOPPABLE".
Michelle McCrary, Community Affairs, Blue Cross Blue Shield

"On behalf of ORGPRO we would like to thank you again for speaking, we received an overwhelming positive response to your presentation. You provided a valuable contribution to our success. Our attendees agreed that you were highly energetic, humorous and informative. We look forward to definitely having you back!"
Geralyn L. Root, Dir. of Prof. Development, Michigan Society of Association Executives

"Jonathan you were absolutely incredible. The way that you were able to connect with my managers using your own personal story was spell-binding. We're looking forward to having you back again next year.
Steven Wing, President of Governmental Affairs, CVS Corporation
Make Your Own Magic: Designed to motivate individuals, employees, leaders and managers
Who wouldn't like more magic in their life? But magicians don't sit around waiting for it to happen. They make their own magic, and you can too. In his new book, upcoming PBS special and trademark keynote, Jonathan Edison shows how to make your own magic using tricks you already have up your sleeve: the power of your thoughts and the seven elements of internal energy—Belief, Imagination, Enthusiasm, Passion, Resourcefulness, Intuition and Service. The results—improved achievement and performance throughout your company or organization—will be magical and measurable
Make Your Own Sales Magic: Designed to take your salespeople from marginal to magical
If only achieving your sales goals was as easy as pulling a rabbit out of a hat. In this presentation, Jonathan will demonstrate how to make your own sales magic by using the same methods applied by successful magicians: skill, practice and focus. Magic makes what appears impossible a reality. This session will inspire attendees to reach sales targets they never thought possible, making improved profits for your company a reality.
It Takes Teamwork to Make the Dreamwork: Designed to reinforce and enhance the power of teamwork
A lone magician can be very entertaining. Introduce an assistant and what happens? The magician can perform more efficiently, the illusions can be more complex and dazzling, and together, the team can deliver a richer and more fulfilling experience to the audience. In this interactive presentation, Jonathan will demonstrate that the benefits of teamwork are no illusion in the workplace. Using his tips and strategies, together everyone achieves magic: the productivity ratio of multiple people working on the same task, is always greater than one person and the ROI is always higher.
How To Stay Motivated in Challenging Times: Designed to help individuals, businesses and organizations cope with and conquer change and challenge
If you feel like you've run out of ways to stay positive in these tough economic times, this presentation is for you. Jonathan will inspire you to make your own motivational magic and reinvent yourself to overcome any challenge. On a personal level, Jonathan will demonstrate how to leverage your personal strengths, creativity and resilience to successfully cope with change. On a professional level, he will show how techniques used in the workplace to manage the consequences of organizational decisions can be improved to help individuals remain motivated and connected.

Keynote Speech
Jonathan Edison narrates his unique tale of how he went from failing out of community college to sleeping in his aunt's flooded basement to being a motivational speaker. With only a space of six by eight feet to call his own, he came to a place where he asked himself one question: "Is this where you want to stay?"
Jonathan decided that if he were going to get out of the basement he had to get back into school. After taking remedial courses to get into community college, he completed a Bachelor's in education and became a Detroit public school teacher, but his ambition didn't stop there. He wanted to be an administrator. "I went on 26 interviews; they all said 'no,'" he lightheartedly shares the importance of perseverance, revealing that after his twenty-seventh interview he "became the youngest assistant principal in the history of Detroit public schools."
Keynote Speech