* Please note that while this speaker's specific speaking fee falls within the range posted above (for Continental U.S. based events), fees are subject to change. For current fee information or international event fees (which are generally 50-75% more than U.S based event fees), please contact us.
Top25 Speaker Voting

John Wood needs 6 vote(s) to make it into the Top 25 speakers on Speaking.com!
Speaker Booking Tip
"Tip: ask your speaker to do a book signing or attend a VIP meal with your guests. "
For Event Planners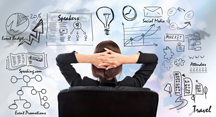 • Keynote Speaker Booking Toolkit.
• Booking a Celebrity Speaker.
• How to Find and Book the Right Speaker.
• Google+ Event Planning Forum.
• Tips for International Clients Booking U.S. Based Speakers.
Similar Speakers
Marc Prensky

Dedicated to designing a new pedagogy and curriculum for the digital generation, Marc Prensky is a world leader in the application of new technology and…

Harold Ford, Jr.

Harold Ford, Jr. started his political career at age 26 when he went from being the underdog to winning Tennessee's 9th District seat in the…

Nido Qubein

Dr. Nido Qubein came to the United States as a teenager with little knowledge of English, no contacts and only $50 in his pocket. His…

SPEAKING.com does a wonderful job! Our AE always responds promptly and is very professional, thank you!
AlphaNet
About SPEAKING.com
Established in 1994, we are exclusive agents for some of the world's leading experts, celebrities and professional speakers.
We offer event planners a fully staffed speaker logistics planning team, plus a personal SPEAKING.com Account Executive – a knowledgeable and trustworthy partner. We guarantee your satisfaction with your speaker and a smooth booking process.
Contact us today to book your favorite speaker.

"John spoke at our 500-person Starbucks marketing conference and was an amazing inspiration to our global team. Here is someone who is literally changing the world, and he invites you to participate! He does so with humor, energy, and no guilt. If you want to hear a story that will end with a standing ovation, invite John to speak (and then donate to his organization)!"
Anne Saunders, Senior Vice President, Starbucks Coffee Company
"John is a breath of fresh air to executives and professionals who are typically caught up in their busy lives. He connects with people's natural desire to do good for society. John was a big hit at our Software 2004 conference, where he received a standing ovation (the only one in the history of the conference) from over 1,000 CEO's, VP's, and venture capitalists. He is an engaging speaker who is guaranteed to make people passionate about life."
MR Rangaswami, Founder and CEO, Sand Hill Group
Recent Speaking Venues:
The Power Within (Toronto, Canada)
Starbucks Corporation (Seattle, Washington)
Microsoft Corporation (Seattle, Washington)
Borders Bookstore, Inc. (Rye Brook, New York)
Professional Businesswomen of California (Sacramento, California)
Council on Foreign Relations (Chicago, Illinois and Washington, D.C.)
Sand Hill Group (San Francisco, California)
John's work has been featured by a wide variety of major media outlets, including:
Broadcast
The Oprah Winfrey Show
CNN
CNN Headline News
Fox News
National Geographic Television
Star TV Asia
Bloomberg Television
CNBC, "Squawk Box"
PBS, "The Great Leaders" series
Good Morning Australia
Daily Newspapers
The New York Times
International Herald Tribune
The Wall Street Journal
Chicago Tribune
Washington Post
Boston Globe
San Francisco Chronicle
San Francisco Examiner
South China Morning Post
Singapore Straits Times
The Guardian (UK)
The Australian
Magazines
Time
Newsweek
Forbes
Fast Company
Town and Country
Travel and Leisure
San Francisco Business Times
Delta Airlines Sky Magazine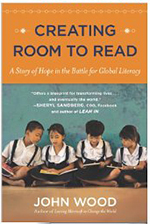 Creating Room to Read: A Story of Hope in the Battle for Global Literacy
The inspirational story of a former Microsoft executive's quest to build libraries around the world and share the love of books.
What's happened since John Wood left Microsoft to change the world? Just ask six million kids in the poorest regions of Asia and Africa. In 1999, at the age of thirty-five, Wood quit a lucrative career to found the nonprofit Room to Read. Described by the San Francisco Chronicle as "the Andrew Carnegie of the developing world," he strived to bring the lessons of the corporate world to the nonprofit sector—and succeeded spectacularly.
In his acclaimed first book, Leaving Microsoft to Change the World, Wood explained his vision and the story of his start-up. Now, he tackles the organization's next steps and its latest challenges—from managing expansion to raising money in a collapsing economy to publishing books for children who literally have no books in their native language. At its heart, Creating Room to Read shares moving stories of the people Room to Read works to help: impoverished children whose schools and villages have been swept away by war or natural disaster and girls whose educations would otherwise be ignored.
People at the highest levels of finance, government, and philanthropy will embrace the opportunity to learn Wood's inspiring business model and blueprint for doing good. And general readers will love Creating Room to Read for its spellbinding story of one man's mission to put books within every child's reach.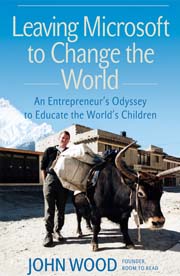 Leaving Microsoft to Change the World
John Wood discovered his passion, his greatest success, and his life's work—not at business school or leading Microsoft's charge into Asia in the 1990s—but on a soul-searching trip to the Himalayas. Wood felt trapped between an all-consuming career and a desire to do something lasting and significant. Stressed from the demands of his job, he took a vacation trekking in Nepal because a friend had told him, "If you get high enough in the mountains, you can't hear Steve Ballmer yelling at you anymore."
Instead of being the antidote to the rat race, that trip convinced John Wood to divert the boundless energy he was devoting to Microsoft into a cause that desperately needed to be addressed. While visiting a remote Nepalese school, Wood learned that the students had few books in their library. When he offered to run a book drive to provide the school with books, his idea was met with polite skepticism. After all, no matter how well-intentioned, why would a successful software executive take valuable time out of his life and gather books for an impoverished school?
But John Wood did return to that school and with thousands of books bundled on the back of a yak. And at that moment, Wood made the decision to walk away from Microsoft and create Room to Read—an organization that has donated more than 1.2 million books, established more than 2,600 libraries and 200 schools, and sent 1,700 girls to school on scholarship—ultimately touching the lives of 875,000 children with the lifelong gift of education.
Leaving Microsoft to Change the World chronicles John Wood's struggle to find a meaningful outlet for his managerial talents and entrepreneurial zeal. For every high-achiever who has ever wondered what life might be like giving back, Wood offers a vivid, emotional, and absorbing tale of how to take the lessons learned at a hard-charging company like Microsoft and apply them to one of the world's most pressing problems: the lack of basic literacy.
Leaving Microsoft to Change the World
At age 35, John Wood left his job as director of business development for Microsoft Corporation?s Greater China region to form Room to Read, a nonprofit organization that promotes literacy in impoverished parts of the world.
In his inspiring presentations, John describes how he founded Room to Read after becoming concerned that nearly a billion people in the world lack basic literacy, "I was blessed with a great education, and as a result I had a great career and made some money. I started Room to Read as a way to give that same opportunity to children in some of the world's poorest villages."
Leaving Microsoft tells the story of Room to Read's infancy, the early successes, and lays the groundwork for the long-term vision of world change. John vividly chronicles Room to Read's beginnings, from his life-altering decision to leave the corporate world, to his quest to create a non-profit with a strong business ethos, and continuing until the present day.
John Wood's work has been profiled by Bloomberg Television, CNBC, CNN, Fast Company, Newsweek, The New York Times, Time, The Wall Street Journal, The Washington Post, and USA Today. He holds an MBA from the Kellogg School of Northwestern University and a Bachelor's of Arts degree in Finance from the University of Colorado.
TEDx Talk
John Wood: "Room to Read: Globalizing Carnegie's Vision for Libraries"
John Wood: Room to Read Gives Away Its Ten Millionth Book in Vietnam - Independent Lens - PBS
John Wood: "Creating Room to Read" - Talks at Google