* Please note that while this speaker's specific speaking fee falls within the range posted above (for Continental U.S. based events), fees are subject to change. For current fee information or international event fees (which are generally 50-75% more than U.S based event fees), please contact us.
Top25 Speaker Voting

John Sileo needs 6 vote(s) to make it into the Top 25 speakers on Speaking.com!
Speaker Booking Tip
"Tip: ask your speaker to do a book signing or attend a VIP meal with your guests. "
For Event Planners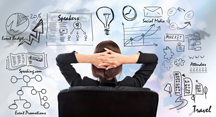 • Keynote Speaker Booking Toolkit.
• Booking a Celebrity Speaker.
• How to Find and Book the Right Speaker.
• Google+ Event Planning Forum.
• Tips for International Clients Booking U.S. Based Speakers.
Similar Speakers
Todd Buchholz

A managing director at the $15 billion Tiger hedge fund, Todd Buchholz has an extraordinary resume, encompassing the presidency of an international consulting firm employed…

Terry Savage

A founding member and the first woman trader on the Chicago Board Options Exchange, Terry Savage is in great demand for her insights into personal…

Adam Davidson

Co-founder and co-host of NPR and This American Life's podcast Planet Money, Adam Davidson is known for his humorous, clear, and organized presentation of economic…

This has been one of the most outstanding speaker agencies I have had in my 25+ years in the hospitality industry. They have helped my company secure speakers for years to the delight of my attendees. They have secured high profile speakers, even within the confines of a tight turnaround and an even tighter budget. I recommend their services without hesitation. They are truly leaders in their profession looking out for their clients: excellent is all I can say!
AHIMA
About SPEAKING.com
Established in 1994, we are exclusive agents for some of the world's leading experts, celebrities and professional speakers.
We offer event planners a fully staffed speaker logistics planning team, plus a personal SPEAKING.com Account Executive – a knowledgeable and trustworthy partner. We guarantee your satisfaction with your speaker and a smooth booking process.
Contact us today to book your favorite speaker.

"Every organization that values its employees (not to mention the privacy of company data) should bring John in to speak"
Preview Properties

I attended Pfizer's Annual Information Security Officer's Conference. The InspirationalSpeaker was Mr. John Sileo. John's presentation was captivating, to say the least. His story is phenomenally sad. John rose above it all and now provides fantastic advice to companies and individuals on how to protect their identity.
I left John's presentation as equally inspired as when I left Mark Sanborn's presentation at Paisley's User Conference this year. [If John speaks there next year,] I'll be sitting in the front row!
R. LaChance

"Fantastic presentation! It really made me think about how I handle day to day activities and the information I give out. I have already caught myself doing a "STOP" before giving out personal information."
T. Vander Hart

John was right on! His presentation was high energy, very clear and very helpful. Thank you for all of your helpful tips. I have already opted out!"
J. Carson, President
Prudential Utah Real Estate

"Your presentation was the perfect way to start the day. Very upbeat and informative. Though I consider myself a careful person you made me think of several things I need to take care of to protect my identity, along with my wife′s and children′s identity. Thanks."
R. Myers CFO Mark Shale

ohn Sileo is the real deal. He speaks because he has someting to say but alsobecause he is interested in his audience! If you host speakers, do yourself a favor and hire John Sileo. John is an expert through personal experience and he will remind you of all that is good about offering a speaker to an audience.
L. MacNeill, Director of Cultural Programs and College Relations

I am president of The Botsford Group, a financial planning firm which places emphasis on asset protection and risk management. I read Stolen Lives and it definitely had an impact on me, and I felt the information would be very beneficial to our clients as well. John Sileo spoke at our annual client reception, and the response was extremely positive; many of our clients got busy the next day, taking steps John recommends to protect their identities. He is very professional and entertaining, a job will done!
E. T. Botsford, President, The Botsford Grou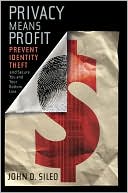 Privacy Means Profit: Prevent Identity Theft and Secure You and Your Bottom Line
Praise for
Privacy Means Profit
:
"You would be an idiot to hand out the keys to your house or your business and to give away your credit cards and passwords and then hope for the best. Not following John Sileo's advice and protecting your privacy is just that: hoping for the best. This book is the answer to giving yourself peace of mind."—Larry Winget, five-time New York Times and Wall Street Journal bestselling author and TV personality
"Whether you are leading a large organization or your family, Privacy Means Profit is a sobering, practical, and readable guide for preventing information theft and regaining peace of mind."—Patrick Lencioni, President, The Table Group; author, The Five Dysfunctions of a Team and Getting Naked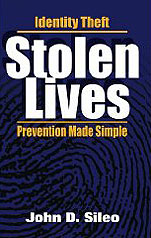 Stolen Lives: Identity Theft Prevention Made Simple
Will your life get stolen? Will your identity be used to commit a crime? Not if you learn to think like a spy. Identity theft is the fastest growing crime in America, affecting 10 million Americans every year. Stolen Lives is a privacy wakeup call that gives us an insightful and engaging way to protect our greatest financial assets -- our identity. It moves us to action by combining a 10-minute-a-day approach with an easy-to-remember system for protecting our private information -- think like a spy. Prevention is not difficult, but it takes organization and discipline. Stolen Lives provides both in a simple and easy-to-implement program that protects your wallet, trash, computer, financial assets and personal information as a part of your everyday habits. This book can save you hundreds of hours and thousands of dollars in just a few minutes a day.

John Sileo makes a difference by ENGAGING audiences in ID Theft Prevention, Cyber Security, Internet Privacy & Anti-Fraud Training.
John leverages his own captivating story of losing his business, $300,000 and his reputation to identity theft and data breach in order to move audiences from complacency to immediate action. Whether serving as a keynote speaker at The Pentagon or an identity theft expert on The Rachael Ray Show, John is among America's foremost experts on identity theft, cyber security, fraud prevention, social engineering and online privacy.
Here's what makes John different as a keynote speaker on technology, identity, privacy, and security:
John isn't just an expert on identity theft, he's an expert at presenting relevant content in a memorable way.
All of John's keynote and breakout speeches are highly interactive, which keeps the audience engaged.
John's lessons come directly from first-hand experience, which helps him connect authentically.
John's keynote speeches are non-technical, highly actionable and leadership oriented.
John effortlessly connects personal and workplace protection, empowering your audience to "own the data".
As a Fortune 500 client put it: "I've never learned so much I was doing wrong and had so much fun doing it!"
Here are Some of John's Most Requested Keynote Speeches:
Spies, Hackers and Online Attackers
Bulletproof Your Privacy & Profits
"Think Like a Spy"
Aggressive Identity Theft & Fraud Countermeasures
Fraud Jujitsu Bootcamp
Manipulation Defense & Persuasion Preparation
Online Reputation Strategies
Building, Defending & Extending Your Digital Identity
Additional Topics (Keynote, General Session, Breakout and Webinar)
Bulletproof Your Business Against Breach
Extinguishing Unprofitable Privacy and Security Hotspots
The 7 Secrets of Safe Social Networking
Harnessing Social Media without Sacrificing Security
Your Financial Practice as Hero
Leveraging Privacy and Security to Increase Your Profits
Ethical Corporate Espionage
Using Digital Intelligence to Your Competitive Advantage
60 Minutes excerpt
ID Theft Expert John Sileo on The Rachael Ray Show
John Sileo: Keynote Speaker at Information Security Summit (Helsinki)