* Please note that while this speaker's specific speaking fee falls within the range posted above (for Continental U.S. based events), fees are subject to change. For current fee information or international event fees (which are generally 50-75% more than U.S based event fees), please contact us.
Top25 Speaker Voting

John Rossman needs 7 vote(s) to make it into the Top 25 speakers on Speaking.com!
Speaker Booking Tip
"Tip: ask your speaker to do a book signing or attend a VIP meal with your guests. "
For Event Planners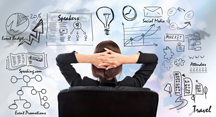 • Keynote Speaker Booking Toolkit.
• Booking a Celebrity Speaker.
• How to Find and Book the Right Speaker.
• Google+ Event Planning Forum.
• Tips for International Clients Booking U.S. Based Speakers.
Similar Speakers
Costas Markides

Repeatedly ranked among the globe's top business thinkers by the Thinkers50, Professor Costas Markides is recognized as one of the world's foremost experts on strategy…

Inder Sidhu

Inder Sidhu is senior vice president of Strategy and Planning for Worldwide Operations at Cisco, the $40 billion worldwide leader in networking for the Internet.…

Mike Abrashoff

If you want to know about change management and inspiring leadership, who better to ask than Mike Abrashoff, the naval commander who took on the…

I'm extremely impressed with your speakers bureau's follow-through, responsiveness and willingness to understand our needs so that he could match the best speakers with what we are looking for. I will definitely work with you again in the future. Thank you for all that you did to help us create an exceptional learning experience for our attendees.
American Society of Association Executives
About SPEAKING.com
Established in 1994, we are exclusive agents for some of the world's leading experts, celebrities and professional speakers.
We offer event planners a fully staffed speaker logistics planning team, plus a personal SPEAKING.com Account Executive – a knowledgeable and trustworthy partner. We guarantee your satisfaction with your speaker and a smooth booking process.
Contact us today to book your favorite speaker.

"As a former Amazon executive, John Rossman provides a unique view into how a digital world may impact companies of all types and sizes. As the Internet of Things (loT) becomes more mainstream, companies need to think differently about how they interact with and provide value to customers in an ever-connected world. John uses his industry knowledge and connections to incorporate real-life examples of how some big name companies are approaching this phenomenon."
- President and COO, Nationwide Direct and Member Solutions
"John is perhaps one of the foremost experts on Amazon and corporate cultures that focus on innovation. His recent book on the Amazon Way is a testament to the core insights John has been able to surface. Recently, John was invited to do a forum at Xerox PARC. We were not only oversubscribed for the forum, but the audience itself gave John and his presentation the highest rank of all the seminars this past year. I highly recommend John as a speaker to all audiences interested in corporate innovation, company cultures, and the impact of emerging technology on new business models."
- Xerox
"It was a privilege to have John Rossman speak at our March 25th, 2015, Georgia Technology Summit. Our Summit is one of the largest tech events in the SE, with over 1,300 attendees participating. This year's Summit theme was 'Disruptive Innovation - The Power to Inspire'. John's remarks were right on target. Combining key points in his Book, the Amazon Way, with his broader knowledge base, made for a quality presentation. One participant sent me an unsolicited note comparing John's presentation to a high-level Ted Talk. I would recommend John for speaking opportunities for an event of any size when the topic revolves around innovation and/or disruption. He was also a pleasure to work with, which is a sometimes overlooked aspect when it comes to speaker selection, yet of critical importance."
AG - Technology Association of Georgia
"We needed an expert to speak at our corporate leadership event—someone who was able to speak at length on adopting different corporate cultures and looking at business from a different perspective than our own. While people may not think of Amazon and AAA Washington as having much in common, finding ways to make a business more efficient and keeping the customer in focus is a basis for all organizations. His personal history at Amazon gave us a unique view of an incredibly successful company and what it takes to innovate, lead, and sometimes disrupt the status quo."
- AAA
"In planning our 2015 product organization kickoff, we looked for a speaker who could both inspire and offer practical insights on execution. We were lucky to have John Rossman present to the team. John introduced us to the key leadership principles he observed during his time at Amazon, which are also described in his excellent (and accessible) book, The Amazon Way."
- CIPP
The Amazon Way: 14 Leadership Principles Behind the World's Most Disruptive Company
In just twenty years, Amazon.com has gone from a start-up internet bookseller to a global company revolutionizing multiple industries, including retail, publishing, logistics, devices, apparel, and cloud computing. But what is at the heart of Amazon.com's rise to success? Is it the tens of millions of items in stock, the company's technological prowess, or the many customer service innovations like "one-click"? As a leader at Amazon who had a front-row seat during its formative years, John Rossman understands the iconic company better than most. From the launch of Amazon's third-party seller program to their foray into enterprise services, he witnessed it all—the amazing successes, the little-known failures, and the experiments whose outcomes are still in doubt. In
The Amazon Way
, Rossman introduces readers to the unique corporate culture of the world's largest Internet retailer, with a focus on the fourteen leadership principles that have guided and shaped its decisions and its distinctive leadership culture. Peppered with humorous and enlightening firsthand anecdotes from the author's career at Amazon, this revealing business guide is also filled with the valuable lessons that have served Jeff Bezos's "everything store" so well—providing expert advice for aspiring entrepreneurs, CEOs, and investors alike.
Creating Digital Disruption
  Amazon has pioneered and created waves of disruption ever since it was founded.  From one click purchasing, to online shopping, to same day delivery, Amazon has created the marketplace for others to follow.  Author of the Amazon Way, John Rossman, will teach how the culture of Amazon drives the ability to disrupt, what principles continually produce these changes, and how to set up your company to drive disruption.

Leadership the Amazon Way
Amazon.com currently sells more online than its next 12 competitors combined.  It has grown from an online bookseller to conquering the online shopping world.  Many of the shopping expectations and tastes that consumers have today can be traced by to the Amazon Way.  

In John Rossman's signature leadership keynote he will reveal and unpack the secrets of Amazon's unparalleled growth and how the company's culture has driven innovation and growth.  Rossman will show how these principles can help any business seize this advantage.

Building a Culture of Innovation the Amazon Way
Leaders at Amazon expect and require innovation and invention from their teams.  They are externally aware and look for new ideas everywhere.  Amazon has a thrilling power to innovate that few other company has matched.  Former Amazon executive turned business consultant John Rossman shows how it is not one single individual that drives innovation and dreams up new technology, but a well thought out and preserved culture.

The Future Internet of Everything at Amazon
From John Rossman's new book The Amazon Way:  10 Lessons Every Leader Should Learn from Amazon's IoT Strategy, the former Amazon executive unpacks how connected devices will transform industries and businesses, and what leaders should do to take advantage.  Rossman will look at how connected devices will revolutionize how business is done and change the marketplace. This speech will give leaders from all types of businesses a blueprint on how to leverage connected devices for the future of their business.

Becoming Obsessed with the Customer
Amazon's customer service and customer centric attitude is legendary.  It is driven by leadership that can deduce the needs and wants of the customer and constantly push to improve the customer experience.  Author of The Amazon Way, John Rossman, to teach you how to put yourself in your customer's shoes.  He will reveal Amazon's "holy trinity" for customers and make it applicable to any business.  After this speech you will see how your customers will drive innovation and have the potential to be your best salespeople.

Making a Supply Chain a Golden Asset -- The Amazon Way
Amazon was recently rated the number 1 supply chain by Gartner.   With Amazon's innovative and revolutionary culture, they have reset customer expectations for delivery speed, precision, and cost.  John Rossman scaled third party market place business during his time as an executive at Amazon.  Today that accounts for 45% of all units shipped and sold.  In this speech Rossman will discuss the key to scaling, Amazon's secrets to drive accountability, how to achieve "operational excellence" and "innovation" and what customers truly desire.
John Rossman, Digital Disruption Authority: Keynote
Former Amazon executive, John Rossman shares the secrets and techniques that he learned and implemented to grow Amazon into a global disruptor. Pointing out that 70% of today's Fortune 1000's were created in just the past decade, he makes the case that a company's longevity hinges on having leadership and a business model that foster change.
John notes that even today's giants like Amazon will themselves be disrupted, stressing that it's not a matter of "if", but a matter of "when." Amazon founder Jeff Bezos himself has admitted this, saying that he dedicates himself to pushing that "when" as far into the future as he can. "Even a company that is the the biggest disruptor and on the upswing of its life cycle understands that in order to continue to grow, in order to continue to be vibrant, you have to change," John explains.
John Rossman, Digital Disruption Authority: Q&A
Keynote Speech