* Please note that while this speaker's specific speaking fee falls within the range posted above (for Continental U.S. based events), fees are subject to change. For current fee information or international event fees (which are generally 50-75% more than U.S based event fees), please contact us.
Top25 Speaker Voting

John Krubski needs 7 vote(s) to make it into the Top 25 speakers on Speaking.com!
Speaker Booking Tip
"Tip: some speakers might provide one of their popular book titles as a free gift to your audience. "
For Event Planners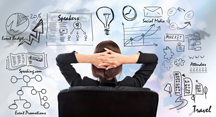 • Keynote Speaker Booking Toolkit.
• Booking a Celebrity Speaker.
• How to Find and Book the Right Speaker.
• Google+ Event Planning Forum.
• Tips for International Clients Booking U.S. Based Speakers.
Similar Speakers
Dr. Mark DeVolder

Known as "The Change Specialist," Dr. Mark DeVolder has guided some of the most high-stake transitions of recent history, preparing Colombian business leaders for the…

Ty Bennett

Ty Bennett is one of the youngest ever recipients to become a Certified Speaking Professional, the benchmark for the best speakers in the world that…

Dr. Janet Lapp

Rated by Toastmasters International as one of the top three speakers in the world, Dr. Janet Lapp has helped over 2,000 audiences from Argentina to…

Our client rep was a pleasure to work with. He was well organized and kept me updated every step of the way. The level of professionalism and the quality of the materials received were excellent. I will be in touch for future speakers!
Mattel
About SPEAKING.com
Established in 1994, we are exclusive agents for some of the world's leading experts, celebrities and professional speakers.
We offer event planners a fully staffed speaker logistics planning team, plus a personal SPEAKING.com Account Executive – a knowledgeable and trustworthy partner. We guarantee your satisfaction with your speaker and a smooth booking process.
Contact us today to book your favorite speaker.

Partial Client List
Nissan Motors
Coty Fragrances
National Home Builders Association
AT&T
Ralston Purina
TGI Friday's
Rocher Chocolates
Wisconsin Power & Light
Mastercard
Chiat Day Advertising
Southwestern Bell
Coca Cola Company
Home Improvement Research Institute
Direct Marketing Association
Johnson Worldwide
Fleet Bank
IBM
Sara Lee Corporation
Brown-Forman
CitiBank
VF Corporation
L'Oreal
DeLoitte & Touche
MCI
US Army Recruiting Command
Wrangler
Sears
PepsiCo
Volkswagen USA
Microsoft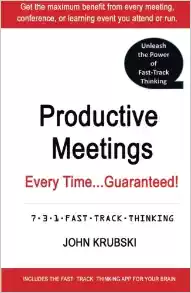 Productive Meetings Every Time...Guaranteed!: 7-3-1 Fast Track Thinking
My Promise To You In writing this book it is my purpose and my hope to leave you with three actionable deliverables. 1. Provide you with a code-breaking key that lets you get to the heart of any meeting— fast—without having to depend on what the meeting organizer does or fails to do. 2. As a meeting attendee—help you build a platform for getting the most value out of any meeting you attend. And as a meeting organizer—to give you the tools to make your meetings more focused and, meaningful to the attendees. And ultimately more actionable and enjoyable for everyone. 3. Give you the skills to master any amount of information under any circumstances with confidence with the certain knowledge that you will always be able to extract exactly what you need when you need it.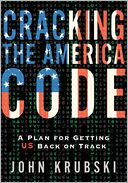 Cracking the America Code: A Plan for Getting US Back on Track
The America Code began as a marketing exercise and evolved into a fresh perspective on the fundamental American operating system. Based on a body of work encompassing more than 35,000 Americans, this book gets to the core of what makes America America and Americans Americans.
The America Code is in our genes. It lies at the heart of how we got here—both literally and historically. It is the compass towards our future. The Code explains how we decide what we decide and why we value what we value. To the clever reader it also provides a blueprint for motivating and influencing Americans in the market, in the workplace, and at the voting booth. The Code can teach us many things about the third largest country on the planet in terms of both land area and population. "American" is more a nature than a nationality. Being here doesn't automatically make you American any more than joining a team makes you an athlete. But you don't have to live in America to carry the America Code; which is why so many immigrants feel arriving here is more of a homecoming than a journey to a strange land.
Krubski is the ideal "utility" speaker—whether you need a broad-based or specialized Keynote, dynamic and actionable breakout sessions, useful workshops, or a completely original, company-specific presentation designed from the ground up for your purposes.
The America Code: What makes America America and Americans Americans—in Management, Marketing, Politics, Economics—and much more
Want to understand Americans in the workplace or at the voting booth, or as customers? It all starts with a fundamental understanding of Americans as... Americans. How do they make decisions? Why do they value what they value? These insights work in a wide range of applications and situations. They are as actionable as they are compelling.
Why We Can't All Just Get Along; Eight Competing Visions of America
In principle, when we think about or speak of Americans, we tend to assume that we're talking about the same people—that Americans are, well, "Americans" one and all. In practice, find so much diversity in thought, in behavior, in values, and in mindset. Based on research encompassing more than thirty-five thousand Americans, we can tell you that there are eight distinctive types of Americans and that their fundamentally different operating systems ensures that they will make decisions differently and value things differently. From Advocates to Caretakers, from Mechanists to Indulgents—each different type of American occupies a different slot of the ultimate primal segmentation that we have discovered and share as the basis for more effective persuasion and motivation.
A Nation of Halves—How Half of America is Hard-wired to Disagree with the Other Half.
Do a Google search on "Americans & poll & 50%" and you'll immediately understand that Americans seem to be coded to disagree along a virtually 50/50 fault line. Knowing how and why this division occurs can help you better prospect and prioritize, better promote and communicate across the board—no matter what your discipline or industry.
Why America Won't be That Different in 2056; and how knowing this will give you a leg up on dealing with change.
One of the things that gets in the way of getting comfortable with and taking charge of change is the assumption that most of what we face is "unprecedented." The truth is that, once you really understand how things work—that change is things going back to new places—and that there is truly very little that is in fact unprecedented, then not only will you be more comfortable with change but also you will be more likely to make the most of it while worrying a great deal less about what comes next.
Creating the Do-it-Yourself Future you Deserve (As a Keynote, Presentation, or Workshop)
After years of studying how the future becomes the future, and digging beneath the external to get at the dynamics of how the future happens and helping many clients take the reins of their futures, we have developed a fundamental formula that can help you achieve the future you desire. By understanding how your intentions and the intentions of others shape what happens next and how clarity and focus of your available energy can influence events both small and large, you can actually direct a lot more of your future than you might believe. This title can also function as a half-day, full-day, and multi-day workshop focusing on specific areas of concern and interest on your part.
Innovation 2.0.—New Strategies and Processes to Take You and Your Brain Outside The Box You Both Live In
Most people struggle with and yearn for the capacity to go "outside the box" in many different ways; both personal and professional. But you can't meaningfully undertake the exercise unless you begin with an understanding of what your box is, how you got inside it, and what it will take to get you beyond its limits. In fact, if you don't know how to meaningfully dimensionalize your box to begin with you'll never know when you're out of it or whether you're outside of the box before you start, for that matter.
If the Only Place to Build Your Brand Were the Point of Sale—Here's What You Would Do Differently
The Point of Sale is all too often where the your company's brand-building initiatives outside the store are not adequately reinforced and effectively reflected. Here are several strategies and tactics to ensure that what happens at the point of sale is at least as positive in terms of branding as what happens outside of the retail environment. These insights are grounded in a review of more than 125 retailers and brands at retail.
Re-Thinking Millennials At Retail
Millennials are one of the most studied, researched, and examined generations in history. But a lot of what you "know" isn't exactly accurate. Based on original research and using The index of What Matters Most(tm), here are some insights that confound conventional wisdom about Millennials as Shoppers.
Brand-Active Shopper Communications—How to Keep from Murdering Your Brand and Alienating Your Best Customers At the Point of Sale
When retailers resort to deep discounting to drive volume, they set in motion a downward spiral in margin, profitability, and consumer loyalty. The whole point of creating a brand is to add the brand-value margin that increases profitability and promotes recurring purchases at higher price points. Here's a set of insights that can help keep you from eroding your brand value and actually increase consumer loyalty and preference at the point of sale.
Cure Information Overload
From the dawn of civilization until the 1990's the problem was getting enough information. With the Googleization of the planet over the past two decades the new problem is making sense of of way more information than anyone needs. John Krubski has developed the ultimate formula for human information management.
In presentation, workshop, and seminar formats he provides a practical actionable perspective on how to quickly, efficiently, and consistently extract maximum insights from massive data in minimal time frames.
The "secret" is understanding how the human mind works and then benefiting from its natural capabilities to go from information overload to insights and actionability in record time.
If You Can't Afford Competitive Share of Voice—Power Your Marketing with Powerful Ideas
All things being equal, the marketer with the biggest, loudest voice gets to win. If you do not have the resources to compete with the leaders in the category—or if you are a late starter in a category—what is the most cost-effective, fast-track way to tilt the competitive advantage in your favor? Demonstrate the competitive advantage you bring to the table through superior experience, information, and most of all—a unique, own-able, point of view. You have one, you just haven't figured out how to define it, articulate it and spread the word.
Sales pitches andmarketing campaigns that add the story of who you are and what you know to what you're selling are more likely to be heard because you will be giving your prospects something of value beginniwe with thedriest instant of contact.
How to Boost Your Marketing and Sales Initiatives Through Thought Leadership Marketing
Clients pay consultants for one simple reason—they believe in some way that the consultant is smarter than they are. Because you can't demonstrate how smart you are until after you get and complete an assignment, you need to showcase your "smarts" up front. That is what thought leadship marketing is all about. Thought leadership involves figuring out what you can say better than your competitors—or at least being the first to best articulate that—and then getting the word out in the most cost effective way possible.
How to motivate your sales force, your customer service delivery personnel, your customers and prospects… and just about everyone else in your company from the inside out.
Nothing motivates people more than being on the most-winning team but sometimes you have to feel like winners before you are winners. Most organizations don't realize how much they know, they much authority they have earned . Most importantly, they don't appreciate how much others,including clients and prospects, actually value what your organization knows and perceives. That knowledge has the power to motivate people both inside and outside fora competitive, differentiating, advantage.
We Have Met the Economy... and It Is US!
What do more than a hundred years of the DOW, the Bolshevik Revolution, The Cuban Missile Crisis, and the Rich Man's Panic all have in common? They help explain how the American Economy is an outcome of the way we Americans "bet" the future. The Economy is not something that happens "out there" by itself. It does not cause our woes and our exultations as much as it is the product of our sense of our highest highs and our lowest lows. The National Economy is a figment of our collective imagination—we need to beware what we conceive!
American Recessions: Why We Keep Doing It To Ourselves
As a nation of exuberant collective congenital amnesiacs, it is only natural that we keep repeating the cycles of economic boom and bust as if we were facing them for the very first time. There are elements of the America Code that have created some forty-seven economic recessionary events since 1790. The "trick" to better weathering economic storms comes from a better understanding of what is inevitable, what is the American nature, and how the two combine to create economic cycles.
Global Consumerization, The China Resolution, and World Peace Through "Stuff!"
Much is written about how America has contributed to world peace through a commitment to and propagation of the principle of individual liberty. Less understood and appreciated is our "other" gift—global consumerization and all it brings to the table. Recognizing that international conflicts are primarily, if not exclusively, about economic matters, it is not a great leap to see that consumerizing the planet creates a solid foundation for peaceful relations between nations. Making "stuff" more universally accessible to all not only contributes to creating a higher standard of living across the globe, it also binds countries together in ways that ideology cannot. Common economic interests will also ultimately help to resolve international trade balances more amicably and positively.
The Gen6 Factor & Fundamental Americanisms.
For the first time in recorded human history, we have six contemporaneous generations alive at the same time. This is one truly unprecedented new fact of life. It is the simple result of extended longevity and extended well being. But the very existence of six generations in society, in politics, in the workplace, in the marketplace, and so on—complicates everything we assume about generational similarities, differences, and generational marketing. By understanding how each generation experiences fundamental Americanisms such as Education, Work, Home, Fun, The Automobile, Money, Technology, etc. you can not only be better at generational marketing, you can also project where each generation goes next and what the next ten generations will look like.
Re-Thinking Millennials in the Gen6 Factor Context.
What you know about Millennials is infinitely more meaningful when it's understood in the context of the generations that came before… and the generations that follow. Learn how Millennial values are a harmonic of the GI Generation and how their current and future behavior can be better appreciated and more accurately predicted based on that knowledge. Also—why referring to Millennials as "Gen-Y" is fundamentally wrong.
Here Come the Homelands—and How You Can Know Exactly where they're Headed!
They're under twelve years of age. They already control $150Billion in spending—and you can have a peek at where they're headed as a generation before they get there. This detailed guide to understanding the latest new generation of Americans provides an insightful and illuminating perspective on what makes a generation and how knowing that can help you chart the probable course of the evolution of the Homelands from the youngest generation of Americans to the eldest. A particular focus is on how this generation will achieve the next level of interaction with technology—technological intimacy.
To Grow or Not To Grow; Insights, Strategies, and Tactics for Right-sizing Your Company.
Not all small business owners want to grow their companies. Not all companies should grow. Not everyone defines "growth" the same way. Based on extensive research and recurring contact with hundreds of small business owners in small working groups, this presentation looks at the SMALL BUSINESS GROWTH CONTINUUM to show what happens at each stage of growth and what owners/managers need to know about the impact of growth on their companies and themselves.
Five Key Insights to Improve Marketing Initiatives Aimed at Small Business USA.
The most important things about marketing to America's Small Business Owners are to talk to them in their lexicon rather than yours, to work at seeing their business through their eyes rather than yours, and to recognize that a small business is not merely a small version of a big business. But the list doesn't stop there and the big ideas succeed or fail depending on how you "sweat the small stuff" that matters most to your Small Business USA target.
Six Success Factors; Why Some Small Businesses Do Better Than Most, No Matter What the State of The Economy
Ever wonder why some businesses fare better in up economies and down economies? We did, too. So we took a look at a large body of new data and developed key insights about small business owners who consistently outperform their peers in growing their companies, increasing revenues, and increasing profits consistently. The result of the research provides an actionable blueprint for keeping your company on the track you want it to follow.
John Krubski: Keynote Excerpt
John Krubski offers highlights from his demographical studies, showing that elections are decided by a small portion of our population and that no elected official has had a mandate since maybe George Washington. He makes the case that our lack of consensus in the U.S. is actually an advantage.
Krubski outlines three kinds of people in the country: active, inactive, and reactive. When it comes to voting, the inactive group – approximately 46% of the population – doesn't show up, leaving the active group – 44% - to cancel each other out. Meanwhile the reactive group – the 10% that doesn't have a major party affiliation but votes based on a reaction to a candidate or something that has occurred – ultimately decides who becomes mayor, governor, or president.
Krubski believes this very dissention is one of the best things we have going for us. "As long as that dynamic keeps swinging, we're dynamic people. We're going to be interesting people, we're going to be free people," he states.
John Krubski: Creating the Future you Deserve
John Krubski: Retail2.0
John Krubski: Global Consumerization