* Please note that while this speaker's specific speaking fee falls within the range posted above (for Continental U.S. based events), fees are subject to change. For current fee information or international event fees (which are generally 50-75% more than U.S based event fees), please contact us.
Top25 Speaker Voting

John Jantsch needs 8 vote(s) to make it into the Top 25 speakers on Speaking.com!
Speaker Booking Tip
"Tip: find a speaker in your local area to save on travel costs. Most speakers will also reduce their keynote fee for local events. "
For Event Planners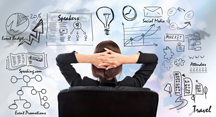 • Keynote Speaker Booking Toolkit.
• Booking a Celebrity Speaker.
• How to Find and Book the Right Speaker.
• Google+ Event Planning Forum.
• Tips for International Clients Booking U.S. Based Speakers.
Similar Speakers
Harry Paul

Harry "The Fish Guy" Paul is the co-author of one of the best-selling business books in history. FISH! A Proven Way to Boost Morale and…

David Pearce Snyder

Consulting Futurist David Pearce Snyder is a data-based forecaster whose thousands of seminars and workshops on strategic thinking have been attended by representatives from most…

Shawn Dubravac

As Chief Economist for the Consumer Electronics Association (CEA®), Dr. Shawn DuBravac is at the forefront of the latest consumer technology trends. An internationally sought-after…

It was an extreme pleasure to work with our account rep. She was friendly, flexible, and knowledgeable about all their speakers. She made the process simple. I cannot begin to put into words the impact that our speaker had on our audience. People are still taking about his presentation and his program set a standard on all diversity programs.
FDIC: Federal Deposit Insurance Corporation
About SPEAKING.com
Established in 1994, we are exclusive agents for some of the world's leading experts, celebrities and professional speakers.
We offer event planners a fully staffed speaker logistics planning team, plus a personal SPEAKING.com Account Executive – a knowledgeable and trustworthy partner. We guarantee your satisfaction with your speaker and a smooth booking process.
Contact us today to book your favorite speaker.

"John Jantsch is the Peter Drucker of small business marketing tactics."
-Seth Godin, author of Linchpin

"John Jantsch was a fantastic keynote speaker for our eMarketing For Entrepreneurs Conference. Working with John was a pleasure, as he not only served as keynote speaker, but also as a breakout session facilitator. His vast knowledge and experience in the area of marketing — and specifically eMarketing — showed throughout the day. There is no doubt that John contributed to the conferences incredible approval rating, with 97% of polled participants stating they would recommend the conference to others."
-Brad Kleimann, Corporate College Cleveland, OH

"John Jantsch is one of the best resources available today for small business owners looking for real-world marketing ideas that actually work. Duct Tape Marketing proves that there are REAL business benefits to a disciplined approach to marketing!"
-Anne Plese, Marketing Alliance Manager, Sage Software

"Your presentation at our annual conference was informative, right on point and clearly targeted to our audience of independent information professionals. You provided practical insight on the topic of small business marketing that should be shared with all small business owners. You presented in a manner that was thoroughly captivating with just the right balance of humor. Our members left wanting more and anxious to put into practice the tips you provided. Thanks for the inspiration! "
-Jodi Gregory – President Association of Independent Information Professionals

"I thought I'd let you know that we thought the PRSA workshop yesterday was fantastic. We got a lot of great ideas from it. We have already set up our own blogs to practice our blogging skills."
-Plattform Advertising

---

Partial Client List:

Small Business Administration
American Marketing Association
OPEN from American Express
U.S. Chamber of Commerce
Microsoft
International Association of Business Communicators
American Institute of Architects
American Academy of Family Physicians
Painting and Decorating Contractors of America
Associated Builders and Contractors
National Association of the Remodeling Industry
eBay
Public Relations Society of America
Sage Software
SCORE Leadership
Exact Target
Venda Mas
Duct Tape Marketing: The World′s Most Practical Small Business Marketing Guide
Duct Tape Marketing is the small business marketing road map - A collection of proven tools and tactics woven together in a step-by-step marketing system that shows small business owners exactly what to do to market and grow their businesses.

This guide combines insights gained from over twenty years of successfully working, in the field, with real-life small businesses.

There are no theoretical complexities presented in Duct Tape Marketing - just simple, effective and affordable marketing that sticks.
Order Here




The Referral Engine: Teaching Your Business to Market Itself
The small business guru behind Duct Tape Marketing shares his most valuable lesson: how to get your customers to do your best marketing for you.

The power of glitzy advertising and elaborate marketing campaigns is on the wane; word- of-mouth referrals are what drive business today. People trust the recommendation of a friend, family member, colleague, or even stranger with similar tastes over anything thrust at them by a faceless company.

Most business owners believe that whether customers refer them is entirely out of their hands. But science shows that people can′t help recommending products and services to their friends-it′s an instinct wired deep in the brain. And smart businesses can tap into that hardwired desire.

Marketing expert John Jantsch offers practical techniques for harnessing the power of referrals to ensure a steady flow of new customers. Keep those customers happy, and they will refer your business to even more customers. Some of Jantsch′s strategies include:

Talk with your customers, not at them. Thanks to social networking sites, companies of any size have the opportunity to engage with their customers on their home turf as never before-but the key is listening.
The sales team is the most important part of your marketing team. Salespeople are the company′s main link to customers, who are the main source of referrals. Getting them on board with your referral strategy is critical.
Educate your customers. Referrals are only helpful if they′re given to the right people. Educate your customers about whom they should be talking to.

The secret to generating referrals lies in understanding the "Customer Referral Cycle"-the way customers refer others to your company who, in turn, generate even more referrals. Businesses can ensure a healthy referral cycle by moving customers and prospects along the path of Know, Like, Trust, Try, Buy, Repeat, and Refer. If everyone in an organization keeps this sequence in mind, Jantsch argues, your business will generate referrals like a well-oiled machine.

This practical, smart, and original guide is essential reading for any company looking to grow without a fat marketing budget.
Order Here





CREATING THE PERFECT CUSTOMER JOURNEY
How to blend Marketing, Sales and Service efforts to create a useful customer experience. Today's buyer has many ways to find the products and services they acquire. Growing a business today isn't as much about creating demand as it is about leading a journey. Participants will learn:

The 7 behaviors every customer wants to experience
How to map the perfect customer journey
How to get marketing, sales and service to work together
How to measure and track the customer journey

HOW TO BUILD A TURN-KEY MARKETING SYSTEM
In this session, best selling author John Jantsch will reveal the 7 steps to small business marketing success as a framework for building a marketing system and marketing action plan. This universal step-by-step approach can be applied to any size business, start-up or move-up, in any industry. Participants will learn how to:

Mold strategy before tactics
Build a Marketing Hourglass
Develop a content strategy
Integrate a total web presence
Install the lead generation trio
Create a selling system
Build a marketing action plan

HOW TO CREATE A TOTAL ONLINE PRESENCE
Your online presence doesn't end with your website – In this session, best-selling author, John Jantsch will show you how to integrate online advertising, local SEO, social media, reputation management and email marketing into your overall marketing plans. Participants will learn:

How to effectively use a website and blog
How to integrate social media marketing
How to be found by the search engines
How to manage your online reputation
How to create content that gets shared
How to automate marketing with email
How to use analytics to increase conversion

HOW TO CREATE A TOTAL CONTENT SYSTEM
Content marketing is all the rage today, but just how do you get it all done? In this session, best-selling author, John Jantsch will reveal how to conquer the content beast and use every word you create as a way to guide prospects down the path to becoming customers and raving fans. Participants will learn:

How to find great content ideas
How to optimize content for search
How to create content people love to share
How to drive traffic with content
How to drive leads with content
How to drive sales with content

HOW TO BUILD A REFERRAL ENGINE
Referrals are the lifeblood of most practices, and often the driver of the most profitable business and yet few firms focus the appropriate attention on systematic referral generation. In this session, best-selling author John Jantsch will teach participants the key elements required to build your very own referral engine. Participants will learn how to:

Create a more referable experience
Adopt a referral mindset
Target the hottest referral suspects
Educate and trigger referral sources
Build creative referral campaigns
Construct a referral network platform

HOW TO CREATE THE MARKETING STRATEGY THAT IS PERFECT FOR YOUR BUSINESS
In this session, best-selling author John Jantsch walks participants through the process of developing or discovering a marketing strategy to act as a foundation for all marketing related activities, decisions, and campaigns. The session includes insights for both start-ups and ongoing enterprises. Participants will learn how to:

Connect purpose and passion with strategy
Define an ideal target client
Create a compelling value proposition
Choose a defining brand personality
Mold a core message of differentiation
Build a Marketing Hourglass
Use a Strategy Matrix to guide decision-making

DUCT TAPE SELLING – HOW TODAY'S SALES PROFESSIONALS CAN THINK LIKE MARKETERS AND SELL LIKE SUPERSTARS


The art of selling has changed dramatically. Sales professionals can no longer wait around and hope that the marketing department turns up enough leads to work. Today's sales superstars understand that they need to think and act like marketers so they can attract ideal clients, differentiate their approach, build authority and expertise and provide insight over information. In this session John will show sales teams and sales managers how to:

Learn exactly what a prospect is missing
Communicate your core value proposition
Build a reputation for providing insight
Create an inbound attraction platform
Use social media to build authority
Create a sales process that makes you stand out from the crowd

THE ART OF INBOUND SELLING
Teaching sales professionals to tap the rich vein of new marketing and sales tools and tactics. Selling today has changed dramatically because buying today has changed dramatically. Anyone who sells for a living must adopt a new toolset and mindset to thrive. In this session participants will learn:

How to tap the power of social selling
How to find leads before your competitors
How to mine social networks for leads
How to build expertise and authority
How to add substantial value to every engagement

GETTING SALES AND MARKETING ON THE SAME PAGE
How to combine inbound marketing and inbound selling to deliver a world class customer journey and experience. The culture of division between sales and marketing doesn't serve anyone – not the least of which is the customer. Getting sales and marketing working hand in hand is the key to delivering a remarkable customer experience. In this session participants will learn:

How to use content in sales and marketing
How to personalize the social media experience
How to create the perfect customer journey
How to work to build relationships instead of departments
How to build functional teams to better serve clients
Keynote Speech
While entrepreneurs share some very unique traits, John Jantsch finds that they can often be divided into two categories: those who feel on top of the world and those who feel bogged down. Everyone in that first group, he reveals, shares one key accomplishment.
"They've discovered and committed to a higher purpose that their business serves and they've made that the single-minded focus of why they do what they do," Jantsch states. Citing the story of a janitorial company that shifted its focus from cleaning to making its employees' dreams come true, Jantsch advises entrepreneurs that they will only find success once they find the true worth of their work.
Interview