* Please note that while this speaker's specific speaking fee falls within the range posted above (for Continental U.S. based events), fees are subject to change. For current fee information or international event fees (which are generally 50-75% more than U.S based event fees), please contact us.
Top25 Speaker Voting

John Izzo needs 5 vote(s) to make it into the Top 25 speakers on Speaking.com!
Speaker Booking Tip
"Tip: speakers bureaus provide added value that you cannot get by booking speakers directly. "
For Event Planners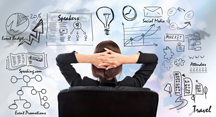 • Keynote Speaker Booking Toolkit.
• Booking a Celebrity Speaker.
• How to Find and Book the Right Speaker.
• Google+ Event Planning Forum.
• Tips for International Clients Booking U.S. Based Speakers.
Similar Speakers
Seth Mattison

One of MeetingsNet's Editors' Picks as a Favorite Speaker, Seth Mattison is known around the world for his expertise in employee relations and communication culture.…

Sheila C. Johnson

Entrepreneur, Sheila C. Johnson is one of the United State's most notable philanthropists and the first black American woman in the United States to become…

Lynne Lancaster

One of the nation's most highly regarded generational experts and cultural translators, Lynne Lancaster can help you transform your corporate culture and employee relations so…

Our Account Executive is an extraordinary person. Always available, very kind and funny. Eager to help and always quick to respond. I have so much fun working with him. A very delightful experience. I hope continue working together for years to come!
Credicorp Bank
About SPEAKING.com
Established in 1994, we are exclusive agents for some of the world's leading experts, celebrities and professional speakers.
We offer event planners a fully staffed speaker logistics planning team, plus a personal SPEAKING.com Account Executive – a knowledgeable and trustworthy partner. We guarantee your satisfaction with your speaker and a smooth booking process.
Contact us today to book your favorite speaker.

"I believe I can say... that your talk to our staff was one of the best we have ever had. Staff are saying "even the naysayers are saying it was great" and they are a critical group. Thank you for creating such energy and wonder in your talk, and inspiring a thirst for action."
Ontario Nurses Association

"This kind of optimism is energizing and sorely needed in these times!"
Umpqua Bank

"Powerful and fun, thank you for showing us the power we have to shape change."
Hewlett Packard

"Workforce issues in healthcare are diverse, and hearing John Izzo's today was THE most timely information I could have received. He is ahead of the curve and hopefully healthcare will strive to catch up!"
Kaiser Permanente

"…your expertise in healthcare management issues were valued and stimulating."
Canadian Healthcare Association

"The time and effort you put into tailoring your keynote presentation to my membership was evident and on target. You went the extra mile and it was truly appreciated!"
National Arborists

"Thank you for your insight and wisdom John, your program was so inspiring and motivating. Our work with you is far from over."
Duke Energy

"John Izzo is the most dynamic and gifted presenter I have ever heard!"
NMHCC

"John Izzo's program was both humorous and full of great ideas. A fine combination to open our annual manager's conference."
Dominos Pizza

"Dr. Izzo was motivating, please have him back! " He gave me things I can do to change my workplace."
Coca Cola

"You did an excellent job, Thank you for your inspiring and thought provoking program we are already planning next year and our attendees want you back!"
AAOHN

"John Izzo is one of my favorite thinkers."
TD Bank

7"Motivating!""Real examples were appreciated" "Real estate is a competitive and often soul-less business thank you for reminding me to live my values and honor my life's purpose, I can't tell you how timely your message was for me."
REMAX

"Your office staff were so knowledgeable and helpful, it made my our conference planning that much easier!"
The Centre for Organizational Effectiveness

"I personally consider your speech to be one of the best I've heard in years."
Topaz International

"The photos you took of our staff to tailor your PowerPoint presentation were wonderful and an unexpected surprise!"
Esso

"Izzo brings invaluable insight and clarity to what will be required to attract and keep the best people and to earn a market-winning share of their hearts and minds."
TD Industries

"Extending the reach of an organization's potential can only be done by passionate and empowered employees. Today's workforce is trading in management layers for a clear vision which fosters personal ownership. John Izzo offers refreshing views on creating heart-felt passion in the workplace!"
TLV Inc.

"The overwhelming response of attendees was that your talk was informative and highly entertaining. Without any doubt, yours was the most successful session of the conference."
Healthcare Forum

"Your presentation was clearly one of the finest given in the history of presentations in the Academy."
American Academy of Medical Administrators

"Many thanks for the excellent presentation you gave at our annual Leadership Symposium this fall. We in corporate America need to be reminded of the importance of finding purpose in our work, and creating an environment for others to find purpose and meaning. Thanks again for sharing with us your insight and wisdom."
Duke Energy Corporation

"In these challenging times, his message about the importance of soul and heart was right on target. We were privileged to have a speaker like John who did a great job reminding us of the chance we have to make a difference."
Health Net

"You left the audience with a challenge to consider some of the realities that we face in education today and encouraged us to make a commitment to address at least one or two in a positive way."
JBC School Superintendents Assn.

"John Izzo meticulously describes the six trends that are changing the face of work. This is a must read for all leaders who want to maximize people!"
Citrus Valley Health Partners

"John Izzo has special insight on how attitudes and personal and business values can either co-exist or conflict. This perception allows business leaders to develop a company culture that is nurturing both personally and professionally."
Human Services Consultants
Stepping Up: How Taking Responsibility Changes Everything
In his bestselling book The Five Secrets You Must Discover Before You Die, John Izzo tackled the secrets to lifelong happiness. Now he gives readers the key to a great career, a great workplace, better relationships, and a better world. Stepping Up argues that almost every problem, from personal difficulties and business challenges to social issues, can be solved if all of us look to ourselves to create change rather than looking to others. By seeing ourselves as agents of change we feel happier, less stressed, and more powerful.

Izzo offers seven compelling principles that enable anyone, anywhere, anytime to effectively bring about positive change. And the book is filled with stories that will inspire you: a middle-aged Italian shopkeeper who fought back against the Mafia, two teenagers who took a stand and ignited an antibullying movement, an executive who turned a dying division into a profit center, and many more. We all have the power to change the world—John Izzo shows us how.


Order Here


Awakening Corporate Soul: Four Paths to Unleash the Power of People at Work
This compelling book brings the ancient wisdom of eastern and western philosophies together with personal business expertise to create the handbook on improving corporate culture and personal fulfillment at work.
Order Here



100/0: 100% Responsibility/Zero Excuses: How Taking Responsibility Changes Everything
Taking responsibility means stepping up and seeing yourself as the agent of change, whether it is changing your company or changing the world.

Dr. John Izzo shows how "stepping up" creates positive change while improving satisfaction at work and in life. Dr. Izzo's simple concept, called "100/0" (100% responsibility/zero excuses) can transform a company when we decide to put aside our excuses and take initiative to create change.

Filled with inspiring examples of how people have stepped up to make things better, audiences will leave knowing that the more each of us takes personal accountability the better the workplace, the better our life and the better the world.

This session can be focused on all levels to foster greater ownership or focused for leaders where he also helps leaders discover how to foster a climate of ownership and accountability.

The Purpose Revolution: Winning the Emerging Customer, Employee & Investor
The new economy is going to be driven by an emerging group of people all over the world who want their employment, investing and buying to shape a better world while meeting their self oriented needs. Dr. John Izzo shows how a new driver of choice is happening worldwide whereby consumers, employees and investors are using purpose and community as a major driver of their commitments. This new driver is present worldwide and cuts across almost all demographic barriers including age, developing/developing world, politics, religious affiliation and income level.

Those companies who understand and respond to this Aspirational person will create game changing competitive advantage. Rather than thinking of this person as a consumer, employee or investor we need to begin to realize this is the same person and we need to attract them on all three fronts at once.

This new person wants to shop, loves brands, is often active on social media and loves to share stories. They want to consume but want "consumption without conflict" where they feel they are helping society, planet and themselves. Winning this new rising class of people who want good for self, good for people and good for planet alongside a sense of community/tribe is a spot of true differentiation. These people want doing well and doing good to sit side by side as they live their lives. They simply want it all and if you can give it you will succeed.

Your audience will:

Understand this rising class and how different they are from every class of buyers, investors and employees that have come before them
Discover the drivers of their choices
Learn practical ways to grow your market share, brand loyalty and engagement of this new group
Hear eye popping examples of how companies like yours are already winning these people worldwide and find out how you can do the same
Discover how to use your own power as an Conflict Free Consumer to change the future
Customize to your industry and focus

Leading on Purpose: Winning People with the Why
If you really want your people to be engaged and bring their best to work then you need to make sure they have a deep sense of purpose. Research shows that people who see the purpose of their work are more productive, work longer hours and are more engaged. We also know that when people feel inspired by the purpose of your company or organization they are more deeply committed, more willing to change, and serve customers more powerfully.

Dr. John Izzo first introduced the idea of higher purpose at work in his book, Awakening Corporate Soul, and has been showing leaders for over 20 years how to create a workplace where people are connected to the highest purpose of their work. In this engaging keynote, John not only shows why purpose is so critical but provides audiences proven methods to drive purpose and the "why" with their teams.

Your leaders at all levels will see:

WHY purpose matters
How to drive the WHY on a daily basis in your organization
Daily and weekly practices that create a culture of purpose that leads to high productivity and great service

Stepping Up: Becoming an Agent of Change
This inspiring talk shows what happens when individuals decide to be "agents of change" in both work and society. Pushing beyond limits requires each one of us to step up and be even stronger agents of change in our workplaces, communities and personal lives. Based on his bestselling book, Stepping Up—How Taking Responsibility Changes Everything,

Dr. Izzo will challenge each one of to see ourselves as people of influence. Through engaging stories of individuals and groups that created change in business and society, he will help us understand why some people push the limits of their influence and how we can grow ours. He will also show the power of personal responsibility in our personal lives and careers.

Your audience will:

Hear unique inspiring stories of people who stepped up to create change
Discover the secrets of people who have great influence and how to become one of those people
See how personal responsibility can change our personal lives, our relationships and the world

The Secrets of Highly Engaging Workplaces and Leaders
Dr. John Izzo has spent a lifetime researching what separates truly passionate, high-engagement teams and leaders from the rest of the pack. Organizations with high levels of employee engagement are significantly more profitable, have much higher customer loyalty, stronger productivity and a better reputation with customers than those with moderate engagement. In fact, the average HIGHLY engaged team member can be up to 40% more productive than a disengaged performer.

But what are the secrets to highly engaged teams and highly engaged companies? Why do some leaders consistently create highly engaged associates? In this keynote, John shares:

The four keys to creating high engagement teams and shows why some leaders are consistently able to get high levels of commitment from people. John gives your leaders daily practices for how leaders can immediately drive engagement for better results
How to implement simple disciplines and routines guaranteed to create highly engaged teams
Your leaders will not only see their role in driving engagement but will leave with ideas they can implement right away that will lead to significantly higher engagement

John has a great track record of getting leaders to become engagement champions. He'll leave the audience with a leadership checklist that shows leaders the most important things to do every day to drive engagement and ultimately profits.

Leading for Transformational Change:Turning Resistance into Results
Would you like your people to consistently embrace change and create ongoing innovation? Almost every organization today is experiencing unprecedented change and also needing to drive innovation and transformation to stay successful. Dr. John Izzo has spent an entire career helping leaders and organizations not only embrace change but inspiring them for transformational change.

Your audience will discover proven methods for getting others to embrace change. John explains the neuroscience behind change and how to use that knowledge to help others embrace change. The audience will discover the keys to personal resilience and learn how to create a climate for innovation and understand the true source of change resistance and how to overcome it in yourself and your organization.

This talk is hard hitting, practical and guaranteed to get your people stepping up to change.

You will discover:

Why people don't resist change, they resist being changed
Find out the three keys to getting people to embrace change
Learn to drive the why and empower people on the how
Find out how to become more change hardy and able to embrace change
John Izzo: Speech Clip
Dr. John Izzo breaks down the steps to realizing fundamental change. Whether you wish to be the top professional in your field or parent of the year, the journey starts with choosing one thing to focus on per year.
Illustrating his point with an amusing anecdote about being the one guy in a suit at his African drumming class and gradually improving through his own efforts, John stresses the importance of seeking feedback from people around you who are masters at what you are trying to achieve. "If you want to make a commitment to grow," he states, "let me challenge you to ask people how you're doing."
The Defining Moment for a Generation-In-Waiting: Dr. John Izzo at TEDxVancouver
John Izzo: Leadership Development Tips