* Please note that while this speaker's specific speaking fee falls within the range posted above (for Continental U.S. based events), fees are subject to change. For current fee information or international event fees (which are generally 50-75% more than U.S based event fees), please contact us.
Top25 Speaker Voting

Joel Barker needs 6 vote(s) to make it into the Top 25 speakers on Speaking.com!
Speaker Booking Tip
"Tip: speakers bureaus can provide: speaker fee negotiation, insurance, smooth logistics and value add-ons such as extra sessions. "
For Event Planners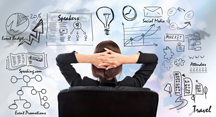 • Keynote Speaker Booking Toolkit.
• Booking a Celebrity Speaker.
• How to Find and Book the Right Speaker.
• Google+ Event Planning Forum.
• Tips for International Clients Booking U.S. Based Speakers.
Similar Speakers
Curt Coffman

Curt Coffman consults and presents to Fortune 100 and 500 companies, and his work spans the Western Hemisphere, Europe, Asia, and the Middle East. A…

Simon Mainwaring

Simon Mainwaring is the founder of We First, a leading brand and leadership consultancy that provides purpose-driven strategy, content, and training that empowers businesses and…

Robert Richman

Robert Richman is a culture architect and the founder of Zappos Insights, the Zappos Family company that helps business leaders, managers and entrepreneurs discover how…

Once again our agent did an outstanding job. Not only did he provide me with a number of options for potential speakers but he helped with seeing who was available, when they could speak, and getting everything done in a timely fashion. I look forward to working with him again.
Auburn University
About SPEAKING.com
Established in 1994, we are exclusive agents for some of the world's leading experts, celebrities and professional speakers.
We offer event planners a fully staffed speaker logistics planning team, plus a personal SPEAKING.com Account Executive – a knowledgeable and trustworthy partner. We guarantee your satisfaction with your speaker and a smooth booking process.
Contact us today to book your favorite speaker.

IBM
"On behalf of our entire team, I want to thank you for sharing your insights - for helping us understand how important it is not only to have a vision of the future, but also to combine that vision with action."

Huhtamaki Oy, Inc.
"Your lecture in our International Leadership program was ranked at the top by our participants."

Herman Miller Canada
"Joel had a vital message he presented with acute articulation, and with just the right degree of humor. My only regret is that I didn′t take my entire staff to hear him."

The Industrial Development Research Council
"Mr. Barker, you were instrumental in the overall success of the IDRC Spring World Congress in Cincinnati. You captured a two hour attention span over 1000 people which resulted in a wait list for your Innovations seminar that afternoon."

Association for Quality and Participation
"It′s been quite some time since I have seen an audience stay seated for an extra hour and one half. It says a great deal for your charisma, particularly

Naval Hospital, San Diego
"Accolades are pouring in from numerous attendees. Joel, your content was only surpassed by your sincere delivery - you truly are ′better in person′. Thank you again for giving us your all."

The Association of Junior Leagues International
"As we reflect on our successful Leadership Institute/Diversity Network, we are conscious of the significant role your keynote address played. One indicator of the impact of your presentation was the number of times the word "paradigm" was referenced throughout the remainder of the Conference."

National Community Education Association
"Your comments during the key note generated a huge amount of excitement that carried through the next two days of the National Conference."

Pew Health Professions Commission
"Thanks for a terrific presentation and discussion on Wednesday evening. You provided valuable outsider perspective to the Commission and its endeavors. If your ears were ringing on Thursday, it′s because your name was invoked several times during the day′s discussions."

Motorola
"The group really enjoyed your articulate and exciting view of Paradigms and you were clearly a big hit. It was the first time we allotted two hours to a speaker and you really did a great job."

Clients Include:

IBM
S.C. Johnson & Co.
Hewlett Packard
3M
Ford
Texas Instruments
Motorola
Government of Singapore
Blandin Foundation
Cisco
Government of Peru
Sanofi-Aventis
Ramsey County, MN
Texaco
Metropolitan Life
Cadillac
Pillsbury
Milliken & Co.
The Mayo Clinic
US Army Special Forces
Gannet Publishing
Microsoft
Government of Venezuela
Kansas City Civic Council
Lockheed Martin
Witchita State University
Futurist Joel Barker was the first to apply the scientific concept of paradigm shifts to the world of business, which helped make his 1992 book, Future Edge (later republished as Paradigms), a national bestseller. He has spent more than twenty- five years studying how companies adapt (or fail to) to new breakthroughs.

Now Barker and fellow futurist Scott Erickson offer a bold new way of looking at today′s rapidly evolving technologies: as five distinct "ecosystems" that each operates with a distinct set of values, advantages, and disadvantages:

* Super Tech: Bigger, better, more! (e.g., fusion power)
* Limits Tech: Use what you′ve got (e.g., aerogel insulation)
* Local Tech: Think small, think home (e.g., electric wind turbines)
* Nature Tech: Be one with nature (e.g., organic plastics)
* Human Tech: What lies within us (e.g., stem cells)

From pet robots to hypersonic planes, from wave power to waterless toilets, Barker and Erickson give readers a totally new way to understand and take advantage of the future of technology. Five Regions of the Future is an essential book for anyone baffled by today's technological onslaught.

---
Innovation at the Verge:
How to Find the New Territory for New Ideas!
Innovation has always been key to the ongoing success of both business and society. Joel Barker has found an unused pathway to innovation in the 21st century.
In this presentation he will explain how to find, explore, and use this new territory of innovation—Terra Innovata Incognita. He will show how Mother Nature has been using this territory for over 500 million years to create biological innovations, and then show how you can make it work for your organization.
He will illustrate his theory with examples from many industries and societies around the world.
Takeaways:
A new source of innovation for your organization
A new approach to producing innovation on a regular basis
Specific examples to illustrate the theory
Guidelines for activating the process inside your organization
This speech can be customized for clients and can last from 30 minutes to 90 minutes plus interactive experiences.
Three Shades of Green:
The New Opportunities for Sustainable Innovations
Based on the book, Five Regions of the Future, by Joel Barker and Dr. Scott Erickson, this presentation offers a fundamentally new way to look at the evolution of technology.
Did you know there are three shades of Green? If your company is looking into sustainable technology, you need to understand the difference. Do you know what "Human Tech" is all about? If you are operating in the field of medicine, you need to know. This presentation will give you a whole new way to catalog your own technologies and those of your competitors. He will illustrate his theory with examples from many industries and societies around the world.
Takeaways:
New ways of thinking about the future
New information of innovations and trends
New leadership skills for improve organizational vision
A copy of the book worth $25.00
This presentation can be framed from 45 minutes to 2 hours as a speech.
Finding the Future Faster:
New tools and New Responsibilities for 21st Century Leaders
How can you get more information about the future in a more timely fashion without hiring a special staff to do it? This presentation answers that question with Joel Barker's "Strategic Exploration tools" which use staff already in place to find the future faster.
The basic thesis of this presentation is that with just a couple of changes in information gathering structure, you can engage your team in simple systems that will increase the amount of useful information gathered significantly at almost no added cost.
This presentation overviews the idea of Strategic Exploration, illustrates four key techniques and then teaches two of them.
Takeaways:
Understanding the difference between strategic exploration and strategic planning
An understanding of the Implications Wheel® and the Strategy Matrix® as key exploration tools and how they work
A framework for thinking about the future: the "Possibilities Cone" for conceptualizing how new ideas are brought to reality
A process: Trend Interrogation for examining the importance of emerging trends
A process: TIPS™ Teams for collecting information about trends and innovations from the environment cheaply
This Presentation/workshop can be used with large groups and small groups. The TIPS™ Team exercise max's out at 100 participants but the Trend Interrogation exercise can be done with very large groups. (One hour to four hours
The Power of Vision: A 21st Century Look
There is a lot more to understanding vision than just what Jim Collins has written about. Joel Barker, who introduced the importance of vision to corporate America starting in 1985 shows you the qualitative side of vision that all leaders need to know.
Concepts covered:
Why vision is still a key ingredient in all successful organizations
How to quickly assess someone's attitude toward the future using the Polak Grid
How hope and vision are intertwined
How the mass media negatively influences your vision and your children's vision of the future and how to fix it
How to inoculate your people with long term hope
Takeaways:
The Polak Grid as a simple measurement device for vision
A process for finding positive images of the future
An understanding of the language of hope
(45 minutes to 90 minutes.)
Driving Innovation and Creating New Wealth: The Real Role of Diversity
This presentation turns the diversity discussion inside out and shows how organizations, cultures, and nations with great diversity gain extraordinary access to new innovations and new wealth.
Barker makes the case for the following formula: Diversity is the base on which innovations are created; innovation is the base on which new wealth is generated. If we want to grow the wealth of the world, then we need innovation, which means we need diversity. Barker also explains the mechanism of how diverse elements are turned into wealth through a process called "mutualism."
This discussion on diversity brings everyone into the tent to become significant contributors and breaks through the clichés of diversity that focus on just color, gender, and culture.
(From 30 minutes to 2 hours depending on client requirements.)
The Power of Paradigms
This presentation can be customized in many ways. The key concepts are:
1. The definition of a paradigm.
2. The paradigm curve and how to map your organization onto the curve.
3. The role of the outsider in changing your paradigm and how to turn them into assets.
4. How to be a paradigm pioneer and its advantages.
5. The paradigm effect and how it keeps you from seeing your own future.
6. Going back to zero-how to know when it′s happening and why you want to do it to your competitors.
(From 45 minutes to 3 hours depending on client requirements.)
The Power of Vision
An organization without vision is an organization at risk. Joel takes you through the research and shows you how to begin to build a vision.
(From 45 minutes to 2 hours depending on client requirements.)
Tactics of Innovation
How have some companies been successful in introducing new products and services while others have failed again and again? It′s not about the idea, it′s about the tactics you use for introduction. Joel Barker shares 10 guidelines based on Professor James Bright′s classic research in innovation.
(From 30 minutes to 1 hour depending on client requirements.)

Joel Barker Speech
Joel Barker explains to an audience at Microsoft his concept for a new path for innovation in the 21st century, which he calls "innovation at the verge." "The highest rate of breakthrough innovation does not occur at the center where the competition is highest," he says, "it occurs at the edges of the ecosystem where the competition is the lowest, at the verge."
Expanding on his concept, he continues, "The verge is where something and something different meet…it's at that point where innovation becomes really radical. The Prius is an example of innovation at the verge…we're looking at a meeting of electric motors and cars, at the verge."
Joel Barker Speech Excerpts