* Please note that while this speaker's specific speaking fee falls within the range posted above (for Continental U.S. based events), fees are subject to change. For current fee information or international event fees (which are generally 50-75% more than U.S based event fees), please contact us.
Top25 Speaker Voting

Jim Lawless needs 7 vote(s) to make it into the Top 25 speakers on Speaking.com!
Speaker Booking Tip
"Tip: speakers bureaus can provide: speaker fee negotiation, insurance, smooth logistics and value add-ons such as extra sessions. "
For Event Planners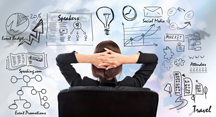 • Keynote Speaker Booking Toolkit.
• Booking a Celebrity Speaker.
• How to Find and Book the Right Speaker.
• Google+ Event Planning Forum.
• Tips for International Clients Booking U.S. Based Speakers.
Similar Speakers
Mark Thompson

CEO and co-founder of Virgin Unite Mentors (VUM), the network established by Sir Richard Branson for coaching and entrepreneurial innovation, Mark Thompson's expertise in coaching…

Jose Pinera

Former Minister of Labor and Social Security of Chile José Piñera is the master architect of Chile′s socio-economic transformation. While Labor Minister of Chile, from…

Lisa Nichols

Growing up and living in a South Central L.A. neighborhood divided between two warring gangs, single mother Lisa Nichols gave herself permission to take control…

Our Account Executive was a pleasure to work with to arrange our keynote presenter for the Sustainable Brands Sydney Conference. He was swift to respond and his communication was always clear. If I am looking for international speakers, I will think of SPEAKING.com in future.
Sustainable Brands
About SPEAKING.com
Established in 1994, we are exclusive agents for some of the world's leading experts, celebrities and professional speakers.
We offer event planners a fully staffed speaker logistics planning team, plus a personal SPEAKING.com Account Executive – a knowledgeable and trustworthy partner. We guarantee your satisfaction with your speaker and a smooth booking process.
Contact us today to book your favorite speaker.

"The event with Jim was perfect. We all had a great time and people are still talking about his speech. In fact, our internal evaluation results also showed that Jim's speech definitely was one key highlight of our Leaders' Lounge."
Vossloh AG (Event booked by Speaking.com)
"Jim was a great person to work with and really knows how to enthusiast his audience."
Incentive Europe (Event booked by Speaking.com)
"I have worked with Jim on stage at three high-profile Barclaycard leaders' conferences. Not only is he engaging, challenging, inspiring and very funny but he delivers a practical, compelling model for achieving results—which he has risked his life on the racecourse to prove."
Gary Hoffman, Director of Barclays PLC, Chairman of Barclays UK Banking and Chairman of Barclaycard
"This was a very important event for my department. Your challenging and inspiring presentation and professional (but hilarious) hosting made the day for us. One of the delegates went straight back and ran a "Taming Tigers" training session for his own team! No racehorses were involved, thank heavens."
Ian Dyson, Finance Director, Marks and Spencer plc
"After hearing Jim's speech, I was truly inspired and started immediately to incorporate the principles learned on how to approach my work, family, and social activities. After 12 months, I have to say that it has changed my life. I have done things I wouldn't have otherwise and most importantly accomplished things that I thought were well beyond my abilities. Everyone should hear Jim's story and "Taming Tigers" principles. He delivers them in such a fun way!"
Jack Bush, Director, Global Pharmaceutical Marketing Intelligence, ALCON Laboratories INC.
"Jim Lawless related Taming the Tiger to our current situation—an organisation going through massive change—with wit, enthusiasm and challenge."
Isabel Nisbet, Acting Chief Executive, Ofqual
"His key themes of leadership, change and teamwork were delivered in a powerful yet fun way, but most importantly he gave us the tools to go back to our businesses and make a difference immediately. Everything great looks impossible at first—you just have to tame some tigers"
Frank van de Ven, Vice President EMEA, Life Fitness (SSC) BV
"We were looking for something to motivate and energise our sales force in this challenging environment, and we had high expectations of Taming Tigers. The results were fantastic, feedback from a Questionnaire to 140 salespeople, Taming Tigers scored 75% of the audience rating the session as outstanding and 24% rating it as Excellent. These are the best scores we have ever seen either for an external or an internal speaker. The benefits are already visible just weeks after the conference."
Nick Frazer, General Manager Business Marketing, Business Information, Experian
"Jim is great at showing two things. One, ordinary people can do extraordinary things. Two, the key to delivering this is to 'act now' on the difficult but necessary tasks. He does this in an entertaining and engaging manner."
Rob Fleming, Market Strategy and Planning Manager, Procter and Gamble.
"...A big thanks to Jim, he reminded me of our own power and of who we really are."
Wouter Murrath, Captaris.
"His sessions were fantastic: funny, energetic, inspiring and real."
Lisa Munford Talent Management—Senior Specialist , UK HR Talent Team, E.ON—UK.
"If you want motivation combined with great entertainment value you are on a winner with Jim Lawless. He is an odds on favourite to not only leave you inspired but also chuckling with laughter."
Geoff Loader, Director of Communications, Southern Water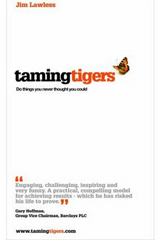 Taming Tigers: Do Things You Never Thought You Could
Do something scary!
You are writing the story of your life. You must be, mustn't you? Who else can be holding the pen? The question is, are you choosing what to write or is your Tiger dictating your story to you?
Over 70,000 people around the world have heard Jim Lawless speak about the Ten Rules for Taming Tigers. Now for the first time you can learn how to use the highly practical ten rules—described by Richard Dunwoody MBE as "the antidote to self help"—to do things you never thought you could.
You can also read the hilarious and inspiring tales of racing legends, hospital trips and breakthroughs that Jim experienced on his way from overweight non-riding consultant to riding in his first televised horse race in just 12 months to prove that Taming Tigers worked.
Taming Tigers: Accomplishing "Mission Impossible"
"Understanding what makes change tough, the stories we tell to avoid that reality and what we can do to achieve new results is now critical to the survival of a business or a career."
Accomplishing "Mission Impossible" depends upon our ability to adapt to and create disruptive changes, to seize opportunities at pace, to play to win rather than play "not to lose", to engage and empower others and inspire action.
Our greatest asset in creating and adapting to change is also our greatest liability: The Human Mind. A tool formed over many millennia to favor the familiar over pioneering behaviors, creative tension and new uncertain outcomes.
When the leaders and people across an organization begin to understand, own and enjoy the mindset that creates purposeful change, "Mission Impossible" becomes a live possibility. That's the reason Jim Lawless created the "Taming Tigers" framework.
Regularly re-booked by many of the world's leading companies (and their disruptive challengers), Jim has devoted the majority of his working life to finding out what makes lasting transformation possible for individuals, teams and organizations – and to making change happen.
To date he has shared his tools for transformational change with over half a million inspired people at events on five continents and many more through his bestselling book "Taming Tigers" (Random House 2012).
Jim's presentations are renowned for giving the audience:
1 The Desire to Act to make the change happen, personally
2 The Courage and Confidence to take personal risks in changing objectives, behaviors and communication and
3 Practical Tools: what to do and how to recognize and overcome the personal barriers – the Tiger
Jim's commitment to testing the Taming Tigers framework has seen him accomplish two of his own "Missions Impossible". He became the UK's deepest free diver (the first Briton to pass 100m on one breath) and transformed from non-riding unfit consultant to Jockey in 12 months to answer a client challenge (and £1 bet!).
Jim's understanding of change in the individual, team and organization is hard won. Jim has advised on change and coached high performing teams at board level for 15 years with a client list including global giants such as Apple, BT, AXA, ATOS and Barclaycard and private equity mega-success stories such as Skrill Group.
Speech Demo Reel
Interweaving the stories of how he broke Great Britain's free deep diving record and became a competitive jockey in less than 12 months, Jim Lawless discusses combatting our fears and overcoming the voices in our head that hold us back from taking risks and action.
He emphasizes that each of us is writing the story of our lives, penning it decision-by-decision and moment-by-moment. While most of us fast-forward imagining "the disasters" that will occur if we "break the rules that keep us safe," Jim points out that if no one took risks, our world would be static and empty of innovation.
Freedive Film
Jim Lawless: Taming Tigers - London Business Forums
Jim Lawless at Seizing Success
Testimonial Reel