Top25 Speaker Voting

Jim Cathcart needs 10 vote(s) to make it into the Top 25 speakers on Speaking.com!
Speaker Booking Tip
"Tip: speakers bureaus can provide: speaker fee negotiation, insurance, smooth logistics and value add-ons such as extra sessions. "
For Event Planners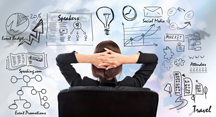 • Keynote Speaker Booking Toolkit.
• Booking a Celebrity Speaker.
• How to Find and Book the Right Speaker.
• Google+ Event Planning Forum.
• Tips for International Clients Booking U.S. Based Speakers.
Similar Speakers
Aaron Ross

Aaron Ross's ideas and techniques have sparked record levels of growth, helping companies increase their prosperity at some of the fastest rates in history. The…

Vinh Giang

Vinh Giang's passion for magic and self-taught business skills lifted his family out of poverty and into a top tier income bracket. An award-winning entertainer,…

Saj-nicole Joni

Saj-nicole Joni, Ph.D. is a gifted business strategist and confidential CEO advisor, speaker, and author who works with top leaders and boards to solve their…

Our account rep was great to work with. He helped facilitate some specific requests on our part, kept us in the loop of any issues, and promptly replied to all communications. Thanks for making this a great event!
Foundation for Economic Education
About SPEAKING.com
Established in 1994, we are exclusive agents for some of the world's leading experts, celebrities and professional speakers.
We offer event planners a fully staffed speaker logistics planning team, plus a personal SPEAKING.com Account Executive – a knowledgeable and trustworthy partner. We guarantee your satisfaction with your speaker and a smooth booking process.
Contact us today to book your favorite speaker.

"Jim was very accommodating and flexible. He demonstrated a high degree of professionalism with our conference attendees. We were happy to have him, thank you! We will definitely recommend him to others."
Elm Resources
(Event Booked by Speakers Platform)
"You really did blow me away. You were the rage of our conference. Not only was your style and warmth fantastic, but the quality of the knowledge and material you presented was absolutely incredible!"
Ken Blanchard, author, "The One Minute Manager"
"You were incredible. Your program held the attendees on the edge of their seat. It wasn′t just entertaining, it was useful and can be applied immediately."
Lincoln Investment Planning, Inc.
"We had high hopes. You exceeded all our expectations....and you were a delight to work with."
McRae′s Department Stores
"Jim, you are the first professional speaker I have brought into this organization. Our distributors, from all over the U.S., Canada and a dozen foreign countries were absolutely delighted with your comments, observations and humor. The standing ovation they gave you at the end of your presentation is a clear statement of how they felt about you."
Brian Tracy International
"...you were right on target in your message to our people... obviously did your homework... found the right message to really reach our people and leave a meaningful message and impression. My compliments on a job exceptionally well done!"
Purina Mills, Inc.
"I was overwhelmed with people coming up to me and saying what a great speaker you were!"
National Westminster Bancorp, Inc.
"Personally, I was also impressed with the time you took... to learn more about Melroe Company, our products, and our people. I would like the ability to give each of our field representatives a copy of the video tape of your remarks for use for internal dealership training."
Melroe Company
"Thanks for being a real person, not a personality ... for being prepared, on time and gracious .... for telling stories, not lecturing... for hitting the mark. Our managers walked away inspired."
Bombay Co.
Partial Client List:
ASAE
Motorola
Mass Mutual
Prudential
Norwest Bank
Becton Dickinson
John Deere
Levi Strauss
U.S. Air Force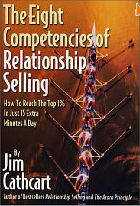 The Eight Competencies of Relationship Selling: How to Reach the Top 1% in Just 15 Extra Minutes a Day (Hardcover)
If you were to spend just fifteen minutes each day gaining one new sales idea or sharpening a skill, within just a few years you could become an industry leader. THE EIGHT COMPETENCIES gives you the simple essential elements for your self-directed performance improvement. As you grow your knowledge base, you will gain self-mastery. This competency based book involves the incorporation of "emotional intelligence" into your sales career as well as the profit-focused "hard-skills."
Jim Cathcart's sales philosophy is quite simple – Business should be practiced as an act of friendship, rather than merely as a process of negotiation. It is about connecting with people profitably, not merely persuading them to buy.
Order Here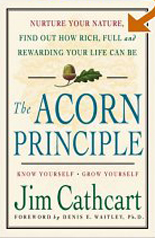 The Acorn Principle: Know Yourself, Grow Yourself

Cathcart, a popular motivational speaker easily as successful as Anthony Robbins or Stephen Covey, condenses his self-discovery module into a self-awareness system based on discovering and learning to work with one′s true nature. He claims that if all adults explore how their values, type of intelligence, velocity (high, medium, low), background, behavior patterns, and thinking/learning styles operate they can find healthier, happier, livelier relationships.
Once the reader works through the book and discovers his or her "acorn profile," it becomes a useful tool for self-definition and developing appropriate, complementary relationships at home and at work. Each chapter is peppered with thought-provoking questions and exercises. Recommended for collections requiring more in the motivational psychology/personal success sections.
Motivation
Intelligent Motivation for a Challenging World
Knowledge and Skill will not win the day, but Confident Action can change your world. Learn how to increase your drive, strengthen your discipline, and sustain the action that is needed to succeed. Intelligent Motivation (tm) is determining what is important, identifying what action is needed, and doing what is necessary to generate and sustain that action until your desired outcome is achieved. It is Conscious, Objective, Intentional & Relentless Action on Vision, Focus, Standards, Meaning, Agreements, Measures & Rewards. In this program, Jim will teach you how to inspire vision, take focused action, create firm standards, make your work more meaningful, develop clear agreements, accurate measures, and appealing rewards.
Relationship Selling
The Eight Competencies of Sales Excellence
We need to rethink how we connect with our customers and suppliers, before our competition does. When Jim Cathcart wrote the book Relationship Selling it was considered revolutionary. Today it is considered standard practice. This presentation shows you what to listen for, how to be natural in your selling style, and how to connect with the underlying elements in buying psychology that most people never heard of.
Self-Leadership
Rethinking Ourselves For a New Era
"If you can′t lead yourself, please don′t lead others." The most popular methods of leadership, management, sales and service delivery are already dangerously out of date. New technologies require new ways of thinking. Every day another standard practice becomes obsolete. To continue to grow and thrive we must learn to constantly Rethink: our markets, our systems, our relationships, our strategies and ourselves. This presentation combines stories, visuals, research and audience interaction to dramatically improve the way we think and act.
Helping People Grow
The Acorn Principle
Every person can be very good at certain things, but most people don′t know what those things are. Jim shows people how to find and grow their natural strengths so that they can always be self-motivated. Based on nine years of psychological research into personal effectiveness. A fascinating exploration of what makes us who we are, and how to use it.
Lifetime Customer Loyalty
The Grandma Factor
When you find meaning in what you do, you bring value to what you do. Everyone knows how to provide good service; our challenge is getting them to want to. The real magic in customer service comes from discretionary efforts, when people go beyond their job description. This presentation focuses on the ways systems, strategies, standards and relationships impact service. Jim teaches building your clientele through "Up-Serving."

TEDx Speech
Jim Cathcart introduces his "Acorn Principle" of life: the belief that each one of us has a unique potential deep down inside us. Our challenge is to discover that potential and develop the skills and confidence to fully realize it. "Somewhere deep inside you know what kind of person you were designed to be," Jim shares. "If you want to produce great acorns, think like an oak, not like an acorn. Think like the person you intend to become. Like the Christian question 'What would Jesus do?' Ask yourself how would the person I'd like to be do the things I'm about to do."
Motivational / Leadership Keynote Speech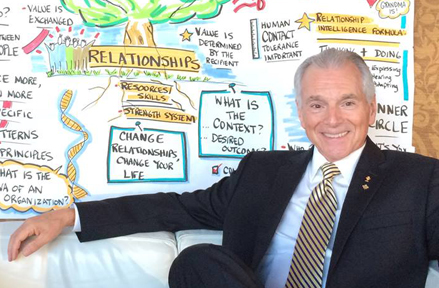 One of the most recognized motivational and sales speakers in the world, Jim Cathcart was named one of the "Top Sales Influencers" by Top Sales World Magazine. He has been inducted both into the Speaker Hall of Fame and the Sales and Marketing Hall of Fame in London. His TEDx speech is one of their ... more