* Please note that while this speaker's specific speaking fee falls within the range posted above (for Continental U.S. based events), fees are subject to change. For current fee information or international event fees (which are generally 50-75% more than U.S based event fees), please contact us.
Top25 Speaker Voting

Jim Brazell needs 5 vote(s) to make it into the Top 25 speakers on Speaking.com!
Speaker Booking Tip
"Tip: some speakers might provide one of their popular book titles as a free gift to your audience. "
For Event Planners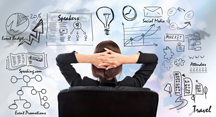 • Keynote Speaker Booking Toolkit.
• Booking a Celebrity Speaker.
• How to Find and Book the Right Speaker.
• Google+ Event Planning Forum.
• Tips for International Clients Booking U.S. Based Speakers.
Similar Speakers
Lenora Billings-Harris

Noted for her ability to take complex diversity concepts and distill them into practical applicable strategies, Lenora Billings-Harris weaves inclusion, leadership, management and African-American history…

Garrison Wynn

With talents that established him as a Fortune 500 leader and professional stand-up comedian, Garrison Wynn, CSP, fuses comic timing and research to deliver motivational…

Dr. Bob Nelson

Dr. Bob Nelson is a leading authority on employee recognition, motivation, and engagement. Over the past 20 years he has worked with 80% of the…

Your speakers bureau was a tremendous resource for the NHL as we planned and executed our NHL Club Business Meetings. Their assistance with securing our keynote was invaluable. They provided detailed information in a timely manner which was crucial to the success of the event. The execution was seamless!
National Hockey League
About SPEAKING.com
Established in 1994, we are exclusive agents for some of the world's leading experts, celebrities and professional speakers.
We offer event planners a fully staffed speaker logistics planning team, plus a personal SPEAKING.com Account Executive – a knowledgeable and trustworthy partner. We guarantee your satisfaction with your speaker and a smooth booking process.
Contact us today to book your favorite speaker.

"Jim is a powerful story-teller."
— Dr. Anne Bryant, Executive Director, National School Boards Association

"Jim sees things through a different lens... and it's a perspective that community leaders need to share."
— Richard Anderson, County Judge, Marshall, Texas

"Brazell has mastered the mixed audience. We invite students, parents, faculty, local industry, workforce, and economic development leaders and we get everyone motivated and on the same page!"
— Dr. Bill Segura, Chancellor, Texas State Technical College System

"He showed us all where our future is... he is showing us what we need to be doing now with our students."
— Alice Gage, CTE Director, Pine Tree High School

"After seeing Jim's keynote, we hired him for an 8 hour workshop for all workforce practitioners in the state."
— Jennifer Brackney, Workforce Development Division Manager, City of Peoria

"Jim's speeches have been a catalyst for workforce, education and economic development innovation in Texas."
— Kaki Leyens, Office of Employer Initiatives, Texas Workforce Commission

"Brazell is compelling. I have seen him captivate educational audiences from the US to Singapore."
— Dr. Nelson Heller, President and Publisher, The Heller Reports, A QED Company

"In Stavanger, Norway, we think of elearning before Jim Brazell and after..."
— Atle Lokken, Director NettOP, University of Stavanger

"Brazell addresses the imperative of developmental planning necessary to transition the baton of leadership to the generation that will take us to Mars and beyond."
— Dr. Francis X. Kane,"Father of Global Positioning System," President, Schriever Institute

Partial Client List:
National School Boards Association T&L Conference
Peoria Next
Maryland School Board Association
Illinois State Workforce Conference
Los Angeles County Tech Prep
Pearland ISD
National Education Computing Conference
San Antonio North Chamber of Commerce
Texas Ed Service Center Region 8
Austin Community College
Monroe Community College
Heartland Region - National Association of Workforce Professionals
Iowa Manufacturing Conference
Butler Community College
Maui Community College
Alief ISD
National School Boards Association Annual Conference
Orlando Science Center
San Angelo Technical Training Center
Mt Pleasant High School
The New York City Department of Education
Gulf Coast Tech Prep
Oklahoma State Department of Career and Technical Education
C-STEM Houston
Waco Chamber of Commerce
Community College Futures Assembly

COMMUNITY, WORKFORCE & ECONOMIC DEVELOPMENT
INNOVATION NATION: Emerging Technology and Strategies for Economic Competitiveness, Innovation and Security
America′s competitiveness depends on innovation and collaboration. Innovate America is designed to move communities from why they need to change to how they can achieve innovation. Explore emerging technologies, jobs, educational practice and economic development strategy. Learn how you can enhance global competitiveness through local, regional and national collaboration.
TECHNOPOLIS PHENOMENON 2.0: Trends in Technology, Innovation and Public-Private Partnership
Join sociologist Jim Brazell for an analysis of the structure and strategy of technology, how innovation works to transform economies and the story of next generation global high technology regions Including San Diego, CA, Central Florida, Washington D.C., South Korea and Finland.
P-20 SCHOOLS, CONSORTIA & EDUCATION CONFERENCES
WEAVING A WEB FOR THE 21st CENTURY: The What, Why and How of STEM, Common Core Standards and College and Career Readiness
Jim delivers case analysis of highly effective schools, teachers, and leadership culture illustrating the "how" of educational transformation. Jim′s background in the sociology of science and educational technology lend to his analysis including: (1) a shift in the definition of the well rounded student in the 21st century, (2) a shift in pedagogy, (3) the centrality of technology processes, languages and architectures across and among disciplines, and (4) the organizing principle of innovation and design across disciplines in the P-20 system of education. Jim′s analysis includes how model schools meet high academic standards for all students.
THE FUTURE IS HERE: Living, Learning and Working in the 21st Century
Robot cars. Virtual reality phones. Supercomputer toys. This is not fiction, not a dream, not the future—this is the world today. As technology continues to advance, organizations and communities are challenged by the pace of change. Part crowd sourcing, part social media and part workshop, The Future is Here is designed to move your group from thinking to action. Large group interactive sessions and workshops are custom including program title, use of technology (or not) and program activities. Attend Innovation Nation to learn to think like a futurist and to act like an entrepreneur to create the future.
STEM PATHWAYS TO THE FUTURE: Emerging Technologies, Jobs, Schools & Communities
Fueled by industry and government focus on economic recovery, STEM (science, technology, engineering and math) is now seen as a platform for educational reform. Attend the keynote with Jim Brazell to explore: What does STEM tell us about education, work and society? What are the key skills required of 21st century education, work and citizenship? How are model schools and communities transforming to meet the demands of the 21st Century?
CYBER-STEM: Discover the Role of "Cyber" in U.S. Workforce Competitiveness, Security and Innovation
Cyber STEM is the story of how Networking and Information Technology (NIT) have changed the worlds of play, learning, work and civil discourse in the 21st century. Fully 1/2 of STEM jobs tracked by the Bureau of Labor Statistics are NIT jobs--1/2 of STEM is Cyber. Cyber-STEM is crucial to national and global priorities in energy, transportation, education, healthcare and virtually all industries and has an overall impact on virtually all jobs and aspects of life in the 21st century.
Cyber-STEM delivers an analysis of how education, workforce and economic development practitioners are responding to emerging national priorities in science, technology, engineering and mathematics (STEM) by integrating CYBER & STEM. Learn about the growing demand for multi-skill information technology, Cyber-STEM and security professionals across industries. Discover emerging technologies, jobs, career pathways and tools for schools.
STEM+ARTS: 21st Century Strategies for Arts Education and Advocacy
21st Century Strategies for Arts Education and Advocacy delivers stories, anecdotes and analysis of the US and global movement to connect the arts way of learning with science, technology, engineering and mathematics (STEM) education. Learn about emerging technologies, jobs, schools and communities integrating ARTS+STEM to define what is next in innovation practice.
Other titles and themes of Jim′s work:
Futuring & Leading Educational Transformation - How to think like a futurist in order to make practical decisions, anticipate change and design what is next for your classroom, school or district.
TEAMS Innovation Practice - How to engage students, achieve rigor and transform pedagogy by design.
The Future is Here: Emerging Technology, Jobs & Open Source Tools and Projects for Educators and Schools
Introduction
Jim Brazell analyses future trends in the workforce and explains how adaptations will have to be made to accommodate new paradigms. He says, "The old adage location, location, location, means absolutely nothing for communities that cannot produce a workforce. For executive leadership, and companies, and education, and Chambers of Commerce and economic development, the question is how do we grow, how do we recruit and how do we retain a world-class workforce?"
Looking at changes that have already taken place, he explains, "Science and technology has run away with our youth and left the rest of us in the dark ages. According to the National Council on Competitiveness, technical jobs, jobs that require technical training, are growing at 5 times the rate of other occupations. For baby boomers the question is, do we change? For eco-boomers, the millennials, the question is why do I care, how is this relevant to me, and for generation Xers the question is can we bridge the gap?"
Looking at the chances that exist with communities, he says, "For communities, how do we compete in a globalized world where everything is increasingly linked together, geographies, technologies, industries, all moving at light speed. If the world is flat, where do we fit in?"