* Please note that while this speaker's specific speaking fee falls within the range posted above (for Continental U.S. based events), fees are subject to change. For current fee information or international event fees (which are generally 50-75% more than U.S based event fees), please contact us.
Top25 Speaker Voting

Jim Abbott needs 7 vote(s) to make it into the Top 25 speakers on Speaking.com!
Speaker Booking Tip
"Tip: speakers bureaus can provide: speaker fee negotiation, insurance, smooth logistics and value add-ons such as extra sessions. "
For Event Planners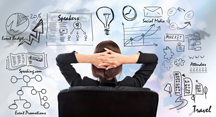 • Keynote Speaker Booking Toolkit.
• Booking a Celebrity Speaker.
• How to Find and Book the Right Speaker.
• Google+ Event Planning Forum.
• Tips for International Clients Booking U.S. Based Speakers.
Similar Speakers
Warren Macdonald

A catastrophic moment redefined Warren Macdonald's life in April 1997 when a one-ton boulder fell on him during an excursion on a remote Australian island.…

Amy Van Dyken

After an ATV accident left her paralyzed from the waist down, six-time swimming Olympic gold medalist, Amy Van Dyken became more than a sports champion.…

Jack Daly

With more than 25 years of business experience, including numerous stints as CEO of fast-growing national companies, Jack Daly knows how to help companies achieve…

THANK YOU for your consistent communication, organization, and hard work. It truly has been a pleasure partnering with you too, we would love to stay connected with you for future events.
National Human Resources Association
About SPEAKING.com
Established in 1994, we are exclusive agents for some of the world's leading experts, celebrities and professional speakers.
We offer event planners a fully staffed speaker logistics planning team, plus a personal SPEAKING.com Account Executive – a knowledgeable and trustworthy partner. We guarantee your satisfaction with your speaker and a smooth booking process.
Contact us today to book your favorite speaker.

"The meeting was a huge success and we only heard rave reviews about Jim's presentation. He was the highlight of the meeting. Jim's genuine personality was a very nice fit with our audience and the way he presented the ADAPT approach to life fit our goals perfectly. "
Intergraph
(Engagement arranged by Speaking.com)

"There are no words to describe the impact Jim had on my business, he was nothing short of phenomenal. Jim spoke for breakfast, lunch and dinner seminars. His story touched everyone in the rooms with standing room only in some instances.

Many of the advisors expressed to me that Jim was the best speaker they have ever seen, some admitted to shedding a tear or two.

People laughed as they enjoyed every story Jim told and you could tell most people didn′t want it to end. Jim was gracious enough to sign and personalize base balls and have conversations with the attendees until everyone was satisfied. I am still getting phone calls telling me how inspiring Jim was. I have seen Jim speak now 4 times and the story only gets better. I hope to have Jim back again in the future as well as my company is looking to use Jim at future venues. Also, several advisors approached me to ask if they could get Jim to speak at their engagements. As for me and my colleagues, Jim made it nothing short of a special day that none of us will ever forget."
Anthony Antorino, Regional Vice President, Prudential, Long Island & Westchester, NY

"Jim Abbott is awesome. You could hear a pin drop during his speech. Frankly, I am not a baseball fan, don′t really know that much about it, but it really didn′t make any difference. His speech - to me- had little to do with baseball although the stories he wrapped around his words did. We laughed, and many of us (me especially) cried as he wove his touching story of his life and experiences overcoming his handicap. He is charming, very receptive to our guests, he was willing to take the time to go to our luncheon, pose for pictures, and answer questions from anyone who asked. I now know more about human behavior since I′ve met and heard Jim Abbott. It was a great experience. "
Miriam Eaton, Event Planner, Toshiba America Electronic Components, Inc.

"Jim was definitely the star of our annual supplier event. People were charmed by his demeanor and presentation style and they were truly moved by his message. The feedback we got from attendees about how Jim′s message affected them was phenomenal. We try to top ourselves every year in terms of our programming for this event - but I really don′t know how we are going to be able to top Jim. We may just have to bring him back!"
John Fredette, Senior Manager, Supplier Management Group, Lucent Technologies

"Jim Abbott was a great speaker with a fantastic, fascinating and inspirational story to tell. He was funny, engaging and an inspiration and he kept the groups attention through the entire presentation and the question and answer session. Many in our group enjoyed Jim as much as our presentation by John Wooden. Thank you for making our convention one that we will remember for a long time."
Randy Fritchie, President, Fosters Freeze

"Jim was absolutely fabulous. Everyone loved him. His presentation was a perfect start to our meetings. It really pumped everyone up. Everyone is still talking about how great it was to have him here. They were really impressed. When Jim spoke, you could hear a pin drop in the room because everyone was 100% focused on what he had to say and he has a great message that is appropriate for anyone to hear."
Erin McCarthy, Director of Marketing, LASON, Inc.

"Jim, I′ve been producing events like these for over 20 years. In that period of time I have NEVER experienced the deafening silence in a crowd that large, all of whom had their minds, hearts and souls transfixed on your speech. You touched the hearts of each and every person on the Civic Center, and your message of adaptability, determination and trust is now embossed on the spirits of hundreds of community leaders. The e-mails and voicemails filled with kudos and praise have been unending since the meeting this morning. You're going to be a VERY tough act to follow."
Deke Rothacker, Vice President of Marketing, United Way, Poughkeepsie, NY

"Jim was fantastic! The audience loved him."
Rocco Donnino, VP of Sales, Sybari Software Direct

"It is a pleasure to work with such a famous athlete who delivers such a relevant and motivational message. Jim Abbott represents the kind of role model we would like to see in all of our professional athletes."
George Klaus, Chairman, President and CEO and of Epicor Software

"Jim was well received by all who attended the banquet. Despite the trying time getting to Greenville and having to sleep in the airport, he remained very pleasant and easy going. I am so glad Jim Abbott decided to come to Greenville and be our motivational speaker. WOW! We have heard nothing but positive comments. I don′t know how late Jim stayed after the banquet, but he signed numerous baseballs and programs for all who wanted his signature at no extra charge. He really is quite incredible."
Rita Leggett, Eastern Carolina Vocational Center

"Jim was very well received. EVERYONE just adored him. His talk was great and the feedback on the conference eval′s concurred that people enjoyed him. We would invite him back anytime to speak! The way he presents the ADAPT concept is a great way to motivate with information"
Shannon Trierweiler, Wyoming Associations for Persons in Supported Employment (WYAPSE)

"He was wonderful - everyone said how great he was ---- our top people were so impressed. He gave inspiring words, not trying to be funny at every other remark, instead humorous throughout. He kept their attention and charmed everyone. We loved the reports from our attendees."
Tony Filippis Sr., Athletes with Disabilities Hall of Fame

"Jim was one of our best speakers. His message was upbeat and well delivered. We enjoyed him very much. We would have him back!"
Deborah Ridolfi, Johnson & Wales University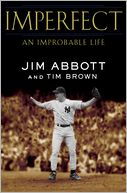 Imperfect: An Improbable Life
On an overcast September day in 1993, Jim Abbott took the mound at Yankee Stadium and threw one of the most dramatic no-hitters in major-league history. The game was the crowning achievement in an unlikely success story, unseen in the annals of professional sports. In Imperfect, the one-time big league ace retraces his remarkable journey.
Born without a right hand, Jim Abbott as a boy dreamed of being a great athlete. Raised in Flint, Michigan, by parents who saw in his condition not a disability but an extraordinary opportunity, Jim became a two-sport standout in high school, then an ace pitcher for the University of Michigan.
But his journey was only beginning.
As a nineteen-year-old, Jim beat the vaunted Cuban National Team. By twenty-one, he'd won the gold medal game at the 1988 Olympics and—without spending a day in the minor leagues—cracked the starting rotation of the California Angels. In 1991, he would finish third in the voting for the Cy Young Award. Two years later, he would don Yankee pinstripes and deliver a one-of-a-kind no-hitter.
It wouldn't always be so good. After a season full of difficult losses—some of them by football scores—Jim was released, cut off from the game he loved. Unable to say good-bye so soon, Jim tried to come back, pushing himself to the limit—and through one of the loneliest experiences an athlete can have.
But always, even then, there were children and their parents waiting for him outside the clubhouse doors, many of them with disabilities like his, seeking consolation and advice. These obligations became Jim's greatest honor.
In this honest and insightful memoir, Jim Abbott reveals the insecurities of a life spent as the different one, how he habitually hid his disability in his right front pocket, and why he chose an occupation in which the uniform provided no front pockets. With a riveting pitch-by-pitch account of his no-hitter providing the ideal frame for his story, this unique athlete offers readers an extraordinary and unforgettable memoir.
ADAPT: Overcoming Adversity
People will tell you that I overcame obstacles -- maybe. But the truth is I was incredibly blessed in my life. More was given than was ever taken away.

So that is why I am a big believer in ADAPTing. Not only can we mold ourselves to the challenges that come our way. We can also break that word down into those 5 components and give ourselves 5 incredible strategies, and apply them any aspect of our lives.

But going through life with a few extra challenges has made me a better person, not better than anyone else but better than I would have been. I′ve learned that sometimes adversity can be a good thing.

In this presentation you′ll learn the keys to ADAPTing:

Adjustability
Determination
Accountability
Perseverance
Trust
Demo Video
Major-league pitcher and Olympic gold medalist Jim Abbott explains just how to adopt the correct mental attitude to overcome any challenge. He explains, "There's a strength and a resiliency in all of us to respond to what comes our way; we have it within us to adapt."
Drawing on his own remarkable life in which he has overcome the disadvantage of being born without a right hand, Jim talks about how he made the extraordinary everyday in his life: "Newspaper owners and journalists came up with all sorts of flowery terms to describe my play, I was courageous, I was remarkable…for me I was just doing something I loved."
Jim Abbott Keynote