Top25 Speaker Voting

Jennifer Moss needs 1 vote(s) to make it into the Top 25 speakers on Speaking.com!
Speaker Booking Tip
"Tip: speakers bureaus can provide: speaker fee negotiation, insurance, smooth logistics and value add-ons such as extra sessions. "
For Event Planners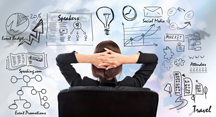 • Keynote Speaker Booking Toolkit.
• Booking a Celebrity Speaker.
• How to Find and Book the Right Speaker.
• Google+ Event Planning Forum.
• Tips for International Clients Booking U.S. Based Speakers.
Similar Speakers
Michael Perman

Creativity expert, Michael Perman helps teams crack the innovation paradox to generate actionable ideas, breakthrough products, and revolutionary customer experiences. The founder of C'EST WHAT?,…

Drew Boyd

The founder and director of Johnson & Johnson's renowned Marketing Mastery Program, Drew Boyd is a widely recognized authority on persuasion, innovation and social media.…

Aaron Beam

Since 2009, Aaron Beam has impacted the lives of thousands of students and business people with his personal story of how a few poor seemingly…

Everyone at your speakers agency were professional and helpful throughout the process, making it easy to book, communicate, and prepare for our event.
Hewlett Packard
About SPEAKING.com
Established in 1994, we are exclusive agents for some of the world's leading experts, celebrities and professional speakers.
We offer event planners a fully staffed speaker logistics planning team, plus a personal SPEAKING.com Account Executive – a knowledgeable and trustworthy partner. We guarantee your satisfaction with your speaker and a smooth booking process.
Contact us today to book your favorite speaker.

"We were really pleased with her, she is lovely to work with and very personable. Having a phone conversation with her prior to the conference gave us a sense of how professional and passionate she is about what she does, and made us so excited to have her speak. She was very moving and we really enjoyed the combination of hard data and personal stories. Her talk was relevant to the work the conference attendees do. They thought she was inspiring and powerful. We had a lot of feedback of how engaging and thought provoking her talk was. Her message was fabulous! The only thing we would have changed is the amount of time we got to spend with her. Due to scheduling, her visit was brief, however her impact was great. She is definitely a person you can spend the day talking too. We would definitely have her speak again."
Nova Scotia Career Development Association
"In her speaking, Jennifer does a masterful job at weaving together the threads of personal experience with the art & neuroscience of motivation to deliver a compelling message, that causes the audience to reflect on how we think & interact not only in our careers, but also in our personal lives."
- Chief Financial Officer, Communitech
"Jennifer was excellent! I'm so happy we decided to go with her. All the feedback we received was awesome and everyone in the room was in such a great mood following both of her presentations. As soon as we got to work this morning my boss was already walking around asking everyone to list 5 things they are grateful for!"
- Project Coordinator, Regina & District Chamber of Commerce
"Jen stands apart from this field as someone who is not just passionate about the issue, a passion that makes her presentations shine, but has the data and the experience to back up her beliefs. She's a great speaker on an important topic. What more could you ask for?"
- Executive Conference Producer with The Conference Board of Canada
"I was genuinely entertained by her storytelling and inspired by her message. She showed an authentic level of comfort with the audience and you could sense that everyone was highly engaged in her talk."
- President, GM Canada
- Feedback from the TD/Ameritrade Internal Event –
"Thank you again. I continue to get people stopping me telling how great your session was an am seeing lots of comments on our internal social network. You really made an impact!"
"On behalf of all of us, I wanted to send a quick thank you again for your time today and for an amazing presentation to our teams! We've already received great feedback from folks and a number have been reaching out for your contact as well (sorry! J). We've also seen interesting questions around what is our own Channel / TD's plan to get more involved with the topic of driving happiness and higher performance as a result, with our employees – I love the excitement this stirred up today! We look forward to hearing more about how the work with Phone Channel works out and I'm sure we'll see more from you and the Plasticity Labs team in the future!"
"Thank you Jen! Lots of good feedback on this and some great and easy tips that we can use."
- Feedback from CSAE Annual conference, 1000 + attendees -
"I just wanted to let you know that I was at the CSAE National Conference this past year. I thoroughly enjoyed listening to your session on Happiness in the Workplace. I thought I would let you know that I wrote a blog on what you talked about and some of the initiatives we take at our organization to help promote happiness. Thanks for all your hard work and have a great day!" - Jennie
"Great job as CSAE today You were amazing!"
"You were a hit at CSAE yesterday!"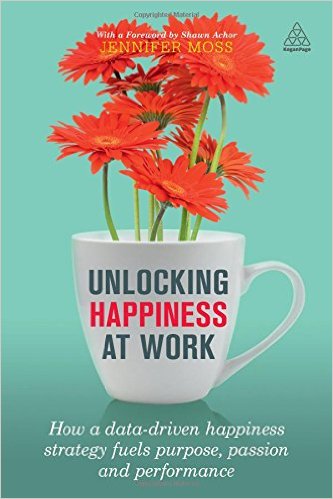 Unlocking Happiness at Work
Unlocking Happiness at Work takes you on a journey into why and how leaders should become compassionate capitalists and ensure that their teams thrive. This book debunks the myth that happiness at work is a waste of time and demonstrates how it can deliver a more productive and engaged workforce, which can have real impact on the bottom line.
Based on two decades of scientific research, real-time data, interviews and case studies, this book proves that happiness fuels higher performance, provides a greater sense of purpose and spreads passion throughout organizations. With insightful practical guidance throughout, Unlocking Happiness at Work is a lively and persuasive exploration of how to be happier and make others happier through the power of habits, emotional intelligence and an innovative approach to work/life flow. Case studies from lululemon, Zappos, Misfit Inc., The Body Shop and more are supported by tangible data and key performance indicators that show the significant benefits that come from adopting a happiness strategy. This is an essential resource for leaders who want to increase sustainability, attract new talent, improve their brand and boost profitability - in a way that is life-enhancing for them and their people.

The Happiness Economy
Organizational culture is the set of shared beliefs and values within an organization that help shape behavior. Like community or national culture, organizational culture is an indispensable aspect of any company. It's the holistic understanding of an organization's goals and how they will be achieved. Organizational culture answers the question why do we do what we do?
After two decades of research, we can prove that there is a direct correlation between a healthy, productive workplace culture and a company's bottom line. Jennifer will share examples of the current research going on in this space, and case studies of companies who see culture as a mission-critical effort and how they are tracking their success.
The Emotionally Intelligent Leader
We used to think IQ was the best determinant of a person's likelihood for success. But, we now have scientific evidence that proves otherwise. As we understand more about emotional intelligence and how it plays into the cultural makeup of some of the most innovative companies, it's impossible to ignore its relevance. When your team builds up their psychological fitness, it can give us the edge to outpace competitors through increased innovation, improved engagement and higher productivity.
This talk will explore how to unlock happiness in the workplace to rally organizational metrics while sustaining, or even reigniting, our passion for work. Jennifer will share how companies like lululemon, and TD Ameritrade have executed on her team's research so audience members can walk away with a clear strategy to implement a happiness plan at their organization.
Unlocking Happiness at Work
Unlocking Happiness at Work takes you on a journey into why and how leaders can become compassionate capitalists. With insightful and practical takeaways, case studies and the most current scientific research, Jennifer's presentation will demonstrate the business benefits to adopting a health, wellness and happiness strategy. This is an essential resource for leaders who want to attract new talent, improve their brand and boost profitability – but in an authentic way - in a way that is life-enhancing for their people. Jennifer's talk teaches leadership teams how to do well by doing good.
Unlocking Happiness at Work (Version 2)
Unlocking Happiness at Work takes you on a journey into why and how we should consider a happiness strategy for ourselves, and the people we lead. With insightful and practical takeaways, case studies and the most current scientific research from leading experts, Jennifer's presentation will debunk the happiness myths and explore the science of well-being. Jennifer will also discuss the future of happiness and what role technology will play in building a happier, higher performing and more innovative workplace culture.
Workplace Culture
Jennifer's experience working in HR Communications spans over two decades, across two countries and saw her accepting the Female Entrepreneur of the Year Award, Innovator of the Year Award, and the Public Service Award from the Office of President Obama.
Jennifer is considered an expert in workplace culture. She's led teams at Fortune 100 companies in Silicon Valley and cofounded first-in-category tech start-ups. She has also consulted CEOs across most industries, including banking, education, government, retail, and service, manufacturing and tech. Jennifer has consulted some of the most innovative companies in the world and interviewed prominent C-level executives at companies like GM, lululemon, Zappos, for her book Unlocking Happiness at Work.
This talk will center around the most innovative and successful examples of workplace cultures going on around the globe. From the data-driven approach to measuring happiness at work in Dubai, to building compassionate capitalist small businesses and start-ups in New York and Austin, Jennifer will offer strategic concepts and tactical plans to build the most engaged, healthiest, and highest-performing workplace cultures at the organizations you lead.
Education
According to Dr. Jean Clinton, Child Psychiatrist, we've reached a point where the number of young people experiencing mental health issues is "at a point of crisis". Youth are suffering from rising levels of anxiety, stress and depression. We want to build a future of prevention versus treatment as the ever-increasing negative impacts of stress continue to impact our lives. For students and teachers – creating a more psychologically safe school is going to help us achieve that goal. Research tells us that to have the greatest impact, we also need to work with teachers, to dig into the relationship between student and teacher well-being.
For the last five years, Jennifer has consulted school boards and ministries of education as the co-founder and Executive Director of the HERO Generation; school systems that build Hope, Efficacy, Resilience and Optimism in trustees, administrators, teachers, staff, and students. The HERO research looks at the impact of healthier educators on the academic outcomes of the students with whom they interface.
Jennifer's talk will present her team's ground-breaking research, developed in collaboration with the most prominent scientists in mindfulness and gratitude from Harvard, UCLA, Stanford, Berkeley in the US, Oxford in the UK and WLU in Canada. Jennifer's discussion will range in topics from the impact of poverty on the student brain to rebuilding trust in damaged staff relationships to the well-being effect of teachers on student performance.
Jennifer's talk will provide strategic guidance to boards and ministries so they too, can create healthier, higher-performing education ecosystems. Jennifer will share with the audience how to develop a common, shared languages across all stakeholders instead of focusing on one single dimension within the education architecture.
Inspirational Keynote
In 2009, Jennifer Moss confronted one of the toughest challenges of her life. Facing the possible death of her husband, a baby on the way and a two-year-old wondering if daddy was "going to be ok", this moment became the catalyst for a future focused on helping others prepare for trauma.
It was out of a realization that trauma impacts every one of us. Some of us are hit harder than others. But, most of us are unprepared to mentally handle life's challenges and what results is extreme anxiety, deep depression and stress-related illness. Jennifer realized that she wasn't prepared – this trauma would hit harder than she expected. But, with help from her psychologically fit husband, she would make it through.
After this incredible learning, Jennifer would spend the next eight years sharing how she worked on her own psychological fitness. She would start a research and technology company committed to giving 1 billion tools to live a more psychologically fit life, write a book about how to unlock happiness through resiliency and then go on to speak internationally, educating people about mental fitness and proactive psychological health.
This talk takes the audience through an engaging and thought-provoking journey. Jennifer's raw, personal, and often, very funny storytelling will take us on an emotional ride, reminding us all, just how fragile life can be.
Conscious Capitalism
This talk will focus on the term Conscious Capitalists, a new wave of highly recognized leaders and organizations who have adopted the double bottom line approach to building and running their companies. We will learn how they are executing this mission at the highest levels and disseminating this way of thinking to the public and with their employees. From a boutique design agency with 35 employees to a global grocery retailer with over 91,000 employees, we will learn the true definition of Conscious Capitalism.
Jennifer looks at companies who are engaging in this strategy and the outcomes of those efforts. She will provide audiences with the tools to bring this mindset back to their organizations.
The HERO Generation – Unlocking Happiness in Schools
Jennifer and her research team developed the HERO Generation Program to build up the psychological skills of everyone involved in the education system. Based on a happiness model rooted in neuropsychology, the program focuses on the emotional traits that are represented in the happiest and highest performing people in the world: Hope, Efficacy, Resilience, Optimism, Gratitude, Empathy, and Neuronal control (mindfulness).
In this presentation, Jennifer will provide research outcomes through real world examples from teachers, administrators and students. She shares the successes and the pitfalls of disrupting one of the oldest institutions in the world, and what tangible actions educators can take to bring elements of the HERO teachings back to their school ecosystem.
Building Happiness Hygiene
What do all the greatest leaders have in common? They have a strong happiness habit. According to well-known psychological scientists and neuroscientists, we can develop these traits in the brain by up to 50% or more just through habit building. And these habits of high-performance can be developed in the same time it takes to eat breakfast.
This talk will explain the process by which we build habits and how to create a routine that will boost the success of these patterns. Using neuroscience and positive psychology research, Jennifer will teach audiences about neural pathways and how they require repetition, reward and reinforcement to rewire positive and negative habits. She will also share why this matters in workplace performance and how to bring this learning back to your teams. Finally, Jennifer will provide simple take-away actions so audience members can train their brain to become happier, higher-performing leaders both professionally and personally.
Healthcare: How Passion and Purpose Drive Profits and Better Patient Care
In a provocative and illuminating new talk, bestselling author and researcher, Jennifer Moss, shares ground-breaking and novel research on issues facing healthcare professionals today. Jennifer will discuss the serious impact of empathy fatigue, burnout, depletion and anxiety on health professionals and how that influences patient care. Jennifer's talk includes real-world case studies from her first-hand experience working with doctors, nurses, first responders, administrators and front-line staff in hospitals, and government agencies.
Drawing from her collaboration and interviews with researchers at leading academic institutions like Harvard, Berkeley, UCLA, and Stanford, Jennifer's talk will discuss how to identify staff burnout before it leads to attrition or long-term employee health issues. Jennifer will share some of the most compelling analyses to date on the correlation between staff well-being, employee retention and subsequent patient wellness and customer satisfaction.
When it comes to patient care, evidence-based research proves that mentally healthy practitioners consistently deliver better patient outcomes. And yet, despite the easy, and effective interventions that can be implemented to increase well-being, most practitioners simply do not take the time to increase their psychological fitness. This is in turn, leads to increasing burnout, lower engagement, higher employee turnover and inevitably, less satisfied and less healthy patients. This is a massive issue that is crippling the healthcare industry. Recent studies showed that in the US, 1 million people per day miss work because of stress, equaling a loss of $300B annually just to this issue alone.
Jennifer will share proven strategies, combined with simple tactics to increase psychological fitness. From ways to develop a growth mindset in your teams, to improving overall resiliency across your health care facilities, this talk will be the kick-start to building your healthiest and highest performing workforce to date.
Jennifer is a regular contributor to Forbes and Harvard Business Review as a workplace expert. Recent articles specific to healthcare include, How to Make Your Workplace Safe for Grief, The Science of Happiness and the Innovative Brain, and The Scientific Approach to Improving Employee Performance in Front-line Staff.
Key Takeaways:

Understanding the current state of the healthcare employee – what issues they are facing, why is different today than it was in the past?
Decoding the millennial workforce (also the largest workforce in history) to learn how it shapes this discussion.
Developing the ability to see the signals of burnout and proactively manage their negative impact on the employee and the broader organization.
How to build an emotional toolbox for employees to access when they are in a state of anxiety and stress.
Learning how to create a more resilient, mentally-well workplace for your Board, your staff and your patients.

Jennifer Moss: TEDxKitchnerED
Jennifer Moss reveals how the science of gratitude can help teachers and parents foster greater levels of happiness, mental wellness and achievement in students.
Emotional intelligence keynote speaker, Jennifer Moss outlines the HERO generation model that she and her team have developed and implemented in schools - an initiative she undertook after a miraculous personal experience fortified her faith in the practice of gratitude. Several years ago, her husband, a pro-athlete in his prime, collapsed and was rushed to the hospital where he was diagnosed with West Nile Virus, Swine Flu, and Guillain-barré Syndrome. After being told he would probably be paralyzed for life, Moss' family began to focus on positive details in their daily life to lift her husband's spirits. Six weeks later, he walked out of the hospital unassisted.
Moss shifted her career to dig deeper into why we have the emotional reactions we have, the effects they in turn have on us, and habits we can develop to increase our mental well being. While our negative emotions once played a greater role in our survival - putting ancient humans in a state of "fight or flight" when they were confronted with dangers like saber tooth tigers - fear and stress do not serve us as well in a modern civilization that often requires us to think creatively and exercise resilience over an extended period of time. "Unfortunately now, there is a lot of stress out there that isn't going to kill us, but it will eventually if we don't deal with it," Moss explains. "And if we are in a place of psychological safety, we can create. We can innovate. We are so much more able to teach and also to learn."
Jennifer Moss: TEDxDistilleryDistrictWomen
Jennifer Moss: SXSW Interview about Importance of Corporate Culture
Keynote Speech Clip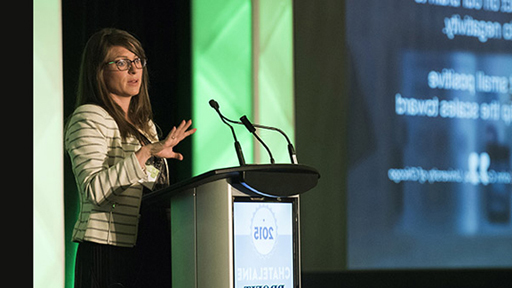 Honored as the Canadian Business Innovator of the Year, corporate culture keynote speaker, Jennifer Moss and her groundbreaking work on the power of happiness are transforming hundreds of global companies and organizations. Moss is the Cofounder of Plasticity Labs, a tech company that provides organizations with the tools to tap into employee sentiment and increase ... more