* Please note that while this speaker's specific speaking fee falls within the range posted above (for Continental U.S. based events), fees are subject to change. For current fee information or international event fees (which are generally 50-75% more than U.S based event fees), please contact us.
Top25 Speaker Voting

Jeffrey Bauer needs 7 vote(s) to make it into the Top 25 speakers on Speaking.com!
Speaker Booking Tip
"Tip: some speakers might provide one of their popular book titles as a free gift to your audience. "
For Event Planners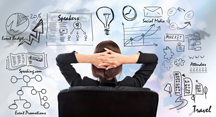 • Keynote Speaker Booking Toolkit.
• Booking a Celebrity Speaker.
• How to Find and Book the Right Speaker.
• Google+ Event Planning Forum.
• Tips for International Clients Booking U.S. Based Speakers.
Similar Speakers
Dr. Bruce Clark

Dr. Bruce Clark is helping companies, heath care providers, and society prepare for tomorrow's heath care and social welfare issues today. A pioneer in adapting…

Dr. Stephen Post

Dr. Stephen Post is the medical world's foremost champion of the scientific benefits of kindness and compassion. A long-time professor of preventative medicine, he is…

Kathleen Passanisi

One of the few women to be inducted into the Speaker Hall of Fame, Kathleen Passanisi has been researching, presenting on, and demonstrating the power…

This has been one of the most outstanding speaker agencies I have had in my 25+ years in the hospitality industry. They have helped my company secure speakers for years to the delight of my attendees. They have secured high profile speakers, even within the confines of a tight turnaround and an even tighter budget. I recommend their services without hesitation. They are truly leaders in their profession looking out for their clients: excellent is all I can say!
AHIMA
About SPEAKING.com
Established in 1994, we are exclusive agents for some of the world's leading experts, celebrities and professional speakers.
We offer event planners a fully staffed speaker logistics planning team, plus a personal SPEAKING.com Account Executive – a knowledgeable and trustworthy partner. We guarantee your satisfaction with your speaker and a smooth booking process.
Contact us today to book your favorite speaker.

National Council of State Boards of Nursing
"Thank you for the wonderful presentation you made at the Institute. All of the evaluations were very positive. It [health care politics and policy] was a very difficult subject, but your presentation was very informative and kept the audience′s attention."

Heathcare Association of New York State
"Great update on new technology -- especially in the OR. I loved this presentation."
"Excellent presentation on information technology and introduction to products I did not know about."
"Futuristic, but realistic."
"Best presentation of the series."
"Should be a continuing update at future sessions; give more time for Dr. Bauer."

Texas Nurse Practitioners Annual Conference
"Excellent presentation! This speaker should become a resource person for guiding us into the future."
"Excellent. It′s an eye-opener of what the profession can do."
"Great speaker. Have him back again!"
"Excellent. Made me stop and think and helped place a perspective on what is currently happening and future perspectives."

Banner Health Care
"Thanks for your contributions at our Board retreat. As always, excellently done. Enjoyed hearing the good ideas again."

Dr. Loretta Ford
"As usual, your presentations were superb -- targeted, cogent, interesting, and thought-provoking. I′m sure you made a lot of participants start thinking ′outside their myopic boxes.′ Just what a keynoter should do."

California Association of Nurse Practitioners
"We were honored to have you join us as a Keynote speaker and share your expertise with the 500 registrants who attended this important meeting. On a Likert scale where 4.0 represented excellent, your presentation was rated as a 3.8. Anecdotally, numerous people commented on how dynamic and thought-provoking your comments were. You challenged our audience, and discussions of your message continued throughout the rest of the meeting."

Saint Francis Hospital (CT)
"Thank you for your enlightening and entertaining presentation at our Board retreat. Your presentation fit nicely into the others, and it got the group thinking outside the box early in the day. We take your prognostications seriously and hope that there won′t be too much G.O.K. [God only knows] to contend with!"

Indiana Chapter of HFMA
"Your presentation was very much welcomed by the HFMA members in attendance. We greatly appreciate your insight and commitment to our continuing education. "

The Governance Institute Leadership Conference (FL)
"Enjoyed his presentation -- very organized, good personality."
"Wow, a lot of information to reflect on."
"His interlaced humor and pictures help hold interest; presentation very lively and interesting. Great presentation and very timely."
"All comments on this program have been positive."

Pikes Peak Mental Health (CO)
"It was such a pleasure having you as the Keynote Speaker for the 2001 Pikes Peak Mental Health and Family of Companies Annual Dinner. We would like to express our thanks for the fantastic presentation that you gave. We appreciate your taking time to learn about Pikes Peak Mental Health and tailoring your presentation to the behavioral healthcare industry."

The Nurse Practitioner Association New York State
"Your topic(s) were both pertinent and challenging. The evaluations that our participants completed reflected their interest by the positive comments, many suggesting thatthe speaker be invited back next year. Thank you again for your contribution in making this convention in what is felt to be the most successful ever. We sincerely hope that you consider presenting for us again in future conventions."

Aurora Health Care (WI)
"Presentation was good overview with a good balance of humor/information."
"Dr. Bauer′s ideas are the future of health care."
"Insightful presentation. Content was excellent with research about past development, updating on present innovation and a creative informed look to the future."

Solaris Health System (NJ)
"Thank you for the excellent program you presented at Solaris′ Annual Retreat at Skytop Lodge this past Friday, which was so well received by our attendees. Your presentation left us with much ′food for thought′ throughout the coming months!"

The Goverance Institute Leadership Conference
"Dr. Bauer is an excellent resource, with outstanding knowledge in information technology."

Maine Hospital Association
"Good speaker!"
"He is great at visioning."

Capital Area Health Alliance (MI)
"We appreciate the excellent presentation and thought-provoking information and questions you included. Evaluations of the meeting were superlative, thanks to you."

Christenbury Eye Center (NC)
"Dr. Bauer is the most genuine, unassuming, intelligent yet approachable person/speaker I′ve ever met!"

The Hospital & Health System Association of Pennsylvania
"Evaluations were rated excellent and very good and you were well received by our membership. I agree completely with the comments that you were enthusiastic and an engaging presenter -- thank you."

Texas Healthcare Trustees
"Your expertise and insights helped make the forum a success. We very much enjoyed working with you. You gave a truly awesome presentation."

The Goverance Institute Chairman & CEO Conference
"Stimulating, exciting and futuristic."
"This was mind-blowing!"
"One of the best presenters I′ve ever heard (and I′ve heard them all)."

American Medical Association Board of Trustees Annual Planning Retreat
"Your presentation and discussion was extremely educational and interesting. It was also well received and ignited some engaging discussion."

Catholic Health Initiatives
"You had a message that was timely, compelling and challenging. You captured the theme of the conference, and were able to enhance it through the insights and experience that you shared with us. The conference evaluations, which are very positive, reflect the appreciation of those who heard you."

Centura Health (CO)
"Thank you for a perfect presentation at our Summit. Your remarks were right on target and provided a thorough knowledge of the issues and opportunities that face Centura Health over the next decade."
Paradox and Imperatives in Health Care: How Efficiency, Effectiveness, and E-Transformation Can Conquer Waste and Optimize Quality
In their groundbreaking collaboration, Paradox and Imperatives in Health Care, award-winning authors Jeffrey C. Bauer and Mark Hagland explain why providers must draw upon internal resources to increase net revenue and provide the quality of care that payers and consumers demand. Through numerous case studies, the authors show how pioneering health care organizations are using performance improvement toolsincluding lean management, Six-Sigma, and the Toyota Production Systemto produce excellent services as inexpensively as possible.This book challenges health care leaders to change their status quo mentality and to put their organizations on a positive path while redirection is still possible.

Order Here


Statistical Analysis for Decision Makers in Healthcare, Second Edition: Understanding and Evaluating Critical Information in Changing Times / Edition 2
Statistical Analysis for Decision Makers in Healthcare: Understanding and Evaluating Critical Information in a Competitive Market, Second Edition explains the fundamental concepts of statistics, as well as their common uses and misuses. Without jargon or mathematical formulas, nationally renowned healthcare expert and author, Jeff Bauer, presents a clear verbal and visual explanation of what statistics really do. He provides a practical discussion of scientific methods and data to show why statistics should never be allowed to compensate for bad science or bad data.

Relying on real-world examples, Dr. Bauer stresses a conceptual understanding that empowers readers to apply a scientifically rigorous approach to the evaluation of data. With the tools he supplies, you will learn how to dismantle statistical evidence that goes against common sense. Easy to understand, practical, and even entertaining, this is the book you wish you had when you took statistics in college — and the one you are now glad to have to defend yourself against the abundance of bad studies and misinformation that might otherwise corrupt your decisions.
Order Here






"What Outsiders Must Know about Health Reform: How to Prepare Your Business and Yourself"
Health reform isn't just for health professionals any more! As employers, leaders in any industry must respond cost-effectively to unprecedented changes in health benefits. As individuals, they need to know how to deal intelligently with new delivery systems and payment arrangements for their own health care. Dr. Jeff Bauer, a nationally recognized health futurist and medical economist, has prepared this entertaining, informative presentation to explain the evolving realities of American health care and what leaders in non-health industries can do to ensure appropriate medical services — for themselves and their employees. A unique and timely program: health reform explained in laymen's terms by an expert insider, plus recommendations for appropriate responses to new challenges!
"The Uncertain and Exciting Future of Health Care: Exploring a New Realm of Possibilities"
This fast-paced and informative presentation shows how and why health care will change more in this decade than it did in the previous 50 years. From a practical perspective, it explores strategic implications of the unprecedented revolution in medical science, transformational capabilities of information and communications technologies, the hidden impact of demographic shifts in the US population, and the economy's role in restructuring supply and demand for medical services. Reform of the delivery system is examined from these perspectives, with recommendations tailored specifically to the audience's position in the medical marketplace.
"A Realistic Update on Health Reform: Responding to Challenges and Opportunities"
Everyone agrees that the current health care delivery system is unsustainable, but there's no consensus on common solutions to the underlying problems. This future-focused presentation evaluates the range of competing approaches to reform -- from government intervention to private initiative -- and provides audiences with an independent perspective on strategies that their organizations can take to succeed in a turbulent marketplace by improving efficiency and effectiveness. The content is continually and immediately revised to reflect the latest political and economic events (e.g., evolution of ObamaCare, court decisions, elections, economic recovery).
"Mastering Chaos: Creativity 101 for Health Care's Daring Spirits"
This unique program begins with a practical, entertaining overview of the key characteristics of innovation for leaders who want to create something new of value. It uses examples of art, poetry, science, music, and other creative endeavors to define the mind-set of people who make an enduring, positive difference in their respective fields. The presentation concludes with a detailed list of personal and professional steps that health care leaders can take to enhance their success in meeting the ultimate challenge of health reform -- reinventing the way health care is delivered.

Demo Video
Dr. Jeffrey Bauer explains his approach to being a futurist in the field of healthcare and how he approaches attempting to predict coming trends and new developments: "I've done a lot of research into the periods just before the big changes happened, I've really been captivated by the momentum that catapulted us into a new and different healthcare system."
Dr. Bauer acknowledges that predicting the future of healthcare in a turbulent market is not going to be easy: "I admit that I am confused by the future of healthcare, I have the luxury of devoting my full-time career to it and it takes me an enormous amount of time and effort just to stay confused about where we're headed!"
However, if anyone has the capability for accurate prediction of the future of healthcare it is Dr. Bauer: "I want to share with you my view for the future of healthcare; I am very well trained in making predictions, and predictions are statements of what will happen when, based on an extrapolation from past data. If you assume there are ordered linear relationships in the databases of the past and you can simply use something like [an equation] to extrapolate into the future."
Speech Excerpt