* Please note that while this speaker's specific speaking fee falls within the range posted above (for Continental U.S. based events), fees are subject to change. For current fee information or international event fees (which are generally 50-75% more than U.S based event fees), please contact us.
Top25 Speaker Voting

Jeff DeGraff needs 8 vote(s) to make it into the Top 25 speakers on Speaking.com!
Speaker Booking Tip
"Tip: find a speaker in your local area to save on travel costs. Most speakers will also reduce their keynote fee for local events. "
For Event Planners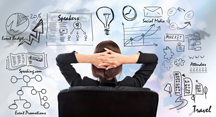 • Keynote Speaker Booking Toolkit.
• Booking a Celebrity Speaker.
• How to Find and Book the Right Speaker.
• Google+ Event Planning Forum.
• Tips for International Clients Booking U.S. Based Speakers.
Similar Speakers
Chris Baréz-Brown

Creativity and innovation guru, Chris Baréz-Brown helps leaders and other professionals make better decisions by feeling more. The best-selling author and founder of the creative…

Srikumar Rao

Known as "the Happiness Guru" Dr. Srikumar Rao is an expert in personal development and the creator and teacher of the acclaimed MBA course "Creativity…

Andrew Razeghi

Andrew Razeghi is a writer, educator, advisor and adjunct professor at the Kellogg School of Management at Northwestern University. He has advised many organizations on…

Our event was what I would call 'over the top'... The survey results were at 92% very favorable. The speakers formed such a good relationship with myself and others at the conference. I am confident we will bring them back to do more. I will definitely contact you when we are in need of additional services. You have been the best!
American Express
About SPEAKING.com
Established in 1994, we are exclusive agents for some of the world's leading experts, celebrities and professional speakers.
We offer event planners a fully staffed speaker logistics planning team, plus a personal SPEAKING.com Account Executive – a knowledgeable and trustworthy partner. We guarantee your satisfaction with your speaker and a smooth booking process.
Contact us today to book your favorite speaker.

Select Client List:
Eaton
GM
SPX
3M
Apple
American Airlines
Coca-Cola
GE
Johnson & Johnson
LG
Pfizer
Toyota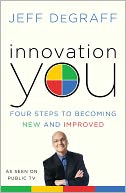 Innovation You: Four Steps to Becoming New and Improved
In today's frenetic, uncertain world, the "same old, same old" routines are perfect ways to go nowhere fast. What has worked for you before—professionally or personally—no longer gets results. Whether you've been downsized, reached the end of a long relationship, or found yourself questioning where you are in life, it's clear you need to change. To innovate. Make it new. Make yourself new. Now, in this invaluable book, the world-renowned "Dean of Innovation," Jeff DeGraff, shares his tried-and-true techniques on how to reinvent yourself—creatively and with maximum impact.
Innovation You reveals DeGraff's unique four-step program to bolster your ingenuity and remake your life. From forging ahead in a new career to losing weight to finally pursuing that long-held dream, DeGraff's strategies are effective and easy to follow. Inside you will learn to:
Rethink Innovation: Find ways to think outside the box, seek out diverse opinions, and pay attention to the next great trend.
Rethink Your Approach: Use the Competing Values Framework to identify your natural innovation profile—do you compete, collaborate, create, or control?—and then deliberately draw from the other styles to augment your usual tactics.
Rethink Your Methods: Put your reinvention plan in motion—set specific, realistic, and meaningful targets, cultivate relationships with relevant mentors and experts, and try alternate methods to achieve your goals.
Rethink the Journey: Understand that innovation is a process and that progress comes in cycles rather than a quick straight line. Accept uncertainty, question assumptions, and acknowledge areas where you can improve.
Full of invigorating ideas, engaging anecdotes, practical wisdom, and inspiring success stories, Innovation You is your personal road map to reach your highest potential—and experience a bold new way of living.
Order Here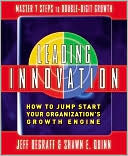 Leading Innovation: How to Jump Start Your Organization′s Growth Engine / Edition 1
Leading Innovation presents a unique, holistic approach to creating innovation at all levels of your organization. Authors Jeff DeGraff and Shawn Quinn have created a real-world, how-to playbook of integrated creativity tools and techniques for understanding where innovation comes from and harnessing its power to create a culture where real growth happens on a constant basis.
Based on DeGraff′s proven methods-which he teaches in his innovation program at the University of Michigan Ross School of Business and has applied at Fortune 500 companies around the world-this breakthrough guide focuses on systematically integrating business practices and connecting them to the value propositions they produce. You′ll discover how to diagnose obstacles to innovation, realistically assess your options, and develop an integrated program of action that can be adjusted to meet the needs of any group, department, or business unit throughout your organization.
You′ll learn the 7 key steps to double-digit growth, sparking innovation in your:
Leadership-teams, development, and behavior
Strategic planning-identifying emerging opportunities
Organizational culture and competency development
Performance management processes-resource allocation, portfolio management
Innovation incubation processes-stage-gate development processes, innovation networks
Human resource management-staffing, team building, organizational learning
Throughout, insightful case studies demonstrate how these results-driven methods are supported by senior leadership at GE, Reuters, Coca-Cola, Pfizer, Johnson & Johnson, Eaton, and other leading innovators.
Order Here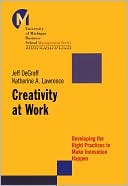 Creativity at Work: Developing the Right Practices to Make Innovation Happen / Edition 1
Although many leaders acknowledge and invest in creativity, we seldom see it hold a credible place in the business development process. Creativity at Work takes a practical approach to creativity, showing how to select practices to produce results and add value. The authors explain how to:
Understand the creative preferences of organizations, departments, work groups, and individuals
Identify and compare the different creativity profiles that describe specific purposes, practices, and people
Produce the desired results by developing the right practices
Blend creativity practices to meet the complex needs that characterize most work situations o Develop required creative abilities in a team and in oneself
Order Here
A very engaging and exciting speaker, Jeff has headlined many international conferences in various industries for clients such as General Electric, Visa, Tetra Pak, and American Airlines, among others. He brings his experience as a world renowned thought leader, executive and innovation expert to his speeches, focusing on how to achieve growth through developing organizational capabilities to innovate. His expertise is in connecting the dots of innovation: how pieces of the puzzles fit together to create a sustainable growth in organizations.
Jeff′s speaking engagements usually revolve around the following topics:
Leading Innovation: How to Jump Start Your Organization′s Growth Engine
Creativity at Work: Developing the Right Practice to Make innovation Happen
Innovation You! How We Grow
Custom topic with regards to growth and innovation
Jeff DeGraff: Keynote Speech
"He made the erroneous assumption that he operated on his own." Jeff DeGraff demonstrates how anyone who forgets or neglects the networks within which they move cannot operate successfully.
Jumpstarting Innovation | Jeff DeGraff
Keynote Speech: Creativity