* Please note that while this speaker's specific speaking fee falls within the range posted above (for Continental U.S. based events), fees are subject to change. For current fee information or international event fees (which are generally 50-75% more than U.S based event fees), please contact us.
Top25 Speaker Voting

Jeanne Robertson needs 6 vote(s) to make it into the Top 25 speakers on Speaking.com!
Speaker Booking Tip
"Tip: find a speaker in your local area to save on travel costs. Most speakers will also reduce their keynote fee for local events. "
For Event Planners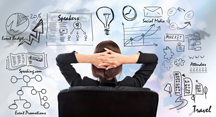 • Keynote Speaker Booking Toolkit.
• Booking a Celebrity Speaker.
• How to Find and Book the Right Speaker.
• Google+ Event Planning Forum.
• Tips for International Clients Booking U.S. Based Speakers.
Similar Speakers
Dr. Bruce Clark

Dr. Bruce Clark is helping companies, heath care providers, and society prepare for tomorrow's heath care and social welfare issues today. A pioneer in adapting…

Ron Pearson

Corporate comedian Ron Pearson gets another standing ovation! That seems to be the way it goes when you book him for your next corporate event.…

Greg Behrendt

Already well known as a stand-up comedian, Greg Behrendt has become even more recognized as a writer and consultant for the still popular Sex in…

SPEAKING.com does a wonderful job! Our AE always responds promptly and is very professional, thank you!
AlphaNet
About SPEAKING.com
Established in 1994, we are exclusive agents for some of the world's leading experts, celebrities and professional speakers.
We offer event planners a fully staffed speaker logistics planning team, plus a personal SPEAKING.com Account Executive – a knowledgeable and trustworthy partner. We guarantee your satisfaction with your speaker and a smooth booking process.
Contact us today to book your favorite speaker.

Virginia Automobile Dealers Association

Twice in five years you have completely captivated our folks. They′re still talking about your delightful, humorous presentation. You are a breath of spring in an age of grossness and vulgarity. On behalf of everyone, men, women, and children, Hurry Back!
--David P. Hurdle

Independent Insurance Agents Of Mississippi

To say you "brought down the house" would hardly describe the situation - people came from all over the hotel to find out what everyone was laughing about and then stayed to enjoy your stories.
--Lyle Carroll, CAE, Executive Vice President

Nebraska Bankers Association

I have never, Jeanne...in my life heard such a fantastic speaker! I could not get over the bankers′ reactions to your comments last week in Kearney, Nebraska. Your presentation will always have a lasting impression on those who attended the conference.
--Ellen Junge, Conference Director

National Association of Realtors

Thank you for your presentation at the Women′s Council of Realtors Annual Luncheon in New Orleans. Members are still talking and laughing about your remarks. Your speech was exactly what we wanted and needed for the occasion.
--Catherine Collins, Women′s Council of Realtors

Department of Agriculture

Our audience will never be satisfied with future programs; they will want the quality of performance you introduced to us, and there is no one to take your place.
--E.R. Cockrell Jr., Director, City of Virginia Beach

Farmland Industries, Inc.

Dear "Genie,"
You do not come equipped with a magic lamp but you certainly know how to work magic with an audience.
--June Gooding

Associated General Contractors of America

The Ladies′ Luncheon remains a highlight of AGC′s 65th Annual Convention and you were the sole reason for this. We are still hearing from our AGC ladies all over the country that it was the best Ladies′ Luncheon ever.
--Hubert Beatty, Executive Vice President

Pascagoula Chamber of Commerce

As Clint Eastwood would say, "You made my day!"
--Jim Epting, President

Durant, Oklahoma Chamber of Commerce

The city is still talking about your presentation and seem to want to hold on to the enjoyment you brought. The men in the group feel real favored to have been chosen as a contestant and their fame (?) has spread abroad!
--Dean Samuel, Executive Vice President

Pennsylvania Association of Tobacco and Candy Distributors

To say the least, your presentation was a "smashing success" and later that evening some people asked "Who booked her?" and of course I took credit. It was a fortunate day that I listened to your tape and decided to contact you for my program.
--Patty V. Enders, Executive Director

California Hospital Association

Your participation at this year′s meeting was the high point of our activities in San Diego. Your address provided exactly what we were looking for which was a lighthearted ending to a very full week of activity.
--Michael S. Nolen

Oregon Food Industries, Inc.

Thank you so much for the absolutely sensational performance you gave at the banquet capping our annual convention. It is the funniest thing I′ve ever seen. You were the talk of the convention all day Sunday. As a meeting planner, that is a dream come true. They′ll remember you, the fun you gave them, and the message you imparted for a long time to come.
--Steve McCoid, President

Jackson Bank for Cooperatives

The tone of our meeting is always established at the opening function. This year, thanks to your sterling performance, we experienced our most positive meeting success. Your presentation brought us all together through the medium of laughter and allowed us to share the experience. All else which followed over the next two days served to reinforce and compliment what you created with your presentation.
--James L. Toft, President

Mountain States Employers Council

You were spectacular! You absolutely killed ′em! As further evidence of your overwhelming success, be advised that we have never received the number of calls on any speaker asking for the speaker′s address and phone number.
--Kermit L. Darkey

Wooster Brush Company

It is very difficult to plan meetings and try to start on a "high note" which will last through the total meeting. You were certainly my answer to that concern. As they say in some parts of Ohio, "you done good!"
--David A. Rowekamp, Senior Vice President

Sand & Gravel Motor Carriers Association

You were the talk of the convention as members visited with each other during the next two days. Our "Mr S & G" was overheard making this remark: "I knew I had it won when I looked down and saw PeeWee′s knees." All of the "contestants" really got into their roles for the rest of the convention. As I′m sure you are aware, a keynote speaker sets the tone for the whole convention. You certainly got ours off to a tremendous start!
--Dan Felts, General Council

Kentucky Petroleum Marketers Association

During my twenty-seven years as executive director of the Kentucky Petroleum Marketers Association, I have made arrangements for a countless number of conventions and meetings and therefore a countless number of speakers to address our group. Your presentation at our annual banquet was one of the most outstanding I have ever had the pleasure of witnessing.
--Thomas H. Maxedon, Executive Director

Oklahoma State Nursing Home Association

Our people literally fell in love with Jeanne. Most of them told me they enjoyed your presentation more than any we have had and to bring you back real soon. I agree and you can add approximately six hundred "Oakies" to your long, long list of friends and admirers.
--Dr. Joe 0. Rogers, Executive Director

Fluids Control Institute

Your ability to re-awaken the audience, despite a terrible seating arrangement and a series of serious and soporific lead-ins, only proves you are a speaker par excellence."
--L. V. Pace

Agway Inc.

Following the Agway Annual Meeting in which you participated we held a critique session. Your performance received universal praise. As you know we had a mixed audience of young people and older folks. All liked your presentation very much. It was outstanding in every way...a top quality performance.
--H.O. Mills

National Association of Farm Broadcasters

I can′t tell you how much we enjoyed your presentation at our annual meeting in Kansas City...it was just exactly the thing we needed to get our meeting off to a fast start. A perfect program for the opening night of the meeting.
--Art Sechrest, President

American School Food Service Association

Nobody could have given the ASFSA Industry Seminar a better beginning than you! Last Sunday evening will not be forgotten soon for you were quoted and discussed all week.
--Elizabeth P. McPherson

The Federal Land Bank of Wichita

Jeanne, my limited vocabulary just doesn′t contain enough superlatives to begin to describe your performance or our group′s reaction to it. It simply could not have been better. It′s not that difficult to find a speaker who can turn on the poise, charm, wit, and personality when he is the "star." But it takes a very special person to display those same qualities when the spotlights are off and the crowd isn′t watching. On behalf of our staff, we want you to know we appreciate you as much for the person you are as we do for the speaker you are.
--Monte Reese

Mid-American Lumbermens Association

All we can say is it′s going to be a tall order to find someone to fill your 11 sized shoes for our future seminars! In the history of this seminar we have never before had a speaker that received only positive evaluations - as you did. To "grand finale" on such a positive and humorous note was like icing on a well-prepared pastry.
--Jane E. Wike

Federal Land Bank Association of Washington

Somewhere a Land Bank - PCA Stockholders meeting must have gone over better than ours did last night, but I don′t recall having heard about it. When you shared information prior to the meeting about the propane gas business operated by you and your husband, I knew that you understood the stresses in agriculture. Yet you did not dwell on what farmers couldn′t do, but gave the audience the motivation to get on with what they could do. A farmer likes nothing better than listening to a little girl speak his language and when a "Little bit bigger" SOUTHERN girl speaks farming, that′s even better.
--Gene R. McCreary, President

Greenwood-Leflore County Chamber of Commerce

I am so pleased that after two years we were finally able to have you speak here in Greenwood, Mississippi. The 66th Annual Meeting of the Greenwood-Leflore County Chamber of Commerce was our most successful meeting ever and for that we thank you. We have had nothing but positive feedback from the members about the program.
--Warner Well Ill, President

FMC Corporation

There is no way I can adequately put into words the feelings and the spirit you brought our meeting. The compliments from our guests exceeded my highest expectations, as these folks are usually very guarded with their praise.
--Susan J. Wendler

Fargo Public Schools

You had the complete attention of everyone of the approximately 600 people in attendance. The standing ovation and the many rave compliments we have received speak for themselves.
--Glenn Melvey, Assistant Superintendent

Haas Cabinet Co. Inc.

The new buzz word at Haas is BATON. In fact I am thinking about having stationery printed with a baton pictured across the top to use when corresponding with our sales force. The fellows related to you, the girl who couldn′t twirl, and the fact you must always maintain a positive attitude when working with customers. We will have a record breaking year if the fellows attitudes stay as high all year as they were after our Monday night meeting.
--Ray B. Wireman, Sales Manager





Clients Include:



Aerial Company

Affiliated Foods

Agricultural Retailers Association

Alabama Council for School Administration and Supervision

Alabama Power Service Organization

Alliant Health System, Cincinnati, Ohio

Alpha Gamma Delta

American Collectors Association, Inc.

American College of Physician Executives

American Feed Industry Association

American Payroll Association

American Production and Inventory Control Society

American Red Cross, Carolinas Chapter

American Rental Association

American Society of Ophthalmic Administrators

Angus Barn Restaurant, Raleigh, North Carolina

Ann L. Baroco Center, Pensacola, Florida

Arkansas Power & Light Company

Association for Services Management International

Association for Manufacturing Technology

Association of College and University Telecommunications Administrators

Association of Managers of Gynecology & Obstetrics

Auburn University, Personnel Services

Banc One

Baptist Memorial Hospital, Gadsden, Alabama

BellSouth Corporation

The Berry Company

Billings Area Chamber of Commerce, Billings, Montana

Birmingham Baptist Medical Center, Alabama

Blue Bird Wanderlodge

Blue Cross of California

Brenau University

Building Officials & Code Administrators International

CA-PRMS International User Group

CaIdwell Memorial Hospital, Lenoir, North Carolina

Cajun Boats

California Association of Directors of Activities

Camden-Clark Memorial Hospital, Parkersburg, West Virginia

Canadian and American Payroll Association

Carolina Tractor

Carolinas District Keywanettes

Cater Society, Auburn University

Cavalcade of Comedy

Central Arkansas Hospital, Searcy, Arkansas

Charlotte Chamber of Commerce, Charlotte, North Carolina

Chicago Bridge and Iron Company

Civitan International

CoIdwell Banker Residential Affiliates

Colonial Athletic Association

Colorado Association of Distributors

Colorado Credit Union League

CONTACT USA

Credit Marketing and Management Association

Cremation Association of North America

Dairy Queen Operators Association

Data Interchange Standards Association

Davie County Schools, North Carolina

Davis Memorial Hospital, Elkins, West Virginia

Dayton Area Chamber of Commerce, Dayton, Ohio

Decatur, Alabama Chamber of Commerce

Delaware Council of Farm Organizations

Douglas County Schools, Douglasville, Georgia

Durham Public Schools, Durham, North Carolina

Eastern Claims Conference

El Dorado Chamber of Commerce, El Dorado, Arkansas

Electrical Apparatus Service Association

Eli Lilly & Company Pharmaceutical Division

Elon College

Engineering Extension Services, Auburn University

Eudora Chamber of Commerce, Eudora, Arkansas

Fayetteville Area Economic Development Corporation

FCIB-NACM Corporation

Federal Deposit Insurance Corporation

The Fertilizer Institute

Florida Association of Realtors

Florida District 5 Student Council

Florida Key Club

Fluid Power Distributors Association

Founders Federal Credit Union

Fraternal Order of Eagles

Front Street United Methodist Church, Burlington, North Carolina

G.G. Pulley & Associates, Inc.

Gaston Memorial Hospital, Gastonia, North Carolina

Georgia Food Industry Association

Georgia Key Club

Georgia Office of Adult Literacy

Georgia Power, Safety & Health Department

Glaxo, Inc.

Gold Kist Inc.

Grant Medical Center, Columbus, Ohio

Gundaker Realtors

H & H Restaurants for Great Lakes Franchise Association

Harris Methodist Health System, Fort Worth, Texas

Health Midwest, Kansas City, Missouri

Henderson County Public Schools, North Carolina

IBM Corporation

Idaho Hospital Association

Illinois Association of School Business Officials

Illinois Health Care Association

Illinois Land Title Association

Industrial Fabrics Association

Ingram Micro

Institute for Professional Development/The Apollo Group

International Association of Auditorium Managers

International Association of Fitness Professionals

Iowa Concrete Paving Association

Jackson-Perry Counties Regional Schools, Illinois

The Joan H. Michelson Women′s Resource Center, Akron, Ohio

Johnston Industries

Jostens Learning

KanOkla Telephone Association, Inc.

Kentucky Hospital Association

Kentucky Public Broadcasting

Kettering Medical Center, Kettering, Ohio

King′s Daughters′ Medical Center, Ashland, Kentucky

Kroger Company - Deli Merchandising

La Crosse, Wisconsin, Oktoberfest

Lake Charles Memorial Hospital, Lake Charles, Louisiana
Lakewood Conferences

Landstar Systems

Legacy Emanuel Hospital and Health Center, Portland, Oregon

Lenoir Memorial Hospital, Kinston, North Carolina

Life Care Services Corporation

Lorain Products - Reliance Comm/Tech

Lutheran Brotherhood

MD Anderson Cancer Center, Houston, Texas

Mecklenburg County Medical Society, North Carolina

The Melroe Company

Mississippi Power Company

Missouri Association of Student Councils

Missouri Bankers Association

Missouri Scholars Academy

Missouri State Teachers Association

Mutual Distributing Company

National Association Elevator Contractors

National Association of Aluminum Distributors

National Association of Corporate Treasurers

National Association of Educational Buyers, Inc.

National Association of General Merchandising Representatives

National Association of Hosiery Manufacturers

National Association of Medical Staff Services

National Association of Pupil Transportation

National Association of Purchasing Management

National Auctioneers Association

National Bank of Detroit

National Business Education Association

National Congress on Aviation & Space Education

National Council of Farmer Cooperatives

National Executive Housekeepers Association

National Farmers Union

National FFA Organization

National Football League, Pro Bowl

National Selected Morticians

National Speakers Association

National Wood Window and Door Association

Nations Credit

Nationwide Insurance

Nationwide Insurance

NCAA Women′s Golf Championship

Nevada Credit Union League

North American Vermeer Dealers Association

North Carolina Association of Educational Office Professionals

North Carolina Baptist Hospitals, Inc.

North Carolina Council forWomen

North Carolina Federation of Women′s Clubs, Inc.

North Carolina Hospital Association

North Carolina Society for Human Resource Management

North Carolina Vocational Agriculture Teachers Association

Northrop Aircraft Division

Ocean Spray Cranberries, Inc.

Ohio Association of School Business Officials

Ohio Restaurant Association

Oregon Speakers Association

Owens-Corning

PanKow Associates

Parents Without Partners International

Payment Systems for Credit Unions, Inc.

Pender County Schools, Burgaw, North Carolina

Pennsylvania Farm Bureau

Pennsylvania School Boards Association

Pharmaceutical Manufacturers Association

Photo Marketing Association International

Piggly Wiggly Alabama Distributing Company

Pilot International

Pines of Carolina Girl Scout Council, Inc.

Ponder & Company

Power Transmission Distributors Association

Professional Insurance Agents Association of Ohio, Inc.

Professional Speakers of Illinois

The Prudential Real Estate Affiliates, Inc.

Prudential Tri-State

Rayonier

Red Food Stores, Inc.

ResourceNet International

Resumix

Rock Hill Telephone Company, Rock Hill, South Carolina

Rotary Youth Leadership Award Conference

Saint Francis Hospital, Charleston, West Virginia

San Jose Mercury News

Saskatchewan School Trustee Association

Sentry Insurance Company

Sheet Metal and Air Conditioning Contractors′ National Association

Smith′s Home Furnishings, Inc.

South Carolina County Directors and Supervisors Association

South Dakota HospitalAssociation

Southeastern Alabama Medical Center, Dothan, Alabama

Southern Association of Student Councils

Southern Bell

Southern College Placement Association

Southern Company Services, Inc. Executive Forum

Southern Forest Products Association

Southern States Cooperatives, Inc.

St. Joseph Medical Center, Joliet, Illinois

St. Vincent′s Hospital, Portland, Oregon

Strong/Corneliusen Capital Management, Inc.

Student American Veterinary Medicine Association

Suicide and Crisis Service, Burlington, North Carolina

SUMMA Health Systems, Akron, Ohio

Swain County Public Schools, North Carolina

Tennessee Road Builders Association

Texas Chemical Council

Texas Dairy Queen Operator′s Council

The Forum of Lees-McRae College, North Carolina

Thomasville Woman′s Club, Thomasville, North Carolina

University of North Carolina Athletic Department

Virginia State High School Athletic Directors Association

Virginia Turfgrass Council

Visiting Nurses Association of Cordele, Georgia

Wake Area Health Education Center, North Carolina

Walker Drug Company

Western Association

Western College Placement Association

Western Floor Covering Association

Wharton Chamber of Commerce & Agriculture, Wharton, Texas

Wilson Memorial Hospital, Wilson, North Carolina

Winston Cup Racing Wives Auxiliary

Wisconsin Public Service Corporation

Woodworking Industry Conference

"Humor: More Than a Laughing Matter"
In her positively hilarious style, 6′ 2" Jeanne Robertson soars to new heights while discussing the differences between being funny and possessing a sense of humor, learning to laugh at yourself and accepting things that can′t be changed. You will hold your sides and wipe tears of laughter from your eyes as Jeanne relates original stories based on her life experiences.
"Humor: A Strategy for Success"
In this step-by-step presentation, Jeanne helps audiences learn how to develop a sense of humor, which according to her is a choice in how you go about living. She explains the dynamics of humor, challenging audiences to laugh at themselves, look for the humor in everyday situations, create their own humor and influence others to do the same, relieve stress through humor and take humor breaks. As she relates her original, funny tales, Jeanne helps people develop a refreshing new approach to humor and the magic it works in our daily lives.
"Here he is...Mr. Meeting
Pure fun with a little message! Jeanne reaches into her big bag of original material and pulls out just the right stories for each audience and situation. An old fashion "after-dinner talk" that can be used in a variety of meeting slots. Not comedy. Hilarious humor that illustrates a point.

Jeanne Robertson at the Grand Ole Opry
In this presentation at the Grand Old Opry, Jeanne opens by answering her audience's question before they can ask it. "I am 69 years old. No, no, no. I don't want you to applaud. I want you to look at me and gasp in disbelief, and maybe say, 'no way!'" she jokes. "We will do it again. We will do this until you get it right," she says, before repeating her age twice to get her desired reaction from the audience.
"My husband… is older than I am, but we figured out something that I think is the flavor of the Grand Ole Opry," she says. "We look for the humor around us every day and we find it." She tells a story about a time that she and her husband went to British Columbia's Visitor's Bureau and asked for ideas for things to do. She says that the woman behind the counter suggested they go bungee jumping. "Have you ever wanted to take a young person's face in your hands lovingly and say, are you in there?" she asks. She says that she explained bungee jumping to her then 70-year-old husband, and his reply was, "I can't do that! My teeth will fall out!"
Jeanne Robertson Interview