* Please note that while this speaker's specific speaking fee falls within the range posted above (for Continental U.S. based events), fees are subject to change. For current fee information or international event fees (which are generally 50-75% more than U.S based event fees), please contact us.
Top25 Speaker Voting

Jeanne Meserve needs 6 vote(s) to make it into the Top 25 speakers on Speaking.com!
Speaker Booking Tip
"Tip: speakers bureaus can provide: speaker fee negotiation, insurance, smooth logistics and value add-ons such as extra sessions. "
For Event Planners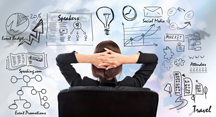 • Keynote Speaker Booking Toolkit.
• Booking a Celebrity Speaker.
• How to Find and Book the Right Speaker.
• Google+ Event Planning Forum.
• Tips for International Clients Booking U.S. Based Speakers.
Similar Speakers
Howard Kurtz

Anchor and media analyst Howard Kurtz has had a varied career. The former CNN and Washington Post reporter, currently serves as host of Fox News…

Jennifer Pahlka

Tech savvy Jennifer Pahlka is leading the campaign to upgrade the U.S. government. Her non-profit organization Code America uses technological innovation to make it easier…

Ernesto Zedillo

Ernesto Zedillo has had a distinguished career in international affairs at the political and educational level. He served as President of Mexico from 1994-2000, and…

SPEAKING.com / Core Agency were very helpful in every way possible. I would recommend them to others and we will most definitely secure all our future conference speakers through them again.
Babcock & Wilcox
About SPEAKING.com
Established in 1994, we are exclusive agents for some of the world's leading experts, celebrities and professional speakers.
We offer event planners a fully staffed speaker logistics planning team, plus a personal SPEAKING.com Account Executive – a knowledgeable and trustworthy partner. We guarantee your satisfaction with your speaker and a smooth booking process.
Contact us today to book your favorite speaker.

"We greatly appreciate your fantastic leadership of the IWF Executive Development Roundtable in Vancouver. The participants responded with overwhelming strong and positive feedback, with the program being rated 100% excellent overall!"
Heath Nash, International Women's Forum
"From the very beginning of our engagement with Jeanne she listened to our program goals, offered creative insight and counsel on the flow and operation of the program and did all of the preparation necessary to make sure she was fully informed for our keynote speakers and panelists. The result was an absolutely stellar program. Her professionalism, preparation, and personality brought our program to a whole new level of quality."
Rich Cooper, US Chamber of Commerce Foundation
"The World Health Organization launched its Global TB Report 2012 in Washington, D.C. and worked with Jeanne to develop a dynamic format for the press conference. Instead of having multiple presentations, Jeanne moderated a vibrant panel discussion on the new data among senior officials from the World Health Organization, U.S. Agency for International Development, Centers for Disease Control and Prevention, National Institutes of Health, and President's Emergency Plan for AIDS Relief. She was at ease with the highly technical subject matter, and kept the session fluid and engaging. Her expert style and star power helped us ensure that the event was well-attended and favorably covered by top media. Feedback from our panelists and audience members was uniformly positive."
Philip Coticelli, The Coticelli Group
"Jeanne Meserve was an excellent anchor for our talk show on tuberculosis and HIV. Jeanne brought in her great experience with making challenging topics clear and accessible to large audiences. Also, she was able to bring into the conversation a variety of guests with very different backgrounds, while ensuring their contributions were balanced and fit cohesively with the narrative and format of the show. We look forward to working with Jeanne again and having her as our media champion in the fight against tuberculosis."
Vittorio Cammarota, World Health Organization
"In the years following the attacks of September 11, Jeanne's provocative and compelling news stories brought the audience into some of the country's most important counterterrorism operation centers and alongside the men and women charged with protecting the homeland from al-Qaeda. Her unique experience as a respected veteran journalist combined with her creative storytelling ability made her the perfect choice to lead a workshop with BAE Systems' communications team on how to build successful relationships with reporters and pitch unique and interesting stories. Using the moderating and interviewing skills she mastered in her career, Jeanne challenged our team to think more creatively when formulating story ideas and to prepare for difficult yet practical, questions."
Brian Roehrkasse, BAE System
Moderator and Interviewer
As the anchor of CNN's coverage of Yitzhak Rabin's assassination, Princess Diana's death and other breaking news events, Jeanne Meserve has gathered awards and accolades for her insightful interviews of world leaders and everyday citizens. She understands how to illuminate a subject through one-on-one interactions and group discussions. As a moderator, Meserve uses humor, pacing, meticulous preparation and a gift for asking the sharp question to create vibrant panel discussions that engage the audience.
Risk and Frisk
Millions of dollars have been spent in the name of homeland security since the September 11th attacks. Jeanne Meserve uses vivid examples from her decade covering the issue to examine whether money has been spent wisely, where vulnerabilities remain and what America has lost and gained in the process. She also looks forward to suggest how we might do more in a time of less.
Can You Hear Me Now?
More than a decade after the September 11th attacks and more than five years after Hurricane Katrina, surveys show that only a small percentage of Americans have taken even rudimentary steps to prepare themselves and their families for emergencies. Jeanne Meserve examines why and asks how government and community leaders can more effectively communicate with the public before, during and after an emergency.
Jeanne Meserve, Security Journalist: TEDxMiddlebury
Jeanne Meserve reveals the behind the scenes logistics of reporting in risky situations and how her experience trapped in a flooded New Orleans hotel during Hurricane Katrina made her question her resilience and personal strength. Noting that only the news crews had provisions stockpiled for such an event, she analyzes why no one – from the citizens of New Orleans to the federal government – was prepared for a crisis that had been identified as an inevitable event years before Katrina hit New Orleans.
She notes that with services like 9-11, we've created a culture where we think that if we have an emergency, government aid and rescue is just one phone call or Facebook message away. "Let me tell you in a major crisis they will not be there with you, and the bigger the crisis, the less likely they will be there for you," Meserve claims. Sharing examples of ordinary citizens who self-organized and pulled their resources together to manage crises themselves, she urges people to mentally prepare themselves so that in the case of a natural disaster or terrorist attack they will be able to react effectively rather than become victims.
The Impact of the Anthrax Letter Attacks
about speaking