* Please note that while this speaker's specific speaking fee falls within the range posted above (for Continental U.S. based events), fees are subject to change. For current fee information or international event fees (which are generally 50-75% more than U.S based event fees), please contact us.
Top25 Speaker Voting

Jean Chatzky needs 8 vote(s) to make it into the Top 25 speakers on Speaking.com!
Speaker Booking Tip
"Tip: some speakers might provide one of their popular book titles as a free gift to your audience. "
For Event Planners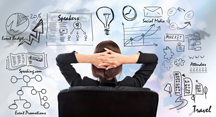 • Keynote Speaker Booking Toolkit.
• Booking a Celebrity Speaker.
• How to Find and Book the Right Speaker.
• Google+ Event Planning Forum.
• Tips for International Clients Booking U.S. Based Speakers.
Similar Speakers
Lisa Nichols

Growing up and living in a South Central L.A. neighborhood divided between two warring gangs, single mother Lisa Nichols gave herself permission to take control…

Gary Null

Since the 1980s, Gary Null has been one of America's most outspoken and respected advocates of alternative and natural medicine. He holds a Ph.D. in…

Patch Adams

The real-life inspiration behind the massive Hollywood hit of the same name, Patch Adams M.D. is known all around the world as a healthcare professional,…

Our Account Executive was a pleasure to work with to arrange our keynote presenter for the Sustainable Brands Sydney Conference. He was swift to respond and his communication was always clear. If I am looking for international speakers, I will think of SPEAKING.com in future.
Sustainable Brands
About SPEAKING.com
Established in 1994, we are exclusive agents for some of the world's leading experts, celebrities and professional speakers.
We offer event planners a fully staffed speaker logistics planning team, plus a personal SPEAKING.com Account Executive – a knowledgeable and trustworthy partner. We guarantee your satisfaction with your speaker and a smooth booking process.
Contact us today to book your favorite speaker.

I just wanted to say thank you for a wonderful class! You definitely inspired me and motivated me to get on track with budgeting. I never realized the importance of writing it all down, but after you explained how easy it is to spend invisible money on various things without even thinking about it, it now makes complete since to me why it is so important to track every penny spent on a daily basis. Thank you so much!
Angela, Budgeting Bootcamp participant
"After last week's class I have saved over $3,000 per year!! No one should miss class!"
Kenny, Jumpstart Your Finances participant
"I am actually excited to start budgeting!"
Katie, Budgeting Bootcamp participant
"I left the session with many clear cut to-do list items that I am definitely planning on implementing."
Jan, Jumpstart Your Finances participant
"I really like the Where You Stand budget tool that automatically populates from the spending tracker. It's not as difficult to track spending as I expected. Very helpful and the easiest tool I've found so far. Thanks for that!"
Jane, Budgeting Bootcamp participant
"I'm finding myself so much more aware of where my money is leaking out – wow, pet food adds up."
Susan, Budgeting Bootcamp participant
"I've always wanted to find a money course but was intimidated by the sentiment that I'd not saved enough already and had no chance at retiring. Your energy and step-wise logic was comforting. Glad I signed for all sessions!"
Susan, Jumpstart Your Finances participant
"Money School has been so helpful and eye-opening!"
Susan, Yes, You Can Retire participant
"Having the office hours a week later is very helpful."
Chris, Yes, You Can Retire participant
"Thanks for the office hours... I'm learning a ton just reading the conversations."
Paige, Yes, You Can Retire participant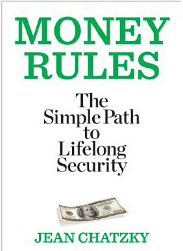 Money Rules: The Simple Path to Lifelong Security
A powerfully simple, must-have manifesto on money with more than 90 wealth-building rules from the Today show's finance guru.
In a time of great financial uncertainty, this is the book everyone must read. The bottom line: Money is simple—people make it complicated. Now, bestselling personal finance author Jean Chatzky has distilled this simplicity into a smart, immediate, and entertaining set of rules that will change readers' financial lives.
Chatzky removes the stress associated with all things money and says it clearly: Readers who follow these basic yet crucial approaches to spending, saving, investing, increasing their income, and most importantly, protecting what they have, will build the wealth and financial stability they've been dreaming of. Chatzky's advice is reassuring, straightforward, and often counterintuitive, including:
"Date your stocks; don't marry them."
" 'More money' won't always make you 'more happy.'"
"To spend less, carry Benjamins, not Jacksons."
"If you can't explain it, don't invest in it."
" 'Free' can be very expensive."
Written in her trademark warm, witty voice, and with a special Dos and Don'ts section, this is the only book readers really need to achieve true financial health and happiness.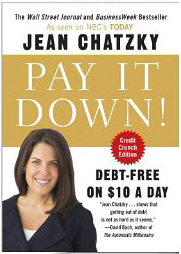 Pay It Down!: Debt-Free on $10 a Day
Jean Chatzky has been working with viewers of NBC's Today show for a series on how to get out of debt once and for all. Her method, both on TV and in this book, is simple yet powerful: the key is saving just $10 a day that you currently waste. It doesn't sound like much—a movie ticket or lunch for two at McDonald's— but $10 really can take you from debt to wealth in just a few years. And because it doesn't feel like an impossible goal, people are more likely to stick with Chatzky's plan than an extreme regimen of spending cutbacks.
Chatzky is focusing on debt because it's the single biggest threat to our financial health. The average American family has sixteen credit cards and high-rate debt of more than $8000, not even counting car loans and mortgages. They pay more than $1000 a year in interest alone. Debt makes people feel depressed and overwhelmed, leaving them without enough money for the truly important things in life—education, retirement, owning a home, feeling secure. Chatzky, one of America's most popular personal finance experts, writes in down- to- earth, woman-next-door language about how to get started right away, without giving up the things that truly give you pleasure.
She offers practical, accessible strategies to help readers find the money to pay off their bills, lower their interest rates, and improve their credit scores. Featuring real-life examples of people featured on her Today show series, Pay It Down can transform debtors into future millionaires.
Your Money and Your Life: Where Do You Go From Here?
It's a whole new ballgame. From the way you save and invest for today to how you plan and protect yourself for the future, the rules of the financial world have changed forever. Today Show Financial Editor Jean Chatzky had a seat at the table for the shake-up and she'll tell you—in plain English—about the moves you need to make now to insure a life of financial comfort for you and your family.
Women and Money
Anyone who tells you women don't need financial advice specifically for them is wrong. Women, whether they're the caretakers, the breadwinners, or both, face a unique set of financial challenges. But as a decade of research into neuroeconomics and behavioral psychology has revealed, women are also uniquely qualified to handle them. In her frank, often funny, but always compassionate way, Jean Chatzky takes every audience of women through the steps they need to take today to live comfortably (and worry-free) tomorrow.
What The Country's Wealthiest, Most Successful People Do Differently
Why is it that some people seem to move relatively easily from a paycheck-to-paycheck life into financial comfort or wealth while others get stuck or worse, fall back? Today Show Financial Editor Jean Chatzky reveals the findings of her proprietary study of 5,000 people that shows wealthy, successful people have both habits and personality traits that less successful individuals are missing. With candor and humor, she'll show audiences how they can get their own dose of this secret sauce.
Keynote Speech
Jean Chatzky notes that despite catching up to and even surpassing men in various areas, women in the 21st century still face great financial difficulties. Although more women than men are now graduating college and starting businesses, Jean focuses on one area where they still have a great deal of progress to make. "Nearly half of baby-boomer women have no retirement strategy," she cites research from the Trans-America Center for Retirement Studies. "More than half expect to either work after age 65 or simply don't plan to retire. Worse, only 7% of women are very confident in their abilities to retire with a comfortable lifestyle. What's getting in their way? Day-to-day life."
Jean elaborates that many women are so caught up in the struggle to pay their monthly bills that they don't have money left to invest in retirement. "Why is this happening?" she asks. "Earnings. Women earn still substantially less than men. The median annual earnings for full-time women earning year-round in 2012 was about $38,000. For men it was about $49,000."
Keynote Speech
Keynote Speech
Jean Chatzky: Attack Debt with a Single Phone Call