* Please note that while this speaker's specific speaking fee falls within the range posted above (for Continental U.S. based events), fees are subject to change. For current fee information or international event fees (which are generally 50-75% more than U.S based event fees), please contact us.
Top25 Speaker Voting

Jay Silver needs 19 vote(s) to make it into the Top 25 speakers on Speaking.com!
Speaker Booking Tip
"Tip: speakers bureaus provide added value that you cannot get by booking speakers directly. "
For Event Planners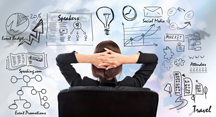 • Keynote Speaker Booking Toolkit.
• Booking a Celebrity Speaker.
• How to Find and Book the Right Speaker.
• Google+ Event Planning Forum.
• Tips for International Clients Booking U.S. Based Speakers.
Similar Speakers
Boris Brott

One of the most renowned conductors in the world, Boris Brott is qualified like few others to speak on leadership, creativity and team building; he…

Michael Gelb

Leading authority on the practical application of genius thinking, Michael J Gelb is a pioneer in the fields of creative thinking, change management, accelerated learning…

Matthew Luhn

With over 25 years of experience as a Pixar Storyteller, Matthew Luhn is a master at creating dynamic characters and compelling struggles that make audiences…

Working with your speakers agency on our training projects during the year proved to be a great business choice. I felt that my account reps were always around when I needed them, willing to help and listen. They showed flexibility when it was required and were reliable and dependable.
KPMG, Europe
About SPEAKING.com
Established in 1994, we are exclusive agents for some of the world's leading experts, celebrities and professional speakers.
We offer event planners a fully staffed speaker logistics planning team, plus a personal SPEAKING.com Account Executive – a knowledgeable and trustworthy partner. We guarantee your satisfaction with your speaker and a smooth booking process.
Contact us today to book your favorite speaker.

"I am extremely pleased with my decision to book Jay Silver for my company's event. Throughout the process, he was very easy to work with, and it was clear from the start that he was very invested in helping us to customize his presentation to best fit our needs. His enthusiasm and passion for his subject matter is infectious, and his energetic delivery kept an audience of over 700 people, in all lines of work, interested and engaged. I would highly recommend Jay for any group looking to introduce their members to an individual that will inspire and motivate them to think outside the box."
The Advisory Board
"Jay Silver was fantastic to work with. His enthusiasm is infectious. He is a kind and genuinely engaging individual. And he both held the audience in the palm of his hand and absolutely threw them into hysterical laughter. I would highly recommend him to others.Looking forward to future opportunities!"
VMWare / Jack Morton Worldwide
"We had the pleasure of experiencing Jay for a full morning workshop, where he took our clients on a great journey through the workings of the human mind to unlock our potential to think creatively. The event was inspiring, fun and weird - all at the same time."
Google
"Jay was one of the biggest surprises we had at PopTech. Easily a crowd favorite, Jay is an engaging and lively speaker, spreading the gospel of DIY art-tech with an infectious blend of humor and intelligence."
PopTech
"Jay′s session was a brisk-paced immersion allowing designers at various levels of understanding to quickly grasp basic hardware/software prototyping approaches. The Makey Makey session was instantly gratifying as well...enabling exploration by seasoned digital experts and those just exploring the domain alike."
IDEO
"Jay Silver is who I imagine the crazy, brilliant, playful offspring of Rube Goldberg and Martha Stewart might be from an alternate universe. His simple and elegant, but wildly innovative creations and inventions remind us that science is surprisingly accessible, and well… FUN.
As an inventor, rather than providing a roadmap to wonderment, he′d just as soon point out the North Star, hand us the keys to a rocket and send us on to find our own dazzling way. As a speaker, he has much the same effect on audiences. At times funny and charming, at others, creatively challenging, he was engaging, thoughtful and left us all intrigued by how WE might show up as makers in a world meant to be DIY for every human. And be prepared to be delighted too. (We certainly were!) I dare you not to be."
TEDx
"Jay is a creative force. He sees the world through a different lens than the rest of us. Whenever I hear Jay talk, or see some of his wonderfully joyful inventions, I come away with a smile on my face and new ideas in my head."
MIT Media Lab
"Jay′s speaking style is both playful & profound. He takes us through the fascinating tales of his own learning and innovation, and with his infectious enthusiasm he brings us to a greater perspective on the world, ourselves, and the power that we all have to innovate. WARNING! Listening to Jay Silver may make people start to believe they can change the way the world works. Extended listening may result in creative confidence. Consider yourself warned! ;-)"
San Jose Tech Museum
"Jay Silver is an enthusiastic and genuine speaker who brought imagery and color to his presentation, making it accessible and fun for kids and adults."
Lawrence Hall of Science
"Jay is an engaging speaker, encouraging audience participation, laughter and real insight into innovation."
Miraya
Jay has been a featured keynote speaker at TED, PopTech, University of California, Berkeley, Stanford University, IDEO, Google, Microsoft and many other global events.
He has worked for companies and organizations ranging in diversity from Lincoln Labs (national defense research laboratory), to BellSouth, and UC San Diego. He has exhibited internationally at many museums including Arts Electronica and NT MOFA.
Partial list of clients, include:
- TED - TEDx Santa Cruz - TEDx Pioneer Valley - TEDx Sacramento - PopTech - Google - Microsoft - VMWorld - Nokia - Intel - Crayola - Paypal - Rhizomatics Design Firm - IDEO - NextSpace - The San Jose Tech Museum - Taiwan National Museum of Fine Arts - HAN University of Applied Sciences - Omar Dengo Found - Stanford Learning Lab - U.C. Santa Cruz Digital Arts and New Media - MIT Art Forum - MIT Media Lab - MIT Communications Forum - Berkeley Institute of Design - Berkeley iSchool - University of Costa Rica - Brimmer and May Private School - Scratch Conference - Interaction Design with Children Conference - Tangible & Embedded Interaction Conference - Hardware Innovation Workshop -
The world is a Construction Kit
There are things happening all around us that are invisible unless we are looking for them. Bananas are a piano, pizza slices are slide clickers, and play dough or pencil drawings can control your Pac Man game.
The innate curiosity of all humans is examined through the eyes of a baby and then through teens in nature. Through examples from Jay Silver′s research at MIT Media Lab, we can see how off-the-shelf products can catalyze the inventor in us all. This isn′t a story about technical genius, it′s a story about everyday genius that every person can tap when they allow themselves to un-know reality long enough to have the momentary insight of the wild, undomesticated human mind.
Includes:
Free interactive musical iPhone app made by Jay that helps people rediscover their voice and gets everyone playing with the everyday world in seconds.
Dozens of video and live demo examples from Jay's research of regular people re-imagining their everyday world.
A free online tool made by Jay′s former MIT group with millions of pieces of sample code that helps anyone create interactive computer programs, and think like a programmer in seconds.
Because Jay comes from an Electrical Engineering background, with specialties in Digital Signal Processing and Internet Technology, he has contributed some fundamental technological advances to the field, which he discusses in his presentation. For example, Disney′s Botanicus Interacticus has been influenced by Jay's development of Drawdio and ok2touch, which predate it. Jay's real world examples during his presentation will:
Help audience members think about Natural User Interfaces and skin-to-skin / skin-to-nature interaction.

Catalyze creative confidence - their fundamental identity and how one thinks of oneself as a creative agent in the world.

Bring the understanding of electronic and interaction design to everyone.
Live Demo Options (can also be set-up as an interactive workshop for all audience members or just selected volunteers onstage)
Spaghetti Drill
Let′s wake up! Simple, everyday transformations can bring a new perspective. A classic inventioneering trick is to take two things and put them together to make something new. How can you do this in your everyday life? Simple proof that primes the audience that the world is easily reformable.
MaKey MaKey Pizza Slide Clicker
Demo of MaKey MaKey with pizza slices (or whatever food is available). Full setup of MaKey MaKey - with a laptop - from top to bottom. This demo is especially important if MaKey MaKey′s are given to audience members as a gift. Jay shows how to creatively transform what the audience is doing right now (viewing slides from a computer) from plastic to pizza slide clicker.
Drawdio Paintbrush Demo (Ketchup / String)
This crowd pleaser feels really magical because it has no computer. Just a paintbrush with a piano circuit which then paints sounds on an easel using ketchup as the paint. It can then be shown that string (and even spaghetti) can be played like a violin just by connecting them to the paintbrush using human fingers.
Scratch Programming
What does programming plus LEGO bricks look like? Scratch shows an example of massive collaboration by absolute beginners, using programming to make everything from Tetris to interactive art to customized prototypes. Free to download and use at home, fun for kids, and usable by novice adults, a Scratch demo shows how big ideas like "recursion" and "conditionals" and "for loops" can be experimented with the same way as LEGOs: through bottom up serendipity. If asked, I will show the first ever Scratch sample project I made when I was on the Scratch team, which is a breakdancing project, and I will try to perform (10 years later) some of the same breakdancing moves.
Jay's TED Talk
MaKey MaKey Demo
Jay Silver POP!Tech Speech
Jay Silver Full Speech
Jay Silver Q&A Session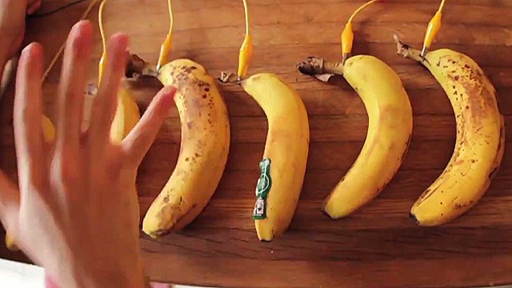 Why can't two slices of pizza be used as a slide clicker? Why shouldn't you make music with ketchup? In this charming talk, inventor Jay Silver talks about the urge to play with the world around you. He shares some of his messiest inventions, and demos MaKey MaKey, a kit for hacking everyday objects. ... more