* Please note that while this speaker's specific speaking fee falls within the range posted above (for Continental U.S. based events), fees are subject to change. For current fee information or international event fees (which are generally 50-75% more than U.S based event fees), please contact us.
Top25 Speaker Voting

Jay Baer needs 5 vote(s) to make it into the Top 25 speakers on Speaking.com!
Speaker Booking Tip
"Tip: some speakers might provide one of their popular book titles as a free gift to your audience. "
For Event Planners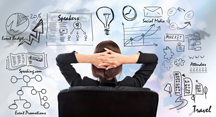 • Keynote Speaker Booking Toolkit.
• Booking a Celebrity Speaker.
• How to Find and Book the Right Speaker.
• Google+ Event Planning Forum.
• Tips for International Clients Booking U.S. Based Speakers.
Similar Speakers
Mikko Hypponen

Tagged as "the Code Warrior" by Vanity Fair, Mikko Hypponen is one the world's most sought-out experts on technological security and privacy issues. The Finnish…

Michael Rogers

Michael Rogers was educated at Stanford University and has worked with companies like FedEx, Boeing, GE, Microsoft, Pfizer and American Express, as well as NASA…

Scott Amyx

Scott Amyx is the Chair and Managing Partner of Amyx Ventures and the CEO of Amyx+, an award-winning Internet of Things business transformation firm specializing…

Our speakers were absolutely outstanding and top class. Once again, thank you for making this happen for us. You have been outstanding and the best speakers bureau we have ever worked with!
Volkswagen
About SPEAKING.com
Established in 1994, we are exclusive agents for some of the world's leading experts, celebrities and professional speakers.
We offer event planners a fully staffed speaker logistics planning team, plus a personal SPEAKING.com Account Executive – a knowledgeable and trustworthy partner. We guarantee your satisfaction with your speaker and a smooth booking process.
Contact us today to book your favorite speaker.

"This seminar was far and away the best presentation of any type (in-person, white paper, webinar, PPT) that I have ever seen on the topic."

"This was the best Webinar I've ever participated in. I've been waiting for a social media online seminar that got beyond the "rah-rah you gotta do it" to the specifics of how to do it and do it well. This was just great!"

"Not only does Jason Baer command extraordinary knowledge and expertise on social media and deep understanding about the implications for PR and marketing across multiple industries, but his ability to capture an audience's attention and imagination for an entire day is unique. Jason's energy and enthusiasm for the subject matter is infectious and he converts ordinary folk to believers in a very short amount of time."
John Furth,
President,
Association of Management Consulting Firms

"We at Strategic America are huge fans of Jay Baer. At our two-day series of staff and client sessions, Jay brought a unique blend of arresting, high-level strategies complemented by many practical, ′we-can-do-this′ type of applications. Jay knows his stuff and is very capable of delivering it well. More importantly, he spent the time to research our agency and our needs, our existing expertise and our opportunities. SA's experience with Jay was great. We'll be back for more."
Mike Schreurs,
CEO,
Strategic America
The NOW Revolution: 7 Shifts to Make Your Business Faster, Smarter and More Social
"The revolution is inside, not just out. This book makes it perfectly clear that social media is not a substitute for TV or PR. Instead, it demands that you change who you are and what you do, not how you talk about it."
—Seth Godin, author of Meatball Sundae

"Jay and Amber have penned a book that truly isn′t a social media book. In other words, this isn′t the book you pick up when you want to create a blog or Twitter feed or Facebook group; rather, this is the book to read when you need to understand how our newly social and connected world has disrupted business as usual."
—Ann Handley, Chief Content Officer, MarketingProfs

"The real time revolution is happening all around you whether you choose to join or not. My advice, devour this guide to the revolution and get in the game – NOW!"
—John Jantsch author, Duct Tape Marketing and The Referral Engine

"Action. I no longer read a business book like this seeking thoughts and ideas. I read them to get actionable bits I can employ immediately. 'Now' is staring all businesses in the face. It doesn't matter whether you want to join the conversation. They're already shouting for you (or AT you). Get this book and heed Baer and Naslund's advice. Now."
—Chris Brogan, President, Human Business Works

"This book should be read by every person who thinks social media is merely a new tactic for generating clicks and sales. Baer and Naslund make the case that changes in our world don't just suggest ways our communication or marketing strategies must be altered but instead require transformation of the enterprise. This isn't just an inspirational book but a practical one."
—Augie Ray, Senior Analyst, Forrester, Inc.

"Jay and Amber have gone from two of the best bloggers in the business, to co-authors of one of the best books for business. The question isn′t "if" you should read this, but "when." And the answer is in the title."
—Scott Stratten, best-selling author of UnMarketing: Stop Marketing. Start Engaging
Order Here





7 Ways to Use Social Media to Build Stunning Business & Personal Brands
"Social media" is becoming a colossus that′s now used as a catch-all, scape goat, and savior. Learn the 7 specific ways that social media can be used to transform brands and turn strangers into advocates.
Why Before How: 7 Steps to Creating a Social Media Strategic Plan
Social media is here to stay. Having a logical, comprehensive, defensible strategy for social media involvement and how it integrates with your traditional marketing is a critical component of modern communications. Learn the strategic planning methodology being used by hundreds of companies to help conceptualize and activate sustained social media success well beyond "flavor of the day" tactical executions.
Why Your Customers are Now in Charge of Your Brand
In a world where every customer is a reporter, is any company safe? Today could be the day that your brand is held hostage via Twitter, YouTube or Facebook. Is the customer always right? How you can listen to the conversation, plan a response, and use social media to solve crises.
The Social Media Train: Catch It If You Can
If Facebook were a country, it would be the fourth largest in the world. 20 hours of video are uploaded to YouTube every minute. Learn 6 simple truths about social media that will help your company leverage the breathtaking world of social media, instead of being overwhelmed by it.
Other Suggested Speaking Topics:
Social Media: What It Is and How You Can Use It To Build Successful Brands
The 6 Dangerous Fallacies of Social Media
Building Thought Leadership Through Social Networking
The 7 Social Media Business Models
Mobile Marketing: 160 Characters To Tell Your Customers You Love Them
Marketing Sideways to Win at Social Media
Email and Search Marketing: The Funnel is Dead
LinkedIn: 22 Ways to Dominate
Jay Baer | Inspirational Marketing Keynote Speaker and Emcee
Jay Baer shares his long-term, in-depth experience of social media marketing with his audience. A true pioneer in the medium, he explains, "The difference between helping and selling is just two letters, but in the modern business those two letters make all the difference; if you sell someone something, you can create a customer today, but if you help someone, you can create customer for life."
Laying out his philosophy for social media strategy, he tells his audience, "The content that will be effective is content that is truly and inherently useful. I call that content YOUtility, and the definition of that content is simple, it's just this: it's marketing that is so useful, people would pay for it."