* Please note that while this speaker's specific speaking fee falls within the range posted above (for Continental U.S. based events), fees are subject to change. For current fee information or international event fees (which are generally 50-75% more than U.S based event fees), please contact us.
Top25 Speaker Voting

Jason Young needs 6 vote(s) to make it into the Top 25 speakers on Speaking.com!
Speaker Booking Tip
"Tip: some speakers might provide one of their popular book titles as a free gift to your audience. "
For Event Planners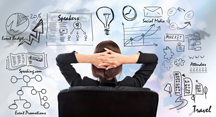 • Keynote Speaker Booking Toolkit.
• Booking a Celebrity Speaker.
• How to Find and Book the Right Speaker.
• Google+ Event Planning Forum.
• Tips for International Clients Booking U.S. Based Speakers.
Similar Speakers
Molly Cox

Looking for the perfect combination of fun and substance? Veteran breakout speaker and author, Molly Cox joins her business and educational experience with her improv…

Teri Yanovitch

Along with 85 percent of business leaders today, Teri Yanovitch thinks quality customer service is how your business can set itself apart. Through her enthusiastic,…

Jonathan Edison

Jonathan Edison has taught over 1 million people how to take their future into their own hands. No stranger to hardship, he overcame homelessness and…

Everyone at your speakers bureau was incredibly attentive and easy to work with; you have been a conference organizer's dream!
ABS Capital Partners
About SPEAKING.com
Established in 1994, we are exclusive agents for some of the world's leading experts, celebrities and professional speakers.
We offer event planners a fully staffed speaker logistics planning team, plus a personal SPEAKING.com Account Executive – a knowledgeable and trustworthy partner. We guarantee your satisfaction with your speaker and a smooth booking process.
Contact us today to book your favorite speaker.

"Jason Young is indeed a rare breed when it comes to developing leaders. His practical yet effective approach is highly contagious and will ignite any organization with long-term, positive, measurable benefits."
Jim Wimberly, COO & Executive Vice President Southwest Airlines

"Thanks Jason for the very practical, enlightening and well presented program. The insightful information you presented was done in a way that our folks can actually put it to use in their individual lives."
Mike Baker, Senior Vice President Tyson Foods

"Jason Young has inspired my entire staff. Our relationships in the office and with our customers have definitely improved."
Steve Baxter, CEO Oakwood Property Co.

"Jason's motivational style was entertaining as well as educational. The group left the meeting fully energized and excited to be providing the leadership that will create an associate-driven, high-performing, customer-focused environment within the competitive healthcare business."
John H. Jeter, M.D., President and CEO Hays Medical Center

"On behalf of all of us from the Port of Seattle, I want to thank you for your enthusiastic presentation. We all came away deeply impressed and incredibly inspired."
Mark Reis Port of Seattle

"Every single person in attendance was greatly touched by the eye-opening presentation that you gave and the insightful and educational stories you told. You brought new meaning and understanding to the relationships that we have with each other, our friends and our families."
Nancy Fitzgerald, General Manager Production Group International

"I was very impressed with Jason's insightful ability to immediately apply the current issues within our company to his excellent presentation. It was a huge success."
Dan Lohr, Regional President ALLTEL
Jason's keynote presentations are designed to reinforce the concepts and skills geared to increase learning and assist in the transition from the meeting room to the workplace. The result is an inspirational encounter that resonates long after his presentation is over.
Jason Young is an expert at integrating your company issues into powerful and compelling presentations that touch the heart and motivate any audience!
All of Jason′s programs can be presented in a keynote or workshop format. Here are a few of his most popular presentations:
"Culturetopia - Creating High Performance Organizations"
Based on his experience as an insider at famed Southwest Airlines and consultant to dozens of other Fortune 500 companies, Jason Young offers a dramatically different approach to creating and sustaining a high performance workplace. His solution for companies is to create an organizational culture where employees can do their best work and one that will produce the desired performance outcomes in productivity, profitability, employee retention and customer satisfaction. The key is intentionally identifying and developing the essential factors that impact performance for any organization: leadership principles, management practices, team alignment and employee behavior. These are the elements that truly define organizational culture and that have the greatest impact on results.
"The Southwest Effect -- Successful Practices of a Market Leader"
Southwest Airlines has given the business world a textbook example that providing fabulous customer service and maintaining high employee morale in a low-cost environment is possible – and indeed profitable in Corporate America today. But what's the real story? As a key developer of Southwest Airlines' legendary positively outrageous customer service and leadership training programs, Jason Young knows that great culture does not "just happen." A customer service initiative can be created and nurtured to flourish into a customer service culture. Beyond the headlines and the hype, Jason shares the real inside story behind the success of the company consistently rated No. 1 in customer service and employee satisfaction. Best of all, you′ll learn how you can take these proven organizational principles to your team or company. You won't want to miss this inside edition from the man who knows it best.
"Lead Smart -- High Performance Leadership"
Jason Young teaches that leaders develop, motivate and empower people to achieve extraordinary results while providing vision and guidance throughout the entire process. Truly smart leaders know that is more than a mere statement of fact, but rather a personal and professional challenge to be met everyday. Faced with two choices – lead smart or die – they'll know what to do to achieve your organization's success. They will find out the new definition of becoming a person of influence and how that applies to everyone in your organization. Your leaders will hear how organizing talent to build effective teams creates an incredible workplace culture and how applying successful coaching skills will help your teams excel. They'll learn how to handle change – for better or worse – and how effective disagreement management can enhance team productivity.
"Smart Service -- Establishing Customer-Defined Service Excellence"
As the competition heats up for goods and services, organizations today struggle to be characterized by their customer service initiatives. During this powerful presentation by Jason Young, you'll find out what outrageous customer service can really do for your bottom line. Discover the meaning behind "customer-defined" service and how that may very well separate you from your competitors. Learn to make the most of those moments of truth that face your organization to leave a legacy of service. Identify the sources of service breakdowns and what it really takes to make a clear path to recovery. You'll discover that your commitment to service excellence can help your organization make a name for itself and leave its mark. You'll never view the value of a customer the same!
"Smart Teams -- Creating Teams that Succeed Together"
Team work. Team building. Team player. Successful organizations know that business is not really a game to be won or lost. But to achieve success, everyone must use many of the same principles found on our playing fields today. In this presentation, Jason Young goes beyond the buzzwords to expose the keys that help people work together as a team to achieve real success. By developing goals, your team will create shared initiatives out of trust and mutual respect for one another. That active collaboration will lead to employee empowerment and organization momentum. You'll discover how your All Stars can raise the bar within your organization without alienating your other players while creating an environment that rewards risk taking. From base hits to home runs, everyone plays their part to attain victory.

Speech Excerpt
Keynote Speech