Top25 Speaker Voting

Jason Jennings needs 13 vote(s) to make it into the Top 25 speakers on Speaking.com!
Speaker Booking Tip
"Tip: speakers bureaus provide added value that you cannot get by booking speakers directly. "
For Event Planners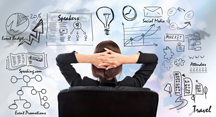 • Keynote Speaker Booking Toolkit.
• Booking a Celebrity Speaker.
• How to Find and Book the Right Speaker.
• Google+ Event Planning Forum.
• Tips for International Clients Booking U.S. Based Speakers.
Similar Speakers
Marc Randolph

With over 40 years experience, Marc Randolph, co-founder and former CEO and Netflix, has proved to be an expert on business strategies and innovations. By…

Gary Swart

Gary Swart is internationally sought for his keen insights on building and navigating successful businesses in uncertain economic times. The entrepreneurial guru is best known…

Ram Charan

World-renowned consultant, author and speaker Ram Charan has made an extraordinary life journey, from working in the family shoe shop in a small town in…

Finding the appropriate speaker for an event is a challenge. Your stellar speakers agency made the process extremely easy. I would recommend your agency to anyone.
Mercury University
About SPEAKING.com
Established in 1994, we are exclusive agents for some of the world's leading experts, celebrities and professional speakers.
We offer event planners a fully staffed speaker logistics planning team, plus a personal SPEAKING.com Account Executive – a knowledgeable and trustworthy partner. We guarantee your satisfaction with your speaker and a smooth booking process.
Contact us today to book your favorite speaker.

"Jason Jennings was outstanding at the McBride & Son Leadership conference! We've had many speakers but nobody has ever made the kind of impact Jason did. His preparation and knowledge of our company and culture was phenomenal and his customized message was perfect! Thank him for helping our great company become even better."
John F. Eilermann Jr.
CEO
McBride & Son Homes
"Jason Jennings was a wonderful hit at our Top Management Conference in Jackson Hole, Wyoming! The positive comments from our attendees kept coming throughout the entire conference. Our goal was to provide a speaker who would deliver information thata our CEO's, Owners and senior level executives could take home and use and Jason hit the nail on the head. Working with Jason and his team was smooth and effortless….the inspiration and enthusiasm was an added bonus."
Elizabeth A. Wells
Director of Meetings
Snack Food Association
"Jason Jennings keynote address scored 4.89 out of a possible 5.0 with the high level executives attending our Autumn Conference! Through the rest of the conference comments like "Exceptional Keynote…and Jason Jennings was superb." were commonplace! "
Jonathan James
Syntel
"All my sleepless nights were for naught. You really came and delivered! All throughout the conference people were commenting on how great you were. One retailer said, ′I could have listened to that guy for hours. He was fantastic.′ So, once again, on behalf of Nancy, Whitney, and the entire Couture Conference team, many thanks for kicking off the Conference in a most vigorous and stimulating way. I kept thinking of all the ′bad managers′ I've met whom I wished could hear you speak."
Lynn Ramsey
Public Relations
National Jeweler
"Jason Jennings knocked it out of the park! His impassioned message, inspired stories and zest for sharing examples of greatness resonated with the CEO′s and leaders at the Executive Institute in Bolton Landing. He raised the energy level and opened our minds to new possibilities. His personal story of what led him to research his books and spread the message echoed with the attendees. They′ll be talking about him for a long time! "
Lydia Thurston
National Educational Programs Manager
FCC Services
"Jason Jennings is truly one of the most charismatic individuals I have met in some time, perhaps ever! This past January my organization was fortunate enough to book Jason to speak at our Global Electronic Payments Conference in Barcelona Spain. I do not exaggerate when I say that Jason had the audience captivated from beginning to end. Jason′s 5 secrets of the world′s fastest and most productive companies became the talk of the conference and why wouldn′t it? His points were precise, perceptive and clever, not to mention his humorous delivery was impeccable. I look forward to working with Jason again and hearing more of his insightful thoughts and ideas."
William Colbert
AAP
Network Services Manager
"Thank you for a wonderful day…you did an outstanding job. The ′Ten Module Lessons′ Jason shared with us are vital for any business that wants to be the BEST. Four times as many of our executives rated you exceptional than our speakers of the past two years."
Larry Ferguson
President and CEO
Schreiber Foods
"Jason Jennings hit a "home run"! His engaging speech on the "five leadership secrets of the world′s fastest growing and productive companies" was a huge hit with all the leadership teams in our Asian subsidiaries. The feedback from our diverse participants was unanimously positive. Jason′s research and first-hand experiences with the successful companies referenced in your books brought tremendous credibility to his key messages. It′s often difficult to turn "theory" into "practice", but Jason made that leap easy with his adroitly sprinkled real-world examples. The acid test has been that we frequently hear people cite what they heard and internalized during Jason′s speech."
Steven Stanbrook
President and
Jeffrey Waller
VP Human Resources
SC Johnson
"Jason′s lesson about letting go has become the battle cry of our industry…you were superb!"
Vic Parra
CEO
United Motorcoach Association
"No one has a more profound impact than Jason Jennings! He's the best speaker I've ever been fortunate enough to work with and listen to!"
Kathryn Mays Johnson
SVP
Clear Channel
"Our conference was a huge success because we had Jason Jennings bat 'clean-up' at our Zoom Conference. From the moment he took the stage until he finished he was connected with the audience. They were listening, laughing and madly writing notes to record the volume of guidance he shared."
Diane Graham
Customer Operations
Verizon
"Jason's presentation was riveting! He built a personal relationship with the audience that made for a tremendous exchange of learning. The time Jason puts into understanding the audience and their business shows up in the quality of the presentation and positive reaction. The most frequent comment, "when can we have him again?"
Michael Fleming
CEO
Executive Leasing Association
"Jason Jennings presentation to our Regional Managers in New York was the highlight of our quarterly meeting. What a dynamic speaker and likable professional. Can′t wait to have him speak at our National Sales Meeting!"
Rhonda Scheidel
EVP
Premiere Radio Networks
"We could not have had made a better choice for our 10th Anniversary Sports Radio/ESPN Conference than to have Jason Jennings as our keynote speaker! Jason′s engaging and energetic presentation evoked the strongest response of any speaker in the 10 years of presenting the conference! His enthusiasm was surpassed only by the positive charisma in his personal exchanges with the conference attendees!!"
Rick Scott
CEO
RSA Sports International, Inc.
"Jason's ideas and findings are the heart of leadership. He knows how to make an audience shine in corporate ecstasy. He is among the best stand-up management guys in the world. His fuel is passion. And you can feel it!"
Jim Nielsen
Director of Marketing,
SAS Institute
Denmark
"Jason's energetic and engaging presentation of successful companies′ leadership traits was rated as the top takeaway by senior executives attending our leadership development program. By combining a commitment to extensive research with humor and panache Jason provided valuable perspectives and meaningful insights on true leadership. His dedication to "business done well" takes him far beyond what tradition presenters are able to offer making his session extremely relevant to our executive's lives and their roles as leaders. Finally, it′s an absolute pleasure to work with Jason and we appreciate his focus on understanding our business and linking his message to our objectives."
Mary Cay Carsello
Senior Director Strategic Competencies,
Thomson University
Thomson Corporation
"Jason Jennings was the only speaker at the Radio Advertising Bureau's 2005 Convention to receive all 'Excellents' in his critiques!"
Gail Steffens
Convention Manager
Radio Advertising Bureau
New York, New York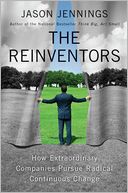 The Reinventors: How Extraordinary Companies Pursue Radical Continuous Change
Eventually every job and every business will become irrelevant. According to Jason Jennings, the past few decades have seen unprecedented shifts; former third-world nations have transformed themselves into high-tech manufacturing powerhouses; technology has democratized business and increased competition in ways never before seen; and customers, used to getting exactly what they want when they want it, are no longer beholden to the corporate giants.
Jennings and his research team examined thousands of articles and news stories and selected the 100 best examples of companies, including Best Buy, Cirque du Soleil, and Avon, that have successfully reinvented themselves. After interviewing the key players in these transformations, Jennings established what he calls the "reinvention rules," including:
Abandon all ego: Being a master of conventional thinking yields conventional results.
Take lots of small chances: Small bets allow you to see what works-and what doesn′t-without putting your neck on the line.
Be frugal: The best companies know how to fix problems and effect change using the resources already available.
Grow constantly: If you want to nurture and retain your best people, you need to make sure you can give them opportunities that will make them want to stay.

With the same friendly style of Jennings′s previous titles, this book is a must-read for any leader who wants to stay relevant for years to come.
Order Here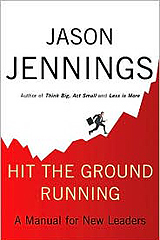 Hit the Ground Running: A Manual for New Leaders Lessons from ten dramatic transformations and the new CEOs who led them
One of the toughest jobs in business is taking over as a new leader. You have to hit the ground running- diagnose the situation, pull together a strong team, decide on a strategy, and inspire everyone to execute it.
Jason Jennings and his research team searched for the new CEOs who had pulled off the most impressive transformations of this decade. He interviewed ten who, on average, had doubled revenues, doubled profit margins, and more than tripled earnings per share, at companies such as Staples, Goodrich, Humana, and J. M. Smucker.
The result: ten new "golden rules" that can help leaders balance the short term and the long term, and the competing needs of shareholders, employees, customers, and the community. They include:
Drive stakes in the ground

Have a fierce sense of urgency

Simplify everything

Jennings′s advice and true stories can help managers at all levels, not just CEOs.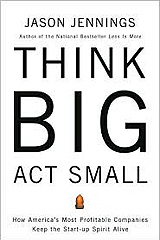 Think Big-Act Small written by Jason Jennings
How America′s Best Performing Companies Keep the Start Up Spirit Alive
Jason Jennings and his research team screened more than 72,000 companies to identify the only firms that have delivered such stellar performance for a full decade or more, despite the ups and downs of the economy. And as revealed in the new book, these superstars have a lot in common, despite their wide range of industries, including software, food services, medical supplies and sporting goods.
If your company, group or organization is looking for a thought provoking, highly skilled communicator who delivers the goods when it comes to leading people and companies to their full potential in the areas of revenue growth, reinvention, speed, productivity, leadership or employee engagement you've found the right person.
During the past decade Jason Jennings and his research teams have screened and analyzed the performance of more than 200,000 companies and studied more than 25,000 in-depth for his bestselling books on: speed, productivity, growth, leadership and reinvention. His speeches and presentation are based on the results of his research and the contents of his books.
Keynote Speeches
The Five Secrets of the World's Best-performing Companies and Leaders
This is the crowd pleaser that's received standing ovations from hundreds of thousands of people around the world. Jennings' research has revealed five vital leadership traits shared by the best-performing businesses and organizations. This dynamic and information-packed speech not only provides the roadmap for achieving long-lasting business success, but helps attendees believe they are capable of carrying out the mission ahead of them. This speech can be presented as a 60-or 90-minute keynote—with or without Q&A—and can also be delivered as a highly interactive half-day or full-day program.
Reinvention – The Six Secrets of Change
This keynote is based on Jennings' book The Reinventors—How Extraordinary Companies Pursue Radical Continual Change, which examines more than 100 companies that have made constant change part of their DNA. By examining innovative businesses such as Apple, Capital One, Starbucks, Arrow Electronics, Nucor Steel, Smithfield Foods and many more, Jennings has identified six points that helps businesses crack the code on change. In this talk, Jennings reveals these key findings: double-digit annual growth, letting go of yesterday's breadwinners, conventional wisdom and ego, making lots of small bets, and getting and keeping everyone on the same page. This speech can be presented as a 60-or 90-minute keynote—with or without Q&A—and can also be delivered as a half-day or full-day program.
The Need for Speed – How to Get Everything Done Faster
This presentation is based on content from the New York Times bestseller It's Not the Big That Eat the Small—It's the Fast That Eat the Slow, named by USA TODAY as one of the 25 most important books of the early 2000s. This brutally honest, fast-paced speech provides a roadmap to getting things done once attendees go home. This speech can be presented as a 60-or 90-minute keynote—with or without Q&A—and also can be delivered as a highly interactive half-day or full-day program.
Jason Jennings: Speech Excerpt
Jason Jennings discusses why business growth is imperative to good leadership. An admired executive once told him that growth should never be driven by shareholders; companies grow first and foremost for the people who are in them.
"Nobody says 'I hope tomorrow sucks more than today.'" Jennings jokingly points out that it is human nature to continuously try to improve our lives. Consequently, if companies wish to retain their talent, leaders need to ensure that their employees have opportunities within the company to grow, and in order to do that the company itself must grow.
Jason Jennings: Keynote
Tailoring his speech to insights gathered from attendees in pre-event interviews, Jason Jennings discusses the "six shared traits that the world's greatest companies use to embrace constant change and growth." He assures his audience that these are not random pieces of advice that he received from a meeting on a mountain, but rather the results of extensive research, screening more than 220,000 companies and interviewing 11,000 CEOs and business owners.
Jason brings these findings to life by illustrating steps leaders can take to reinvent their business and hold their own against "rogue competition." He spotlights practical lessons we can learn from amazing turnaround stories - companies like Apple, IKEA, and Starbucks, that have gone from near extinction to billion dollar values.
Demo Video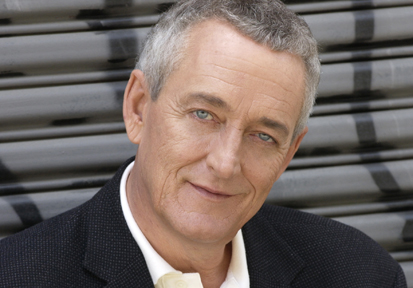 Jason Jennings is one of the most successful and prolific business and leadership authors in the world. He has spent twenty years founding and leading successful businesses and teaching other companies how to achieve their full economic potential. I am driven to help others achieve what they want to achieve. It is my life's work! ... more