* Please note that while this speaker's specific speaking fee falls within the range posted above (for Continental U.S. based events), fees are subject to change. For current fee information or international event fees (which are generally 50-75% more than U.S based event fees), please contact us.
Top25 Speaker Voting

Jason Hwang needs 5 vote(s) to make it into the Top 25 speakers on Speaking.com!
Speaker Booking Tip
"Tip: ask your speaker to do a book signing or attend a VIP meal with your guests. "
For Event Planners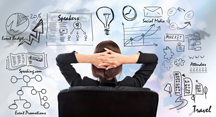 • Keynote Speaker Booking Toolkit.
• Booking a Celebrity Speaker.
• How to Find and Book the Right Speaker.
• Google+ Event Planning Forum.
• Tips for International Clients Booking U.S. Based Speakers.
Similar Speakers
Haiyan Wang

Haiyan Wang specializes in global strategy, executive education, management consulting, and doing business in China and India. As Managing Partner of China India Institute, she…

Quint Studer

Quint Studer spent ten years working with special needs children before entering the healthcare industry in 1984 as a Community Relations Representative. From then until…

Jim Carroll

Jim Carroll is at the forefront of global futurism, helping an array of blue-chip clients to predict the trends and innovations of coming years before…

SPEAKING.com / Core Agency were very helpful in every way possible. I would recommend them to others and we will most definitely secure all our future conference speakers through them again.
Babcock & Wilcox
About SPEAKING.com
Established in 1994, we are exclusive agents for some of the world's leading experts, celebrities and professional speakers.
We offer event planners a fully staffed speaker logistics planning team, plus a personal SPEAKING.com Account Executive – a knowledgeable and trustworthy partner. We guarantee your satisfaction with your speaker and a smooth booking process.
Contact us today to book your favorite speaker.

Partial Client List:

Central Logic - 2012 Patient Flow Summit
The Heart Institute of Dayton Physician Leadership Course
Merck
The Healthcare Roundtable: Physician Chief Executive Officers Group
12gurus:Health 2012
Institute of Medicine Forum on Drug Discovery, Development, and Translation
The Healthcare Roundtable: Chief Financial Officers Group
The Healthcare Roundtable: Chief Executive Officers Group
National Cancer Policy Forum workshop
Health Management Associates
M3 Mobility Exchange
Pfizer
Council on Graduate Medical Education
Pharmaceutical Industry Association of Puerto Rico
The Heart Institute of Dayton Cardiovascular Medicine Conference
Healthcare Financial Management Association Thought Leadership Retreat
Forum on Innovation in Healthcare
Healthcare Delivery Innovation Alliance
Health Horizons Initiative, Blue Cross Blue Shield New Jersey
Collaborative Care Technology Working Group
2011 Healthcare Innovation Summit
Institute for Healthcare Improvement
University of Michigan Health System Leadership Day
Allergan
Zynx Health Conference
Association of Chiefs of General Internal Medicine
Avera Health Leadership Conference
2nd Annual Burrill Digital Health Meeting
Cisco Connected Health Summit at HIMSS
University of Western Ontario, Ivey Global Health Innovation Conference 2010
2010 Korean Health Care Congress
The Korean Doctors′ Weekly/KT
Boston University School of Management
Canadian College of Health Services
Pharmaceutical Executive Emerging Leaders
IBM Research and Air Force Office of the Surgeon General
Colorado Health Foundation Symposium
National Conference of State Legislatures
Geisinger Health System Senior Leadership Council
2010 Wal-Mart Health & Wellness Conference
Presbyterian Health System Senior Leadership Retreat
Kaiser Permanente Oakland-Richmond
Axcan Pharma
University of Texas School of Nursing at Houston
National Retail Clinic Summit
National Medical Home Summit
Harvard Business School Social Enterprise Conference
The Innovator′s Prescription: A Disruptive Solution for Health Care
"Clear, entertaining, and provocative, The Innovator′s Prescription should be read by anyone who cares about improving the health and health care of all."
Dr. Risa Lavizzo-Mourey,
President and CEO,
Robert Wood Johnson Foundation

"Comprehensive in its vision, astute in its diagnosis, and clear in its guidance, The Innovator′s Prescription offers strong medicine for a health care system that is far from well."
Dr. Harvey V. Fineberg,
President,
Institute of Medicine

"A wealth of insights—with new ideas and revelations in every chapter. Read it, and you will be armed with solid ideas for making health care better."
George Halvorson,
Chairman and CEO,
Kaiser Foundation Health Plan, Inc. and Kaiser Foundation Hospitals

"The Innovator's Prescription is a well researched, clearly organized road map to a sustainable health care system."
Michael O. Leavitt,
Secretary of Health and Human Services

"The Innovator′s Prescription is an important and timely contribution to the national debate on health system reform. We would do well to consider it carefully."
Tom Daschle,
former Senate Majority Leader
and Distinguished Senior Fellow, Center for American Progress
Order Here





Dr. Jason Hwang shares his groundbreaking research into disruptive innovation, which has transformed many industries and can do the same for health care. He describes how new medical technologies have fueled the transition from intuitive to precision medicine, allowing previously complex disorders to be diagnosed precisely and treated with predictably effective therapies.
When these innovations are integrated into new business systems, they will spearhead vital reforms in the healthcare industry, offering solutions to the core problems currently crippling the nation′s healthcare system: skyrocketing costs and the lack of access to quality medical care.
The basic elements of Dr. Hwang′s presentations cover:

Description of disruptive innovation and applying the lessons of innovation from other industries to health care
The role of precision (aka "personalized") medicine as the technological enabler of disruption in health care
Business model innovation: the different types of business models and how they apply to health care
Analysis of the unsustainable business model of today′s hospital and what can be done
Analysis of the business model of the physician′s practice and the rise of retail clinics
Establishing a new value network in health care to disrupt the existing one, and who can lead the charge
Keynote Speech
Dr. Jason Hwang discusses how we can attain affordable healthcare for everyone by applying disruptive innovation to the medical sector. For sometime now cycles of disruptive innovation have been rampant in the business world; today we see this in the form of small start-ups creating a product that enables people to do something for themselves instead of paying an "expert" to do it for them. This innovation renders larger companies who were once experts in providing that service, obsolete.
In the case of medicine, Dr. Hwang explores why disruptive technologies have been slow to reinvent healthcare and what can be done to remedy the problem. Surveying the various reasons often cited as the cause of healthcare's woes (costly technology, insurance agencies, lawyers), he admits, "None of these reasons never really seemed right to me…There had to be something deeper and more systemic going on, and it just felt like we were misdiagnosing what was happening."
Jason Hwang: Keynote
Dr. Jason Hwang shares how frustration in his clinical work drove him to study innovation and become one of the biggest shakers in the healthcare industry. Tired of only having a few minutes to "patch up his patients," he was convinced that there must be a better way to deliver healthcare and give patients the attention that they truly need and deserve.
Using the lessons he's learned from Harvard Business School legend Clayton Christensen, Dr. Hwang examines how health professionals and patients can take some tips from other industries and generate disruptive innovation to "democratize health care."