* Please note that while this speaker's specific speaking fee falls within the range posted above (for Continental U.S. based events), fees are subject to change. For current fee information or international event fees (which are generally 50-75% more than U.S based event fees), please contact us.
Top25 Speaker Voting

Jane Bryant Quinn needs 6 vote(s) to make it into the Top 25 speakers on Speaking.com!
Speaker Booking Tip
"Tip: ask your speaker to do a book signing or attend a VIP meal with your guests. "
For Event Planners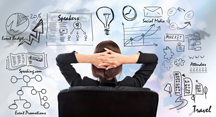 • Keynote Speaker Booking Toolkit.
• Booking a Celebrity Speaker.
• How to Find and Book the Right Speaker.
• Google+ Event Planning Forum.
• Tips for International Clients Booking U.S. Based Speakers.
Similar Speakers
Dan Glickman

Former U.S. Secretary of Agriculture, Dan Glickman addresses feeding a growing world, sustainable farming, and environmental stewardship through his current role in various research organizations.…

Tom Koulopoulos

Named one of the industry's "Killer Consultants", Tom Koulopoulos is a leading futurist. The founder of the 25-year-old premier think tank, Delphi, he provides advice…

Susan Dentzer

For over 30 years, America has looked to Susan Dentzer for her trusted analysis on health care policy. She is one of the nation's most…

SPEAKING.com does a wonderful job! Our AE always responds promptly and is very professional, thank you!
AlphaNet
About SPEAKING.com
Established in 1994, we are exclusive agents for some of the world's leading experts, celebrities and professional speakers.
We offer event planners a fully staffed speaker logistics planning team, plus a personal SPEAKING.com Account Executive – a knowledgeable and trustworthy partner. We guarantee your satisfaction with your speaker and a smooth booking process.
Contact us today to book your favorite speaker.

"JBQ is the best economics program we've had and one of the best programs we've had, period."
Desert Town Hall of Indian Wells, California

"Your sessions on personal finance were extremely well received and offered real 'take home pay'–one of the major goals of our concurrent sessions."
Nonprescription Drug Manufacturers Association

"I particularly want to thank you for being so encouraging to the students who came to hear you in the afternoon and also in the evening. You're an inspiration!"
Eckerd College, St. Petersburg, Florida

"A good panel is only as good as its moderator, and you, Jane, were the best. You kept everyone focused and made sure the event was well-paced, lively and entertaining."
Scudder Kemper Investments

"Thank you for being with us on Saturday for Commencement and for your most inspiring and informative talk to our students… They appreciated hearing such a practical 'real world' talk for a commencement speaker rather than the usual esoteric remarks that no one will remember!"
Saint Mary's College, Notre Dame

"You won the audience over by sustaining their interest in all that you presented, and by giving so much of yourself to those who wanted to meet you at the reception."
The Dowmel Foundation Lecture Series

"She was outstanding! Fantastic! A major success!"
Toyota Motors
Making the Most of Your Money Now
Consumers Union named Making the Most of Your Money the best personal finance book on the market. Now Jane Bryant Quinn′s bestseller has been completely revised and updated for 2010 and beyond. America′s most trusted financial adviser, who helped millions of readers meet their goals in the 1990s, has done it again — providing a guide to financial recovery, independence, and success in the new economy.

Getting your financial life on track and keeping it there — nothing is more important to your family and you. This proven, comprehensive guidebook steers you around the risks and helps you make smart and profitable decisions at every stage of your life. Are you single, married, or divorced? A parent with a paycheck or a parent at home? Getting your first job or well along in your career? Helping your kids in college or your parents in their older age? Planning for retirement? Already retired and worried about how to make your money last? You′ll find ideas to help you build your financial security here.

Jane Bryant Quinn answers more questions more completely than any other personal-finance author on the market today. You′ll reach for this book again and again as your life changes and new financial decisions arise. Here are just a few of the important subjects she examines:

Setting priorities during and after a financial setback, and bouncing back
Getting the most out of a bank while avoiding fees
Credit card and debit card secrets that will save you money
Family matters — talking money before marriage and mediating claims during divorce
Cutting the cost of student debt, and finding schools that willoffer big "merit" scholarships to your child
The simplest ways of pulling yourself out of debt
Why it′s so important to jump on the automatic-savings bandwagon
Buying a house, selling one, or trying to rent your home when buyers aren′t around
Why credit scores are more important than ever, plus tips on keeping yours in the range most attractive to lenders
Investing made easy — mutual funds that are tailor-made for your future retirement
What every investor needs to know about building wealth
How an "investment policy" helps you make wise decisions in any market
The essential tax-deferred retirement plans, from 401(k)s to Individual Retirement Accounts — and how to manage them
How to invest in real estate at a bargain price (and how to spot something that looks like a bargain but isn′t)
Eleven ways of keeping a steady income while you′re retired, even after a stock market crash
Financial planning — what it means, how you do it, and where to find good planners

Page by page, Quinn leads you through the pros and cons of every decision, to help you make the choice that will suit you best. This is the single personal-finance book that no family should be without.
Order Here




Smart and Simple Financial Strategies for Busy People
Are you too busy to pay much attention to your money? Do you worry that maybe you haven′t been doing the right things? This book is for you, from Jane Bryant Quinn, the most trusted voice in personal finance today. Her classic bestseller, Making the Most of Your Money, guided a generation toward smart and sensible financial choices. Here she strips away the extras, choosing the best financial ideas and products available today. They′re all you need to create a successful and long-lasting financial plan. It′s money management the No Worry way.

To start with, she tells you to forget all the complicated stuff the financial industry sells. You don′t need it, it costs too much, and some of it is downright bad. It′s designed to make the banks, brokers, and insurance companies rich, not you.

The best ideas (a super-short list!) are simple, low in cost, and easy to use. They′re also sophisticated and smart. The strategies shown here are followed by some of the most successful planners and money managers around today, yet they′re something everyone can understand. They′ll give you what you need from your money — regular savings, financial security, long-term investment growth, personal control, and best of all, peace of mind.

Once you′ve set up a No Worry plan, you won′t have to pay much attention to it. The choices you′ll find here are all good ones. All you have to do is arrange for automatic payments and contributions and then get on with the rest of your busy life. You can focus your energies on your job, family, leisure, and friends, secure in the knowledge that your finances are okay.

Here′s what you′ll do on the No Worry plan:

Save more moneywithout feeling pinched
Get rid of debt the automatic way
Keep yourself safe, with the right amount of insurance at the lowest cost
Zero in on the right mortgage, every time
Pick the best college savings plan for your kids
Understand your finances, in ways you never did before
Find the smartest and simplest ways of investing money, to earn superior returns over the long run

The investment ideas alone will open your eyes to the newest strategies for accumulating wealth (without making big mistakes!). Jane Bryant Quinn will change the way you think about money. She has the answers busy people need.
Order Here





Making the Most of Your Money Today
Ideas on managing money, for people of all ages.

The Economy and Your Money
The state of the economy today, the most topical issues, and what it all means for managing money.

Yes, You Can Still Retire Well
On retirement planning and managing money in retirement.

Why Women Are Great Investors
For women's groups, the research on women as investors (they do as well or better than men) and how to make investing work for you.

Custom-Tailored Speech
Directed specifically to the concerns of your audience.
Jane Bryant Quinn in conversation with David Lazarus