* Please note that while this speaker's specific speaking fee falls within the range posted above (for Continental U.S. based events), fees are subject to change. For current fee information or international event fees (which are generally 50-75% more than U.S based event fees), please contact us.
Top25 Speaker Voting

Jake Knapp needs 8 vote(s) to make it into the Top 25 speakers on Speaking.com!
Speaker Booking Tip
"Tip: some speakers might provide one of their popular book titles as a free gift to your audience. "
For Event Planners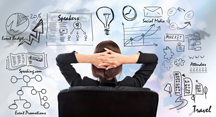 • Keynote Speaker Booking Toolkit.
• Booking a Celebrity Speaker.
• How to Find and Book the Right Speaker.
• Google+ Event Planning Forum.
• Tips for International Clients Booking U.S. Based Speakers.
Similar Speakers
Josh Linkner

A professional jazz guitarist at the start of his career, Josh Linkner has a passionate belief in creativity and innovation, and his career in the…

Robin Chase

"Everyday, create the world you want to live in." That has been visionary Robin Chase's approach to addressing the greatest dilemmas of the 21st century.…

Michael Gerber

An expert in business entrepreneurship, innovation and leadership, Michael E. Gerber is Founder and Chairman of E-Myth Worldwide, a company that has helped over 50,000…

THANK YOU for your consistent communication, organization, and hard work. It truly has been a pleasure partnering with you too, we would love to stay connected with you for future events.
National Human Resources Association
About SPEAKING.com
Established in 1994, we are exclusive agents for some of the world's leading experts, celebrities and professional speakers.
We offer event planners a fully staffed speaker logistics planning team, plus a personal SPEAKING.com Account Executive – a knowledgeable and trustworthy partner. We guarantee your satisfaction with your speaker and a smooth booking process.
Contact us today to book your favorite speaker.

"Jake's presentations are always superbly received at Columbia University. He shows a genuine passion for teaching, mixing surprising insights with great storytelling."
- R.A. Farrokhnia, Professor at Columbia Schools of Engineering & Business
"Jake wowed us with his talk. His combination of first-hand experience, deep knowledge and engaging humor is incredibly rare and incredibly entertaining."
- Nir Eyal, organizer of The Habit Summit "Jake inspired an audience of 300 medical executives to rethink their approach to care transformation. He made the principles of rapid design accessible with engaging case-studies from his work across multiple industries. It's rare to leave a presentation with a new approach to your work that can be rapidly applied."
- Ralph Pascualy, Chief Executive of Swedish Medical Group, Seattle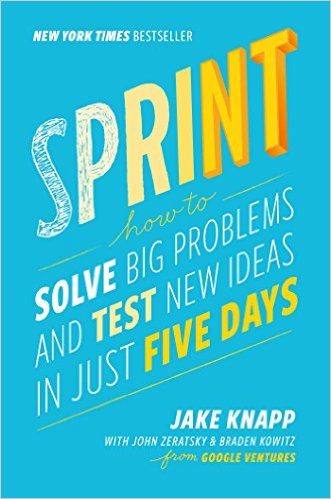 Sprint: How to Solve Big Problems and Test New Ideas in Just Five Days
From three partners at Google Ventures, a unique five-day process for solving tough problems, proven at more than a hundred companies.
Entrepreneurs and leaders face big questions every day: What's the most important place to focus your effort, and how do you start? What will your idea look like in real life? How many meetings and discussions does it take before you can be sure you have the right solution?
Now there's a surefire way to answer these important questions: the sprint. Designer Jake Knapp created the five-day process at Google, where sprints were used on everything from Google Search to Google X. He joined Braden Kowitz and John Zeratsky at Google Ventures, and together they have completed more than a hundred sprints with companies in mobile, e-commerce, healthcare, finance, and more.
A practical guide to answering critical business questions, Sprint is a book for teams of any size, from small startups to Fortune 100s, from teachers to nonprofits. It's for anyone with a big opportunity, problem, or idea who needs to get answers today.

Sprint: How to Solve Big Problems and Test New Ideas in Just 5 days
Entrepreneurs and leaders face big questions every day: What's the most important place to focus your effort, and how do you start? What will your idea look like in real life? How many meetings and discussions does it take before you can be sure you have the right solution?

To answer these questions, Jake Knapp created the design sprint. It's a "greatest hits" of business strategy, innovation, behavioral science, and more—proven at more than 100 startups and at companies like Google and Airbnb, and adapted into a step-by-step process that any team can use.

Through stories and hard-won lessons, Jake will explain how to get the best ideas from every person on your team, make great decisions without groupthink, validate ideas before wasting time, and set the course for a successful business.

Defragmentation: Simplifying Work and Life to Do What Matters
At work, our time is often fragmented by email, meetings, and urgent but ultimately unimportant tasks. At home, our attention is divided between our smartphones, our friends and family, and our long term projects. We take this perpetual distraction for granted—but there's no reason why we have to work and live this way. In this talk, Jake shows how simple actions can shift the way teams work together for radical efficiency improvements, and how this same approach can be applied to our personal lives.
Jake Knapp, Product Development Specialist: Talks at Google
Jake Knapp breaks down his 5-day method "Sprint" which has accelerated the process of testing ideas particularly in the world of start-ups. Sprint's amazing efficiency has allowed entrepreneurs to test more ideas, including those that normally would get tossed in the trash bin for being "too risky."
Rather than simply telling us how his method works, Jake shows us through the story of a small company called Savioke and their development of a delivery robot aimed at the hospitality industry. Savioke was about to embark on a huge risk that could make or break them: they were going to launch a trial run at a prestigious Cupertino hotel with a robot they'd built. Even after all the prep work they'd done, they still had one pressing question they wanted to answer before going ahead with the trial: "How should the robot behave?"
Connecting several fun photos and video clips with a compelling narrative, Jake illustrates how his team developed a lovable puppy-dog like personality for Savioke's robot and tested it out within just five days to discover that some ideas that had sounded kind of flat when described were actually a big hit when executed. "The idea with the spread is to not make us be so cautious about taking these big bets," Jake comments. "You can almost be truer to your vision, because you're not betting the whole farm."
Jake Knapp, Product Development Specialist: Keynote