Top25 Speaker Voting

Jacob Morgan needs 3 vote(s) to make it into the Top 25 speakers on Speaking.com!
Speaker Booking Tip
"Tip: speakers bureaus can provide: speaker fee negotiation, insurance, smooth logistics and value add-ons such as extra sessions. "
For Event Planners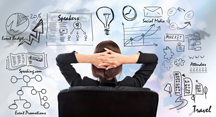 • Keynote Speaker Booking Toolkit.
• Booking a Celebrity Speaker.
• How to Find and Book the Right Speaker.
• Google+ Event Planning Forum.
• Tips for International Clients Booking U.S. Based Speakers.
Similar Speakers
Paul Zane Pilzer

Economist, Business Trend Forecaster As a world-renowned economist, multimillionaire entrepreneur, college professor and former commentator on NPR and CNN, Paul Zane Pilzer is The New…

Manu Bhaskaran

Based in Singapore, Manu Bhaskaran has been following economic, political and security trends right across the Asia-Pacific region for more than two decades, and can…

Susan Packard

One of the strongest voices for women in the workplace, Susan Packard grew cable channel HGTV into a multimillion dollar business. Honored numerous times as…

SPEAKING.com does a wonderful job! Our AE always responds promptly and is very professional, thank you!
AlphaNet
About SPEAKING.com
Established in 1994, we are exclusive agents for some of the world's leading experts, celebrities and professional speakers.
We offer event planners a fully staffed speaker logistics planning team, plus a personal SPEAKING.com Account Executive – a knowledgeable and trustworthy partner. We guarantee your satisfaction with your speaker and a smooth booking process.
Contact us today to book your favorite speaker.

Jacob spoke to our customers at four of our events across the United States on the future of work and unlocking human potential. His sessions were both informative and engaging and we received excellent feedback from attendees. When it comes to the future of work and collaboration Jacob is both very knowledgeable and extremely passionate. I highly recommend him!"
- Jim Fields, VP of Marketing, SAP
"When it comes to the future of work, Jacob is both extremely passionate and knowledgeable about the subject. He also has an interesting spin on the kinds of things that can be done to engage and stimulate creative thought in the workplace. I participated in a session he ran and found it to be engaging and informative. I highly recommend Jacob as a speaker!"
- Nolan Bushnell, Founder, Atari
Jacob's presentation was extremely insightful and well- researched. Additionally, he went out of his way to give our audience useful tips and resources that they can apply within their own organization immediately. I really enjoyed working with Jacob and highly recommend him as a speaker."
- Lynn Brown-Reyes, Manager Career Resource Center and Member Benefits, American Marketing Association
"Jacob delivered a powerful, compelling, and insightful keynote on the future of work with a global perspective. He shared very interesting examples and global practices with 200 of our HR leaders through a session that combined effective presentation skills with knowledge of next practices."
- Dr N S Rajan -Member Group Executive Council & Group Chief Human Resources Officer, Tata Sons
"Jacob delivered a compelling and insightful presentation to our audience of top performers on how the workplace is changing. Attendees walked away more informed, inspired, and ready to lead change in their organizations. I definitely recommend Jacob as a speaker."
- Dr. Murray Mazer, Global Head of Innovation & Research, Amadeus IT Group
"Jacob delivered a compelling presentation at Lowe's Social Business Symposium. Our audience gave Jacob high marks for his comments. His experience and insight help propel companies forward as they begin the journey to transform the way they work. I highly recommend Jacob Morgan as a speaker and his book "The Collaborative Organization" is a must-read for any one considering social business. The book will help any company build a roadmap for success."
- Clarissa Felts, VP Collaboration, Diversity & Inclusion at Lowe's Companies, Inc.
"Jacob is an excellent speaker who knows how to educate and engage his audience and he did just that for my class of NYU students! He's extremely knowledgeable about everything related to the future of work and collaboration. I highly recommend him!"
- Nathan Bricklin, SVP Wells Fargo and Adjunct Instructor at NYU
"Jacob Morgan has his finger on the pulse of what makes organizations more collaborative and effective. He deeply understands the drivers that make us want to collaborative, and can effectively speak on how to engage people throughout all levels."
- Robin Daniels, Head of Enterprise Product Marketing, Box
"The power of social to affect how we collaborate with each other has become a critical tool for forward thinking CMO's and CIO's. Nobody understands this like Jacob Morgan, and for the first time, we have qualitative and quantitative data to both understand this trend, and take appropriate action for our company or brand. I would highly recommend bringing Jacob on as a speaker for your event or conference."
- Ben Watson, VP Marketing at HootSuite
"Jacob delivered an inspiring and educational presentation on the future of work and collaboration to our management team. He took a complex topic and distilled it down to something that was easy to understand and grasp. This was crucial since English was not the primary language of our audience. I highly recommend Jacob!'
- Didier Dumont, CEO The Americas, Sodexo
"Jacob understands the complexity around the future of work and has the keen ability to break it down into practical solution steps that help companies achieve ultimate value and success. He does a great job of educating and inspiring the audience and his passion and expertise are clearly felt. I highly recommend Jacob as a speaker!"
- Gloria Burke, Chief Knowledge Officer, Unisys
"Jacob Morgan is attuned to what companies need to do to attract and retain the next generation of workers. He understands what works, what doesn't, and has a beat on the next wave on insights regarding the future of work. He is a very engaging and impactful speaker and moderator. I highly recommend him"
- Jeff Winter, VP of Field Marketing, SAP
"Jacob presented on the future of work and collaboration as part of a successful expert webinar series for Intuit QuickBase. Feedback from the presentation was extremely positive and we were pleased with Jacob's command of the subject and professional delivery. Jacob is an engaging, entertaining and knowledgeable speaker I would recommend!"
- Alex Forbes, Editor-in-Chief, The Fast Track, Intuit
"I had the pleasure of working with Jacob recently on a Social Business webinar for OpenText. Jacob is an excellent story teller and speaks with conviction on the future of work in a way that motivates his listeners. Jacob is very passionate in his content delivery and conveys the perfect amount of insight and advice to help steer customers on the right path to embracing the future of work. We had had many requests from attendees to have him back again!"
- Kimberly Edwards, Senior Product Marketing Manager, OpenText
"Jacob is clearly a passionate speaker and he delivered an engaging and informative keynote session at the Harvard Business Review Summit. He did a great job of conveying his ideas while inspiring attendees to think differently about the future of work. His session received great feedback and I highly recommend him as a speaker!"
- Adi Ignatius, Editor in Chief, Harvard Business Review
"I recently collaborated with Jacob on a Future of Work session with Cisco's partners and customers. As a leader focused on the employee experience, leadership and workforce trends, Jacob's perspectives into the trends of the future workforce are insightful and spot on. It was a pleasure partnering with him."
- Francine Katsoudas SVP, Chief Human Resources Officer Cisco
"Jacob Morgan was a speaker at our annual Microsoft Enterprise Summit which is the most important gathering of our C-level customers where we share our vision, latest trends, and customer stories around digital transformation. Jacob did a great job of of helping our C-level leaders understand the trends that are shaping the future of work and what they should be doing in their organizations as a result. His session was engaging and informative!"
- Blijana Weber, CEO, Microsoft Czech Republic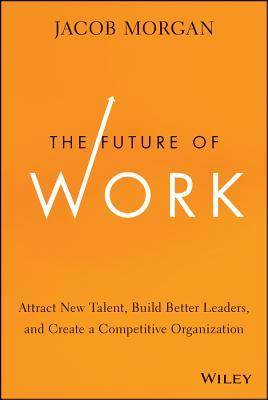 The Future of Work: Attract New Talent, Build Better Leaders, and Create a Competitive Organization
The Future of Work is all about challenging convention around work. It explores and answers several questions such as: How is the world of work changing and what are the trends driving that change? How are these changes impacting the way employees work, the way managers lead, and how organizations are structured? What needs to be done to adapt to these changes?
The future of work breaks down specific principles for employees, managers, and organizations to adopt in order to stay relevant and competitive in a rapidly changing world. Readers will find valuable examples, research, and unique visuals created specifically for this book. The Future of Work has been endorsed by the world's top business leaders such as the CEO of KPMG, CEO of SAP, CEO of Intuit, CEO of Whirlpool, CEO of Schneider Electric, CEO of Mandalay Entertainment, CEO of PARC, CEO of Zappos, Dan Pink, and Gary Hamel.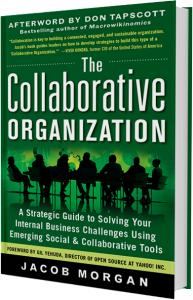 The Collaborative Organization: A Strategic Guide to Solving Your Internal Business Challenges Using Emerging Social and Collaborative Tools
The Collaborative Organization it the first and only comprehensive strategy guide to enterprise/social collaboration in the workplace. It features over 300 pages of content covering topics such as developing and mapping use cases, selecting collaboration vendors, full strategy development, ROI, employee adoption, how to structure a collaboration team, and everything else you would need and want to build out a full-scale collaboration initiative.
The Collaborative Organization features data from an in-depth research project conducted by Chess Media Group as well as pioneering models and concepts around collaboration. The book was endorsed by business leaders such as the CEO of Unisys, CIO of the USA, CMO of Dell, Chair of the MIT Sloan Management Review, Founder and CEO of Craigslist, and many others. The afterword was written by Don Tapscott.

Why the Future of Work is All About the Employee Experience
We all spend a lot of time and money trying to create great and meaningful experiences for ourselves. We have certainly all heard about the customer experience, but what about the employee experience?
In this keynote address Jacob will explore three environments that create employee experiences: digital (or technology), cultural, and physical. Attendees will learn what makes up these three environments, what some of the world's most forward thinking companies are doing, and how they can start making changes to their organization's focus on the employee experience as a way to attract and retain top talent.
The Five Trends Shaping the Future of Work
In this session Jacob explores the impact that globalization, new behaviors, mobility, millennials, and technology are having on what the future of work is going to look like. Attendees will get a great overview of why and how organizations must adapt to these five trends and how these five trends are changing the way we work, lead, and structure our organizations.
The Internet of Things
In the next few years it's estimated that we will see anywhere from tens to hundreds of billions of connected devices in the world. These include everything from cars and toothbrushes to wearable devices and appliances. But what does the internet of things actually means for consumers and organizations? What should organizations be thinking about and what will this new type of a connected world look like? This keynote session provides an intriguing look at the impact that the internet of things is going to have o our world.
Innovation Ecosystems and the 5 Types of Innovation
Innovation used to be something that was done behind closed doors by a small group of people within a company. In this session Jacob explores how innovation has changed and looks at the 5 types of innovation models that companies should practice today (employee, customer, partner/supplier, public, & competitor), and how this forms the new innovation ecosystem. The session is full of stories and examples and takes a look at how the world of innovation is evolving.
The Robots are Coming!
A keynote session which looks at the world of robots and automation and the potential impact that this might have on the workforce. There is much debate and conversation going on around robots taking jobs away from humans and what the jobs of the future might look like; all of these things are explored along with a look at some of the fascinating new technologies which are making their way into organizations.
Millennials in the Workplace
This new demographic is projected to comprise around 50% of the workplace by 2020 and 75% of the workplace by 2025. This is a generation that doesn't know what its like to get 200 emails a day, sit in a cubicle, or access legacy technology solutions to find people and information.
Millennials have a new attitude about work and new approaches and expectations to how work should be done. In this keynote Jacob will explore how millennials are impacting organizations around the world and what these organizations need to do to adapt and attract this new workforce.
Women in Leadership
Jacob has a whole section in his new book devoted to exploring why we need more women in leadership positions. This session explores the state of women in leadership, why we don't have more in senior level roles, and what can be done to help improve the situation, and most importantly, WHY we need to make this a priority for our organizations.
The Future Manager
This session explores the role of management is changing and what the key tenets of the future manager are. Essentially it answers the question, what will the future manager look like and how will they help run organizations of the future? The session also provides a brief historic look at management as well as action items.
The Future Employee
An exploration of what the future employee looks like and how they will expect to work. The session focuses on the key tenets of the future employee, new crucial behaviors the future employee must possess, and how the overall employee landscape is dramatically changing.
The Future Organization
This keynote explores why many organizations today may be in trouble going forward and what they can do about it. The reality is that organizations today need talent much more than good talent needs organizations. The session focuses on what organizations of the future are going to look like and what they need to do to stay competitive in the new work landscape.
The Freelancer Economy
A session exploring how the rise of freelancers are impacting and affecting the future of work. Topics such as the fight for talent, benefits of freelancing, an overview of the freelancer economy, and the choices that college students and employees need to make, are all explored in this session. With the majority of the U.S. workforce predicted to be freelancing by 2020, this is clearly an impactful trend.
The Managerless Organization
Do we need managers? What are the benefits of managers? What will happen if we get rid of managers and are organizations out there actually doing this? All of these topics and more are explored in this session which look at how successful organizations are operating in a world where there are no managers, no hierarchies, and nobody tells you what to do.
The 5 Types of Organizational Structures
Since the beginning of business most people have become familiar with one type of organizational structure, the hierarchy. However today, forward thinking and progressive organizations around the world are experimenting with new ways to structure themselves. In this session Jacob will explore why hierarchy is fading away and what it's being replaced by. The session is filled with plenty of examples and stories of what companies around the world are doing.
Wearables in the Workplace
Many of us are already familiar with devices such as the Fitbit, Google Glass, or the Nike Fuel Band. All of these are popular "wearables" that consumers use on a daily basis. However, wearable devices are starting to make their way into the workplace and millions of these devices are projected to be inside of our organizations in just a few years.
But what's the impact of wearables in the workplace? Are they a good idea? What direction are we headed in with wearables and what should organizations be thinking about? This keynote sessions explores all of those things and much more!
The 12 Habits of Highly Collaborative Organizations
This keynote looks at the 12 common variables that successful organizations focus on when it comes to collaboration in the workplace. Each variable is illustrated with an example of a company that is "doing it." Attendees walk away with clear next steps that they can implement at their organization. This keynote makes sense for organizations that are thinking about or are already deploying some sort of collaboration platforms.
Engagement isn't Just a Buzzword
87% of employees around the world not engaged and many companies around the world say they care about this yet do very little about it oftentimes just "checking off the right boxes" to say they tried. In this keynote session Jacob will explore the factors that contribute to employee disengagement and provide attendees with the tools and strategies they need to fix this problem. This is a great inspirational and motivational session to get your employees excited and energized about your company!

Jacob Morgan, Futurist Keynote
Drawing from his personal experience, Jacob Morgan explains why the traditional model of college and working your way up the corporate ladder is disappearing, and what is taking its place.
The professional world that many Baby Boomers and Gen Xers were accustomed to was originally built on "utility;" companies were founded with the idea of work as a necessary grind that their employees had to endure in order to earn money and support their families. However, with the advent of technology disrupting industries, taking our lives public, and giving us the freedom of mobility, major mental and behavioral shifts are spilling into our expectation of work.
"We value experience," Jacob points out, sharing several photos from moments in his personal life. He argues that if we go out of our way to make our personal lives a collection of memorable and valuable experiences, why shouldn't we demand the same from our work? This very mindset is making the obtainment and retention of top talent a more competitive feat than ever. If businesses are to stay vibrant, Jacob states they "will need to move from creating an environment where people need to show up to an environment where people want to show up."
Jacob Morgan, Futurist Keynote Speaker Demo Video
Jacob Morgan, Futurist: Speaking Reel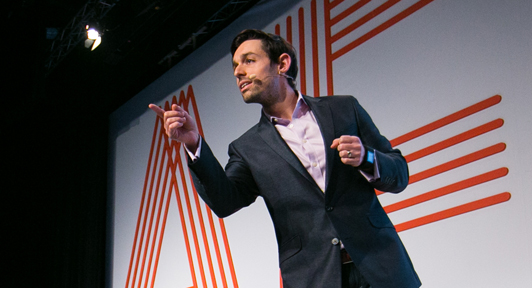 Jacob Morgan is moving companies forward by helping them adapt to the changing world of work. He guides companies in revamping their approach to talent management, the physical workplace, and culture so that personal growth, professional development, and performance flourish. His best-selling books The Future of Work and The Collaborative Organization have been endorsed by ... more