* Please note that while this speaker's specific speaking fee falls within the range posted above (for Continental U.S. based events), fees are subject to change. For current fee information or international event fees (which are generally 50-75% more than U.S based event fees), please contact us.
Top25 Speaker Voting

Jack Zenger needs 6 vote(s) to make it into the Top 25 speakers on Speaking.com!
Speaker Booking Tip
"Tip: find a speaker in your local area to save on travel costs. Most speakers will also reduce their keynote fee for local events. "
For Event Planners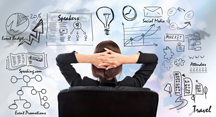 • Keynote Speaker Booking Toolkit.
• Booking a Celebrity Speaker.
• How to Find and Book the Right Speaker.
• Google+ Event Planning Forum.
• Tips for International Clients Booking U.S. Based Speakers.
Similar Speakers
Bill Bachrach

Every year financial advisers from across the globe travel to San Diego to work with Bill Bacharach and his team of expert faculty and master…

Valorie Burton

Valorie Burton is dedicated to helping individuals succeed, even in the face of challenges. Ms. Burton has been called one of the top 100 thought…

David Avrin

Known across the globe as the "Visibility Coach," marketing professional David Avrin is highly sought-after as a speaker, author and executive coach. Audiences across North…

Finding the appropriate speaker for an event is a challenge. Your stellar speakers agency made the process extremely easy. I would recommend your agency to anyone.
Mercury University
About SPEAKING.com
Established in 1994, we are exclusive agents for some of the world's leading experts, celebrities and professional speakers.
We offer event planners a fully staffed speaker logistics planning team, plus a personal SPEAKING.com Account Executive – a knowledgeable and trustworthy partner. We guarantee your satisfaction with your speaker and a smooth booking process.
Contact us today to book your favorite speaker.

"At Boeing's Aerospace Support division, we had concerns about our level of employee commitment. Our work with the Extraordinary Leader introduced us to the research showing a connection between leadership effectiveness and employee commitment. Partnering with Zenger Folkman, we created a competency model, an on-line multi-rater feedback process, and a workshop to help our leaders develop their strengths. Using the 'cross training' approach; our leaders achieved an across-the-board improvement of close to 15% in their year-over-year employee commitment scores. Not only did our best leaders get better, but our 'average' leaders and even our poorest leaders showed marked improvement in their leadership effectiveness and employee commitment scores. This improvement was a critical factor in our qualifications for the Malcolm Baldrige award, which our division won."
– Dee Thomas, HR Director, Boeing Aerospace Support

"The workshop was excellent and feedback from all participants has been extremely positive. I particularly enjoyed the way current paradigms on developing leaders were challenged. I have no doubt that those who attended will benefit from the experience and will, in turn, provide benefits for our organization."
– J. Mateparae, Master General, New Zealand Defense Force

"The Extraordinary Leader class was one of the most powerful and insightful programs I have ever attended. The 360-degree profile gave me deep insights into how others perceive me as a leader, and the course and follow-on coaching has paved an exciting path for me to follow in developing my leadership skills."
– Ricardo Fuchs, Vice President, Serv Corp, Inc.

"The Extraordinary Leader research caused us to rethink our performance management philosophy. We revamped our process to orient it more toward building employees' strengths. The results have been remarkable. We now have a more balanced performance agreement, highlighting areas of strength, and significant problems that must be fixed. The biggest change has been in the energy people have for the performance management process. It is now something that most employees look forward to. How many companies can say that?"
– Mary Settle, Vice President of Human Resources, BARD Access Systems
Speed: How Leaders Accelerate Successful Execution
The rapid pace at which change occurs in business today is unprecedented. Speed has become a major source of competitive advantage. Leaders who act quickly and inspire others to do the same are the ones who ultimately win the day. But achieving increased levels of speed is not always easy.

Culled from the data of one million 360-degree feedback assessments, Speed provides valuable insights into the qualities that make a leader successful and productive. Jack Zenger and Joe Folkman reveal eight essential leadership behaviors shown to improve performance and ultimately drive organizational effectiveness.

The authors will help you assess the pace at which you work and determine how you stack up against others in their firm's database. You'll discover tactics for speeding up critical elements of your day and learn how you can use the eight companion behaviors―including innovation, develop courage, initiate action, and set stretch goals― to help you increase your speed.
Order Here


How to Be Exceptional: Drive Leadership Success By Magnifying Your Strengths
From the leadership gurus of Zenger Folkman, How to Be Exceptional provides a revolutionary approach to leadership development. Instead of focusing on your weaknesses and how to overcome them, focus on your strengths--and learn how to magnify them.

How to Be Exceptional explains how to:

Pinpoint your best leadership traits and choose the right development target for yourself
Use feedback and action-learning on the job to elevate your strengths
Apply Zenger Folkman's revolutionary "cross-training" method to escalate your leadership competencies into the top 90th percentile
Ensure that your fully developed strengths are sustainable by building follow-through into your development plan

When you magnify your leadership competencies to the level of exceptional, employee engagement increases, productivity rises, and profitability soars. Learn how to make your business and career dreams a reality.
Order Here


The Inspiring Leader: Unlocking the Secrets of How Extraordinary Leaders Motivate
In their bestselling work The Extraordinary Leader, performance thought leaders John Zenger and Joseph Folkman revealed the 16 key competencies that separate the top 10 percent of leaders from the rest. Since that book's publication, they and coauthor Scott Edinger discovered, through an extensive study conducted over four years, that leaders who possessed the ability to inspire and motivate outperformed all others.

The authors found that the impact of inspiring and motivating others is consistent across different kinds of organizations and within different cultures. The Inspiring Leader reveals the authors' newest proprietary research on how top leaders inspire teams to greatness. It discusses the behaviors exhibited by the most successful leaders and includes advice on how to implement them. Drawing from statistically significant data and objective empirical evidence, the book shows how to:

Establish a clear vision and direction
Use the power of emotions
Create stretch goals for your team
Foster innovation and risk taking
Encourage teamwork and collaboration
Champion change, and much more

Zenger, Folkman, and Edinger lay out the strategies and concepts used by the world's greatest leaders to motivate their teams. With The Inspiring Leader as your guide, you will learn how to put those strategies to work in your own business.
Order Here




Results-Based Leadership
A landmark book, Results-Based Leadership challenges the conventional wisdom surrounding leadership. Authors Ulrich, Zenger, and Smallwood--world-renowned experts in human resources and training--argue that it is not enough to gauge leaders by personal traits such as character, style, and values. Rather, effective leaders know how to connect these leadership attributes with results.

Results-Based Leadership shows executives how to deliver results in four specific areas: results for employees, for the organization, for its customers, and for its investors. The authors provide action-oriented guidelines that readers can follow to develop and hone their own results-based leadership skills.

By shifting our focus to the connection between the attributes and the results of leadership, this perceptive new guide fundamentally improves our understanding of effective leadership. Results-Based Leadership brings a refreshing clarity and directness to the leadership discussion, providing a hands-on program to help executives succeed with their leadership challenges.
Order Here





THE EXTRAORDINARY LEADER™
The Extraordinary Leader Development Program
Leadership Development that Drives Results
Highly effective leaders make a profound difference in their organizations. The Extraordinary Leader program takes a strength based approach to leadership development, helping organizations develop leaders who produce and accelerate positive business outcomes.

Our research has proven that the effectiveness of an organization's leaders has a direct impact on employee productivity and commitment, customer satisfaction, and innovation; all driving profitability. The Extraordinary Leader program helps managers become better leaders by:

applying our unique cross-training approach to leadership development
understanding how extraordinary leaders can double profits
utilizing 360-degree feedback to identify key strengths
creating an action-oriented development plan that facilitates goal setting & follow through
learning to apply leadership development in daily, on-the-job activities

Featuring a fresh, data-driven approach to leadership development, The Extraordinary Leader program is proven and practical. It features instruments, tools, and development approaches that increase leadership effectiveness and deliver positive organizational results. The outcome? An extraordinary leader delivering extraordinary results.

THE INSPIRING LEADER™
The Inspiring Leader Development Program
Inspiring Leaders Motivate Others to High Performance
Is the ability to inspire and motivate others something that can be learned, or are you just born with it? At Zenger Folkman, we've unlocked the secrets behind this mysterious, yet all-important competency. Based on our extensive research, "the ability to motivate and inspire" was the competency direct reports demanded most.

The Inspiring Leader development program takes a skill-building approach to this crucial competency. Combining the classroom, surveys and a unique methodology, The Inspiring Leader development program will help leaders build the leadership skills they need to inspire and motivate their teams to greater success.

The Inspiring Leader program helps leaders become more inspiring by:

understanding how inspiring leaders positively impact business outcomes
learning & applying the 10 competencies that define inspiring leaders
discovering the 6 approaches to inspiring others
identifying & practicing proven inspirational strategies for communicating powerfully
building an individualized action plan that facilitates goal-setting & follow-through

The Inspiring Leader uses data-driven material to help organizations:

Increase employee engagement
Strengthen employee commitment
Drive productivity
Foster innovation
Boost profitability

THE EXTRAORDINARY PERFORMER™
The ability to make important contributions is within most people's grasp. Aspiring to be truly extraordinary can result in tremendous gains in productivity for the organization while boosting individual on-the-job satisfaction, growth, and opportunities.

Built on empirical research that identifies the behaviors that differentiate great performers, The Extraordinary Performer workshop provides the motivation and tools for all employees to increase their ability to contribute. They learn to understand how to take charge of their careers and their own long-term performance, while making a profound difference in their organization.

Participants:

learn about the factors that drive extraordinary job per­formance
understand how individual careers progress through stages that allow people to remain high contributors over time
are assessed on 16 competencies that distinguish the highest performing individuals from the rest

Using our unique cross-training approach, participants create a customized, actionable development plan that builds on their strengths, passions, and the organization's needs, providing a clear development roadmap for each individual to implement back on the job.

Coaching Skills that Improve Productivity
Effective coaches have the potential to significantly increase their personal leadership impact and the productivity and effectiveness of those they coach. By providing leaders with greater awareness and new frameworks for growing and developing others, leaders can create greater results and leave a profound legacy in their organizations.

The Extraordinary Coach workshop takes a strength based approach to improving coaching skills by focusing on what extraordinary coaches do well. Participants gain the critical coaching skills and tools they need to maximize their leadership effectiveness and coach others to perform at their peak. The outcome is more motivated, committed, and engaged employees. The Extraordinary Coach program helps leaders become better coaches by:

understanding how great leaders coach others to high performance
learning how to build trusting coaching relationships that inspire commitment
utilizing 360-degree feedback to identify key coaching strengths
learning how to hold powerful coaching conversations that drive action
using on-the-spot peer coaching and our unique cross-training approach to build an individual development plan

Featuring a fresh, unique cross-training approach, The Extraordinary Coach program is proven to drive employee productivity, commitment, and performance. Leaders create a customized, actionable development plan that builds on their strengths, passions, and the organization's needs, providing a clear development roadmap for each individual to implement back on the job.
Jack Zenger: Dean's Convocation
Jack Zenger - Leadership Speech
Jack Zenger - Four Generations in the Workforce
Growth Comes From Moments of Being Uncomfortable
Why Leadership Development Matters