* Please note that while this speaker's specific speaking fee falls within the range posted above (for Continental U.S. based events), fees are subject to change. For current fee information or international event fees (which are generally 50-75% more than U.S based event fees), please contact us.
Top25 Speaker Voting

Jack Shaw needs 16 vote(s) to make it into the Top 25 speakers on Speaking.com!
Speaker Booking Tip
"Tip: find a speaker in your local area to save on travel costs. Most speakers will also reduce their keynote fee for local events. "
For Event Planners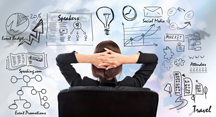 • Keynote Speaker Booking Toolkit.
• Booking a Celebrity Speaker.
• How to Find and Book the Right Speaker.
• Google+ Event Planning Forum.
• Tips for International Clients Booking U.S. Based Speakers.
Similar Speakers
John Krubski

Trend spotter, futurist, and change management expert, John Krubski has spent more than three decades helping client companies and teams make sense of data in…

Jim Brazell

Always ahead of the curve in the fields of technology, market, industry and education trends, Jim Brazell has been forecasting the future for over two…

Heather McGowan

Globally-known futurist Heather McGowan helps business and academic leaders prepare their people and organizations for the Fourth Industrial Revolution. The sought-out speaker, writer, and consultant…

I'm extremely impressed with your speakers bureau's follow-through, responsiveness and willingness to understand our needs so that he could match the best speakers with what we are looking for. I will definitely work with you again in the future. Thank you for all that you did to help us create an exceptional learning experience for our attendees.
American Society of Association Executives
About SPEAKING.com
Established in 1994, we are exclusive agents for some of the world's leading experts, celebrities and professional speakers.
We offer event planners a fully staffed speaker logistics planning team, plus a personal SPEAKING.com Account Executive – a knowledgeable and trustworthy partner. We guarantee your satisfaction with your speaker and a smooth booking process.
Contact us today to book your favorite speaker.

Clients are saying...

"As a convention planner I know the key to a successful meeting is a great lead-off speaker and you sure fit the bill! Thank you again for a riveting presentation."
Bethany Corum, Senior VP and Chief Administrative Officer, Florida Bankers Assn.

"Your keynote speech perfectly set the tone for a professional, informative conference."
Anne Lyndrup, Director, Conference, National Golf Course Owners Association

"Jack is the best speaker IÕve ever seen."
Richard Carlin, IS Manager, Airgas

"Your general session presentation was extremely informative and thought provoking. You brought new information and insight to even the most seasoned industry professionals"
Brad Ballance, Program Director SPEC 2000, Air Transport Association

"Your program delivered (and then some) at every level. It was informative, entertaining, challenging, visionary, and stimulating."
Richard R. Kurtz, Alltech Associates, Inc.

"Great presentation! Thanks again."
Valerie Bothun, State of California, Department of General Services

"I am pleased to say that you exceeded our expectations. Your instant rapport with the audience and your sense of humor kept them fully engaged throughout your presentation."
Richard B. Curtis, American Trucking Association

"We were hoping you would spark our members′ interest in electronic commerce. You succeeded!"
Patti Rouzie, National Beer Wholesalers Association



Associations
Air Transport Assoc.
Analytical & Life Science Systems Assoc.
American Petroleum Institute
American Resort Developers Assoc.
American Supply & Machinery Manufacturers′ Assoc.
American Trucking Assoc.
Associated Equipment Distributors
Association of High Technology Distributors
Ceramic Tile Distributors Assoc.
Credit Union Executives Society
Farm Equipment Manufacturers Assoc.
Floor Installation Assoc.
Florida Bankers Assoc.
Health Industry Distributors Assoc.
Industrial Distribution Assoc.
Laboratory Products Assoc.
LOMA
Meeting Professionals International
Mid-America Payment Exchange
National Alcohol and Beverage Commission Assoc.
National Association of Sporting Goods Wholesalers
National Beer and Wine Wholesalers Assoc.
National Funeral Directors Assoc.
National Golf Course Owners Assoc.
National Rural Electric Cooperative Association
Plumbing Manufacturers Institute
Rigid Plastic Packaging Institute
Tag & Label Assoc.
Tile Council of America
U.S. Cutting Tool Institute
Utility Purchasing Managers Group
Wine and Spirits Wholesalers of America

Utilities
Georgia Power
Pacific Bell
PP&L (Pennsylvania Power & Light)
Southwestern Bell

Petroleum
PanCanadian Petroleum
Pennzoil
Consulting
Arthur Andersen
Thomas Group
Finance and Insurance
Crawford & Company
CUNA Mutual Insurance Group
Farm Credit Council
Northern Trust
Seabury and Smith

Government and Related Agencies
California Dept. of General Services
Cobb County Georgia Chamber of Commerce
Department of Defense Fuel Supply Center
Federal Aviation Administration
PRISM
U.S. Department of the Treasury
U.S. Department of Veterans Affairs

Manufacturing
Allied Signal Aerospace
Alcan Cable
Anheuser-Busch
B.F. Goodrich Aerospace (Rohr)
Coca-Cola USA
Georgia Pacific
Greenlee Textron
Johnson & Johnson
Kaiser Aluminum
Motorola (Europe)
Quaker Oats
Sonoco Products
Swagelok
Textron Aerospace Fasteners

Information Technology
Computers Unlimited
CTS Inc.net
GE Information Services
Harbinger
IBM
MCI
Navision Software
SIGECOM
Other Corporations
Morrison Homes





Return to Top.
Surviving the Digital Jungle: What Every Executive Needs to Know About eCommerce and eBusiness(2nd Printing (Revised) May 2000)
by Jack Shaw

"The book does a very good job of clearing away the clutter surrounding this whole issue and, most importantly, provides a plan of action for the reader to follow."
Ray Reynertson, Sturtevant Richmont

"The Digital Jungle can be a cruel and punishing place with survival dependent on your ability to adapt. This book helps to provide an insight into the tools necessary to transform this jungle into a place of beauty and opportunity for those who must enter."
Bob Holinski, DMR Consulting Group, Inc.

With so much information to sift through, with limited resources and limited time to react, how can you chart the best course for your companys future? How can your company survive this technology revolution? The answer can be found in Surviving the Digital Jungle: What Every Executive Needs to Know About eCommerce and eBusiness.

Learn about:

The impact of eCommerce on the marketplace
The Current and emerging technologies of eBusiness
Examples of companies successfully utilizing the technologies
The steps to take for Digital Business Transformation




How to order :
Click here to learn more about this book and to order it securely online from Amazon.com. When the Amazon.com screen comes up, simply click "add it to your shopping cart" to order.



Excerpt from Surviving the Digital Jungle: What Every Executive Needs to Know About eCommerce and eBusiness
Are you positioned to survive in the Digital Jungle? The outcomes of the transition from the industrial economy of the 20th Century to the digital economy of the 21st Century are binary. That is, you will make the transition or you will not. Halfway measures will guarantee failure. Within a few years, surviving businesses will all be eBusinesses. Those who fail to make the transition will be bought up or simply disappear.

If you plan to survive in the emerging digital economy, you need to understand what is happening in our society and in our economy, and you must recognize the implications for your business.

We have entered a new age of civilization -- the Information Age. The Information Age is already proving to be as profoundly different from the Industrial Age in which most of us were born and raised as that age of airplanes and automobiles was different from the primitive agricultural eras that preceded it. Business Week magazine said, "Information technology affects every other industry. It boosts productivity, reduces costs, cuts inventories, facilitates electronic commerce. It is, in short, a transcendent technology -- like railroads in the 19th Century and automobiles in the 20th."

In 1965, Gordon Moore, co-founder of Intel Corporation, predicted that the processing power of the computer chip would double every 18 months. For over 30 years, that prediction, known as "Moores Law," has held true with no end in sight. Computing power is growing exponentially.

By early 1998, the first gigahertz chip had been tested in laboratories. In late 1998, IBM demonstrated the fastest computer in the world at that time - a machine capable of processing 3.9 trillion instructions per second. Thats 15,000 times faster than a state of the art 1999 personal computer. It also sports over 80,000 times the memory of that same PC. However, at recent rates of advance, most people can expect to own that kind of computing power by the year 2010.

Computing power is not only growing rapidly, the cost is falling equally rapidly. The standard unit of measure for computer speed is the ability to process 1 million instructions per second (or MIPS). As recently as the late 1970s, purchasing the computing power needed to process one MIPS cost hundreds of thousands of dollars. By 1991, the cost of one MIPS computing power had dropped to $230. In 1994, it was down to $50. In 1995 it declined to $16, and by 1997, it was down to $3.42. This trend means we must plan our business models and design our business processes for a future where supercomputing power is virtually as free as the air we breathe and the water we drink.

Data communications capacity, or bandwidth, is also growing exponentially. The speed of dialup modems has increased from 14.4K (thousand bits per second) to 56K over the past few years. However, that is dwarfed by the arrival of cable modems and ADSL telephone lines. These new communications channels will provide data communications capacities of six to 10 megabits per second. That is 100 to 500 times faster than the dialup modems of 1999.

But megabits are just a drop in the bucket compared to what is coming. At Lucent Technologies and MIT, the ability to transmit data at speeds in excess of a terabit per second has already been tested and proven. Thats 1,000 gigabits or a million megabits per second. That is enough data communications capacity to download an entire three-hour long movie, uncompressed, in a fraction of a second.

Perhaps even more than hard-wired communications, wireless digital communications will impact the way we work and live. On November 1, 1998, Motorola officially launched its Iridium satellite communications network. This network of 66 satellites in low Earth orbit provides wireless voice and data communications around the globe. Also in 1998, Teledesic Corporation launched the first of its 268 satellites into low Earth orbit. When this constellation is completed around 2002, it will provide wireless, broadband, multimedia communications and computing capabilities anywhere on the planet. It will be a virtual Internet in the sky.

Try to finish the following sentence correctly: "There are more telephones in Tokyo than..." As of this writing the answer is "...in the entire continent of Africa." Africa may never have as many hard-wired telephones as Tokyo, but, in a few decades, it will probably have every bit as good an information technology infrastructure. Wireless digital communications will bring the Information Age to parts of the world where lack of a communications infrastructure and economic resources have held back progress over the past century. By the middle of the 21st Century, wireless digital communication will have helped to make obsolete the phrase "Third World."

The combination of the data processing and data communications explosions is bringing unprecedented capabilities to humankind. For example, we shall soon see telephone switches and other devices that provide real-time translation between people conversing in different languages. Digital highways into the home already offer instant access to the worldÕs store of knowledge and information.

Virtual meeting rooms save people the wear and tear of air travel. Satellite-based personal communicators allow individuals to phone home from anywhere on the planet. And machines capable of emotion, inference, and learning are interacting with human beings in new ways. It appears that Star Wars C3PO and Star Treks Mr. Data may not be so far off after all!

How do you plan for the extraordinary changes taking place in our society and our economy? How do you more effectively manage your organization to ensure that it will survive such dramatic change as well as take full advantage of it? To begin with, you must answer the question, "How will the future of our industry be different?" Specifically, you must look five years out and ask:

In what end product or service markets will we participate?
Who will our customers be?
How will we reach them?
Who will our competitors be?
What will our competitive advantage be?
Where will our margins come from?
What capabilities will make us unique?



To answer such questions requires more than just industry forecasting, it requires industry foresight. The distinction is a key one. Forecasting starts with what is today and attempts to project what might happen tomorrow. Foresight starts by identifying what could be tomorrow and then determines what must happen in the interim to accomplish the desired result.

Industry foresight requires deep insight into key trends in technology, demographics, life style, and regulation in order to rewrite industry rules. Only then can you create the new competitive space that will ensure that your organization can survive and thrive in the digital economy of the 21st Century.

A study published in the Harvard Business Review discussed what it takes for companies to survive and succeed in the emerging digital economy. It pointed out that those companies which are most successful are those that exceed their competitors in three critical dimensions of management. Those dimensions are quality, speed, and cost.

Quality is no longer a competitive advantage, it is a competitive necessity. At leading-edge companies, the quality of their products and services is unsurpassed. In addition, they do things faster than the competition, whether that is filling a customerÕs order or bringing a new product to market. And finally, the delivered cost of their products is the lowest in the market.

Companies that excel in all three critical dimensions of management dominate their markets. Those that fall short in any one of these three critical dimensions, no matter how well they do in the other two, fall into the great majority of businesses simply struggling to survive in the market.

How can you simultaneously maximize the quality of your products and services, minimize your business process cycle times, and cut costs? The answer, at most businesses today, is that you cant do it. That is the challenge that management faces. It is impossible to simultaneously maintain quality, reduce business process cycle times, and cut costs given todays paperbound, people intensive business processes. The only way to make the changes needed to ensure that our organizations survive the transition from the industrial economy of the 20th Century to the digital economy of the 21st is to digitally transform our business models and business processes -- to become eBusinesses.

eBusinesses use digital technologies as enablers to transform their business models and business processes in ways not possible with traditional paper-bound communications.

A business process is a group of related activities that produces a result of value to the customer. Process redesign is best defined in the book Reengineering the Corporation, by Mike Hammer and James Champy, as "the fundamental rethinking and radical redesign of businesses to achieve dramatic improvements in critical contemporary measures of performance such as costs, quality, service, and speed."

A business model represents the combination of business processes that comprise your enterprise. Typically, an enterprise business model will consist of 5-10 business processes. An eBusiness results from the total digital transformation of your business. Transformation of business models and processes is necessary for several reasons.

First, customers are demanding individualized treatment. Second, competition is getting tougher. Were in a global marketspace now, and it only takes one global competitor to raise the bar for everyone else. Third, technological change has accelerated. It′s not only changing the nature of the products and services that we offer, but information technology is also increasingly being used as a strategic competitive weapon. Fourth, most organizations have fragmented processes. Our processes are built into industrial era organizational structures where stovepiped organizations allow information to flow vertically, but make it difficult for information to flow horizontally through processes that cross our traditional departmental boundaries. All this must change as we enter the 21st Centurys Digital Economy.

How to order :
Click here to learn more about this book and to order it securely online from Amazon.com. When the Amazon.com screen comes up, simply click "add it to your shopping cart" to order.



Whether you are a technology solution provider looking to help your target markets see the value of your offerings, or are with an organization who wishes to better understand the significance of new technologies, Jack can help you communicate more effectively with your audiences.
Jack speaks on many topics, and his presentations are custom-developed for each client. Below is a list of representative topic titles with brief Topic Descriptions. More detailed descriptions of each topic are available on request.
Jack delivers customized presentations on these and related topics. Or you can work with him to integrate aspects of multiple topics into a unique program that precisely meets the needs of your business and your audience.
OmniCommerce – Meeting Business' Next Grand Challenge
As we become an ever more mobile global society, people expect to be able to work, shop, and play from wherever they are located. And customers expect, indeed demand, a seamless experience across physical stores, web presence, and their mobile devices – that is, everywhere. This is OmniCommerce.
But making this happen means businesses must integrate their physical processes and their IT systems to provide consistent customer experiences and to make near real time decisions on virtually everything from product designs to marketing campaigns to investment strategies.
Join us for a session that will both stimulate action for today and catalyze change for tomorrow.
Bracing for the Big One: Business Systems and Processes That Think for Themselves
The Big One is coming, and it's coming soon. Intelligent Systems will utterly transform business, commerce, and society. Self-optimizing production scheduling, autonomic supply chains, and self-configuring business ecosystems are just a few examples of Intelligent Systems that will shake the world.
In this presentation, Jack will cite case studies, real-world examples, and success stories show how leading edge businesses are using these technologies to cut costs, improve service, and promote innovation.
Join us as he explains intelligent systems and what your organizations can do to plan for the most dynamic, breathtaking set of business technologies yet.
Intelligent Decision Management – Infusing Discipline into Decisions
We now have access to more information than we can possibly comprehend. In many cases, this glut of data has made it even more difficult to make decisions than in the past. What we need are systems and processes that help us make better decisions, and can do so faster, more accurately, more consistently, more flexibly, and at lower cost than traditional systems.
In this presentation, Jack will help you understand Decision Management – the principles and processes that make up a sound approach to handling decisions in the organization – whether day-to-day or strategic in nature.
Emerging Technologies for Executives
Mobile Commerce, Cloud Computing, Social Media, "Big Data", Intelligent Systems – these and other emerging technologies are changing how we do business at an accelerating rate. Most executives recognize that their companies should address these new technologies, but few fully understand their implications or how to respond to them.
In this speech, Jack presents practical, scalable ideas and innovations already in use. He shows how these technologies are facilitating deeper collaboration and how advanced practitioners are using them to better anticipate and meet the needs of their customers.
The Impact of Emerging Technologies on Energy Utilities
In this presentation, Jack will show how leading edge energy utilities are using advanced technologies to cut costs, improve service, and promote innovation. Equally importantly, he'll act as your guide to the future evolution of the energy ecosystem – showing how the integration of advanced technologies and sophisticated business processes will transform power generation, energy transmission and distribution, and energy management in the future.
Staying One Step Ahead of Mobile Devices
The rapid growth in payments via mobile devices epitomizes two key elements of the mobile revolution — smartphones and tablets are changing the business landscape at wildfire speed, far in excess of anyone's expectations.
The relentless surge in mobility is forcing marketing and IT departments to change priorities. Companies are realizing that they need to design their websites for mobile users first, rather than make this an afterthought.
With mobile devices growing in popularity, CIOs will need to rapidly adjust for this change or they'll have to redo much of what they are currently planning relatively quickly.
Mobile Computing: Moving the Construction Industry Ahead
Jack Shaw grew up in the construction business and has worked with and spoken to numerous construction businesses and related groups about how mobile computing is driving change and innovation in the construction industry. Mobile, cloud-based communications are cutting costs and speeding jobs through better scheduling and inventory control. This means improved margins and competitive position.
Mobile apps also are allowing builders to keep clients apprised of progress and resolve issues before they become problems. And forward looking construction businesses will use location based marketing and geofencing to promote their work to prospective new clients and the broader market.
Taking Cost Out of Your Supply Chain
The companies that comprise the most competitive supply chains take costs out of their supply chains through optimized, collaborative supply chain event management. Collaboration means the sharing of key supply, demand, and inventory information among partners up and down the supply chain – and in real time.
The Future of Manufacturing and Distribution
Autonomous Machinery; 3-D "Printing"; Dynamic Routing; Intelligent Production Planning; Optimized Picking, Packing, Loading, and Shipping. The future of manufacturing and distribution depends on emerging technologies that add increasing levels of intelligence to critical processes.
Manufacturers will dynamically reroute production orders as conditions change. Sophisticated planning systems will account for changing economic conditions and even weather to optimize production, picking, packing, loading, shipping, and distribution.
And breakthroughs in shared supply networks will cut costs and speed availability of parts and materials for manufacturers and finished products for distributors, retailers, and end consumers.
Enterprise Risk Management
After Lehman Brothers, the Japanese tsunami, and the Greek monetary crisis, businesses have realized that risk is a critical strategic issue. And, they've recognized that they can no longer manage risk in silos, but must address it on an enterprise-wide basis from the topmost levels of the company.

Jack Shaw Speech
Jack Shaw Speech
Jack Shaw - Using Supply Chain Decision Management to Control Costs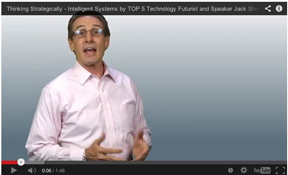 VIDEO: Thinking Strategically – Intelligent Systems by TOP 5 Technology Futurist and Speaker Jack Shaw ... more