Top25 Speaker Voting

Itay Talgam needs 5 vote(s) to make it into the Top 25 speakers on Speaking.com!
Speaker Booking Tip
"Tip: speakers bureaus can provide: speaker fee negotiation, insurance, smooth logistics and value add-ons such as extra sessions. "
For Event Planners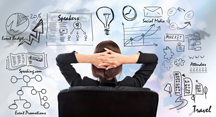 • Keynote Speaker Booking Toolkit.
• Booking a Celebrity Speaker.
• How to Find and Book the Right Speaker.
• Google+ Event Planning Forum.
• Tips for International Clients Booking U.S. Based Speakers.
Similar Speakers
Kevin Roberts

Worldwide CEO of the world's most famous advertising firm, Saatchi & Saatchi, Kevin Roberts has led the company to record financial success and outstanding international…

Erik Wahl

Erik Wahl is an entrepreneur, philanthropist, best selling author and graffiti artist. Wahl has also been described as the Picasso of Productivity, the Warhol of…

Tom Oliver

Award-winning speaker and philanthropist Tom Oliver combines leading business practices with social corporate responsibility - a holistic recipe for success in the 21st century. He's…

Working with your speakers bureau has been a pleasure. Everyone on your team was extremely responsive and informative, and really helped us to customize our event. I will be sure to reach out to your agency again in the future with any speaker needs that I may have.
The Advisory Board Company
About SPEAKING.com
Established in 1994, we are exclusive agents for some of the world's leading experts, celebrities and professional speakers.
We offer event planners a fully staffed speaker logistics planning team, plus a personal SPEAKING.com Account Executive – a knowledgeable and trustworthy partner. We guarantee your satisfaction with your speaker and a smooth booking process.
Contact us today to book your favorite speaker.

MAESTRO AT WORK Programs Overview
Why is music a successful metaphor for business?
Making music, in whatever culture and context, concerns such issues as communication, listening, rhythm, technique, preparation, improvisation and interpretation, rehearsal and performance. Concerts all over the world bring before us a great variety of performing bodies: large and complex symphony orchestras, intimate chamber music ensembles and jazz groups. Examining the diversity of organizational cultures raise questions concerning collaboration in general, including the roles (or the lack of them) of conductors, composers, soloists and accompanists. Different aspects of music making can provide stimulating insights into familiar management concerns such as leadership, teamwork, creativity, mentorship and personal development.
A new vocabulary, self-exemplifying process, fun
As well as being an excellent metaphor, music also provides an exciting new vocabulary for addressing these concerns. Entertaining in itself, and conceived as remote from the concrete tensions of the participant's work environment, it provides a 'safe', non-threatening atmosphere for discussion and self-reflection.
In the process of learning, the "Maestro" facilitator-conductor orchestrates the individual voices and 'rehearses' with the participants, maintaining constant dialog, maximum sharing of ideas and viewpoints, in a way that calls for and encourages active participation. Thus the process is self-exemplifying of its messages.
Where do we fit in?
"Maestro" programs are designed to support a wide range of applications for corporate and conference groups:
Team building, interdependence, whole-system thinking
Culture change initiatives
Leadership development
Executive meetings and board retreats
Celebration of organizational milestones
Promoting creativity and innovation
What are the business/music themes involved? All "Maestro" workshops present stimulating challenges for the participants, dealing with such themes as teamwork, rapid skill acquisition, listening, energy and synergy, managing resources, memory, multiple roles, and presentation skills.
In our workshops, video clips that trigger discussion and various participatory exercises are designed to enable the participants to have a fresh look at themselves and their working environments. We discuss challenging issues as self-discipline, skill & technique, acquiring of new skills, passion through self-actualization, communication, self-assessment and personal development, embracing change, training & performing.
Managers participating in a "Maestro" workshop will be encouraged re-examine their own images as 'conductors', while acquiring new insights into the workings of large and small musical ensembles. They will do so using new vocabulary for addressing leadership issues such as inspiration and vision communication, empowerment, preparation, persuasion, energy, interpretation and improvisation, working with minimal structures, promoting change, working with diversity, Rotational leadership, rehearsal vs. performance and mentorship.
What could your organization expect from "Maestro"?
Since "Maestro program" workshops were first delivered in 1996, we have been collecting feedback from our clients. Our intention was to form a framework of "realistic expectations", so that both our clients and ourselves can estimate the success of the workshop/lecture – not in terms of immediate audience satisfaction – which is always very high – but rather in its effect on attitudes and behaviors at the work place.
The participating managers can be expected to feel motivated and empowered as to their abilities to use their full range of communicating skills, and more secure in their ability to choose and make the best use of a certain leadership style. They also better understand the possibility of developing a range of managerial behaviors that are compatible with their style, as well as its limitations.
Managers are able to look at the culture of the organization as a whole, an at the way their on style of management, and those of their colleagues, work within the framework of that particular culture. Managers can also be expected to more aware of diversity as an asset of the organization, and of their own performance as trainers, mentors and motivators.
All participants can be expected to have an enhanced ability to examine themselves as team members, and new appreciation of the importance of supportive and collaborative behaviors.
When whole units of business organizations go through "maestro" training, the new 'musical' vocabulary becomes available, and serves as a 'softer' medium of communication – releasing tension and reducing alienation from the workplace, and promoting a feeling of 'fun' and satisfaction.
Suggested Program Customizations:
MAESTRO for Seniors: THE MYTH OF THE MAESTRO
MAESTRO for Managers: ORCHESTRATING MANAGEMENT SUCCESS
MAESTRO for Teams: Becoming An Ensemble Member
Itay Talgam: D-I-Y leadership INKtalks
Itay explains the anomalies of the importance given to various components of classical music performance, saying, "When you see a poster of a classical music event, you have at the top maybe 'Israeli Philharmonic Orchestra'-120 great musicians squeezed into one line. Then you have, huge, 'Zubin Mehta.' Then in very small print you see people with minor contributions to the event: Mozart, Beethoven…"
Explaining the problems this causes in the musical world, he says, "Many people don't find this funny. The players don't find it funny, because they say they have to meet a lot of semiconductors, if you see what I mean, not real conductors, let alone maestros who deserve this huge space. Now, I've asked myself… what makes it possible to really earn this space of huge print?"
Going on to analyze this question, he says, "Now I want to ask this question from a different perspective. What does it say about society, this kind of order that we have? Maybe we want to change a little bit the order and try something else?"
Itay Talgam: TED Talk
Itay Talgam: DLD Moscow
Interactive Speech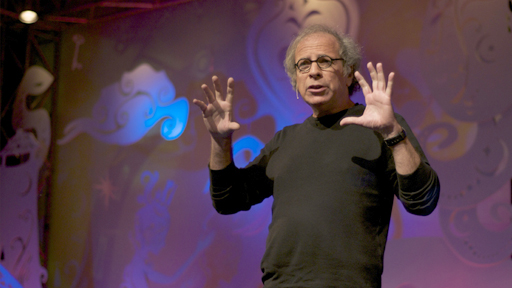 SPEAKING.COM: When and how did you discover your passion for music and begin your conducting career? ITAY: I played the Piano from the age of six, but hated practicing. As a teenager it seemed to me that conducting and composing would give me a really cool image, so I studied both! My four-year tour as ... more