* Please note that while this speaker's specific speaking fee falls within the range posted above (for Continental U.S. based events), fees are subject to change. For current fee information or international event fees (which are generally 50-75% more than U.S based event fees), please contact us.
Top25 Speaker Voting

Isaac Lidsky needs 6 vote(s) to make it into the Top 25 speakers on Speaking.com!
Speaker Booking Tip
"Tip: speakers bureaus can provide: speaker fee negotiation, insurance, smooth logistics and value add-ons such as extra sessions. "
For Event Planners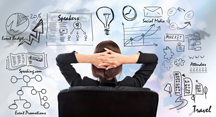 • Keynote Speaker Booking Toolkit.
• Booking a Celebrity Speaker.
• How to Find and Book the Right Speaker.
• Google+ Event Planning Forum.
• Tips for International Clients Booking U.S. Based Speakers.
Similar Speakers
Jim Craig

Ask any American over the age of forty for their top three memorable sporting moments and it's odds-on that the victory of the USA over…

Bryan Clay

The 2008 Olympic Gold Medalist in the decathlon, Bryan joined an exclusive group of American decathletes who earned the title of "World's Greatest Athlete," including…

Chris Widener

Chris Widener is widely recognized speaker who has presented dynamic programs in countries around the world, such as: Egypt, China, Singapore, Spain, Russia, Germany, Canada,…

Our agent was great to work with. Very easy to reach when needed and promptly returned messages. Thank you for making our event such a big success, we are looking forward to working with you again soon!
American Lung Association
About SPEAKING.com
Established in 1994, we are exclusive agents for some of the world's leading experts, celebrities and professional speakers.
We offer event planners a fully staffed speaker logistics planning team, plus a personal SPEAKING.com Account Executive – a knowledgeable and trustworthy partner. We guarantee your satisfaction with your speaker and a smooth booking process.
Contact us today to book your favorite speaker.

"We brought more than 700 of our worldwide managing directors together for a week of leadership development. Isaac Lidsky closed the program, teaching us to master our reality by embracing our potential and overcoming our perceived limitations. Our leaders were captivated and inspired by Isaac, and the session ended in a standing ovation... something that doesn't happen too often around here! We would love to host Isaac again soon."
Bob Gerard, Senior Manager, Talent Research and Innovation
Accenture
"Isaac Lidsky vividly demonstrates how to live and lead well-empowered, aware and accountable. He is a beacon of true success and inner happiness, and his vision is worthy of careful study."
- Michelle Gielan, Best-Selling Author of Broadcasting Happiness and Founder of the Institute for Applied Positive Research
"Isaac captures the essence of exceptional living and leadership through the lenses of inner vision and aspiration. True perspective is an active pursuit. I learned much from him and will approach my life and my work with my eyes wider open!"
- McKeel Hagerty International Chairman, Young Presidents' Organization (YPO)
"This year's center stage at YPO's Global Leadership Conference and Edge in Dubai was incredible. I loved Sting; his words and music were memorable. Being in the presence of Sheik Mohammad was remarkable. But the highlight of the experience was the inspirational talk by Isaac Lidsky. He shared powerful ideas on how to live and lead that I will always remember."
- Thayer Smith Managing Member, 1513 Group, LLC
"Isaac is inspiring. He triumphs in the face of great challenges, with grace and humility. I have seen how Isaac meaningfully connects with and touches those around him, and each of us is better for it. Because of his exceptional experiences, Isaac has much to teach about his practical yet expansive approach to life."
— Sandra Day O'Connor, Associate Justice, U.S. Supreme Court (Ret.)
"Few people have excelled in as many different ways as Isaac Lidsky has-and few have surmounted such hurdles. He has a fascinating, inspiring story to tell, and many practical, powerful insights to impart."
— Gretchen Rubin, Bestselling Author of The Happiness Project and Better Than Before
"Throughout his entire life, Isaac has proven time and time again that anything is possible, no matter the circumstance. His story is one of true strength, perseverance and hope - one that we can all learn something from. Isaac's journey will encourage many to think with limitless boundaries, and go after their dreams, no matter how big."
— Dan Gilbert, Founder & Chairman, Quicken Loans Inc., Majority Owner, 2016 NBA ChampionCleveland Cavaliers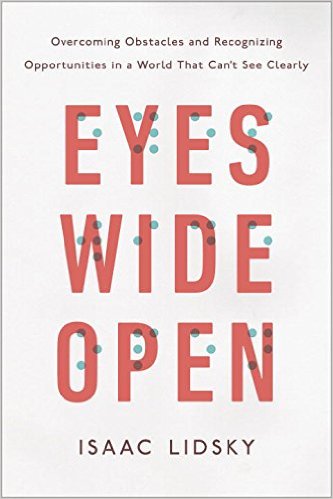 Eyes Wide Open
In
Eyes Wide Open
, Isaac Lidsky draws on his experience of achieving immense success, joy, and fulfillment while losing his sight to a blinding disease to show us that it isn't external circumstances, but how we perceive and respond to them, that governs our reality.
Fear has a tendency to give us tunnel vision—we fill the unknown with our worst imaginings and cling to what's familiar. But when confronted with new challenges, we need to think more broadly and adapt. When Isaac Lidsky learned that he was beginning to go blind at age thirteen, eventually losing his sight entirely by the time he was twenty-five, he initially thought that blindness would mean an end to his early success and his hopes for the future. Paradoxically, losing his sight gave him the vision to take responsibility for his reality and thrive. Lidsky graduated from Harvard College at age nineteen, served as a Supreme Court law clerk, fathered four children, and turned a failing construction subcontractor into a highly profitable business.
Whether we're blind or not, our vision is limited by our past experiences, biases, and emotions. Lidsky shows us how we can overcome paralyzing fears, avoid falling prey to our own assumptions and faulty leaps of logic, silence our inner critic, harness our strength, and live with open hearts and minds. In sharing his hard-won insights, Lidsky shows us how we too can confront life's trials with initiative, humor, and grace.

Eyes Wide Open
You create your own reality, and you believe it. Isaac will prove it to you, sharing his eye-opening perspective of sight itself as an example. You'll gain the vision to shape your life deliberately, with awareness and accountability.
Leadership & Teams
To lead is to listen. True leadership is the alignment of intentions and effort, and true success a byproduct of common purpose. We accomplish nothing alone, and we accomplish little if we cannot listen to each other. Isaac will talk you through it. Listen to him and you'll learn to conduct a harmonious team.
Motivation & Achievement
In every moment you choose who you are and how you want to live your life. With this empowerment comes responsibility, complete and inescapable. When you're beset by challenges, you're tempted to plead with your heroes, blame your villains and surrender to your limitations. This is a temptation to relinquish your choice, to abdicate your control. Isaac will inspire you to make a better choice. Your heroes, villains and limitations are fictions you perceive as reality. Choose to see through them. Choose to let them go.
Change
Fear is a powerfully destructive force in our lives. Above all else we fear the unknown. Yet to thrive in transition we must find empowerment in uncertainty. Isaac will show you how to deconstruct fear's oppressive tunnel. You'll learn to embrace the expansive possibilities of the undefined and uncharted.
Entrepreneurial Endeavor
Effort without purpose is entropy. When we labor without a goal we are destined to fail. Using his 3 successful startups as examples—an internet advertising technology company in New York (sold for $230 million); a nonprofit to fund scientific research in Washington, DC ($0 to $5 million in 5 years); and a construction services business in Florida ($15 to $150 million in 5 years)—Isaac will show you how success is a matter of definition. You'll learn to reinvent yourself and create the organization that expresses achievement as you see it.
Isaac Lidsky: TED Talk
Motivational keynote speaker, Isaac Lidsky reveals that we have much more power over how we experience the world than we realize. He recounts the strange reality he encountered as his vision gradually deteriorated over the course of 13 years and how the process taught him that not even our own sight is a reliable source of truth or "objective reality."
Drawing from scientific research, he explains that our vision can more accurately be described as a personalized virtual reality, constructed by several unconscious cerebral processes that are heavily influenced by our emotions, personal history, and pre-existing notions of how the world works. "What you see impacts how you feel and how you feel can literally change what you see," Lidsky illustrates, citing several studies and examples.
Fear, he points out, likewise shapes the reality we create for ourselves. Our fears often paralyze us, hindering us from taking action, pursuing our opportunities, and fulfilling our potential. Lidsky describes how he almost let his own fear of going blind limit him to "an unremarkable life, small and sad and likely alone." "If I had not confronted the reality of my fear, I would have lived it," he assures the audience, explaining how cultivating heightened awareness and accountability of his own thoughts helped him master the discipline of living with his "eyes wide open."
Isaac Lidsky: Highlight Reel