* Please note that while this speaker's specific speaking fee falls within the range posted above (for Continental U.S. based events), fees are subject to change. For current fee information or international event fees (which are generally 50-75% more than U.S based event fees), please contact us.
Top25 Speaker Voting

Ira Blumenthal needs 8 vote(s) to make it into the Top 25 speakers on Speaking.com!
Speaker Booking Tip
"Tip: ask your speaker to do a book signing or attend a VIP meal with your guests. "
For Event Planners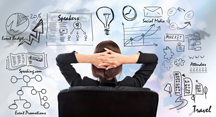 • Keynote Speaker Booking Toolkit.
• Booking a Celebrity Speaker.
• How to Find and Book the Right Speaker.
• Google+ Event Planning Forum.
• Tips for International Clients Booking U.S. Based Speakers.
Similar Speakers
Jack Sims

"It′s not how much you want, but how much you want it!" – Jack Sims Jack Sims – Founder and CEO of America′s largest marketing…

Raleigh Pinskey

Raleigh R. Pinskey, President and Founder of Raleigh Communications, specializes in helping business people to create wealth, abundance, freedom and a success path to achieve…

Marjorie Brody

Marjorie Brody has gained a reputation as one of the best speakers for professional development in the USA. Her clients from the Fortune 100 and…

Our agent was great to work with. Very easy to reach when needed and promptly returned messages. Thank you for making our event such a big success, we are looking forward to working with you again soon!
American Lung Association
About SPEAKING.com
Established in 1994, we are exclusive agents for some of the world's leading experts, celebrities and professional speakers.
We offer event planners a fully staffed speaker logistics planning team, plus a personal SPEAKING.com Account Executive – a knowledgeable and trustworthy partner. We guarantee your satisfaction with your speaker and a smooth booking process.
Contact us today to book your favorite speaker.

"Your energy and practical life examples really captivated the audience. I appreciate that you took the time to educate yourself about the Group Insurance business so that you could relate your presentation to the realities we are facing. You dealt with the topic of change in a humorous yet meaningful way and your remarks set the tone for the remainder of the conference. We received excellent feedback from your program."
John McGrath, Vice-President
The Prudential Insurance Company of America

"Ira was awesome. He got a standing ovation at the end. Ira was fantastic! Thank you (addressed to the bureau that booked Ira) for sending us the BEST!!! He was wonderful. Everyone loved him and his style was perfect for the audience, time and theme."
Donna Fields, Vice-President
BellSouth

"Ira was terrific. His topic was a great blend of pertinent business subject matter combined with humor."
Mary McCune
GVA Advantis
Palm Beach, FL

Ira was incredible! He was not only extremely helpful in preparing for the conference, he was outstanding as our conference moderator onsite. I would recommend him to others within our company as well as external."
Stephanie Waters
NCR Corporation
Washington, DC

Ira is a wonderful speaker and he hit the topic right on the head. We had him tag-team with two other speakers and the audience response couldn′t have been better. Thank you."
Dawn Schumacher
U.S. Central
Miami, FL

"You have single-handedly given this course a distinctive image on campus. ′Is Ira coming this year?′, is the familiar phrase. You belong in the classroom. As a business executive, you play an extraordinary role in bridging the gap between the campus and the world of work."
Dr. John W. Allen, Professor
Michigan State University

"Ira has a unique knack for engaging an audience. And while the audience is engaged, he educates them. One thing you can be guaranteed with Ira is that you never know what he′s going to do next. He is an incredibly dynamic and knowledgeable speaker."
Chuck O′Dell, Division President
Marriott

"Here it is ten days later and I am still energized by your presentation. How the heck do you do that on a regular basis? What kind of vitamins are you taking? I think you could tell by the extended ovation that you were well received by the footwear executives."
Barbara Singer, Vice President of Communications
Footwear Industries of America
Managing Brand You: 7 Steps to Creating Your Most Successful Self
Whether we realize it or not, we are all brands. We all have qualities that shape and influence how the people in our lives see us—and how we see ourselves. Nationally respected brand experts Jerry Wilson and Ira Blumenthal have helped some of the most exceptional companies and individuals in the world perfect their images. Now, in Managing Brand You, they reveal their proven seven-step process for personal brand building.

Using illuminating examples from successful corporations like Coca-Cola and Starbucks as well as high-profile celebrities like Bono and Oprah, Managing Brand You gives readers a step-by-step guide for conducting a self analysis, creating a unique identity, defining their objectives, discovering their passions, creating a plan, putting that plan into action, and monitoring their progress. Wise and insightful, this book will help readers identify what it is that makes them unique and communicate it in a way that guarantees them success.
Order Here





Strength In Numbers (Strategic Alliances)
Call it business development synergies, joint ventures, partnering, or strategic alliances... there is truly strength-in-numbers! This highly interactive keynote educates and motivates companies of all sizes (entrepreneurial, second tier, mid-size, multi-national) on the importance, power and viability of alliances. After all, we are fast-moving into ′The Age of Collaboration.′
Change Is Inevitable - Growth Is Optional
There is one constant in life (and business)... change! Change is not new. What is new is the incredible speed of change. Industries, companies and careers have gone from ′distinction′ to ′extinction′ because of their inability to adapt, adjust and master change. This session offers a high-content, high-energy, ′hands-on′ approach to embracing as well as capitalizing on change in business building.
Brand-Building for Your Future
Products are consumed. Brands are purchased. In our branded world, we make Xerox copies, blow our nose in Kleenex, snack on Jell-O, relax in the Jacuzzi and cover wounds with Band-Aids. From Nike on our hats to Tommy on our shirts to Swatch on our watches and Starbucks in our cups, branding is critical to business development. This session focuses on the philosophy, strategy, guiding principles and ′best practices′ to create, build, maintain and manage brand success.
Myths and Misses In Marketing (Business Development)
This energetic speech (and workshop) focuses on challenging conventional wisdom. Targeting the fourteen greatest ′myths′ in marketing (i.e., ′Bigger Is Better,′ ′Close Enough Is Good Enough,′ ′The First One In Wins,′ ′It Won′t Happen Here,′ etc.), participants learn from history (the ′misses′) and gain a well-defined understanding of ′the compelling imperatives′ for success in a complex, highly competitive business climate.
The DNA of Success (Success)
In business and in life, success (and fulfillment) is not an accident. Using dynamic messages on success from his talk show interviews with "success stories" such as Colin Powell, Mario Andretti, Debbi Fields, Tommy Lasorda and others, as well as his diverse business career, Ira provides audiences with the compelling imperatives for success, fulfillment and peak performance. Filled with "best practice" examples, provocative anecdotes and purposeful humor, this is a high-appeal speech with great content. The company (and career) on top of the mountain didn't fall there!
Managing Brand You (Personal Branding)
What if you thought of yourself as a brand? Everyone struggles with what they stand for… or what they'd like to stand for… Each one of us is a brand. This speech focuses on the disciplines of business branding and applies them to the process of crafting, developing, extending, managing and protecting your most important brand… "Brand You!" Ideal for business executives, sales professionals, even non-business audiences… this is an interactive, high-energy, fun-filled educational (and inspirational) speech (and workshop) experience. What if you thought of yourself as a brand?

Speaking Demo Video
Ira Blumenthal offers his insights on the marketing process and branding to his audience. Using an example from his own life, he says, "Years ago I had a Toshiba photocopy machine in my office, and I would ask my secretary to make me a Xerox. Now I'm not saying that's bad or good, but we live in a branded world… a corporate and also a personal branded world. As a corporation, you want to be trusted, don't you? Well guess what, that's part of branding."
Urging his listeners to think how they can improve their own branding, he says, "You've got to think of the right images, of the right messaging, of the right words. By the same token, you represent your telco, and you've got to manage brand you. Why? Because you represent your organization. The way you act, the way you speak, where you go, how you work, your essence, is all going to be reflected upon the organization you work for."
Explaining further, he says, "You see, in marketing, we have these terms identity, and equity, essence and image. Let's talk a little bit about that. Brand identity, brand image, changing rapidly folks.… brand identity, my personal image of what people see… brand image, that's the way they see you."
Speech Clips