* Please note that while this speaker's specific speaking fee falls within the range posted above (for Continental U.S. based events), fees are subject to change. For current fee information or international event fees (which are generally 50-75% more than U.S based event fees), please contact us.
Top25 Speaker Voting

Howard Putnam needs 9 vote(s) to make it into the Top 25 speakers on Speaking.com!
Speaker Booking Tip
"Tip: speakers bureaus provide added value that you cannot get by booking speakers directly. "
For Event Planners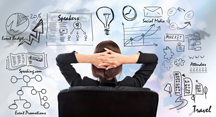 • Keynote Speaker Booking Toolkit.
• Booking a Celebrity Speaker.
• How to Find and Book the Right Speaker.
• Google+ Event Planning Forum.
• Tips for International Clients Booking U.S. Based Speakers.
Similar Speakers
Tan Le

One of the science world's most successful and influential CEOs, Tan Le started her incredible life journey as a refugee facing a high probability of…

Terry Jones

Founder of Travelocity.com, Terry Jones has a proven track record of leading companies that have revolutionized their industry. The former travel agent practically put travel…

Braden Kelley

Braden Kelley is the author of two best-selling books, Charting Change and Stoking Your Innovation Bonfire and has been advising companies on how to increase…

It was an extreme pleasure to work with our account rep. She was friendly, flexible, and knowledgeable about all their speakers. She made the process simple. I cannot begin to put into words the impact that our speaker had on our audience. People are still taking about his presentation and his program set a standard on all diversity programs.
FDIC: Federal Deposit Insurance Corporation
About SPEAKING.com
Established in 1994, we are exclusive agents for some of the world's leading experts, celebrities and professional speakers.
We offer event planners a fully staffed speaker logistics planning team, plus a personal SPEAKING.com Account Executive – a knowledgeable and trustworthy partner. We guarantee your satisfaction with your speaker and a smooth booking process.
Contact us today to book your favorite speaker.

"Outstanding comments from our attendees, Howard was a major highlight and lived up to his Keynote billing."
American Pistachio Growers
(Event booked by Speaking.com)

"First, thanks for the great job you did on our behalf. You are a true professional and I cannot begin to tell you how many great things I′ve heard regarding your keynote. The way you incorporated our executives' names throughout the speech made it seem as though you are old friends. I wish all speakers took their responsibilities with as much dedication as you do. Again, thanks for all you did on our behalf. Our CEO mentioned it was the best Kick-off in company history. You are a major reason why."
BMC Software, Inc.

"I want to personally thank you for your appearance at the Bank′s Annual Planning Conference. The reviews are in and your presentation was rated as outstanding by the participants. The subject matter and your delivery really hit home with our leadership."
Federal Reserve Bank of Boston

"I′ve always appreciated Howard's honesty and ethical approach. He shows you pathways to resolve difficulties with many constituencies during good and difficult times."
Marriott Corporation
Leadership - Successful Strategies Through Turbulent Times
Leaders must have a clear and concise vision if they want their organizations to survive and thrive through turbulence. A clear understanding of what business you are really in is critical. Cultures can then be developed to support the vision and business. Bottom line improvement comes through your people. Howard shares his principles of leadership and outlines key strategies to navigate turbulence successfully.

Innovation - Creating a Culture and Process for Ideas to Emerge
Innovation occurs in organizations that embrace a culture for risk taking and idea implementation. Howard Putnam proved this philosophy works when he was CEO of Southwest Airlines. He positioned and organized Southwest for growth and profitability utilizing a very flat management structure with decision-making and idea development imbedded in everyone′s job scope and responsibility. Individuals and teams were rewarded for risk taking and for designing out of the box processes and improvements in productivity, customer service, cost containment, safety and profitability. Brands develop when people thrive in the vision and experience.

Change - Transforming Organizations Successfully & Profitably
Many organizations are out of alignment in the current turbulent environment. Their design is outdated with bureaucracy and a hierarchy that is expensive and inefficient. Howard Putnam will show you how to transform your business into a "flow state" organization that is focused, nimble, flexible, cost effective and able to utilize the "stages of turbulence" which he will identify for you to take advantage of being in a change state.

People and Culture - Hiring Attitudes & Developing Their Skills
Successful organizations that are in business for the long term, place their people first if they want sustained bottom line improvement. Howard Putnam led the visioning process at Southwest Airlines in which a key element was the culture, putting their people first and matching attitudes with the culture. Happy employees and superior customer service resulted from this concept. He will share behind the scenes looks on how this was accomplished with great stories, humor and concrete ideas and suggestions.

Ethics - The Ultimate Challenge in Ethics; Are You Really the Person Your Dog Thinks You Are?
Organizations cannot ignore the need for proactive efforts to ingrain honesty, integrity and trust at every level. Today′s environment requires ethical leaders, if they want their businesses to survive and grow. Howard Putnam learned the values of trust and honesty as he grew up on an Iowa farm. He has embodied those principles in his successful business career. He took on the challenge of saving Braniff International only to find the "books had been cooked" prior to his arrival. He will share this character building experience of taking a major airline through Chapter 11 successfully and offer a flight plan for you to implement in your organization.
Demo Video
"I've never met anyone who stayed with Southwest Airlines who didn't enjoy it, because if they didn't enjoy it they were forced out quickly by their peer group," explains Howard Putnam as he reflects on the value of an enjoyment culture within a business. "They had over 200,000 resumes on file which had not been asked for, from people who had seen the culture and thought 'I would be a good fit for that.' That's how you begin to build a brand."