* Please note that while this speaker's specific speaking fee falls within the range posted above (for Continental U.S. based events), fees are subject to change. For current fee information or international event fees (which are generally 50-75% more than U.S based event fees), please contact us.
Top25 Speaker Voting

Holly Atkinson needs 6 vote(s) to make it into the Top 25 speakers on Speaking.com!
Speaker Booking Tip
"Tip: ask your speaker to do a book signing or attend a VIP meal with your guests. "
For Event Planners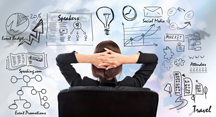 • Keynote Speaker Booking Toolkit.
• Booking a Celebrity Speaker.
• How to Find and Book the Right Speaker.
• Google+ Event Planning Forum.
• Tips for International Clients Booking U.S. Based Speakers.
Similar Speakers
Glenna Crooks

Glenna Crooks, PhD, is one of the most sough-out policy advisors in both public and private sectors when it comes to healthcare. Glenna uses her…

Josh Luke

A healthcare visionary, Dr. Josh Luke prepares providers and patients for policy, management and technology changes in the healthcare sector. Dr. Luke is a former…

Dr. Allan Hamilton

Dr. Allan J. Hamilton is a highly sought after speaker in the field of health, spirituality and wellness. A Harvard trained brain surgeon and author,…

Working with your speakers agency on our training projects during the year proved to be a great business choice. I felt that my account reps were always around when I needed them, willing to help and listen. They showed flexibility when it was required and were reliable and dependable.
KPMG, Europe
About SPEAKING.com
Established in 1994, we are exclusive agents for some of the world's leading experts, celebrities and professional speakers.
We offer event planners a fully staffed speaker logistics planning team, plus a personal SPEAKING.com Account Executive – a knowledgeable and trustworthy partner. We guarantee your satisfaction with your speaker and a smooth booking process.
Contact us today to book your favorite speaker.

"You were a huge hit with our attendees. Throughout the remainder of the conference, we heard women referring to tips you provided…Your presentation was informative, practical and delivered in an entertaining manner. Job well done!"
Diane Windholz, Esq.
Jackson Lewis LLP

"I can′t convey to you fully how much I appreciate your making the inaugural public education venture of the Dayton Heart Hospital′s Heart Foundation the smash success that by all measures it was. We have been deluged by favorable comments and questions about the next event. Your talk was right on target and your message crystal clear."
Dr. Sylvan Weinberg
Dayton Heart Hospital Foundation

"It was a great seminar on Saturday. Thank you for sharing your wealth of knowledge and wisdom. You will be thrilled with your evaluations. They are terrific."
Chris Summerfield
Baptist Hospital East, Louisville, Kentucky

"Everyone here is still talking about how lovely, polished and wonderful you are. We are so lucky to have had you! Your - message hit home to our community."
Catherine Hagan
Carilion Health System, Roanoke, Virginia

"We are still receiving rave reviews about your presentation! The women really appreciated your accessibility, your humor and your candor."
Betsy Hatfield
Boca Raton Community Hospital Foundation

Your dedication as a medical journalist and advocate of human rights in striving for excellent patient care while being compassionate in our course of continuous learning, training and research was most encouraging. Our cancer patients, physicians and nursing staff express their gratitude. Your insight offered a heartwarming hopefulness in a most knowledgeable, personable and responsible way as we, here in our medical community, continue on our journey treating cancer.
Gazi Abdulhay, M.D.
Medical Director, Lehigh Valley Cancer Center

"It was awesome. Dr. Atkinson was certainly the right choice for our group--she was intellegent, entertaining and very personable. Everyone enjoyed meeting her and becoming educated on women′s health issues."
Jamie Pickrell
Experience Events

"Your presentations were thoughtful, sensitive to the audiences, and provided excellent guidance for those seeking to improve their lives. On top of all that, you were a delightful dinner guest on Saturday evening. Let′s keep in touch...and perhaps we can book you for a return engagement in 2005."
Michael Traphagan
Preferred Care

"You did a fabulous job on Saturday and I′ve received so many compliments on your keynote address. A couple of people also approached me after the event inquiring for more information about you as they have events coming up! Your keynote address was so factual, real and motivating. As an attendee, you truly motivated me to make some positive changes in my lifestyle. You can count that I will be watching more carefully my diet and exercise! Thank you again for your help in making Healthy Women, Healthy Lives a successful event!"
Michelle Vanderburg
Presbyterian Healthcare System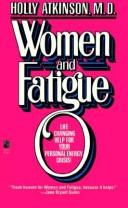 Atkinson, a physician and former medical reporter for CBS, examines the physical, psychological, and life-style causes of tiredness and chronic fatigue in women and offers sensible, practical help. She discusses how to deal with the fatigue caused by the hormonal changes of menstruation, pregnancy, and menopause. Further, she explores the role of diet and lack of sleep, reviews the beneficial effects of exercise. She encourages the circumspect use of alcohol and over-the-counter and prescription drugs, and warns against smoking. Some fatigue is normal, she stresses, but chronic fatigue should be viewed as a symptom and professional help sought. A comprehensive, useful book for general collections. Jodith Janes, University Hospitals of Cleveland Lib.
Order Here
"It was awesome. Dr. Atkinson was certainly the right choice for our group--she was intellegent, entertaining and very personable. Everyone enjoyed meeting her and becoming educated on women′s health issues."
Jamie Pickrell
Experience Events
MOST POPULAR PROGRAMS:
The 5 Keys to Maximum Health
We are living in "a land flowing with milk and honey," and it's killing us. Our Western lifestyle drives inflammation in the body, which plays a primary role in the development of our killer diseases. Our society also promotes shallow and self-centered behavior, leading to depression and despair.
Women, Stress and Fatigue: Best Solutions
Stress and fatigue are problems that increasingly plague American women. And too often, we are not taken seriously. Increased economic hardship —added to balancing work and family, caring for aging parents, and coping with the daily onslaught of demands, just to name a few—have all contributed to unprecedented levels of stress and fatigue.
Good Health in Hard Times
In this practical, reassuring and inspiring speech, Dr. Atkinson cuts through the clutter of information to give your audience the bottom line on achieving optimal health. She goes straight to the heart of matter, teaching participants where they'll get the "biggest bang for their buck."
ADDITIONAL CONSUMER KEYNOTES:
Be Your Own Chief Longevity Officer
Best Medical Treatments for Women
Conquering Heart Disease - How to Prevent the #1 Killer
Going Green, Going Healthy
How to Live The Long Good Life
The Best Diet for Women
The Obesity Epidemic: Why America is Overfed and Undernourished
The Third Body: Nurturing Your Relationships
Women, Chocolate and Sex
On Womenfluence - The Power of Women to Promote Maximum Health
Demo Video
Dr. Holly Atkinson, wellness expert, introduces her speech with her characteristic good humor. She explains, "I was looking at a survey recently which showed the main things that Americans are afraid of. You'd think that death would be number one, but actually it's right down at number seven. The thing that is actually at number one is public speaking; that means that most of you would rather be dead than up here where I am now."
In this speech, Holly quickly runs down the history of the difference in the life expectancy between men and women. "In the past 100 years we have come close to doubling life expectancy. That's really an extraordinary accomplishment. So here we are now. Women still are outliving men by about five years. You [men] have actually closed this gap a little bit. It used to be seven years; it's now down to five years."
Reviewing the latest developments in longevity, she tells the audience, "Here we are, women are still outliving men by about five years, we've closed the gap a little bit, it used to be seven years… I'm reminded of an editorial that an elderly British physician wrote recently in the British Medical Journal; he was asking the question why is it that women still outlive men and he went through all possible theories… at the end of the article he said we really still don't know, it must be in the genes, that men are cut out for a short brutal life and women a long miserable one."
Moving onto specific medical issues, she addresses issues surrounding inflammation. She asks, "What causes inflammation in our body? It has to be to do with our environment. If you look at our basic way of living, the food we eat, the lack of exercise, the high levels of stress, all of these underlie the pathology which is information leading to chronic disease."
She goes on to say "I'm reminded of an editorial that an elderly male physician wrote recently in a British Medical Journal. He was asking the question: "Why is it that women still outlive men?" And he went through all the possible theories and hypotheses as to why that's true and he got to the end of the article and he said: "You know what? We really still don't know." He said "It must be in the genes and that men are cut out for a short brutal life, and women for a long, miserable one."