* Please note that while this speaker's specific speaking fee falls within the range posted above (for Continental U.S. based events), fees are subject to change. For current fee information or international event fees (which are generally 50-75% more than U.S based event fees), please contact us.
Top25 Speaker Voting

Hilka Klinkenberg needs 7 vote(s) to make it into the Top 25 speakers on Speaking.com!
Speaker Booking Tip
"Tip: speakers bureaus provide added value that you cannot get by booking speakers directly. "
For Event Planners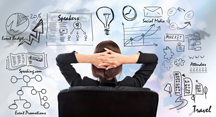 • Keynote Speaker Booking Toolkit.
• Booking a Celebrity Speaker.
• How to Find and Book the Right Speaker.
• Google+ Event Planning Forum.
• Tips for International Clients Booking U.S. Based Speakers.
Similar Speakers
Kathleen Pagana

Veteran nurse, Kathleen Pagana leads the way in professional etiquette training and stress management for healthcare professionals. She is the author of The Nurse's Communication…

Joy Harjo

Throughout her lengthy career, legendary poet, author, and musician Joy Harjo has broken many barriers to become one of the first female indigenous voices to…

Michael Soon Lee

For over 25 years, Michael Soon Lee has been the go-to expert for how to boost sales to diverse populations. Michael equips teams with the…

I just wanted to send a quick follow-up note to say – THANK YOU! I appreciate your partnership, and perseverance in helping us to find the right speaker for our group. Our speaker was absolutely excellent! The group loved him; it was perfect.
DeVry Education Group
About SPEAKING.com
Established in 1994, we are exclusive agents for some of the world's leading experts, celebrities and professional speakers.
We offer event planners a fully staffed speaker logistics planning team, plus a personal SPEAKING.com Account Executive – a knowledgeable and trustworthy partner. We guarantee your satisfaction with your speaker and a smooth booking process.
Contact us today to book your favorite speaker.

"Hilka was right on target with her training. Her workshop made an outstanding impression on our employees and made a solid contribution to our overall program."
Janet Crawford, Senior Specialist—Training, Con Edison
"Poised, knows of what she speaks."
Merle Clark, Cooney/Waters Group
"Participants raved about your session, and used words such as class act, great topic, excellent information, fascinating, would like to see more of this topic, knowledgeable presenter, fabulous presentation."
Sharon Bar-Sakay, Chair Fall Conference, NY Metro ASTD
"Our members have very high expectations and, based on the comments I have received following your presentation, you not only met but clearly exceeded them."
Bernie Eisenberg, President, SHRM Western Connecticut Chapter
"Extremely interesting and informative. I learned a lot to take back to the office."
Susan Powell, Training Specialist, People's Westchester Bank
"Clean, to the point, with good humor... her own best example. Nicely done."
Harry Moore, NYIMS
"I will be sure to look for opportunities to recommend this program."
Denise Carroll, The Training Annex
"Based on written and verbal evaluations your talk was outstanding."
Steven Protass, KPMG Peat Marwick, New York
"Thank you for your outstanding performance and for making the program such a success."
Richard H. Sullenger, 1993 Divisional Vice Chair, Million Dollar Round Table
Lyle L. Blessman, President-Elect, 1994 Million Dollar Round Table
"Personable—flexible—patient. Q&A's were handled very well. Nice adult to adult style—professional but not stiff."
Tim Kidman, VP Human Resources, Reuters America, Inc.

"Excellent—most advantageous to those of us who either travel abroad or entertain international guests."
Jeff Young, President, Lexington Furniture Industry




"Hilka Klinkenberg is an expert on the rules of practical protocol. Her advice immediately puts you in a position of power when you entertain for business."
Pamela Von Nostitz, Editor-in-Chief, Agenda, New York

Clients Include

Corporate:
AlliedSignal
American Express
Audio Book Club of America
Brielle Executive Gifts
Cologne Life Reinsurance
Con Edison
Continental Airlines
Coopers & Lybrand
Creamer Dickson Basford Public Relations
DowBrands LP
Fleishman Hillard Public Relations
Furman Selz LLC
KPMG Peat Marwick
Lehman Brothers
Masco Home Furnishings
Merrill Lynch
OCP America
Porter/Novelli Public Relations
PHH Real Estate Services
Prudential Insurance Company of America
Prudential Securities
Red Lobster
Reuters
Sony
Government:
Department of Commerce (OTEXA Division)
Associations:
Amalgamated Apparel Manufacturers of America (AAMA)
American Council of Life Insurance (ACLI)
American Society of Association Executives (ASAE)
American Society for Training & Development (ASTD)
Association of Image Consultants International (AICI)
Chicago Society of Association Executives
Council of Protocol Executives
Executive Women International
The Fashion Group
Hospitality Sales & Marketing Association
International Association of Business Communicators (IABC/LI)
Million Dollar Round Table
Public Relations Office Managers of America (PROMA)
Society for Human Resource Management
Women In Communication, Inc. (WICI)
Education:
International House
New York University
Parsons School of Design
Stern School of Business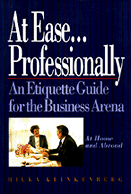 At Ease... Professionally
An Etiquette Guide for the Business Arena
This wonderful resource contains everything professionals need to know to feel polished and self-assured in any business situation.
The 3 A′s of a Winner
First impressions are made within a matter of seconds, and they are lasting. But, being "dressed for success" and "colored beautiful" won′t make you a winner if your attitude and actions don′t reinforce a positive visual appearance. Being a superachiever won′t win you kudos if a new client pays a surprise visit on "dress-down Friday" and you or your staff look like slobs. To be a winner, your appearance, your attitude and your actions must all reinforce a positive message.
Manners Mom Never Taught You
The do′s and don′ts of gender etiquette are one of the most confusing aspects of dealing with peers in today′s business arena. Because men and women do not understand the acceptable behavior for interacting with peers of the opposite sex, mixed messages are sent that too often can be perceived as mild forms of harassment. This tape covers the do′s and don′ts ... and their consequences!
F*I*R*S*T*G*E*T*G*O*O*D
The basics of global business etiquette for any executives who want to appear as savvy and feel as in control abroad as they do on their home turf.
Mastering the Art of Mingling
The nuances of effective mingling at any event where business may be conducted.
The Power of Lunch
...or breakfast or dinner. The average American spends between 700 - 800 hours annually eating. Many of those hours are spent in the company of business associates. Since revisions to the tax laws have made business dining more costly, it behooves all executives to ensure that their meals are as effective as possible.
Improve Your P&L by Minding Your P′s & Q's
An overview of the importance of business etiquette in getting and keeping clients in the current economic climate.
Appointment Etiquette to Keep You Ahead of the Game
You may have the greatest product or service in your industry, you may be the most suitable person for the job, but you can undermine yourself on appointments and interviews with inappropriate behaviors. A "how-to" on gracious guesting in someone else′s office and hosting visitors on your turf.
Etiquette for the Electronic Age
How to handle telephones, cellular phones, answering machines, voice mail and e-mail with style and grace.
Business Etiquette for the Aughts: Outclassing the Competition
A primer on etiquette for the business arena, tailored to the specifics of your industry, association, or corporation.

Hilka Klinkenberg: Interview - The Woman's Connection w/Barrie-Louise Switzen
In this interview, Klinka discuses how she came to start her company, Etiquette Inc. "I write about business etiquette, but I also go into companies and I work with individuals or with groups of people on proper business etiquette. We go over American business etiquette, or international etiquette if they're going to be traveling."
"Every culture is different. It doesn't matter whether they're neighboring countries; there are differences in the ways the country came together. The people in the country and their attitudes towards time and space are some of the biggest conflicts in business. Our style of communication, the way we talk, the speed at which we talk, the amount of information we give all causes so much annoyance and grievance and confusion with one another. You just have to learn that it's a different style of behavior."
"America is the most individualistic country in the world. We're very concerned with our own individual freedoms. We want to do things our way, we think our way is the right way, and we're not particularly concerned about how effective we're being with other people, how we're being received."