Top25 Speaker Voting

Harry Paul needs 7 vote(s) to make it into the Top 25 speakers on Speaking.com!
Speaker Booking Tip
"Tip: some speakers might provide one of their popular book titles as a free gift to your audience. "
For Event Planners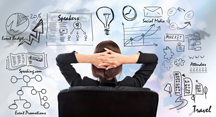 • Keynote Speaker Booking Toolkit.
• Booking a Celebrity Speaker.
• How to Find and Book the Right Speaker.
• Google+ Event Planning Forum.
• Tips for International Clients Booking U.S. Based Speakers.
Similar Speakers
Michelle Stacy

Michelle Stacy has been the driving force behind the international multi-million dollar growth of Proctor & Gamble, Gillette, and Keurig. An influential leader in product…

Peter M. Ricchiuti

Two-time winner of the Tulane University Freeman School of Business top Professor award, Peter Richutti combines penetrating insight into the financial markets with a fine…

Uri Gneezy

Uri Gneezy's early work on when and why incentives can backfire has become the cornerstone in a compelling line of research that explores when traditional…

Our agent was great to work with. Very easy to reach when needed and promptly returned messages. Thank you for making our event such a big success, we are looking forward to working with you again soon!
American Lung Association
About SPEAKING.com
Established in 1994, we are exclusive agents for some of the world's leading experts, celebrities and professional speakers.
We offer event planners a fully staffed speaker logistics planning team, plus a personal SPEAKING.com Account Executive – a knowledgeable and trustworthy partner. We guarantee your satisfaction with your speaker and a smooth booking process.
Contact us today to book your favorite speaker.

"Thank you for the wonderful presentation this morning. I′ve already had a few phone calls and everyone really enjoyed themselves (learned a few things too!). Hope that you had as much fun as we did."
Mandy Tompkins, Supervisor, Disbursing Accountant, UC Irvine
"Informative, enlightening and fun. Exactly what our audience needed!"
Adale Johnson
President, VRMSDC, Inc.
"Just letting you know we thoroughly enjoyed your presentation at our retreat last week."
Horizon West HealthCare
"Just wanted to say "Thank you" again…we all really enjoyed your speaking."
California Health Forum
"Thanks again for all you did to make this year's meeting so successful! I look forward to seeing you again."
Minnesota Dental Association
"Thanks again for a job well done. We all enjoyed your friendly, open and relaxed style. I look forward to inviting you to conduct future training session."
Rehab West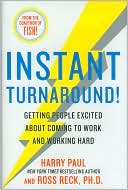 Instant Turnaround!: Getting People Excited about Coming to Work and Working Hard
Transform Your Workplace!
Imagine a company where people are excited about coming to work and giving their best efforts every day. In this innovative and engrossing business parable, Harry Paul and Ross Reck show managers at all levels how they can immediately and easily increase productivity by tapping into the discretionary effort of the people who work for them. Starting from the most basic aspect of business reality that people intentionally regulate the amount of effort they put into their jobs based upon how they feel they're being treated the authors point out that the most important part of the job of every manager, team leader, supervisor, and executive is to treat people in such a way that they become excited about applying all their discretionary effort toward performing their jobs.
At the book's center is the story of Nancy Kim, a human resources director at a magazine that is struggling with all the problems associated with unhappy employees low productivity and morale along with high absenteeism and turnover. After she openly challenges the CEO's new management-by-the-numbers system, she's charged with turning the situation around immediately. Filled with real-world studies, Instant Turnaround! shows anyone how to turn the workplace into a destination a place where working hard feels like hardly working because it's engaging, enjoyable, and fulfilling.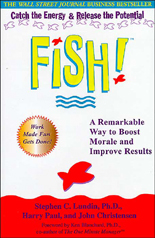 Fish! A Remarkable Way to Boost Morale and Improve Results
Imagine a workplace where everyone chooses to bring energy, passion, and a positive attitude to the job everyday. Imagine an environment in which people are truly connected to their work, to their colleagues, and to their customers. This engrossing parable applies ingeniously simple lessons learned from the actual Pike Place fishmongers and addresses today's most pressing work issues with an appealing message that applies to anyone in any sector in any organization.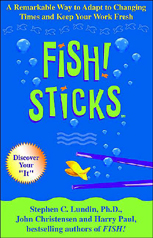 Fish! Sticks: A Remarkable Way to Adapt to Changing Times and Keep Your Work Fresh
With more than two million copies in print worldwide, FISH! and FISH! Tales have been fixtures on The Wall Street Journal, USA Today, Business Week, The New York Times Business, and Publishers Weekly bestseller lists. The FISH! philosophy has been featured widely in People, Fast Company, and on CBS Television's Sunday Morning, and CNN's Business Unusual. Thousands of organizations are using the FISH! philosophy to bring more energy and passion to their work, including Abbott Labs, Arrow Electronics UK Limited, Bristol-Myers Squibb, Ford, Harley-Davidson, the Mayo Clinic, Nabisco, the National Weather Service, Nordstrom, P&G, Prudential, Sprint, the U.S. Army, and Wells Fargo.
There are many ways to make good changes. This brilliant new parable will show you how to help make those changes stick—for good.
Effecting change in an organization is a piece of cake—compared to the real challenge of getting change to stick. Now, the authors of FISH!, the million-plus copy international bestselling book and video phenomenon, have returned with an all-new, stand-alone business parable that shows how anyone can do exactly that. Here is a remarkable way to keep your work vital, alive, and fresh as you navigate staff turnover, tough times, and general run-of-the-mill cynicism and burnout.
When Rhonda, a new manager, takes over from a popular and now promoted boss, she is faced with the problem of how to keep spirits and performance up in a newly-energized unit that has, frankly, started to get bored and cranky and return to its old ways. But then she visits the amazing Tsunami Too, a fictional sushi restaurant that always has a huge line of customers cheerfully waiting for hours to get in. Soon, she realizes that the way to keep her staff and herself motivated and at the top of their game can be learned from a brilliant sushi chef and a bunch of waiters who continually teach one another everything they need to know about giving great customer service, integrating new employees, and maintaining an atmosphere of constant innovation and overall excellence.
FISH! Sticks employs the same kind of easy-to-use story that was used in Fish! to illustrate its three main commitments for continued success: Find IT, Live IT, Coach IT, where the "IT" is each employee's own personal vision, found withing the overall vision for the business. Chock full of easy-to-grasp examples, this book provides advice that is concrete and can produce immediate improvements in employee morale, customer satisfaction, and productivity—both for the short and long-term.
If you have ever made a change or innovation only to feel soon after that you were backsliding—or if you want to identify what's working in your workplace and make sure that it keeps working—then FISH! Sticks is a book that will help you achieve your goals.
When you bring Harry the FISH! Guy to your organization to share one of his programs, magic immediately begins to happen. Your employees will start saying, "I don't have to go to work. I get to go to work!" and they will bring their best to work everyday. Harry's presentations are based on his six internationally best-selling business books including Instant Turnaround!, REVVED! and FISH! A Proven Way to Boost Morale and Improve Results. FISH! sold more than 5 million copies, is translated into 35 languages, and is one of the best-selling business books of all time.
Destination: Work
Harry Paul's latest presentation shows you how to create a fully engaged workforce and build a world-class organization. When someone is engaged with their work, they are excited about coming to work and working hard. As a result, they give every bit of energy, creativity and passion toward performing their job. The level of employee engagement is extremely impor- tant because it's the primary driver of a company's financial performance. Companies with high levels of employee engagement are more profitable, their stock prices consistently outperform the market and they experience significant cost savings due to reduced employee turnover, absenteeism, theft and accidents. In addition, employees at companies with high levels of engagement provide superior customer service that results in loyal customers and all-important increases in market share.
Here are a few of the concepts attendees will take away from the presentation:
Focus on People as well as the Performance Numbers
Motivate With Trust Instead of Fear
Turn Work Into Fun
Upper Management Must Be A Team Player
Return on Investment:
Create a fully engaged workforce
Employees will trust management
Tap into the discretionary effort of your employees
Developing an Army of Advocates who will want to work hard for you
Increase in productivity
FISH! for Leaders
FISH! for Leaders takes the FISH! Philosophy to the next level. In addition to Choose Your Attitude, Play, Be There and Make Their Day—your leaders will learn the importance of managing with trust, not fear, recognizing and appreciating everyone for their hard work, understanding how important it is for management to get involved and be visible to their people.
With FISH! for Leaders you can attain and maintain success by reducing turnover, creating exceptional customer experiences, increasing market share, develop productive and happy people who are fully engaged and who know that they are making a difference.
Here are a few of the concepts attendees will take away from the presentation:
How to invest in your people
Practice the 4 B's of managing with trust
Turn work into fun
Make decisions based on your mission statement
Everyone becomes a team player
Return on Investment:
Loyal employees
Increased energy at work
Employees fully focused on tasks
Become an employer of choice
FISH! for Customer Service
FISH! for Customer Service shows you and your employees how to create memorable customer experiences that cannot be duplicated by your competition. Why? These experiences are created and delivered by your people.
FISH! for Customer Service is a philosophy taken from the world famous Pike's Place Fish Market in Seattle, Washington. In all likelihood, this fish market is the most profitable 1200-square foot retail location in North America. It's located right near three other fish markets that sell the same kinds of fish for the same price. Yet the Pike's Place Fish Market is renowned for its fun-filled environment and has become a top tourist destination in the area.
FISH! for Customer Service will make an obvious difference in your organization. Highlights include:
Develop internal and external commitment
Demonstrate flawless execution of the customer experience
Learn the value of knowing yourself, your co-workers and your customers
Make "fun" an intregal part of the customer experience
Maintain a unified direction, basing decisions on your organization's mission and vision
Added valuable and spreadable experiences for the customer
Know the difference between physical and emotional customer experiences
Create lasting and impactful impressions
Return on Investment
Promote repeat and word-of-mouth business. Consider the implications of social media alone!
Create unique and memorable experiences for the customer
Turn your customers into your marketing juggernaut
Make your customer's experience sneezable (contagious)!

Creating A Culture of Excellence!
This presentation shows you how to build a culture where everyone has passion and understanding for what they are doing. Continuously building the skills necessary to get the job done and remain competitive. Effectively communicating roles and responsibilities without confusion. Having the flexibility to do things differently in the ever-changing competitive business environment we all dwell in and taking ownership for the productivity and profitability of the organization. Doing all this with a great attitude, having fun, being present with people and creating unique customer experiences.

Presented in a fun, interactive and informative style, Harry Paul shows you and your organization how to banish average forever and move continually towards excellence. Here is some of what you and your people will learn from this presentation.

Understanding the four tenets of achieving excellence and use them to banish average in your professional and personal lives forever.
Gain more passion for what you are doing, being flexible to changing circumstances and reacting as they arise, communicating roles and goals more effectively without obfuscation and taking ownership and responsibility for what you are doing even if it's not part of your job description.
Using fun and play as part of the work process to bring more energy and enthusiasm to work and to help increase productivity.
Understanding the importance of living the vision, mission and values of the organization and making them relevant every day.
Creating unique customer experiences that cannot be duplicated by the competition.
Speaking Demo Video
Harry Paul explains why taking yourself less seriously is one of the most profitable moves you can make at your workplace. If you find ways to "play" at work, you're more likely to form close bonds with your colleagues, which in turn boosts retention, accountability, and trust. "Are you afraid to share ideas at that time? No, creativity just blossoms," he points out.
Furthermore, he makes the case that bringing enjoyment to your work is a cost-free initiative that you can launch completely by yourself. "It starts with one person: you," he affirms.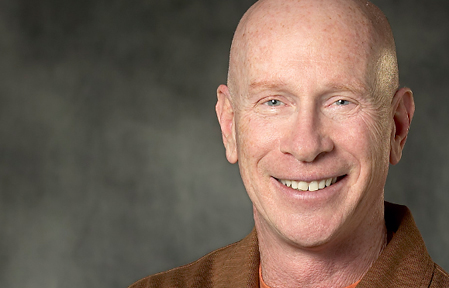 Harry Paul is co-author of the internationally bestselling book FISH! A Proven Way to Boost Morale and Improve Results. He helps organizations learn how to create an "Army of Advocates" who will want to work hard by encouraging their employees to be excited to come to work. Paul's philosophy is that there is a direct ... more