* Please note that while this speaker's specific speaking fee falls within the range posted above (for Continental U.S. based events), fees are subject to change. For current fee information or international event fees (which are generally 50-75% more than U.S based event fees), please contact us.
Top25 Speaker Voting

Hamish McRae needs 8 vote(s) to make it into the Top 25 speakers on Speaking.com!
Speaker Booking Tip
"Tip: ask your speaker to do a book signing or attend a VIP meal with your guests. "
For Event Planners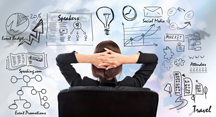 • Keynote Speaker Booking Toolkit.
• Booking a Celebrity Speaker.
• How to Find and Book the Right Speaker.
• Google+ Event Planning Forum.
• Tips for International Clients Booking U.S. Based Speakers.
Similar Speakers
Adam Davidson

Co-founder and co-host of NPR and This American Life's podcast Planet Money, Adam Davidson is known for his humorous, clear, and organized presentation of economic…

Jason Schenker

One of the world's most reputable economic forecasters, Jason Schenker ranks #1 in his outlooks for 12 out of 28 different categories measured by Bloomberg…

Alan Beaulieu

For more than two decades, companies have turned to Alan Beaulieu for economic forecasting and details about the international business outlook. As one of the…

Everyone at your speakers agency were professional and helpful throughout the process, making it easy to book, communicate, and prepare for our event.
Hewlett Packard
About SPEAKING.com
Established in 1994, we are exclusive agents for some of the world's leading experts, celebrities and professional speakers.
We offer event planners a fully staffed speaker logistics planning team, plus a personal SPEAKING.com Account Executive – a knowledgeable and trustworthy partner. We guarantee your satisfaction with your speaker and a smooth booking process.
Contact us today to book your favorite speaker.

"Hamish was extremely well received, and he tailored his presentation perfectly."
Global Management Consultants
"Thank you very much for your really impressive participation and contribution to the conference. We believe the forum was very successful, due in the main to your efforts, which shall, I′m sure, be long remembered."
Humming IMC, Korea
"Hamish was fantastic! He presented what could have been very dry statistics with humour and panache. He gave us all much to reflect on."
The Accreditation Board for Engineering and Technology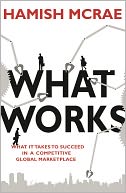 What Works: The Secrets of the World's Best Organisations and Communities
In a lively and counterintuitive exploration of success stories from across the globe, an award-winning journalist takes the reader on a fascinating journey in pursuit of the flimsy difference between triumph and failure.
Drawing life lessons from the great ideas put to work on every continent—from America to Europe, from Africa to Asia and Australasia—these stories are as surprising as they are inspiring. This book explores such questions as:
Why do some initiatives take off while others flounder?
How have some communities managed to achieve so much while others struggle?
What distinguishes the good companies from the bad?
What lessons can we learn from the surprisingly well-ordered Mumbai community made famous by Slumdog Millionaire?
Why have Canadian manners helped Whistler become the most popular ski resort in North America?
How has Zurich developed the world's most admired anti-drug policies?
And how has Hong Kong used gambling profits to help its residents enjoy the greatest level of economic freedom on the planet?
Readers will be entertained, informed, and enlightened as to how to achieve successes of in their businesses, communities, and lives.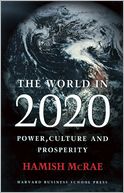 World in 2020: Power, Culture and Prosperity
In The World in 2020, acclaimed commentator and best-selling author Hamish McRae paints a vivid competitive landscape in which culture and values will be the new sources of advantage for the industrialized nations. In the year 2020, all having embraced market capitalism, the North American, European and East Asian countries will be engaged in fierce economic competition. With each nation increasingly able to imitate the others, innovations will cross borders within more days and weeks, removing technological prowess as a source of sustained advantage.
McRae sees the "old motors for growth"—land, capital and natural resources—being replaced by more qualitative assets—quality, organization, motivation and self-discipline of the people. Everywhere, governments will take a less active role in the social and economic life of the nation. In such a world, the best predictor of success will be how a nation strikes a proper balance between creativity and intellect on the one hand, and social responsibility on the other. Thus the leading world economic powers of the next generation are just as likely to include China and Australia as the United States and Japan.
What's Happening in the World Economy?
Hamish McRae offers audiences insights on the current economic environment and the two big issues that will shape the global economic future—the global recession and the structural shift in power away from the old world to the new (emerging marketing like China and India). He outlines how these issues affect each other (the downturn speeds the shift in power) and our status in our recovery (we are still in the early stages of recovery but the factors that contributed to the fall are being corrected).
McRae also looks specifically at China and India, discussing how improving their economies is good for business across the globe and how people in different countries can thrive by focusing on what they're good at, be it innovation (like in the U.S.), manufacturing, financial services, or the like. He also looks at other economic issues like trade and intellectual property rights. One of the UK's most-respected economic and financial journalists, McRae leaves audiences with a clear understanding of the issues that will affect the global economy in the years to come.
What Works
In a talk based on his book What Works: Success in Stressful Times, Hamish McRae share stories and case studies about the several common ingredients shared by successful organizations in all sectors the world over. Drawing life lessons from great ideas found on every continent— from America to Europe, from Africa to Asia and Australasia, he explores questions like, Why do some initiatives take off while others flounder? How have some communities managed to achieve so much while others struggle? What distinguishes the good companies from the bad? While there is no surefire recipe for success, McRae proves that there is a lot to learn from the world's high performers, and he leaves audiences with practical insights they can apply to their own organizations.
The World in 2020—Power, Culture, and Prosperity
Can we talk sensibly about the future when so many predictions have proved wildly inaccurate? Yes, we can because it is possible to identify forces that will change the world over the next generation. Hamish McRae shows audiences what the world will look like in 2020 and shares what the implications will be for the business world.
Other Topics Include:
Success in Stressful Times: From America to Europe, from Africa to Asia and Australasia
The Development of the World's Financial Services Industry
A Vision of the Future World Order
The Rise of the Asian Economies
Globalization
Energy Markets and Resources
Hamish McRae: Keynote Speech
Hamish McRae explains why the time period we're living in is a historic paradigm shift nearly on par with the Industrial Revolution. Demographic trends influenced by aging populations and slowing birth rates are currently positioning a new global economic order in which the BRIC countries will be major players. In fact, by 2030, China is expected to surpass the U.S. as the world's largest economy.
Describing the "turning point" we are witnessing, McRae claims, "It represents a reversal of the power shift that took place during the Industrial Revolution." He then poses an important question for Europe and North America: how will "the old world" prepare itself to compete in this new dynamic?
Hamish McRae: Speech #2
Social Sciences Symposium Hamish McRae 'Europe faces a post-western world'