Top25 Speaker Voting

Gregg Lederman needs 3 vote(s) to make it into the Top 25 speakers on Speaking.com!
Speaker Booking Tip
"Tip: speakers bureaus can provide: speaker fee negotiation, insurance, smooth logistics and value add-ons such as extra sessions. "
For Event Planners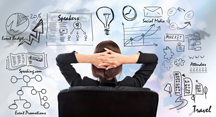 • Keynote Speaker Booking Toolkit.
• Booking a Celebrity Speaker.
• How to Find and Book the Right Speaker.
• Google+ Event Planning Forum.
• Tips for International Clients Booking U.S. Based Speakers.
Similar Speakers
Sasha Strauss

One of the most brilliant minds in marketing, Sasha Strauss is the founder and manager of the consulting firm, Innovation Protocol. From Fortune 500 companies…

John Krubski

Trend spotter, futurist, and change management expert, John Krubski has spent more than three decades helping client companies and teams make sense of data in…

James Chung

James Chung has a unique talent for formulating predictions and strategies aimed at organizations looking to thrive amidst the changes ahead. His internationally successful research…

Your speakers bureau was a tremendous resource for the NHL as we planned and executed our NHL Club Business Meetings. Their assistance with securing our keynote was invaluable. They provided detailed information in a timely manner which was crucial to the success of the event. The execution was seamless!
National Hockey League
About SPEAKING.com
Established in 1994, we are exclusive agents for some of the world's leading experts, celebrities and professional speakers.
We offer event planners a fully staffed speaker logistics planning team, plus a personal SPEAKING.com Account Executive – a knowledgeable and trustworthy partner. We guarantee your satisfaction with your speaker and a smooth booking process.
Contact us today to book your favorite speaker.

"Gregg's ENGAGED! presentation rocked it for the IABC audience! He more than engaged (pun intended) our audience of 1,000+ with a thoughtful, high-energy and high takeaway value presentation that was the highest rated from among all of our keynote speakers from the 2014 IABC World Conference. If you're thinking about hiring Gregg to inspire, engage, and transform your audience, it could be the best business decision you make this year."
~ Claire Watson, Meeting Planner, IABC
"With all the great speakers/entertainers we had at the conference, Gregg Lederman's ENGAGED! presentation was by far the best. He kept the audience engaged and energized, while giving them tools to make their business better. Truly an asset to the conference"
~ Nichol Druckemiller, Manager, Business Development, American Express Travel & Lifestyle Services
"We just had the most dynamic speaker! Gregg Lederman challenged our audience to think about their business in new ways and captured their hearts with buckets of takeaway value relevant to their business. He is one of the highest audiencerated speakers our regional AMA Chapter has ever had."
~ Peter Piusz, VP, NY Capital Region Chapter of the American Marketing Association
"Gregg's workshops provided thought-provoking insight to help us delve deeper into how we could further improve our differentiation and results in the marketplace. His methodology goes well beyond the discovery phase to give businesses the 'how-to' advice they need to begin implementing change today."
~ Mary Kellmanson, VP of Marketing, Wegmans Food Markets Inc.
"Our audience wanted actionable content and Gregg gave it to them! Gregg has mastered the art of providing the 'right' amount of content packed with strong takeaway value."
~ Mary Beth Reidy, Meeting Planner, The Conference Board
The Essential Habits of Trusted Leaders
Many leaders and managers are stressed at work like never before. There is too much to do, too little time, and too many distractions. Work-life balance is no longer the challenge. Today (and into the future) people suffer from "life balance" and this makes being a good manager and leader very difficult. But not everyone is struggling. Think about leaders you love to work with. These leaders have earned your trust. What's their secret? How is it that they can lead and inspire their teams with the right balance of both a focus on performance and humanity? How is it that they create the environment where employees are more willing to tap into their personal motivation and become ultra-committed to the success of the organization? Gregg Lederman provides the answers to these questions.
More than 60% of Lederman's clients are on a best place to work list. This is not by chance. It is by design. In this highly interactive keynote, managers are taken on a journey to explore how the most trusted and effective leaders fuel the work environment with the motivational drivers that employees crave most. In addition, audiences go through a powerful self-reflection on their current managerial style while exploring a few inconvenient truths that can prohibit their ability to become even more trusted and effective leaders.
"If you want to change the way managers think, act, and interact, you'll want to bring Gregg in to share his proven and simple method for creating managerial Essential Habits."
Using real-life case studies with financial impact and highlighting compelling realities that managers can relate to, audiences will walk away feeling inspired to:
-Understand the realities of employee engagement, how it impacts their workforce, and what to do to improve it -Create an environment where employees can become more motivated and committed than ever before -Uncover and leverage the three primary drivers that motivate employees: Respect, Relationship, and Relevance -Master an Essential Habit to becoming a more trusted leader within 90 days
ENGAGED!
Think about the companies you love to do business with. What's their secret? These companies have cracked the code to successfully creating an ENGAGED workforce. What does ENGAGED mean? According to leadership and engagement guru, Gregg Lederman, an engaged workforce is made up of employees who are both motivated and committed to act in the best interest of a company.
The benefits of employee engagement are easy to see and difficult to refute. However, the reality is that 2 out of 3 employees are actively disengaged. Ultimately, it is the manager's responsibility to create an environment where employees are motivated and committed to the success of the company. The problem is that many managers simply don't know how.
In this highly-interactive presentation, best suited for individuals in managerial roles, Gregg takes his audience on a journey through the Eight Principles of ENGAGED. He introduces a proven methodology for developing leaders and equips them with the necessary tools to help them improve both the work culture and customer experience. This methodology, known as the Living the Brand system, has helped more than 60% of his clients become recognized on Best Places to Work lists.
Using real-life case studies and highlighting compelling realities that managers can relate to, audiences will walk away feeling inspired and capable of creating a more ENGAGED workforce.
ENGAGED is customizable to audiences including:
-Leaders, managers, and supervisors looking to align, engage, and motivate employees to create and strengthen a customer-centric work culture.
-Sales professionals who want to deliver a differentiated experience that makes customers want to buy more and more often.
Participants will sprint forward having learned how to:
-Determine how engaged their workforce is.
-Take specific actions to improve the motivation and commitment of the workforce.
-Define behaviors that will bring their brand (core values) to life.
-Use hundreds of powerful reminders to reinforce expectations and create a culture of accountability for consistently living the brand.
-Show real ROI by quantifying the work culture and link it to critical financial results.
The Eight Principles of ENGAGED!
1. Get Every Employee On Stage, Delivering The Experience For Customers
2. Make Happy Employees To Create Engaged Customers
3. Don't Just Announce Your Culture, Make It Visible
4. Sprint From Culture Talk To Culture Change
5. Quantify Your Culture To Turn Common Sense Into Common Practice
6. Any Monkey Can Survey, Start Building Relationships With Customers
7. Put The Carrots Away, Rewards Don't Work The Way You Think They Do
8. Manage The Experience To Build Trust In You As A Leader
Design the Perfect Customer Experience
Every customer (internal or external) goes through a series of typical touchpoints with your company. At each touchpoint, customers interact with your people, products, and/or services in ways that lead them to have a good, bad, or indifferent experience. The best way to ensure more valuable and profitable customer relationships is to thoughtfully design the experience, train employees on how to do it, and ensure accountability throughout your company.
Leaders attending this session will walk away knowing:
-How to strategically lay out customer experience touchpoints -How to design the customer experience around key processes and nonnegotiable behaviors -Ways to engage and motivate employees to consistently outbehave the competition by delivering outstanding customer experiences
Keynote Speech
Drawing from 70 years of research, Gregg Lederman explores the three greatest forces in the work environment responsible for motivating and engaging employees, and no, money is not on that list as long as people are receiving at least the market wage for their work. "The three things that most motivate your work force are respect and appreciation, my relationship with my boss, and do I feel like I'm making a difference," he announces.
He delves deeper into the first item, noting that receiving recognition is a basic human need, yet ironically people love to get it but neglect to give it. "It's the most untapped cultural currency that you have," Gregg points out, saying that more than likely everyone in the audience can think of at least one example per week of someone who demonstrated company values and created a experience that exemplified the brand's essence within the workforce and externally for the guest or client.
Keynote Speech: Employee Engagement
Gregg Lederman translates the principles of delivering a branded experience in health care, which faces the unique challenge of being one of the few sectors where you don't want the clients (patients) to return often. In order to achieve those results, he claims, healthcare staff need to exemplify brand integrity as they interact with patients.
"If the doctors and all the care providers are building relationship in an engaged way with patients, is it not more likely that they are going to follow the prescription?" he asks rhetorically. Concluding that following prescriptions will reduce the number of patients readmitted for the same problem, Gregg drives home that all of this depends on employees. "You have a profound impact on your role in driving down readmission rates when you deliver the branded experience but you must have engaged employees to do that."
Interview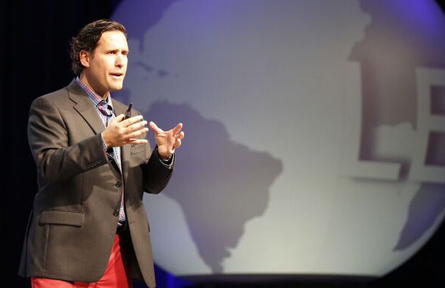 Gregg Lederman is the founder and CEO of Brand Integrity, a passionate engagement company with disruptive and sustainable solutions that don't just work, they matter. He is the author of ENGAGED! Outbehave Your Competition to Create Customers for Life, a New York Times and USA Today Bestseller. ENGAGED! was recognized as one of the "30 ... more