* Please note that while this speaker's specific speaking fee falls within the range posted above (for Continental U.S. based events), fees are subject to change. For current fee information or international event fees (which are generally 50-75% more than U.S based event fees), please contact us.
Top25 Speaker Voting

Greg Smith needs 7 vote(s) to make it into the Top 25 speakers on Speaking.com!
Speaker Booking Tip
"Tip: ask your speaker to do a book signing or attend a VIP meal with your guests. "
For Event Planners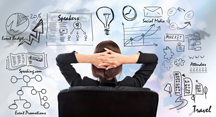 • Keynote Speaker Booking Toolkit.
• Booking a Celebrity Speaker.
• How to Find and Book the Right Speaker.
• Google+ Event Planning Forum.
• Tips for International Clients Booking U.S. Based Speakers.
Similar Speakers
Stephen Harvill

Steve Harvill, President and CEO of Creative Ventures, has been sharing his concepts and strategies with companies for 30 years. From the Fortune 500 to…

Dr. Bob Nelson

Dr. Bob Nelson is a leading authority on employee recognition, motivation, and engagement. Over the past 20 years he has worked with 80% of the…

Sasha Strauss

One of the most brilliant minds in marketing, Sasha Strauss is the founder and manager of the consulting firm, Innovation Protocol. From Fortune 500 companies…

The retreat was extraordinary, professional, and personable. Everyone is still raving about it. They said it was the best experience of their lifetime. And, I would have to agree. I most certainly hope we have the opportunity to work together in the future.
YPO: Young Presidents' Organization
About SPEAKING.com
Established in 1994, we are exclusive agents for some of the world's leading experts, celebrities and professional speakers.
We offer event planners a fully staffed speaker logistics planning team, plus a personal SPEAKING.com Account Executive – a knowledgeable and trustworthy partner. We guarantee your satisfaction with your speaker and a smooth booking process.
Contact us today to book your favorite speaker.

"If Greg Smith had never been born, Horatio Alger would have invented him."
Steve Henry, Editor, The Times of North Central San Antonio
"Your humor and enthusiastic delivery served to hold interest as well as inspire all of the attendees. I have heard nothing but very positive and laudatory comments on your remarks."
Henry U.B. Brummett, City Manager, City of Leon Valley
"Your presentation was perfect for our audience and rated as one of the highest during the entire conference. Your style and the content of your program generated many enthusiastic comments. Your valuable experience and background provided us some valuable information."
Barbara Hampton, President, SNET Real Estate
"As a result of your training we are now seeing measurable improvements in reduced turnover, increased sales, better customer service, and improved communication and morale of all concerned."
David Doss, President, Bates Ace Hardware
"This was an excellent, interesting lecture. I feel that what I had been taught I can actually go and use as soon as I hit the door. Mr. Smith is a very dynamic lecturer and is very personable. He also seemed very well prepared and sensitive to his audience and what they might be feeling."
Melissa Dandy
"Four hours of my time in your seminar has resulted in an 51% improvement of our revenues during first quarter of year 2000. We should reach $450-500 million easily. Our teams work smart as well as hard and each member is having a lot more fun working together. You are the "Deal of the Century."
Dave Dibble, Director of Marketing, Sunshine Companies
"I have been coming to these education sessions for over 5 1/2 years and this is the best one (by far) I have ever attended."
> A. Dan Sossaman
Clients Include:
Federal Reserve Bank of Chicago
AFLAC International
Development Research  Council
PacifCare
Yamaha
Kaiser-Permanante
U.S. Army
Wyndham Hotels
Florida School Superintendents Assn.
Baxter Healthcare Corp
AT&T Takahasi
ASTD
Atlanta Hartsfield International Airport
International Association of Military Executives
ALLTELL Information Services, Inc.
Conway Data
American Management Association
Sony City of Albany, Georgia
American Hospital Association
State Farm Insurance
Clairon Metals
Bio Lab
Hallmark Cards
Bard Federal Executive Management Institute
Ohio Equipment Dealers Association
Associated Equipment Dealers
U.S. Air Force
Central Intelligence Agency
Practicing Foresters Institute
Trust Ace Hardware Stores
Matrix Daewoo
National Data Corporation
Delta Airlines
Bicycle Retail Education Conference
American Rental Association
Linkage Singapore Service
Quality Centre
U.S. Marine Corps
Turner Broadcasting
TBS
PizzaExpo
INS
Young Presidents Organization
Southern Nursery Association
American Public Works Association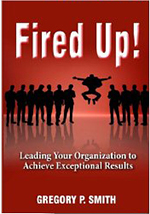 Fired Up ! Leading Your Organization to Achieve Exceptional Results
Organizations need everyone to contribute their best. Fired Up! is a leadership book designed to show executives, business owners and leaders how to boost performance and create a high energy work culture from the bottom to the top. You will learn how to accelerate individual and organizational performance creating a dynamic place to work that makes more money, generates higher sales and provides outstanding service to your customers and workers alike.
People have the capacity of performing at a higher level. They want to be part of something bigger than themselves. The challenge for leaders and managers is to discover how to tap into those talents and create a positive culture at work. This is especially true today when morale in the workplace is lower than ever before. A 2010 survey conducted by the Conference Board showed only 45 percent of Americans are satisfied with their work. This is the lowest level ever recorded by the Conference Board in more than 22 years of research.
This book provides you dozens of tips and strategies on improving performance, motivating your people to new levels, and illustrates innovative ways to grow your business, increase sales and capture new customers. These new ideas and concepts will take you and your organization to the next performance level and help you achieve measurable, bottom-line improvement results immediately. As a result you will be able to adapt to changing trends and manage shifts in markets, competition and customer preferences.
A comprehensive range of practical and highly effective leadership tools and approaches are included to help you:
Boost performance and generate bottom-line results
Harness the creative talents and skills of your workforce
Inspire and lead people to sustained high performance
Shift people from status quo to total commitment
Solve problems in an innovative and creative way
Build ownership among all employees
Create customer loyalty that adds to a healthy profit margin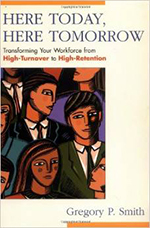 Here Today, Here Tomorrow: Transforming Your Workforce from High-Turnover to High-Retention
Challenging traditional attitudes about retaining workers, author and consultant Gregory P. Smith outlines the new rules for dealing with worker shortages, the high cost of turnover, a diminished work ethic, managing a diverse workforce, and the increased importance of job satisfaction. At a time when the workplace environment is critical to keeping workers, here are proven ideas for having fun, communicating, rewarding employees, and building loyalty. The author provides practical solutions that will help companies:
Create great attitudes for making workers more reliable.
Increase motivation and creativity to keep top people from jumping ship.
Develop a flexible environment to boost productivity and satisfaction.
Respond to changes while making continual improvements.
Generate profits through increased customer satisfaction.
Save money by not having to replace workers.
The author also provides specific action steps to address such problems as absenteeism, getting teams to work together, and turning performance appraisals into positive opportunities. Using examples from innovative companies such as Earthlink, USAA Insurance, and Disney World, and comments from workers in all kinds of workplaces, this guide will help managers and human resource experts be more effective in changing times.
Leadership Development and Employee Engagement Speaker
Greg Smith is a motivational leadership speaker and a management consultant helping businesses accelerate and improve performance. He gains his greatest satisfaction by developing leaders and showing them how to design best places to work that drive employee satisfaction, employee engagement, and employee retention.
Above and Beyond
In his practical and motivational style, Greg unfolds a blueprint that has helped thousands of people empower themselves, transform others and drive a positive "can do" attitude. People can choose to be negative or positive—it is their choice. Those that choose to be negative affect the attitudes of others, cause conflict, complain and resist change. You will learn how to become a leader, build enthusiasm and make a powerful difference to the lives of others. This session is designed to help human resource professionals and business people become change agents to improve performance and deliver powerful results.
Navigating Change: Keeping People Engaged, Motivated and Heading in the Right Direction
The ability to navigate change, see beyond the horizon, innovate and keep people engaged and motivated is more important than ever before. Change affects people in different ways—new directions, new strategies and ongoing uncertainty plague the workforce. Success comes to those who transform themselves, leverage human talent and harness the opportunities this changing environment brings. In this interactive and motivational presentation, Greg provides a transformation process that will quickly enhance performance creating a foundation of employee engagement, change and innovation. He provides practical ideas along with personal antidotes on what it takes to enhance creativity, improve employee engagement and help people find passion and pride in what they are doing.
Fired Up!: Leading Your Organization to Achieve Exceptional Results
Every organization today must achieve higher levels of performance. Success depends on your ability to manage change, improve financial results, build customer loyalty and motivate your workforce from the bottom to the top. This session will help you design a road map and a long-term strategy that gets your business heading in the right direction and each person performing at a higher level—achieving peak performance. Learn dozens of ideas and strategies on improving performance, motivating your people to new levels and innovative ways to grow your business.
How to Make Hippos Fly!: The New Leader: Bringing Creativity and Innovation to the Workplace
Innovation is the driving force behind growth, new jobs and new industries. Every person strives to be innovative, to be all they can be. On the other hand, bureaucracy drains the energy and creative ability and robs people the pride of a good job well done. In this interactive and motivational presentation, Greg provides a transformation process that will quickly enhance performance creating a foundation of employee engagement, change and innovation. He provides practical ideas along with personal antidotes on what it takes to enhance creativity, capture new ideas and help people find passion and pride in what they are doing.
The SMILE Technique: Five Things Good Managers Must Do
The actions taken by the leader is the driving force in building effective teams, improving performance and engaging and retaining a talented and skilled workforce. This session will provide attendees with five key strategies that drive performance and inspire and motivate people to go above and beyond. You will learn how to reward, motivate, engage, make accountable and coach people toward higher performance. By building confidence in your abilities you will be able to handle leadership challenges and guide your people to sustained high performance. You will gain a comprehensive range of very practical and highly effective leadership tools and approaches that can be implemented immediately.
Managing the Family Owned Business Without Losing Your Shorts or Sanity
The family-owned business faces a unique set of challenges and issues. Less than one-third survive through the second generation and less than 10 percent make it through the third. Learn from a family business consultant who has guided hundreds of businesses in succession planning, reducing conflict and improved customer service. He will provide you with strategies, systems and processes to help you create a roadmap of success by addressing leadership transitions, succession planning and intergenerational issues, making your family business part of the solution—not the problem.
Build Your Business Bootcamp
Our Boot Camp is designed to help business owners turn their skills into a profitable business. Learn a proven business model to reach new customers and increase sales. Harness the Internet to build loyal customers and generate a steady stream of new clients. Explore dozens of time-tested strategies and techniques to maximize your business' growth with the Internet, social media, radio and television appearances.
The High Performance Organization: Leading and Growing Your Business to Achieve Exceptional Results
Whether you are a small company, government entity or a large corporation, success depends on your ability to eliminate status quo, improve financial results and exceed customer expectations. The goal of this workshop is to get every person performing at a higher level—achieving peak performance. The High Performance Organization manages change effectively and embraces shifts in markets, competition and customer preferences. The organization is enabled to make meaningful change to improve programs, services, products and processes and to create new value for the organization's stakeholders.
Here Today, Here Tomorrow: Proven Ways to Attract, Retain and Motivate Your Workforce
The key to success for any organization is the ability to attract and retain skilled and talented people. Good organizations make employee retention a core element of their talent management and organizational development strategy. Those that fail to make it a priority risk losing their top talented people to the competition. This session shows you how to design an effective talent management strategy that provides a comprehensive road map for not only attracting and keeping talented employees, but for motivating and engaging them to achieve a higher level of performance and productivity. This session is jam packed with tips, practical ideas, and easy-to-implement advice for creating a motivating, high-retention culture.
Employee Engagement Strategies that Boost Performance
Successful organizations realize employee engagement is critical in sustaining their leadership and growth in the marketplace. Employee engagement is the person's connection to their work, the organization, their customers, the leaders and the relationships they have with their co-workers. Engaged employees stay with their employers, have higher levels of job satisfaction and make significant contributions. During this fast-paced workshop you will learn dozens of strategies and employee involvement techniques such as Roast, Toast and Boast, Vampire Extermination Expedition sessions and Quest programs to boost motivation and teamwork. Enhance employee engagement by using Idea Campaigns, Shining Stars and Idea Olympics. Learn how these programs can improve retention, cut costs, reduce employee turnover and have a major impact on job satisfaction.
Fast, Focused and Friendly: The Essentials of Great Customer Service
Learn to create a powerful culture of exceptional customer service that permeates and drives the actions of the entire organization. This program will help you create a five-step service quality process that develops the right attitudes, behaviors and emotionally connects with your customers. Discover how to hire, manage and reward your employees so they act quickly, take responsibility and deliver a high level of service. Learn how to train your employees to become your ambassadors that will keep your customers pleased and coming back. This session provides dozens of tips and strategies that can be implemented immediately.
Dynamic Teambuilding that Generates Results
Individual behavior styles and our emotional intelligence (soft skills) have a direct impact on our interpersonal relationships in the workplace. Individuals differ from each other in fundamental ways including their values, behaviors, talents, temperaments, wants and beliefs. Our workshop will help individuals understand each other better and appreciate the unique strengths and differences each person brings to the office. As a result, you will become a better leader, communicator, team member and gain key strategies to create highly effective working relationships. The workshop incorporates a personalized behavior assessment to give a more complete understanding of yourself and others.
Hire the Best, Forget the Rest! How to Hire Top Performers Each and Every Time
The key to business success is the ability to attract, hire and retain skilled and talented people who fit your culture. Learn the skills, processes and the knowledge you need to identify and hire top performers each and every time—those that will perform in the top 20%. When you add the money spent on recruiting, hiring, orientation, training and employee turnover costs, it equals to 2.5 times the person's annual salary. This workshop shows you how to design a comprehensive strategy for not only attracting and hiring skilled employees, but for motivating and engaging them to achieve a higher level of performance. As a result, you will generate greater customer loyalty, decreased employee turnover and higher financial returns for your business.
Greg Smith: Customer Service On the Front Line
Greg Smith: Demo Video
Greg Smith: Walt Disney's Secret of Success