* Please note that while this speaker's specific speaking fee falls within the range posted above (for Continental U.S. based events), fees are subject to change. For current fee information or international event fees (which are generally 50-75% more than U.S based event fees), please contact us.
Top25 Speaker Voting

Greg McKeown needs 6 vote(s) to make it into the Top 25 speakers on Speaking.com!
Speaker Booking Tip
"Tip: speakers bureaus provide added value that you cannot get by booking speakers directly. "
For Event Planners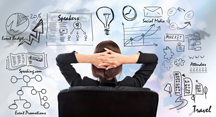 • Keynote Speaker Booking Toolkit.
• Booking a Celebrity Speaker.
• How to Find and Book the Right Speaker.
• Google+ Event Planning Forum.
• Tips for International Clients Booking U.S. Based Speakers.
Similar Speakers
Jon Gordon

Leadership expert, author, and motivational speaker, Jon Gordon helps groups shake out the negative and get on "the Energy Bus" to results. He is the…

Doug Flutie

In 1984 Boston College quarterback Doug Flutie made football history when he threw a last second "Hail Mary" pass, clinching a 47 to 45 point…

Gabor George Burt

As an expert on overstepping boundaries, Gabor George Burt helps companies expand and succeed by teaching them how to eliminate perceived limitations. He provides an…

It was an extreme pleasure to work with our account rep. She was friendly, flexible, and knowledgeable about all their speakers. She made the process simple. I cannot begin to put into words the impact that our speaker had on our audience. People are still taking about his presentation and his program set a standard on all diversity programs.
FDIC: Federal Deposit Insurance Corporation
About SPEAKING.com
Established in 1994, we are exclusive agents for some of the world's leading experts, celebrities and professional speakers.
We offer event planners a fully staffed speaker logistics planning team, plus a personal SPEAKING.com Account Executive – a knowledgeable and trustworthy partner. We guarantee your satisfaction with your speaker and a smooth booking process.
Contact us today to book your favorite speaker.

Essentialism is a powerful antidote to the current craziness that plagues our organizations and our lives. Read Greg Mckeown's own words slowly, stop and think about how to apply them to your life – you will do less, do it better, and begin to feel the insanity start to slip away.
Robert l. Sutton, Professor at Stanford University
"In this likeable and astute treatise on the art of doing less in order to do better…McKeown makes the content fresh and the solutions easy to implement. Following his lucid and smart directions will help readers find "the the way of the essentialist."
Success Magazine
"Great design takes us beyond the complex, the unnecessary and confusing, to the simple, clear and meaningful. This is as true for the design of a life as it is for the design of a product. With Essentialism, Greg gives us the invaluable guidebook for just such a project.
Tim Brown, CEO of IDEO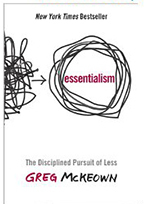 Essentialism: The Disciplined Pursuit of Less
Have you ever found yourself stretched too thin?
Do you simultaneously feel overworked and underutilized?
Are you often busy but not productive?
Do you feel like your time is constantly being hijacked by other people's agendas?
If you answered yes to any of these, the way out is the Way of the Essentialist.
The Way of the Essentialist isn't about getting more done in less time. It's about getting only the right things done. It is not a time management strategy, or a productivity technique. It is a systematic discipline for discerning what is absolutely essential, then eliminating everything that is not, so we can make the highest possible contribution towards the things that really matter.
By forcing us to apply a more selective criteria for what is Essential, the disciplined pursuit of less empowers us to reclaim control of our own choices about where to spend our precious time and energy—instead of giving others the implicit permission to choose for us.
Essentialism is not one more thing—it's a whole new way of doing everything. A must-read for any leader, manager, or individual who wants to learn who to do less, but better, in every area of their lives, Essentialism is a movement whose time has come.
Essentialism: The Disciplined Pursuit of Less
This keynote speaks to anyone who has ever felt overworked and underutilized, always busy but never productive who are making a millimeter of progress in a million directions. Greg McKeown shares a system he used as part of the Stanford course he co-created called "Designing Life, Essentially." It is a system for achieving more by doing less: a way for discerning what is essential, eliminating what is not, and removing obstacles in order to make the execution of what IS essential as easy and effortless as possible.
By applying tougher, more selective criteria, we can regain control of our own choices so we can channel our time, energy and efforts toward the goals and activities that truly matter.
Leadership Essentials
In this keynote, Greg McKeown demonstrates why leading as an essentialist is critical for taking teams to the next level and produce breakthroughs in results and innovation. He teaches five principles, providing examples on how teams and companies can be killed by their own success—and what to do instead. Using evocative stories, hard questions and thought-provoking exercises, this keynote is designed to be interactive and interesting from beginning to end.
Greg McKeown: "Essentialism" - Talks at Google
"Fifteen years ago I was at law school and I quit to do something useful with my life." Greg McKeown shares how he left what most people might consider a successful career path to investigate a question that pried his mind day and night: What inhibits perfectly capable, talented, and motivated people from breaking through to the next level?
He reveals that his fifteen years of research led to a rather paradoxical answer. Success can often be our down fall, because it brings so many opportunities that we start to spread ourselves thin. McKeown reports his own observations working with executive teams in Silicon Valley. "When they were focused on a few essential things, the right things, they could get unified behind it and so on and it coalesced to a momentum and with that they were able to produce success," he narrates. "But with success came options and opportunities, which although they're the right problems, they do turn out to be problems because they undermine the essentials that led to success in the first place."
Keynote Speech
Greg McKeown: The Disciplined Pursuit of Less
Greg McKeown: LinkedIn Speaker Series