* Please note that while this speaker's specific speaking fee falls within the range posted above (for Continental U.S. based events), fees are subject to change. For current fee information or international event fees (which are generally 50-75% more than U.S based event fees), please contact us.
Top25 Speaker Voting

Greg Link needs 5 vote(s) to make it into the Top 25 speakers on Speaking.com!
Speaker Booking Tip
"Tip: some speakers might provide one of their popular book titles as a free gift to your audience. "
For Event Planners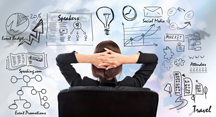 • Keynote Speaker Booking Toolkit.
• Booking a Celebrity Speaker.
• How to Find and Book the Right Speaker.
• Google+ Event Planning Forum.
• Tips for International Clients Booking U.S. Based Speakers.
Similar Speakers
Troy Hazard

Entrepreneurial genius, Troy Hazard has founded and nurtured twelve businesses over two decades. He's taken charge of businesses that are a few days from bankruptcy,…

Ichiro Fujisaki

Having served as Japan's top diplomat for issues concerning economy, trade, politics, and security, the honorable Ichiro Fujisaki is one of the most well connected…

George Dom

As a former naval officer and flight leader, George Dom knows how to bring the best out of people. During a decorated 26-year military career,…

Our account rep was great to work with. He helped facilitate some specific requests on our part, kept us in the loop of any issues, and promptly replied to all communications. Thanks for making this a great event!
Foundation for Economic Education
About SPEAKING.com
Established in 1994, we are exclusive agents for some of the world's leading experts, celebrities and professional speakers.
We offer event planners a fully staffed speaker logistics planning team, plus a personal SPEAKING.com Account Executive – a knowledgeable and trustworthy partner. We guarantee your satisfaction with your speaker and a smooth booking process.
Contact us today to book your favorite speaker.

"Greg Link is my 'make it happen' friend and affirming creative genius. He was crucially instrumental in the success of my book, The 7 Habits of Highly Effective People, and the Covey Leadership Center."
Dr. Stephen R. Covey, Author of The 7 Habits of Highly Effective People
"Greg Link delivered his keynote presentation with confidence and enthusiasm and engaged the audience. Greg had our audience laughing, while also providing them with information they could take back and put into practice immediately at their own organizations. His keynote on 'Leading at the Speed of Trust' shares the importance of how to take an organization to the next level by cultivating trust. It was a compelling presentation, not just because the content was excellent but because Greg is an excellent presenter. If you want your conference to be a success, hire Greg Link!"
Catherine Upton, Group Publisher/CEO, Elearning! Media Group
"My team is a different team. If you ask the people in PepsiCo when they come down here to visit Frito Lay, they'll say something's changed. It's the Speed of Trust. It's the most exciting change in the culture I've seen in the 28 years I've been at PepsiCo, most of which were at Frito Lay. They'll say there's a buzz in this building. And I think they'd say the team works as a team better than they've ever seen before."
Al Carey, CEO, Frito Lay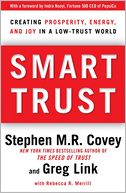 Smart Trust: Creating Prosperity, Energy, and Joy in a Low-Trust World
Praise for Smart Trust:
"Smart Trust is without doubt one of the most powerful and seminal books of our age. It exposes and helps solve the most dangerous crisis apparent in almost all human institutions: how to trust in a low-trust world."
Warren Bennis, Professor USC, author of Still Surprised
"We've turned to Stephen M. R. Covey to help us train more than 100,000 AT&T managers, … I recommend Smart Trust to anyone trying to succeed in today's fast-paced, global business environment."
Randall Stephenson, Chairman, President and CEO, AT&T
"The job of every leader at every level is to cultivate and protect trust, but this is especially challenging in a distrustful world. Smart Trust shows the way; it is both a mindset and a toolbox for 21st century leadership. I recommend it highly."
Robert A. McDonald, Chairman, President and CEO, The Procter & Gamble Company
"From all the people I've interviewed, I've learned that trust is everything. Smart Trust powerfully shows us how to increase it, which is more important than ever in this low-trust world. The best leaders I've ever met have the ability to create trust. Smart Trust is a great read! This is an important addition to your library."
Larry King
Greg offers the following as keynote addresses, half-day retreats, or full-day workshops:
BUSINESS AT THE SPEED OF TRUST
In this thought-provoking presentation, Greg Link challenges conventional wisdom about business. From his informed perspective as a highly successful CEO, he demonstrates how there are two important measures in business—SPEED and COST. The level of TRUST in an organization significantly effects this measurement. He will show how to increase your speed and lower your costs. How to turn a Trust Tax™ into a Trust Dividend™ and transform the way you do business on all levels.
Learn how great companies create cultures of high trust that produce extraordinary organizational dividends, enabling their firms to operate (unlike their competitors) at a different-in-kind "speed" in business. What do Wal-Mart, Berkshire Hathaway, and other great companies know about capitalizing on the matchless speed of high trust? How do companies convert the high Trust Taxes™ of low trust into the abundant Trust Dividends™? What can any influencer do, within any organizational setting, to likewise engage at this level of speed, benefits, and results?
Stephen teaches your organization to measure TRUST and understand that establishing, growing, extending, and restoring TRUST are the leadership competencies required in the new global economy. This will increase your business acumen and allow for better, faster, and more profitable decisions at all levels.
LEADING AT THE SPEED OF TRUST
"Leading at the SPEED of TRUST" practices significantly lower costs and increase speed, profits, and influence. In this fast-passed and engaging presentation Greg Link dramatically demonstrates the leadership benefits of TRUST from the informed perspective of a CEO and teaches how to establish and grow a high-trust, high-performance organization.
Stephen M. R. Covey predicts that:
"The ability to establish, grow, extend, and restore trust with all stakeholders–customers, suppliers, investors, and employees–is the critical leadership competency required in the new, global economy."
TRUST, more important than VISION, you ask? Yes! No matter how grand a vision, the high cost of low trust can stop you from reaching it profitably.
TRUST, more important than STRATEGY? Yes! While high trust can't make a poor strategy succeed, the high cost of low trust can derail an otherwise great strategy.
TRUST, more important than SYSTEMS and STRUCTURE? Yes! No degree of re-engineering and quality control can overcome the sabotage and tax of a low trust culture.
TRUST, more important than SKILLS? Yes! No matter how skilled a group, the high cost of low trust can disrupt their potential success. Nothing repels talent like a high control, low trust workplace
We call it the "SPEED of TRUST™." Leading at the SPEED of TRUST is both more financially rewarding AND just plain more fun and energizing. (And not just because of the money!)
THE 13 BEHAVIORS OF A HIGH TRUST LEADER
What separates the great leaders from the good ones? What makes a manager a manager of choice by his reports, peers, and boss? While there are many elements to these questions, there is one common thread throughout—that of being a leader who can be trusted.
Greg Link identifies the 13 critical behaviors of a High Trust Leader in this engaging presentation. In his vintage, no nonsense style, he candidly and enthusiastically teaches these behaviors to participants.
These career critical behaviors insure success in this difficult new economy. Leaders that manifest these traits have a marked advantage over their competitors. High trust leaders attract and retain hard-to-find talent that amplifies their effectiveness and competitive advantage.
Organizations and teams that expect high performance must master these skills and make high trust leadership an explicit competency for hiring and promotional selections. Those that do will experience the dividends of Leading at the SPEED of TRUST™.
Teambuilding at the Speed of Trust
Beyond Compliance: An Inside Out Approach to High Trust Leadership

Greg Link - Speech
Greg Link highlights how trust plays an integral role in every success story. From developing a high-performance team to creating a prosperous business in the digital economy, trust is essential, whether it's between co-workers we see face-to-face on a daily basis or strangers whose only contact is on digital platforms such as e-bay or Amazon.
Greg notes that a key way to build trust is by extending it ourselves. Recalling one of his first jobs at a grocery store, he recounts that one night after three months of working there, his manager passed him the keys and told him the combination of the store's safe. Greg's reaction was the desire to do the best job he could, because "it was the first time an adult had ever trusted" him. "Trust is reciprocal," Greg points out. "People respond to that. People want to be more open with you if you're more open with them."
Greg Link: The Best Business Book