* Please note that while this speaker's specific speaking fee falls within the range posted above (for Continental U.S. based events), fees are subject to change. For current fee information or international event fees (which are generally 50-75% more than U.S based event fees), please contact us.
Top25 Speaker Voting

Greg Bennick needs 7 vote(s) to make it into the Top 25 speakers on Speaking.com!
Speaker Booking Tip
"Tip: find a speaker in your local area to save on travel costs. Most speakers will also reduce their keynote fee for local events. "
For Event Planners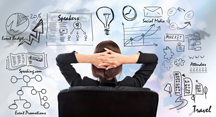 • Keynote Speaker Booking Toolkit.
• Booking a Celebrity Speaker.
• How to Find and Book the Right Speaker.
• Google+ Event Planning Forum.
• Tips for International Clients Booking U.S. Based Speakers.
Similar Speakers
Fran Solomon

Fran Solomon, Senior Vice-Empress of Playfair, is a Registered Nurse with Master's degrees in education and theater. An inspirational teacher and irresistible motivator with a…

Rory Aplanalp

A motivational speaker of extraordinary experience, Rory Aplanalp has made well over 6500 presentations, influencing more than a million people across the planet. When inviting…

Liz Berney

For more than two decades Berney Associates, which specializes in organization development and management training, has been working with blue-chip companies and prestigious organizations to…

My Account Executive was able to work within my quick turn around time and price limitations to find the perfect speaker for the job. Although I thought finding and booking a speaker for our sales meeting would be the most difficult part of the planning process, your agency made it the easiest.
Ales Group USA, Inc.
About SPEAKING.com
Established in 1994, we are exclusive agents for some of the world's leading experts, celebrities and professional speakers.
We offer event planners a fully staffed speaker logistics planning team, plus a personal SPEAKING.com Account Executive – a knowledgeable and trustworthy partner. We guarantee your satisfaction with your speaker and a smooth booking process.
Contact us today to book your favorite speaker.

Hundreds of groups around the world have asked Greg to discuss his process, various projects, and perspectives over the years. These clients range from universities and collectives seeking fresh perspectives on ideas both new and old, to companies and organizations looking for customized entertainment for banquets and specialized events.

"Greg Bennick was a highly entertaining keynote speaker with a great message on the value of teamwork and serving your customer. He was the only keynote speaker during our event to receive a standing ovation!"
Marjorie C. Bynum, CAE, Vice President, Education & Communications and Managing Editor, CRM Magazine
SOCAP International
(Event booked by Speaking.com)

"Greg, you were very easy to work with, you invested a great deal of time in research, preparation and rehearsal, and you greatly exceeded our expectations. You were the perfect choice to be our Atlanta keynote presenter and you are by far the most engaging speaker we′ve ever hired."
— Diane Vanderbilt, Winzer Corporation (auto parts distributor)

"I booked Greg for a Managers Appreciation Dinner this past February. The audience LOVED him. They laughed, they participated, and they demanded an encore! I′d recommend him to anyone."
— Joanna Nelson, MSI HVAC

"Your performance was extremely effective. We were impressed with your ability to weave our key messages into your presentation in a way that was both humorous and informative."
— Ron Ostrowski, Boeing Corporation

"Your ability to customize the show to fit the interests of the legal community was outstanding!"
— Elaina Spring, Miller Nash LLC

"After listening to your presentation, I can truly say that what I remember is life changing."
— Cassie Recchio, Green River Community College, 2009

My client thought I was a genius for finding such an amazing entertainer and passed that praise along to my boss...I then passed that praise along to my parents as a sign that my college education wasn′t a waste. So, from both a professional and personal angle, thank you for an amazingly successful and highly entertaining event."
— Tyson Flandreau, for Safeco

"A juggler and inspirational speaker: it′d be hard for anybody to balance such extremes, but Bennick seems to do it with grace."
— Seattle Times
Greg Bennick offers entertaining presentations that explore how we GET INVOLVED with creativity and motivation to turn our passion into action. His keynotes explore how to live, create, and work together more effectively by exploring passion and purpose. He can customize this core concept to include messages specific to your event.

A special note from Greg about his presentations:


My speech title is "Get Involved: Turn Your Passion Into Action". We need to live fully and to find meaning in what we do. Does your group know best how to make that a reality?

I theme my keynotes by using an example of someone from the client's community who embodies the ideas of passion, having a sense of purpose, engaging with creativity and utilizing collaboration. I then offer perspectives on these ideas while using their person as a model. This material is researched thoroughly in advance.

The keynote is adaptable to conferences and events with leadership or teamwork themes, and is funny all throughout with constant audience involvement and participation. I look forward to working for you!

In the presentation, you will hear about creativity and collaboration, and how they translate into action. Greg can also include topics important to YOUR organization:

LEADERSHIP: What are the qualities and strengths of vulnerable and confident leaders, and how does it benefit you to know the difference? Greg′s real life experience with leadership includes the World Leaders Project, an initiative Greg started that had him meeting face to face with world leaders (specifically the President of Guyana with other meetings currently being scheduled) to discuss dynamics of power, control, and effective balance. You need a speaker who talks the talk and walks the walk. And one who is funny. Greg is all of those in one.

TEAMWORK: What are the greatest hurdles to effective communication? How can we transform being let down by others in the past to being inspired to try again in order to work together effectively? Greg sits on the Board of an international organization dedicated to increasing human compassion and empathy. He knows teamwork. Teamwork demands vigilance, patience, commitment, and determination. Add to that a focus on why impossible dynamics can be unraveled and made possible, and you have a great presentation.

Greg entertains as well as educates. His goal as an entertainer and keynote speaker is to keep every audience engaged and laughing while offering insights and ideas.
TEDx Talk
Greg Bennick speaks to his TEDx audience about one of the subjects closest to his heart; becoming an artist of the human condition. He tells them, "My thought is, that if we are looking for clues as to the best way we can live our lives, then we can turn to artists as they transform nothingness into art for clues on how better to live."
Greg breaks down the terms so often bandied about without proper analysis. Speaking of passion, he says, "Passion is the sense that we want to engage fully and embrace the abundance that life has to offer. Creativity is the process through which we take elements of the world around us and transform them into something new that reflects what we want what we need, what we can imagine. The human condition is that we have limited time, and in the midst of that limited time we're going to encounter adversity, but we have a way out."
Explaining just what that escape route is, Greg tells his audience, "We can reason, and we can create. We can transform the world around us into something new. Each one of us has a limited number of seconds to live, the heart beating in each of our chests is like a clock ticking seconds down slowly to zero. Given the limited number of seconds, a number unique to each person here tonight, the question becomes what are we going to do with that time? What are we going to do with that extremely valuable time?"
Speech
Rotary Club Speech
Speech